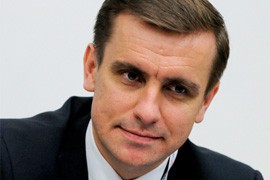 Ukraine's representative to the European Union , Konstantyn Yeliseyev, has informed the leadership of the European Union of the brutal terrorist act near Volnovakha, carried out by pro-Russian militants, and has called for immediate and strong condemnation by the EU, the Mission of Ukraine to the EU has informed the Ukrinform correspondent in Brussels, January 13.
"The tragedy near Volnovakha is yet another obvious example that civilians, especially women, have become targets for the terrorists. Despite numerous appeals and statements from the EU, the terrorists supported by Russia continue shelling Ukrainian territory. The policy of appeasement toward the aggressor is leading to even more human casualties, Yeliseyev said.
He stressed that the "events near Volnovakha cannot be considered anything other than an act of terrorism."
"I urge the EU, together with the experts from the OSCE Mission, to join the investigation of this terrible incident and to take immediate steps to prevent such terrorist attacks. The tragedy near Volnovakha, as well as Russia's systematic non-compliance with the Minsk agreements, must be a subject of consideration at the meeting of the EU Foreign Affairs Council on January 19, as well as at the EU Summit on February 12-13, where one of the key issues will be developing a strategy to fight terrorism," Yeliseyev said.
As previously reported, pro-Russian terrorists shelled an intercity passenger bus near the town of Volnovakha in the Donetsk Oblast, killing 10 and injuring 13. One of the injured passengers later died in hospital.
Tags: Donbas war (2014-present), EU, News, Terrorism