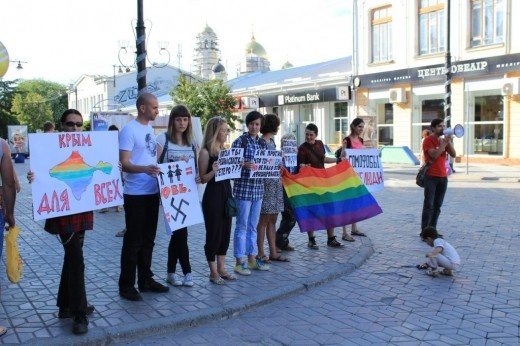 Gay rally in Simferopol in August 2013, photo: crimea.vgorode.ua. 
Ever since the illegal annexation of Crimea, human rights watchdogs have been concerned with the drastic human rights decline, such as denial of freedom of assembly as well as arrests and kidnapping of pro-Ukrainian activists. In September last year, the Crimean self-proclaimed leader Sergey Aksyonov stated that they "don't need gay people" on the peninsula. According to an article by a Russian gay website gay.ru, there is more to this statement than just words.
As recently as 2013, LGBT activists in Crimea could protest the new anti-gay law debated in the Ukrainian parliament. As they protested the proposed ban on gay propaganda" in central Simferopol, their signs "Homophobia is Fascism" caused no adverse reactions. Now, when Crimean de facto authorities obey the Russian law, which includes very similar anti-"gay propaganda" legislation since 2013, LGBT protests and any other forms of raising awareness are effectively banned. Aksyonov (whose "Russian Unity" party organized anti-gay and pro-Russia rallies even before the Maidan)  threatened that any public gatherings of the sort would be dispersed by local police and illegal "self-defense" forces "in 3 minutes."
Artyom, a member of Crimean LGBT community, told gay.ru of a couple gay bars being forced to close. He said his friends who owned a gay bar got "a hint to "wrap up that sodomy." The hints were followed by police raids and then a ban on the bar's sign, eventually forcing the owners to relocate "to the continent," as people in Crimea call the rest of Ukraine.
A year ago SimNo place for gays in Putin's Crimeaeiz, an expensive Crimean resort, was popular with Ukrainian and foreign gays. Dmitry, who used to work as a drag dancer at the resort for years, recalls even meeting several Ukrainian Parliament members there. However, in 2014 his friends advised him against working at the resort, explaining it could be dangerous. Not that there was any work to do – richer gays were replaced with refugees from Eastern Ukraine. The tourists were afraid of going, scared away by Aksyonov's homophobic comments. Dmitry himself preferred to take a trip to Brazil, which he found a lot more gay-friendly.
Maria, a worker at the resort, is trying to reassure her customers, who are wary of problems with border crossings, shutdown ATMs, and lack of groceries. She hopes this year they could return, since the refugees are gone from the resort to remote regions of Russia – or back to Ukraine, where they supposedly can get more help with finding a place to live.
The sinister "self-defense force," formed in February 2014 to aid the Russian invaders, have started "hunting gays" on the Internet, Artyom claims. He says his friend was lured to a fake date via social networks and beaten by five "Russian World supporters," who threatened to kill him if he didn't move to Europe. "Gays are a red flag for them," Artyom notes.
However, even despite the threats, not all gays are eager to leave Crimea – unlike the Crimean Tatars, whose pro-Ukrainian views are apparently even worse an offense than being gay. Artyom told he had to break up with his boyfriend over his pro-Russian views – he, like other Crimean gay people, was ready to tolerate the anti-LGBT rhetoric for the alleged "order" Russia was supposed to bring to Crimea. Yet Artyom, like many Crimeans, sees no signs of such order, and grimly predicts that after the Tatars, the gays may become the next primary target for the state.
Tags: Crimea, homophobia, Human rights, Russia