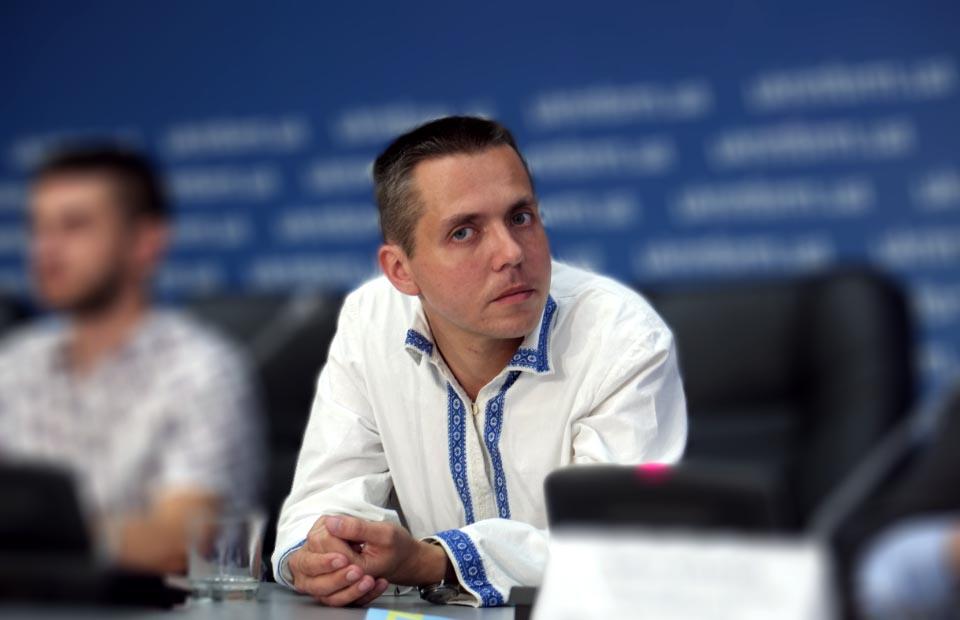 Yuriy Ilchenko at a press conference in Kyiv. 17 August 2016. Photo: Alya Shandra, Euromaidan Press 
When one summer morning Sophia came to work, she saw a lean man at her office door. For CrimeaSOS, an NGO dealing with internally displace persons fleeing from occupied Crimea to mainland Ukraine, this is a common experience – many IDPs came seeking help. However, this man's story was nowhere short of a blockbuster plot.
He was Yuriy Ilchenko, one of the 29 Ukrainian political prisoners that Russia sentenced for non-existent crimes, and he escaped from Crimea to mainland Ukraine. Now his family was under danger in his native Sevastopol.
Two months later, when they were safely in mainland Ukraine with the help of CrimeaSOS activists, Yuriy could safely tell his story at a press conference on 17 August 2016. And there was much to tell.
Sentenced for a fb repost
Ilchenko was the owner of a private language school in Sevastopol. He and his family were the first in Sevastopol to decline a Russian passport after Crimea was occupied and illegally annexed by Russia in a sham referendum in March 2014. The occupying powers had made life incredibly difficult for those that refused to adopt Russian citizenship, but Ilchenko and family felt it was their civic responsibility not only to keep Ukrainian passports but also to travel to mainland Ukraine to vote in elections.
"I persuaded the students at my school, and their parents [to do the same]. I tried to explain that it [changing citizenship] would be betrayal. And that it will be inconvenient further on: we will soon have a visa-free regime with the EU. […] And in Russia you will be like in a strict regime country, like North Korea, you won't be able to leave it. You will only do and say what you are told," Yuriy told of his civic resistance against the occupation to RFERL journalist Anton Naumlyuk.
Yuriy was a blogger and shared his views, patriotic poetry and videos in the internet. He also created online petitions , some of which urged to declare the Crimean Tatar Mejlis the only legitimate authority in Crimea, to support a full blockade of Crimea and called for the punishment of traitors. On Ukraine's first independence day after the Russian occupation of Crimea and illegitimate referendum, 24 August 2016, Yuriy opposed the occupation of Crimea on the backdrop of a Ukrainian flag in his office on air of a satellite TV channel BTB.
That time, he got off easy, with just a visit of the FSB and the Center for counteracting terrorism, who offered him to sign documents to collaborate with them. Reminiscent of KGB methods in the USSR, "collaboration" was a method that the "siloviki" used to neutralize opposition by infiltrating into their midst. Collaborators were encouraged to spy and report on any anti-Soviet activities. In Crimea, this is a method of curbing resistance to the occupation.
"Sadly, some of my students signed these documents, but the larger part, 2/3, refused," Yuriy recalled.
After his arrest, the children or their parents were called for interrogations at the FSB.
He was arrested almost a year later, on 2 July 2015, for a post where he called to punish those that accepted Russian citizenship and a Ukrainian blockade of the peninsula, incriminated with art. 282 of the Criminal Code (inciting interethnic hatred). Later he was incriminated with art.280- public calls for extremism – for reposting a facebook status of then Right Sector leader Dmytro Yarosh.
"I was told that my fate was already decided and that I will in any case spend 10-20 years in Siberia. But I have a chance to make it easier for myself: not 20 but 10 years and in better conditions. For his I need to sign a "cooperation agreement," tell everything about my activity and sign more testimonies against myself – that I am a 'Right Sector coordinator' in Sevastopol, and even better – in all of Crimea, or that I wanted to topple Lenin monuments etc," Yuriy recalled.
The escape
He was held in a pretrial detention center in Sevastopol for 11 months, where he lost 30 kg of weight. Then the measure of arrest was changed to house arrest, for 23 days. Yuriy was forbidden to leave the apartment where he lived with his parents and had a tracing anklet, as well as supplementary technology in his apartment. Surveillance cameras were installed on the trees nearby.
"I decided that death is better than ending up again in Russian prison," Yuriy decided, anticipating that sooner or later he would be imprisoned again. On the night of 12 June, he fled.
"I put on my father's jacket and took my mother's cane and went out of the apartment. When I passed the cameras, I took off the jacket, threw away the cane and cut of f the anklet from my leg." After that, he hitchhiked to Bakhchysarai and Armiansk and crossed the border by climbing a wall surrounded by an impenetrable forest. Then, he managed to run past a Russian soldier towards the Ukrainian border control, Ilchenko told at a press conference in Kyiv on 17 August 2016.
Two months after the escape, CrimeaSOS helped get Yuriy's parents across the border to mainland Ukraine. Then, the story was made public, though the details of the escape are not disclosed.
Life in a Russian prison
"Were you tortured in prison?" Yuriy was asked at the press conference.
"This was not so much physical torture as moral humiliation. The attitude was so that a person would feel that he is a nobody and is worth nothing. I was thrown into a punishment ward, for my political position, for conducting agitation even being in prison. I was prohibited from talking inside the prison cell. What is also like punishment – we were prohibited from communicating in Ukrainian and Crimean Tatar. It was national oppression, we were supposed to talk only in their language," Ilchenko said.
He added:
"When they were celebrating Victory Day on 9 May, they insisted that I wear the St.George's ribbon [a symbol of Russian imperialism nowadays in Russia – ed]. Of course, I declined. For this, they didn't let me sleep for four days, even lay down on the bed. They made me stand, and rarely was I allowed to sit down. If I started to fall asleep, I was beaten. On the third and fourth days this was very difficult."
"This isn't a hospital, and we have no sick patients; we have either the living or dead. Call when he dies."
Ilchenko emphasized that the prison conditions themselves could be considered as torture. "The prison is so overfilled that prisoners don't have their own place to lie down. In a 6-person room, 15 were held. People needed to take turns to sleep for a few hours. Regarding food, we didn't eat breakfast – its stench was nauseating. We ate only the soup at lunch, and only the liquid from it to which we added food from the parcels that we received once a month. Twice a week we were given something grey resembling macaroni. So the conditions were terrible."
When a prisoner felt ill, it was useless to expect a doctor.
"When we knocked to ask for a physician, we were told: 'This isn't a hospital, and we have no sick patients; we have either the living or dead. Call when he dies.' The dead were thrown out like garbage, and not in a coffin but a black bag," he told.
He added that many people could not withstand this and committed suicide. There was such a case almost every day.
Yuriy now fosters big plans.
"I want to tell about this in Ukraine and the world, in Europe, where people have started to forget about Crimea. I want to remind that this problem exists, that each day Crimean Tatar are being imprisoned each week and are tortured, that new people are forced to leave their homes, often losing everything, like my family – I can't sell my property in Crimea, as the authorities prohibit it," he told.
Yuriy said that he met other Ukrainian political prisoners while in the remand prison, sharing a cell with Arsen Dzhepparov and meeting with Rustem Vaitov and Ruslan Zeytullayev, who are currently under trial in Russia's Rostov-on-Don for alleged participation in Hizb ut-Tahrir, which is considered terrorist in Russia while being allowed in the majority of the world countries.
Refat Chubarov, the head of the Crimean Tatar Mejlis, told that such an active position of Yuriy Ilchenko, his parents and pupils prior to the occupation and after Russia's illegal annexation of Crimea means that there are many Ukrainian citizens that are not only faithful to their country, but continue to resist in ways that are possible for them.
"Their example must stimulate Ukrainian society to exert pressure on its own government not only to return its lands, but also to protect Ukrainian citizens who live on territories temporarily not controlled by our state," Chubarov stressed, adding that the Ukrainian government should, instead of finding ways to accommodate IDPs, which would mean accepting the loss of occupied Donbas and Crimea, prioritize the creation of a strategy to return these lands:
"Then hundreds of thousands of people will return to their destroyed homes in ORDLO [certain areas of Donetsk and Luhansk oblasts – Ed] to restore them, and we will help. This will be the most effective way forward."  
#LetMyPeopleGo is a campaign to release Ukrainian citizens detained for political reasons in Russia and occupied Crimea. Nadiya Savchenko became the symbol of these people, but in total there are at least 28 Ukrainians in the LetMyPeopleGo list who also need our help. Please help raise awareness about their fates. Follow LetMyPeopleGo on twitter (
English
,
Ukrainian
) and facebook (
English
,
Ukrainian
). Visit the site: 
http://letmypeoplego.org.ua
Tags: #LetMyPeopleGo, Crimea, Hostages, Ilchenko, News, Political prisoners, Ukrainian political prisoners