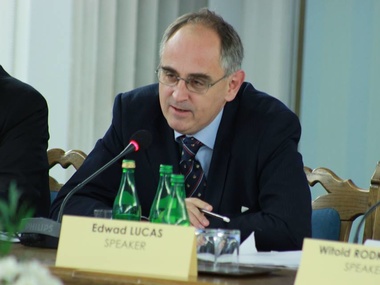 Journalist and editor of the British magazine The Economist Edward Lucas during the Munich Security Conference, Feb-8-2015
Photo: Dzintars Rasnačs / Facebook 
Editor of the British magazine The Economist Edward Lucas accused Russian journalists in "production of lies" and said that the employees of these two media outlets "need to be pushed out to the margins of the media space."
During the Munich Security Conference, journalist and editor of the British magazine The Economist Edward Lucas urged journalists to boycott internationally broadcasted Russian radio channel, Sputnik, and Russia Today TV channel, according to "Echo of Moscow".
Lucas accused Russian journalists in the "production of lies" and said that the employees of these two media outlets "need to be pushed to the margins of the media space, so they would no longer be treated as real journalists and were seen only as cranks and propagandists."
Lucas even promised to use his personal influence to counteract the careers of those who cooperates with RT and Sputnik.
it's an odd argument that wannabe journos work for @RT_com because otherwise their children wd starve

— Edward Lucas (@edwardlucas) February 8, 2015
interesting that so many peace-loving Putinistas respond to criticism with death threats. Good night everyone

— Edward Lucas (@edwardlucas) February 8, 2015
In November, editor-in-chief of the Russian TV channel Russia Today Margarita Simonyan accused Britain of censorship after the British state regulator Ofcom threatened Russia Today with withdrawal of its license due to biased coverage of events in Ukraine.
Tags: boycott, International, RT, Russia, Russia Today, Russian propaganda, Sputnik, The Economist