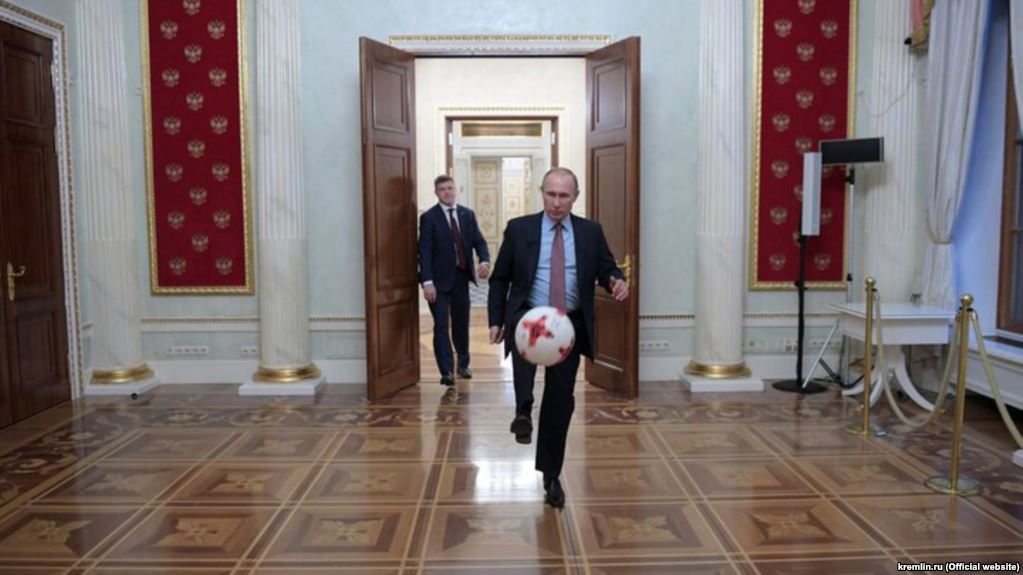 Russian President Vladimir Putin after meeting with FIFA President Gianni Infantino 
In a recent interview with Radio Liberty, the President of the World Congress of Ukrainians, Eugene Czolij, stated that the international community should condemn Russia's actions by revoking Russia's privilege to host the 2018 World Cup. Mr. Czolij attended a conference devoted to "Four Years of Occupation – How to Support Crimea and the Crimean Tatars" held at the European Parliament in Strasburg, France.
"I call on the international community to exert pressure on all forums, including bilateral negotiations with Russia, so that the Kremlin allows an international observation mission to work in Crimea. Today, there are no international organizations present in Crimea to monitor human rights violations. I also urge all politicians to boycott the World Cup in Russia. We must make the world know that football is not more important than human rights and fundamental freedoms." said Czolij.
Mr. Czolij added that sanctions should "not only be continued, but also strengthened".
The Deputy Chairman of the Mejlis of the Crimean Tatars, Ilmi Umerov, also supported the idea of ​​boycotting the World Cup in Russia.
"The FIFA World Cup is drawing near. It will be held in Russia, but if many countries ignore it, won't that be a serious blow to Russia's image?" stated Umerov at the conference in the European Parliament.
The Deputy of the European Parliament, Petras Ašštrevičius, who also participated in the conference, said that a letter on this subject would be prepared and a corresponding appeal would be addressed to EU leaders.
"We'll launch a series of appeals – letters to leaders of European countries asking them not to participate in the World Cup, because their presence will be used against European values. Russia uses sports events for political purposes." said the MEP.
The FIFA World Cup will be held in Russia from June 14 to July 15, 2018. This is be the first time that Russia will host the World Cup.
On November 17, 2017, the Russian "head" of Crimea, Sergei Aksionov, reported that he was thinking of creating fan zones on the peninsula during the World Cup.
Later, Yuriy Vetokha, the President of the Crimean Football Union, which was created after the annexation of Crimea, admitted that it was "unlikely" that World Cup fan zones would be installed in annexed Crimea.
FIFA has declined to comment on this matter.
Tags: 2018 FIFA World Cup, boycott, Crimea, International, Russia