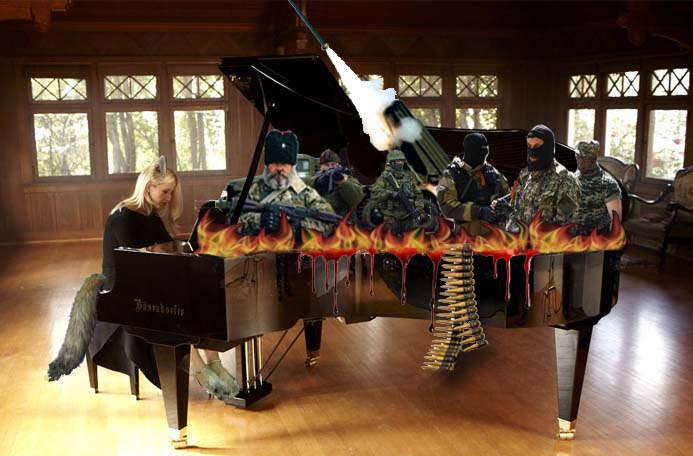 Concert pianist Valentina Lisitsa should be a familiar name to readers of The Ukrainian Weekly from her performances at the Ukrainian Institute in New York, The Washington Group Cultural Fund music series and other Ukrainian organizations. Ms. Lisitsa continues to promote herself as "Ukrainian-born" and is one of the most recognizable names on the professional circuit. She is a self-made YouTube superstar of sorts, with 156,000 subscribers and over 72 million global views.
What might be less familiar to readers is the content of her Internet Twitter pages @ValLisitsa. Outnumbering the mundane photos of hotel rooms, airports and tidbits for her fans about her orchestra rehearsals, there is an unrelenting stream of disinformation and vulgar polemics, denigrating Ukraine in the most hateful terms, while praising Russian terrorists and Vladimir Putin's invasions.
Starting on August 28, Ms. Lisitsa adopted an abhorrent racist tone in her anti-Ukraine hate speech. She repeatedly posted photos of spear-carrying, half-naked African villagers juxtaposed with Ukrainians in embroidered "vyshyvanky" shirts on her Twitter page. Her captions stated: "New school year begins in Odesa with teachers forced to wear Ukrainian tribal dress, a truly European custom." What is abominable is her appeal to "high culture" to make Ukrainian patriotic feelings seem like barbarism, and also with the same brush to smear Africans and mock them as inferior to "Europe".
Who reads these tweets? Well, the 8,350 followers registered on Ms. Lisitsa's Twitter include the nationally syndicated talk radio host John Batchelor, who retweets a number of her posts. Also listed among her followers are major international symphony orchestras, universities, professors, news networks, magazines, journalists, hordes of pianists, music teachers, students and devoted (and perhaps unsuspecting) music lovers and fans.
In addition to her own Twitter, Ms. Lisitsa is also credited as translator for 16 articles thus far on a second website: slavyangrad.org. This is simply another pro-Putin propaganda Internet hive dedicated to Ukraine bashing, legitimizing "New Russia" (Novorossiya), and Malaysia Airlines Flight 17 conspiracy theories. Slavyangrad is itself partnered with a number of further similar blogs, like "The Unwashed Brain" and Anti-Maidan.com. The same bloggers appear and reappear, posting on several sites – a concerted action by Internet trolls, many operating under bogus names with manufactured identities and fake photographs.
The ValLisitsa Twitter pages take any opportunity to smear and mock Ukraine. Tweets include a maniac restrained by a straitjacket with the heading "Glory to Ukraine, Glory to her Heroes" and a photo (captioned "Darling I am waiting for you") of a crazed, deformed girl in a blue-and-yellow dress, clutching an axe, about which the tweet says, "The mental state of Ukraine today… This photo kinda nails it."
More Lisitsa tweets: "Quietly without complaining Russia is looking after 1 million refugees from eastern Ukraine"… "Ukrainians are notoriously unwilling to share, they owned long and proud history with Russia, threw it away and invented myths"… "Ukraine: a society sunk beyond redemption"… "Odesa was, is, and always will be Soviet"… "Cluster-bomber-in-chief [photo of President Poroshenko] gets standing ovation in US Congress… Go Novorossiya :-))."
Such mean-spiritedness by Ms. Lisitsa is all the more disheartening when one compares the courage and integrity of major artists like violinist Nathan Milstein and cellist/conductor Mstislav Rostropovich who always spoke out against the atrocities of the Soviet Union. Today, conductor Daniel Barenboim devotes much of his time to noble work with the West-Eastern Divan Orchestra, which includes Israelis playing side by side with Palestinians, in order to build bridges and promote understanding.
By contrast, the Russian Ministry of Culture website displays a letter "in support of Putin's actions in Crimea and Ukraine" signed by 511 artists, musicians and directors of cultural institutions. High-profile conductors Valery Gergiev and Vladimir Spivakov, violist Yuri Bashmet, and soprano Anna Netrebko have all been quite forthright about their support for Mr. Putin and his regime. (Not to mention the pro-Putin solidarity of sports figures like hockey stars Alexander Ovechkin, Evgeni Malkin, Sergei Gonchar, Semyon Varlamov and Pavel Datsyuk, and "King of Mixed Martial Arts" Fedor Emilianenko.)
The tide is incrementally turning. Violinist Gidon Kremer enlisted his colleagues pianist Martha Argerich and Mr. Barenboim for an anti-Putin concert in 2013, and in November the Saar International Music Festival in Germany announced it was removing Mr. Gergiev from a concert with the Munich Philharmonic because of his outspoken support for Mr. Putin.
Netrebko and Novorossiya
On December 9, Austrian Airlines announced it will no longer be an advertising partner to opera superstar Anna Netrebko, and dropped her promotional ad campaign, stating they want to "distance ourselves from extreme political positions and the use of armed violence." Ms. Netrebko had just announced her 1 million rubles (about $18,500) gift to the Donetsk Opera. She gave the check to Oleg Tsariov, posing with the Novorossiya flag. (Mr. Tsariov, a former national deputy of Ukraine, had been expelled from the Party of Regions and is wanted by Ukrainian police for terrorism and violence.) According to Deutsche Welle, Ms. Netrebko later said: "The presence of the flag was unplanned and caught me off guard; I actually did not recognize it at first and realized only later what it was." It remains to be seen how much of that money Mr. Tsariov will use for new trombones and how much for new Kalashnikovs.
Ms. Netrebko is scheduled to appear with Valery Gergiev for numerous performances of Tchaikovsky's "Iolanthe" starting January 26, 2015 at the Metropolitan Opera in New York.
"Material Evidence"
Moreover, all those Lisitsa tweets were not an isolated event. On September 21, an art exhibit titled "Material Evidence" opened at the Art Beam Chelsea in New York for a three-week run, following a previous tour in Berlin. This exhibit, heavily promoted on the sides of buses and subway platforms, was basically a photo gallery of recent events in Ukraine.
The exhibit described the Maidan as "…an upsurge of nationalists-banderovtsy groups, which… could not be ignored by the eastern parts of Ukraine, which are mostly populated with Russian-speaking people, who… strongly oppose 'benserovtsy' [sic] and 'Westerner [sic] Oligarchs' who had come to power. Accordingly the Autonomous Republic of Crimea held a referendum on the separation from the Ukraine and its reunification with Russia." In other words, typical talking points of Kremlin propaganda and its trolls. It is frightening that such an exhibit was formally visited by students from the John Jay College of Criminal Justice.
Who was behind this? Well, Mat Babiak, an editor at EuromaidanPress.com posted an investigative article about this exhibit. It turned out "Material Evidence" was organized by an anti-Ukrainian Moscow newspaper, Journalistic Truth (Zhurnalistskaya Pravda). This newspaper also offered cash prizes for journalism via the "Material Evidence" site totaling over $93,000. Their editors have disturbing connections with the extremist National-Bolshevik Party (a Nazi-Communist hybrid) and the notorious Izborsky Club, which advocates a "Eurasian Empire," and trueman-lab.com, an ugly racist and anti-American website.
After Mr. Babiak's article appeared, the Lisitsa site defended the "Material Evidence" exhibit in typically vitriolic tweets, tried to cover up all its dirty handlers and attempted to smear Euromaidan Press.
On September 20, outraged demonstrators gathered in front of Heinz Hall to protest the Pittsburgh Symphony's engagement of Valentina Lisitsa as piano soloist for the opening concerts of their 2014 season. Complaints about the hiring of Ms. Lisitsa had previously been e-mailed to the Pittsburgh Symphony management, principal donors and local media. Protesters from Pennsylvania and New York carried placards and handed out information leaflets to ticketholders, orchestra members, pedestrians and passing motorists. True to form, the ValLisitsa pages subsequently attacked these concert protesters (among whom was this writer).
Ukrainian communities might be interested to greet Ms. Lisitsa at her upcoming concerts in Quebec, the Netherlands, Paris, Washington, Leipzig, London, Cincinnati, Stockholm and in April, 2015 with the Toronto Symphony. Her current international tour schedule can be found at: http://www.deccaclassics.com/us/artist/lisitsa/ontour.
[This article first appeared in The Ukrainian Weekly, vol.LXXXII, no. 50. December 14, 2014]
– graphics for 'featured image' photo of Ms. Lisitsa at the piano by Katya Mischenko-Mycyk
Tags: Anna Netrebko, Material Evidence, Russian propaganda, Slavyangrad.org, Ukraine, Valentina Lisitsa, Valery Gergiev