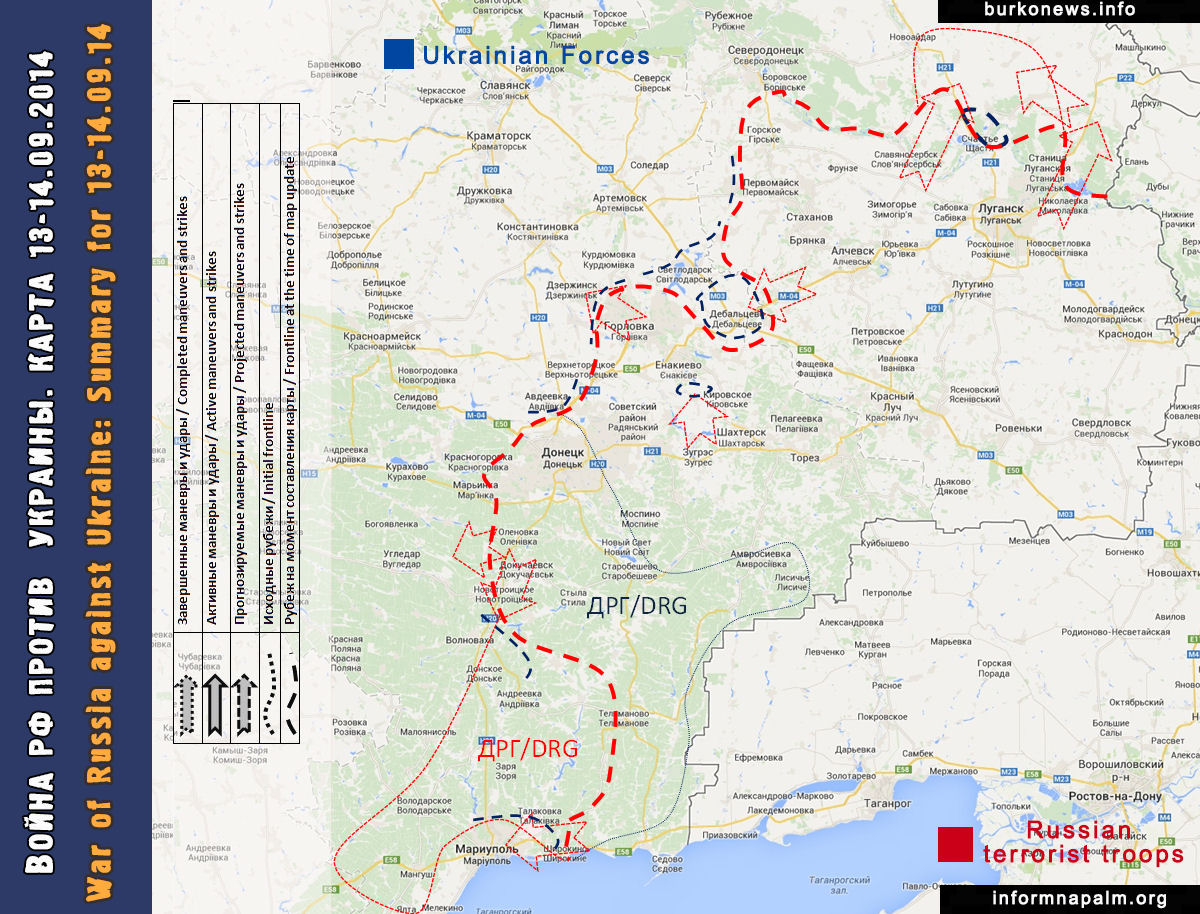 The Donetsk airport is still shelled with large calibre artillery and multiple launch rocket systems (MLRS). Some eyewitnesses even speak of a tank attack. However, Ukrainian forces continue to hold the airport.
On September 13, there was an attempt to transfer terrorist forces from Horlivka to Donetsk. The terrorists attempted to use the E50 highway. It is possible that the attempt was aimed at reinforcing the attack on the airport from the north. This attempt was suppressed in the area of Krasnyi Partizan.
It should be noted that in the next few days the terrorists expect an attack from the direction of Marinka. Almost all artillery located in the west of Donetsk is turned to that direction. If the ATO forces actually prepare such a move, this fact has to be considered. However, it is possible that the terrorists are playing a double game here: they spread rumours among the locals that the ATO forces are preparing such an attack with the intention to hide their own plans for an attack under the guise of preparation of countermeasures.
There is an interesting point to note about Yenakijeve: the terrorists use the railroad to move an ironclad train with MLRS BM-21 "Grad" on the platform. The Industrial nature of Donbas makes it a favourable area to use ironclad trains as there are many mines and plants which used to be served by the railroad. However, such a weapon has its own weak points. It is not yet clear why the bridges near Yenakijeve have not yet been destroyed as this would lock the train in the city.
We can report the ongoing build-up of Russian and terrorist forces across the conflict zone. In Horlivka the terrorists continue to build up military equipment in the direction of Dzerzhynsk, although they have not undertaken any active operations towards Dzerzhynsk. Terrorists also continue to build up their forces in Bryanka and Zymohirya. They are seemingly preparing a campaign against Debaltseve and Bakhmutivka.
As for Debaltseve, the presence of Ukrainian military near Zhdanivka prevents the terrorists from starting active operations from the southern direction. In view of that, it is most likely the terrorists are going to have to launch an attack against the 25th Brigade in order to move through this area. This is also indicated by the accumulation of military equipment in Zuivka and north-east of Makiivka.
To the south of Donetsk the terrorists attempted to breach towards Vasylivka from Komsomolske yesterday. They are now reported to be accumulating military equipment in the area of Kumachove, and they will surely try to break through the ATO lines sometime in the near future.
The intense preparation of defences around Mariupol has prevented the Russian and terrorist forces from beginning an offensive in the southern direction. Their plans are also hampered because of the counter manoeuvres of the ATO forces from the Amvrosiivka pocket and from Volnovakha which has kept their forces back around Telmanove.