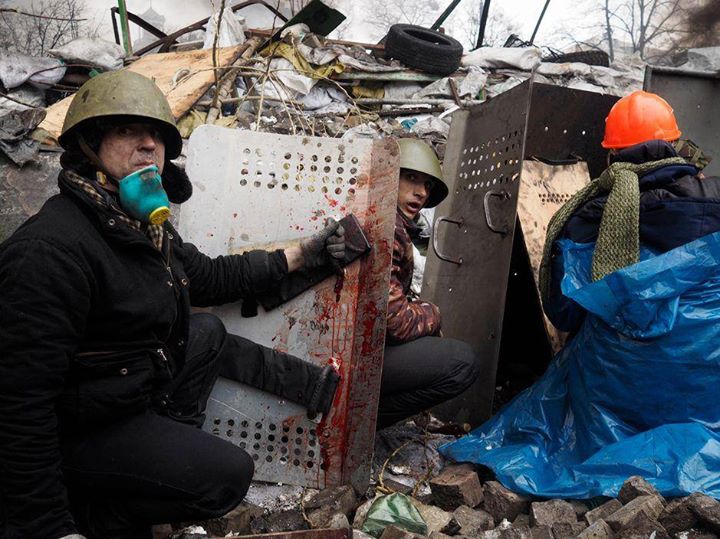 Euromaidan protesters braved bullets from the criminal regime of Yanukovich. Over 100 people were killed (the Heavenly Hundred). Andriy Yurkevych middle. 
Still cannot believe this. Andriy is no longer with us… Andriy Yurkevych – the soldier of the "Aidar" Battalion, aka Grizzly… Why Grizzly? He never had a chance to tell me. We had an agreement he would tell this and many more stories when next we met.
But it was not meant to be. We will never meet again… He is no longer with us.
I met Andriy the way I got to know most of the heroes – someone recognized him in a photo and gave me his contact number, I wrote to him and we met, he shared his Maidan story with me and we became friends.
He immediately set me at ease. Andriy was one of the fearless heroes rescuing people from Instytutska Street on 20 February 2014 during the dark days when the government massacred over 100 unarmed protesters. He turned out to be the guy wearing reddish-brown camouflage who we'd been trying to identify for weeks.
This is so painful, Andriy. And when the war began, you couldn't help joining. Or else it wouldn't be you…
He volunteered to join "Aidar" and was later followed by Orest Karakevych. How weird it is… On 20 February they were both there, at Instytutska Street, were both helping and saving people and may well have seen one another, but they only got acquainted afterwards, after Maidan.
They met in "Aidar" and became brothers. They are all "brothers" – going together through something as horrible as war, losing your fellow soldiers over and over again, standing side by side against the enemy, covering and relying only on each other – that probably requires such level of trust and closeness that it's hard not to become brothers… They've been through a lot together… I remember events in Khriaschuvate , when I saw a message on Facebook – Aidar is trapped!
Many of us did not sleep that night. Those of us who knew how to do it prayed. The guys were out of reach for over a week, their mobiles were off. I cannot imagine what it's like for the soldiers' relatives at moments like this… And then there was a call – my mobile showed "Andriy Yurkevych" – and it was Andriy telling in a hoarse and tired voice that everything was fine and they escaped the trap were now at the military base. Tears of relief came and a tranquil joy… I wish this could have been the case this time! But it's not…
A soldier I know told me recently – "…that's the soldier's job – to die so others can live."
But no, I cannot agree to that. They must live!!!! Orest says Andriy was their best soldier… I would add to that– I have known you a but short while, Andriy, but I consider you one of the best and bravest people I have met in my whole life. And I believe we will meet again some time; there, where home is, where you will soon join all those others from Heaven's Hundred*, your eternal brothers…
Andriy was not afraid to die, he was a true warrior… On that night of 5 September 2014, many more young men died in that trap together with Andriy… How many more of them are there whose names we do no know who have died throughout Ukraine in this horrible war – how frightening this is! Their death is like endless pain… so much pain…
Do we deserve this sacrifice that so many of our young men and women are making?
Are we doing our best to stop this war, this nightmare…
We pray for your soul, dear friend, and for your fallen brothers and sisters. Rest in peace.
Glory to the Heroes!
Source link. via Майдан 18-20 февраля. Как всё было.
Notes
Thousands of people came to say good bye to Andriy in Ternopil on September 11, 2014.  Rest in peace, brother.
Heaven's Hundred wiki page.
Featured image.
Tags: Archive, heaven's hundred