A full analysis of the situation that led to our troops being surrounded near Ilovaisk
The situation is as follows. What was originally planned?
It was originally planned to encircle the DNR and LNR [the so-called Donetsk and Luhansk People's Republics], to put an end to the supply of arms and force them to surrender. This required encircling the main "islands," including Donetsk and Luhansk.
Here we are interested in the subject of Donetsk. Take a look at the map, please, this is important. [Click on map to enlarge]: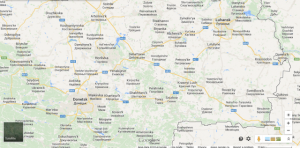 See Highway "H21?" The road, which goes directly from Donetsk to the east, then turns north and goes to Luhansk?
In fact, it was a "road of life" for the DNR – because from the north, west and south, the road and Donetsk in particular were being surrounded by our troops. Through this highway, they established communication routes with Luhansk and the Russian border.
Our [troops] first tried to cut it off, by taking Shakhtersk. They were repulsed from there.
Then our [troops] hit from the south and went on to Ilovaisk.
Was this logical? Was this right?
In general, yes. It was logical and correct. But only assuming that Russian troops won't flock across the border.
In this–is our weakness. Throughout this campaign we had to rely on the fact that Russia won't cross another line. July's encirclement in the south of Luhansk Oblast was caused by the assumption made by our troops that the Russians would not start firing across the border. Therefore, the Ilovaisk encirclement resulted from the fact that our forces wouldn't entertain the idea that the Russians would pursue a direct, unconcealed invasion.
Guys, understand one very important thing: they wouldn't consider it not because they are fools, but because by allowing all this, from the very beginning it was not worth risking and pressing forward onto the DNR with LNR. And even if this would cost [them], they would be forced to carry this out without trying to encircle it and cut them off from Russia and from each other, a simple blunt extrusion with huge losses. You would have not forgiven them yourselves. You would have shouted "you idiots, why are you forcing your way through the front–cut them off from the border! It's obvious even to a hedgehog…"
By the way, we're also building a defense on the assumption that Russia will not cross the very last line–the planes won't fly, the marines won't get deployed, the tanks won't force their way through Chernihiv to Kyiv… Because judging from this, we should pull all the forces closer to the capital and key cities, giving up all of Donbas.
So, as for the Ilovaisk encirclement, look again at the map. After the failure near Shakhtarsk, our troops tried their luck at Ilovaisk. Its capture made it possible to control the fire at the same route and opened the way to Zuhres with the possibility of taking direct control over it. That is, to shut down the DNR. That is, to win at this stretch.
Our troops just started to get better at this. In a slip-shod manner, but it worked. The battalions that occupied part of Illovaisk even withstood a counter-attack by the DNR forces. And that is why, and also based on the fact that a relatively same situation was underway in Luhansk (adjusted for the local specifics there), Russia decided to cross the line.
Once again, look at the map. Russians rushed in from the south if you look, viewed from Ilovaisk–through Amvrosiivka and Kuteinykove. From Donetsk, as much as their conditions allowed, terrorists moved out (as I understand it, through Mospyne).
I'm quoting Semyonchenko:
"And then the enemy hit us again from Sector D, and then after, the AFU [Armed Forces of Ukraine] unit that had to cover our rear "retreated." No, I'm sure that they did not have such an order. They just "retreated" and some of them were caught already 150 km from that location. And then, the enemy hit from Novoazovsk, and then after, and then the enemy hit from Mospino in the direction of Starobesheve. And we got into the operational encirclement …"
Was it possible to hang in there? Maybe it was possible. But–the separate units that were supposed to cover them in those directions blankly deserted. Yes, it would have been unlikely that the Ukrainians would be able to hold them off–Russians rushed in in large forces and tanks, and they had only light weapons. But there was a chance to slow [the Russians] down and give the group in Ilovaisk an exit. At the minimum, there was an opportunity to notify the encircled [troops] about their retreat or to break through to them and depart [with them] together. No. They ran off.
Then I was criticized a lot for the fact that I used to call those deserters bad words. As in, how dare you.
Why, but I can, my kittens. For the dead and those encircled, say thanks to your heroic heroes who broke through to "retreat" right up to Delyatin. Don't forget to buy them a cake and a pat their little heads.
Whatever it was, when the Ilovaisk group began to seriously consider the need to retreat, it was already too late. By my estimation, the clearance time was several hours. I could be wrong.
Next began the epic with "send reinforcements immediately." At first it was not very realistic, since no one really had any to send–in fact, our troops were trying to hold their ground everywhere, from Savur-Mohyla to Novoazovsk. When our troops had at least slightly evened the line and pulled in some reserves, it was meaningless from a purely military standpoint. Due to the fact that the reinforcement at the magnitude that our troops could give, would only have fallen into the same encirclement.
Nevertheless, they tried to send certain reinforcements–on the day when there was an agreement on "the [humanitarian] corridor." But this agreement was violated and–see above–at first, when they tried to exit along the "corridor," they caught the shelling, and then got into encirclement [crucible] together with everyone else.
Result–the defeat of the Ilovaisk group.
Next. About who is to blame.
Were there any critical errors by the command?
They were some for sure. But not the errors many are now shouting about. The main mistake was that there were no reserves created, which were able to react to the situation in a timely manner. However, I cannot vouch that there were plenty [of people] to create them from–let someone who knows comment on this. Another incorrect prerequisite than the one I wrote about above–the fact that they didn't consider that Putin would cross the line. But I have described this dilemma already: indeed, if one were to proceed from this assumption, the war would have to be carried out in a different way (or, more likely, not carried out).
A separate issue–was it worth it, bringing in the reinforcements into Ilovaisk by the 24th [of August], as was requested by Semyonchenko. Perhaps it would have been the right move, following the logic that would not allow for the Russian invasion. On the other hand, it is now obvious: if our troops had transferred additional reinforcements there then (into the city itself), as a result these forces would have ended up encircled together with everyone [else].
Here you go. I do not pretend [to know] the absolute truth: I am not on Bankova St. [Presidential Administration] and do not even sit on Rybalsky Island [General Intelligence Directorate of the Defense Ministry of Ukraine], they do not put intelligence reports on my desk. But from what I do know, the situation looks something like this.
Source: Glavpost.com
Translated and edited by Voices of Ukraine