The "elections" that Russian-backed separatists are preparing to hold on November 2 in Donbas are intended to promote the legitimacy of the separatist enclaves to whatever extent the  Kremlin determines is in its interests, a range of experts have said in the past few days. According to Andrei Illarionov, Russian economist and former adviser to Putin in an interview on the television program Savik Shuster Live Studio on October 31, "If until recently some experts, including me, assumed that Putin would like to preserve this separatist enclave within Ukraine in order to push this sore point when necessary, the situation has changed and it seems that Putin's strategic approach to this issue has started to change." Illiarionov was advisor to Russian president Vladimir Putin in the period 2000-2005.
The international community has stated that holding these elections is contrary to the Minsk agreements and thus cannot be recognized. Illarionov in his commentary in Gordon said that after the so-called elections, Russia will seek recognition of the DNR (Donetsk People's Republic) and LNR (Luhansk People's Republic).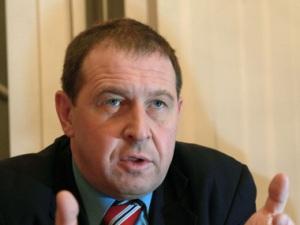 "I am 99% certain that  elections will be held on November 2, despite the fact that a huge number of Western leaders, organizations and various institutions have expressed their firm position against them. However, I think that they will take place, if nothing unexpected happens. These 'elections', of course, would mean [the realization] of most of what Sergey Lavrov, Russian Foreign Minister, has signaled: the legitimization of the separatist authorities and, accordingly, the legitimization of this separatist enclave to whatever extent the Kremlin's wishes," said Illarionov.
Illarionov had initially said that those advocating complete separation from Ukraine are being "squeezed out" and that Putin's goal is for the separatist enclaves to remain part of Ukraine. "Separatist enclaves are like a button that can be pressed any time, and from which territory may occur constant problems and destabilization," he said, explaining the main objective as legitimization of "this cancer on the territory of Ukraine to further take advantage of the situation." The point would be to allow Russia a "sore spot" that it could press whenever Ukraine takes steps in the direction of becoming a "normal civilized state," moving to Europe and taking part in the system of collective security.
He said that Putin will use the Donbas to influence Ukraine as a whole, noting the precedents of Transnistria, Abkhazia, and South Ossetia. He added that DNR and LNR separation from Ukraine is not acceptable to the vast majority of Ukrainians nor to Ukraine's political elite. The enclaves serve as a short leash, through which a much greater territory, the whole of Ukraine, can be managed, he explained.
However, later, in an interview with Savik Shuster broadcast October 31, he suggested that Putin may go further. In Illiaronov's opinion, the change is connected to the results of the parliamentary elections in Ukraine, which were unacceptable for Putin, demonstrating a shift in Ukrainian society towards consolidation that leaves Putin without the levers of pressure he had expected.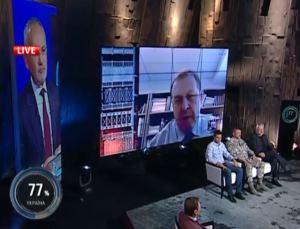 Illiaronov anticipates that Putin will use these "elections'  to resume active military actions that will be presented as taking place between more or less sovereign formations and Ukraine. "These are far more ambitious goals compared to what we were considering until just recently," he said.
Shuster commented that in this case, the situation is worse than than in Transnistria [the separatist enclave in Moldova]  or South Ossetia [the separatist enclave in Georgia].
Illarionov pointed out that neither Europe nor the US has replied to Putin's proposal to divide Europe and the post-Soviet sphere, which he made during his Valdai speech in Sochi on October 24. In making a proposal like the one Hitler made to Chamberlain in 1938-1939, he seems to have expected a sort of repetition of the Molotov-Ribbentrop pact. Failing to receive a positive response, he is pursuing  his goals through the use of force.
"I am afraid that in the near future it is highly probable that after so-called 'elections" in Donetsk and Luhansk, maybe right after them, more wide-scale military operations starting from these separatist enclaves will resume, first of all in the direction of Berdiansk and Melitopol, combined with  strikes from Crimea."
Andriy Bіletskyi, commander of the Azov volunteer battalion, expressed similar concerns during an interview with Channel 5 TV on October 30. He said that Russian-backed spearatists may take offensive action to encircle Ukrainian army units near Mariupol. The encirclement near Mariupol could be even worse than the August encirclement near Іlovaisk, he said.
Like Illarionov, Bіletskyi suggested that Russian army and Russian-backed terrorists are more likely to strike Berdiansk than Mariupol. He expressed certainty that they will try to encircle the southern group of the Ukrainian army and cut it off from other army units.
"There has been an aggravation of the situation and an increase in military activity in the Novoazovsk area over the last few days. There are casualties among marines and our fighters. I assume that the enemy will not attack Mariupol (it was very painful for the enemy last time), but rather, Berdiansk. This will cut off the Mariupol army group. We could have an encirclement worse than in Ilovaisk," said Bіletskyi.
Dmytro Tymchuk, head of the Information Resistance group, reports on his Facebook page that Russian-backed militants continue intensive artillery fire upon Ukrainian troops at the front positions and are sending more reconnaissance subversive groups in the direction of the Donetsk-Mariupol road. The Russian command has set the goal for its divisions and local gang formations to paralyze the road in the Mariupol direction, he said.
"Attempts to infiltrate the area west of Mariupol by the enemy's reconnaissance and subversive groups to block the Novoazovsk–Odesa (E58) road are increasing. Ukrainian troops are taking active measures to find and neutralize these groups," he said.
Russian-backed separatist seem to be testing the combat readiness of Ukrainian troops. The recent destruction of the Ukrainian checkpoint No. 32 was a "combat readiness test" undertaken by a new strike group consisting of Russian-backed terrorists and Russian mercenaries, according Tymchuk.
A "strike group" in the Luhansk People's Republic (LNR), built upon the Phantom Mechanized Brigade (whose commander is Oleskiy Mozhovyi), consists of as many as 1,200 local militants and Russian mercenaries, 20 tanks, 40 armored combat vehicles and about 40 units of  conventional and rocket artillery, according to Tymchuk. The group has received anti-tank grenade launchers, anti-tank guided weapons systems, MANPADs (air defense portable missiles) and mortars from Russia, he said.
Russian opposition leader Boris Nemtsov provided some interesting details on the Savik Shuster show broadcast on October 30. Nemtsov called the "elections' in Donetsk and Luhansk a provocation and a serious violation of the Minsk agreements. He pointed out that Russian Foreign Minister Sergei Lavrov is brazenly lying when he says that these "elections" were foreseen in Minsk agreement. Representatives of Ukraine, the Russian Federation, the Donetsk People's Republic (DNR), and the Luhansk People's Republic (LNR) signed the Minsk Protocol, an agreement to halt the war in the Donbas region of Ukraine, on 5 September 2014.
In fact, according to paragraphs 3 and 9 of the  Minsk agreement, elections are to be held in accordance with the laws of Ukraine. The Ukrainian parliament (the Verkhovna Rada) scheduled elections for December 7 in a law that was signed by President Petro Poroshenko.
The Minsk agreement was signed by Mikhail Zurabov Russia's ambassador to Ukraine and Putin's representative, a fact that Nemtsov called "a sort of state secret in Russia." Nevertheless, the elections in Donetsk and Luhansk will go the same way as the referendum in Crimea, Putin's way, he said, because Putin is intent on creating a bridgehead for further aggression and instability in Ukraine to scuttle Ukraine's European choice.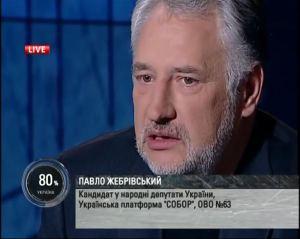 Pavlo Zhebrivskiy highlighted why Russia wants to hold these elections in the LNR and DNR as a guest on the Savik Shuster show broadcast on October 31. Zhebrivskiy was a candidate for deputy to the Ukrainian parliament from electoral district No. 63, Zhitomir Oblast, running on the Sobor platform. He serves as a volunteer in military intelligence for Ukraine's Anti-Terrorist Operation near Debaltsevo, organising  intelligence work in the territories not controlled by the Ukrainian army. Zhebrivskiy explained how the DNR and LNR "elections" are to be organized using Alchevsk as an example. Separatists are going to open five voting sites in Alchevsk, allowing voting from the age of 16. No law or act exists detailing how to conduct these elections, no list of voters is available, and voting through the Internet is allowed. People are likely to vote, he said, because separatists have threatened that people who do not come to vote will not receive social services or material assistance and have said that those not voting should got to territory under the control of Ukraine and try to get pensions and social security there. Given that only five voting stations will be opened,  there will be long lines of those waiting to vote, creating excellent images for Russian TV channels.
Zhebrivskiy assumes that Putin's goals are more far-reaching explained than  legitimization of the LNR and DNR.. After these elections, an escalation of the conflict can be expected, and military operations will intensify. "Even today we see that shelling has considerably increased. Immediately after the election, the confrontation will be more severe because a key condition has not been met: control over the border. Without control over the border with Russia, cessation of hostilities is impossible."
"We understand that these elections will bring nothing good, neither to people living in these occupied territories nor for the people of Ukraine as a whole. The issue is that military actions are becoming more dynamic. We are entering a very difficult path as  winter begins. The conflict will escalate in the winter. We observe that locals are being replaced with regular Russian army servicemen. Five days ago, we received information that 80 military vehicles, both armored vehicles and trucks with servicemen and equipment, entered Krasny Luch, Luhansk Oblast. Today [October 31, 2014] we received information that 50 tanks arrived from Russia. It looks like a wide-scale offensive operation is in preparation."
"We should not deceive ourselves. If Putin intended to comply with the Minsk agreement he would have done so. But he resorts to exacerbation of the situation and an escalation of military operations. We should be prepared to defend ourselves. We can beat Putin's army in Ukraine. Our army is not what it was even one or two months ago. The Ukrainian army has more combat experience and is more battle ready to defend Ukraine together with the people of Ukraine. It will not be an easy ride for the Russian army in Ukraine if [Russians and Russian-backed separatists] start an offensive," concluded Zhebrivskiy.
Predictions of a full-scale attack by the combined forces of the Russian Federation together with the LNR and DNR terrorist organizations in several directions have been made by InformNapalm team Timur Melik and military correspondent Roman Burko in their general summary for November 1, 2014. They have observed a mass rotation of personnel of militant groups, with local "militia" replaced by Russian servicemen. Local residents confirm the presence of many Russian servicemen in Donetsk. It is most likely that the Russian soldiers are replacing hard-to-control militants. The InformNapalm team and Roman Burko point to an increase of personnel and armored vehicles in Alchevsk, Bryanka, Perevalsk, Horlivka, Yenakijeve, and formation of reserves in Rovenky, Antratsyt, Snizhne, and Krasnyi Luch.
The pretext for a full-scale attack could come in the form of a powerful provocation, which could happen either during or shortly after the elections on November 2. It is likely that an attack will not come before November 4 or 5 because the terrorists will need to summarize the results of the elections in order to lend some legitimacy to their leaders. After that, the "legitimate" governments of the newly minted Donetsk and Luhansk People's Republics could even declare war on Ukraine. In this case, the Minsk agreements would be void, and the Russian Federation could ally with the terrorists in the war. This scenario would give the LNR/DNR the opportunity to use tactical operational missile complexes.
Rumors among DNR supporters in Kramatorsk and Sloviansk support that during November 2014 the start of a full-scale attack is probable. These supporters say that the DNR is planning to return to their towns on these days. Directions of a possible offensive are shown in a map prepared by BurkoNews.info and InformNapalm Group.
It remains unclear what exactly will happen after November 2. What is clear is that Russia has not abandoned the idea of further escalation of the conflict in Ukraine.
Written by Dr. Vitalii Usenko, MD, MBA, expert of the Center of Military-Political Studies in the sphere of psychology of communications and by Dmytro Usenko, student at Rotman School of Management, University of Toronto