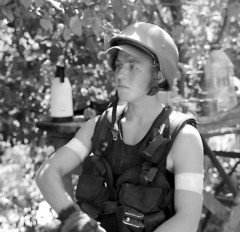 The Ukrainian website galinfo.com.ua published a human interest story by Serhii Kraivanovych on September 1, 2014 about the life and death of Andrii Snitko. The 18-year-old member of the Azov Battalion was killed in battle on August 20, 2014 and was buried on Ukrainian Independence Day. 

Our Lord granted him 18 years of life, though none of them were easy. At the age of 11 he became an orphan. He died before he could experience very much of life, such as marriage, though he did love his country above all else. He sacrificed his life for her, dying heroically at war against the Russian occupation of the Donetsk oblast city of Ilovaisk.
Andrii Snitko was born in the village of Horaimivk, Manevitskyi raion, and was raised by his mother, who was a single parent. When Andrii was 11 years old, at the end of grade 4, his mother became mysteriously ill, went into a coma….and died.
The boy was adopted by Raisa Halyk, whose own life wasn't easy. Her own married life did not last long. Together with her husband, she raised two children, but he died when the oldest daughter had only just begun school.  Raisa remarried, and two more children were born. Tragically, he suddenly died. She poured her grief into caring for her 4 children….As soon as she heard about the orphan Andrii from Horaimivk, she immediately took him into her family.
Natalia Shorokhod, the director of children's services for the Manevytskyi raion administration, explains that Raisa Halyk treated all her children equally, including her adopted child. All of them were loved and cared for, accepted and given the necessities of life.  So it was that Andrii Snitko had a family in which to graduate from school and then enroll at the Lesia Ukrainka East European National University. He studied physical education and health.
He was a full time student for only a few brief months. That's when the Euromaidan consumed all his attention. He spent all his time in Kyiv, where he became immersed in patriotic ideals.  He met like-minded friends and new colleagues, one being Serhii, a fellow orphan. They became like brothers. They were inseparable during the Maidan. Later, in May they presented themselves at the recruitment centre in Kyiv for the special militia battalion, Azov.
Andrii took the nom de guerre, Khoma. There would be three friends in the same sub unit who would be together in the fighting to liberate Mariupol and other towns of Pryazovia. Khoma proved himself a fearless soldier, leading the way into battle. Throughout this time he retained a carefree temperament.
After these battles were completed, several natives of Volyn who fought with Azov returned home. Andrii and Serhii likewise made similar plans. They were going to return to university and arrange for their second year course of studies.  All necessary permissions had been received from his commander, until he heard about preparations for a combat operation against the entrenched terrorists at a city called Ilovaisk. All he said was "I need to be with my men. Once we liberate the city, then I'll go home."
This final and fateful battle of his life occurred on August 20th. In the preceding days, unsuccessful attempts were made to liberate Ilovaisk, at the cost of several casualties.
The section of Azov that included Andrii were given orders to secure a certain objective. Ten soldiers were divided into three groups, with 18-year-old Khoma in command of the lead group.  The three brothers-in-arms, including Serhii, under the name Sokrat, cleared one particular building, returned outside, and continued down the street. They walked into an ambush.
Grenades were thrown at them, one of which fell exactly among them. Andrii suddenly dropped down, covering it with his chest. An explosion followed. The commander of the entire section, Tantsor, recalls the efforts made under fire by the individuals of Azov to retrieve this wounded hero and get him to safety. It was too late. He died saving two fellow soldiers from death. One of them sustained wounds to his hand, while the other, this time it was Serhii, in the foot.
On August 23rd, in Lutsk, in the Holy Trinity Cathedral, the funeral prayers were held for 18-year-old Andrii Snitko. His body had been safely retrieved by his brothers in arms, including Serhii. Notwithstanding the solid discipline of Azov, (at which it is taught not to fear death but rather to accept it as the greatest measure of love for Ukraine), the young man couldn't contain his emotions. The same was true for the commander and Khoma's senior officers.
Andrii's adoptive mother had a hard time at the funeral, nearly fainting and needing help. The soldiers of Azov told her what Andrii was like in battle, and they vowed to avenge his death. They recited for her the 10 commandments of the Ukrainian nationalist that he also had learned. The sorrowful ceremony was conducted with a closed casket because the deadly grenade, thrown from the hand of a Russian aggressor, mangled the body of this young son of Volyn.
After the conclusion of the funeral, his earthly remains were transferred to Manevych, his last home. Significantly, he was buried with full honours on Independence Day, for which he lay down his life…."
---
Source: Galinfo.com
Translated by Jeffrey Stephaniuk
Tags: Featured