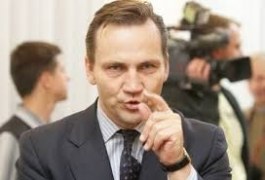 The USA, UK and France had guaranteed the inviolability  of its territory to Ukraine and now need to meet their obligations, said the Polish Foreign Minister Radoslaw Sikorski in an interview with Gazeta Wyborcza, September 2, reports Ukrainska Pravda.
"Ukraine was guaranteed safety by several Western countries, and the most influential ones: USA, United Kingdom, and France under the Budapest Memorandum … If these guarantees are to be convincing for Iran or North Korea, then the signatories of the memorandum need to come to Ukraine's defense and not send offensive weapons to the aggressor who has attacked Ukraine," Sikorski said.
Additionally, Sikorski is dissatisfied with NATO's reaction to Russia's threat to the Eastern European countries.
"We note with amazement that several West European countries are very cautious about reinforcing what now appears to be (NATO's) most vulnerable flank. They view us as their anti-tank mine that allows them to respond in a more restrained fashion," he said.
"I hope that after the NATO summit we will be able to say that we have received reinforcements to NATO's eastern flank and have begun to act according to the fundamental functions of the union — defending the territory of its members," he added.
According to Sikorski, the NATO summit will consist of the "NATO-Ukraine council, not the NATO-Russia one."
"This is a very powerful political signal that as long as Russia is at war with Ukraine, there will be no return to normal relations with NATO," he said.
"Several weeks ago the President of the United States said he would not rule out supplying arms to Ukraine if Russia sends in its armies. Let us see if this time he responds to the fact that his red line has been crossed."
Note: The Budapest Memorandum on Security Assurances was signed on December 5, 1994 by the United States, United Kingdom and the Russian Federation. France  and China gave individual assurances in separate documents.
pravda, translated by Anna Mostovych
Tags: Budapest Memorandum, NATO, News, Sikorski