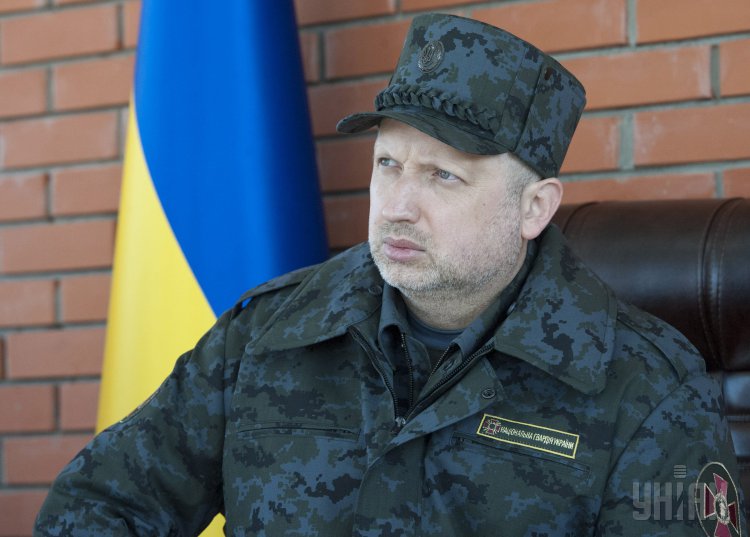 The actions of three signatories of the Budapest Memorandum, Russia by invading Ukraine and the US and UK by failing to come to its defense, means that Ukraine has no choice but to develop a modern army with contemporary weapons if it is to survive, according to Aleksandr Turchinov.
The secretary of Ukraine's National Security and Defense Council makes that argument on the 21st anniversary of the signing of the Budapest Memorandum by which Ukraine gave up the nuclear weapons on its territory in exchange for a commitment by Russia, the US and the UK to guarantee its territorial integrity.
The failure of the three countries to meet their commitments, Turchinov says, has changed the paradigm of international relations and thrown the world back in a medieval one in which force not law is the governing principle. This creates "a potential threat" not only for Ukraine but "for the entire world."
When Ukraine signed the Bucharest Memorandum along with the three other countries, "the political leadership of Ukraine at that time believed in the effectiveness of international guarantees but after 20 years it turns out that the guarantees were empty and did not have any foundation, even though they were signed by senior officials" from the four.
Ukraine had taken from it "not only nuclear weapons but all launch vehicles which could carry not only nuclear shells… [It] lost its strategic bombers and cruise missiles which, by the way, Russia is now using in the Syrian war." Moreover, Turchinov says, "Kremlin puppets" in Kyiv used this in their campaign "to destroy the Ukrainian army."
When Russia violated its undertakings in the Budapest Memorandum by invading Ukraine and illegally annexing Crimea, the security official says, he "turned to our strategic partners for help in the context of their obligations according to the Memorandum." But that did not lead to anything.
"We were politely told," Turchinov continues, "that the Budapest Memorandum is a formal document but it does not put forward real mechanisms for ensuring the guarantees it offers. That is… they really disarmed Ukraine, but the guarantees turned out to be 'nominal.'"
The US and UK "sympathized" with Ukraine and "supported it politically and economically," he says, "but it became clear that no one will defend Ukraine and that Ukraine must count only on its own forces." The two Western governments were not even willing to provide Kyiv with lethal arms at the time of the initial Russian attack.
"The non-fulfillment of the Budapest Memorandum showed the absurdity of disarmament," he says. "Arms have again become the chief argument in international relations," and that means that everyone who wants peace for their own country must prepare for war to defend it.
Ukraine has drawn that conclusion, he says, after paying "an extraordinarily high price." Indeed, "we have recognized that the guarantee of our independence and freedom is precisely a powerful army and contemporary weapons. To restore our military and economic potential is the only path for restoring the territorial integrity and democratic development of Ukraine."
And Ukrainians have also recognized, he continues, that in this sector, "we will be the only ones who can help us."
Tags: Budapest Memorandum, International, Military analysis, nuclear disarmament, Russia, UK, Ukrainian Armed Forces, Ukrainian Army, Ukrainian military, USA