Special Ops forces are the military who can do anything you can think of – free the hostages, infiltrate the nuclear power plants, go undercover in the enemy's territory and collect data there. This kind of forces exist in Ukraine for over 5 years now. Currently they are deployed in the East.
Army Special Operatives have bases in Kirovograd, Khmelnyckyi and Ochakiv. Once the Antiterrorist Operation (ATO) started in spring, the bat-chevroned operatives were also called back from overseas postings and redeployed in the eastern regions to take care of special tasks.
Special Ops forces form Kirovograd liberated the military base in Artemivsk (Donetsk Oblast) from the terrorists in June. In their address to the terrorists the operatives said:
"Hello to DNR and People's army. Remember, we are not going to leave this base, and we are not going to leave Ukraine. Today we prevented the terrorists from taking control of this military base. "
---
July 29, 2014, town of Snizhne, Donetsk Oblast. Nineteen Special Ops operatives from Kirovograd regiment move out here to search and rescue the helmsman of the Su-25 plane, downed by the terrorists before. It is a Special Operation, thus a very narrow circle of people are aware of the details.
The group walks into a trap. Twelve members killed, three captured and four manage to escape.
The captors interrogate their prisoners. This is what happens during an interrogation on August 1, 2014:
– Where are you from?
– I am from Kirovograd.
– You?
– Me too.
– Well, today you are our guests. What's your job? Tank staff?
– No, I am a recon scout.
---
On August 7, 2014, a funeral is held in Kirovograd. The government declares bereavement in town. Surviving operatives do not believe that the tragedy has happened by accident. The feeling of foreboding overwhelms them even more when they learn that the pilot of Su-25  was in safety all the time during their disastrous search for him.
Both insider classified sources and open source media confirmed that the pilot had been retrieved long before the recon group moved out to look for him. Already on July 24 the reports on the pilot were very optimistic, and the President of Ukraine himself cheerfully reported the pilot's rescue in his official Facebook on July 28. Nonetheless, on July 29 the Special Ops leadership still deployed a group of 19 operatives to look for the pilot.
The surviving operatives are convinced that someone set up their colleagues. Someone deliberately threw them in the middle of enemy-controlled territory and informed the terrorists of their route and whereabouts. Who is that someone? The operatives blame General Vyacheslav Nazarkin, Head of Special Operations of Army Headquarters.
Throughout his career, Vyacheslav Nazarkin had carefully kept out of the public's eye. He was born in Belarus and served in Russia under Soviet Union. For the last 8 years he was a lieutenant commander of the military base in Zhytomyr.
Nazarkin ended up the head of Special Ops division on December 5, 2013, in the middle of Maidan protests. Already in January 2013 the military has got an order to give public support to President Yanukovych and ask him to "clean up the mess in the country immediately" in an open address. General Nazarkin called the meeting in his headquarters. There, his subordinates voted against addressing Yanukovych. "Slidstvo.Info" journalists got their hands on a recording of that meeting.
There, Vyacheslav Nazarkin had to say the following about the unwillingness  of his team to support Yanukovych (January 28, 2104):
We should make order in the country. This address does not say which methods we should use. Your spineless take on this just tells me again that all of you are just toothless here… I did not come here to listen to loyal people saying stuff like "I do not support this, I better go and join these fuck-ups, this is not my business, I know nothing of this…"
In parallel, Mr. Nazarkin spent a lot of time on his Odnoklassniki.ru social network page. There he showered the pages and publications of Antimaidan with likes. His subordinates continued to lose respect for him.
Despite these facts, in March, after the revolution had won, Nazarkin got appointed to lead the Special Operative forces. This caused the  conflicts with his subordinates to flare. Internal investigations showed his involvement in various lawless activities. According to "Slidstvo.Info", Nazarkin was harrassing his subordinate officers by using threats and explicit language. The investigation also showed, that 67% of team members did not trust their boss and 75% considered him unqualified for his post. Despite this, Gen. Nazarkin still became the deputy of Antiterrorist Operation (ATO) chief Victor Muzhenko (Lieutenant General of the Army Headqurters). Apparently, these two go a long way back; they were friends already in Zhytomyr.
End result: the general, who was going at lengths to save the regime of Yanukovych, is now entrusted with the lives of Ukrainian soldiers at frontlines.
Trust is instrumental for special operations. When the operatives leave to do their job, they must have confidence in operation planning and loyalty of their leaders. Ukrainian operatives have  lost such confidence a long time ago.
From the interview of Serhiy Kryvonos, head of the Paratroopers Division and military commander of the Kramatorsk Airfield:
"How can I make it clear to the officers, that the people who work for us in town risk their lives? They give us information, we give the coordinates, then nothing happens. I understand that some targets have priority …. they shut us out … then hang up on us. And my officers, they hear our discussions. How must I explain to them, that they are being used and cast aside like prostitutes?"
Military service stunts emotional expression. The military do not discuss things, they follow orders. But in case of Nazarkin the situation is different. His subordinates suspect that he is on the enemy's payroll. Refusing to reveal their identity out of fear, they stressed that every operation involving Nazarkin had so far resulted in disaster and death of the operatives. Why? According to the operatives, the reason lies with general's relatives, namely his brother.
Serhiy Nazarkin lives in Russia and serves in Russian military. He is a deputy commander of the Omsk garrison. Superficial glance at social network pages of the brothers confirm that they keep close relationship. Vyacheslav Nazarkin's subordinates say that he calls his brother Serhiy every day and informs him about the events on the frontlines. Some even hinted that SBU recently became interested in these exchanges.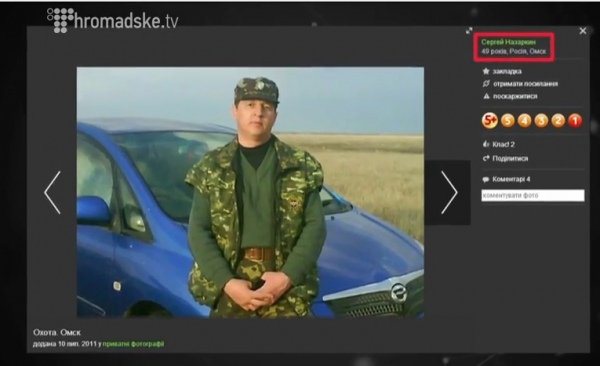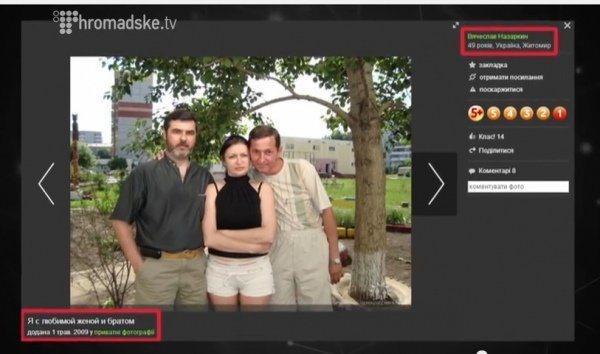 "Slidstvo.Info" placed the request for information to SBU and expects the response from them. In the meantime we decided to ask the general himself about his family.
– Vyacheslav Mykolayovych?

– Speaking.

– This is Hromadske TV speaking. Do you have a brother serving in Russian military?

– Why are you asking?

– We are asking because you are a general serving in ATO zone.

– I do not have anything like that and I do not have to answer your questions.

– So, you are saying that Serhiy Mykolayovych Nazarkin is not your brother?

– How the hell should I know?

– You do not know if you have a brother?

– Well… if you want to see my personal file, contact the Headquarters… And now you are interfering with my work. I am fucking busy with the fucking defense of the country. Goodbye!
Gen. Nazarkin became very upset and hang up on us. He renounced his brother and denied the obvious facts. Is this because these facts can substantiate the accusations of his subordinates? We will continue pinpointing suspicious people in our army. For one must know and remember the anti-heroes as much as the heroes.
[hr]Source:
hromadske.tv
, translated by Anna Palagina