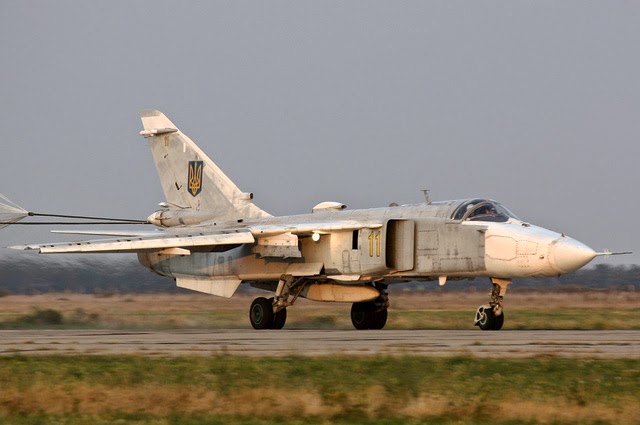 On Wednesday, July 2, terrorists in Donetsk Oblast forced a shootout on the Su-24 jet participating in the ATO with a MANPAD. The pilot managed to destroy the terrorists' MANPAD and to reach the destination point, according to Oleksiy Dmytrashkivskyi, ATO press officer as per Interfax Ukraine.
"During the flight over Donetsk Oblast, a Su-24 tactical jet bomber was fired on four times with a MANPAD," stated Dmytrashkivskyi. According to him, one missile hit the jet, and the engine got on fire. "The pilot managed to turn off the engines and extinguish the fire. He also managed to destroy the antiaircraft installation that was used to fire upon the jet," said Dmytrashkivskyi.
According to him, the jet flew 300 more kilometers with only one working engine and landed at the destination point. When landing, Su-24 got on fire again, the firemen put out the fire. "The crew is alive and unwounded, the jet needs to be repaired," the ATO press officer reported.
Later, Dmytrashkivskyi told "Obozrevatel" about a few incident details, particularly, the press officer reported that it happened in the area of Semenivka. "In the morning of July 2, a Su-24 jet exercised the territory fly-off, observing the terrorist locations. It was fired upon in the area of Semenivka with a MANPAD and mortars. In spite of the pilot maneuvers, the jet was damaged by one of the shots," he stated.
Translated by Mariya Shtangrat, edited by Alya Shandra
Source: vdv-ua