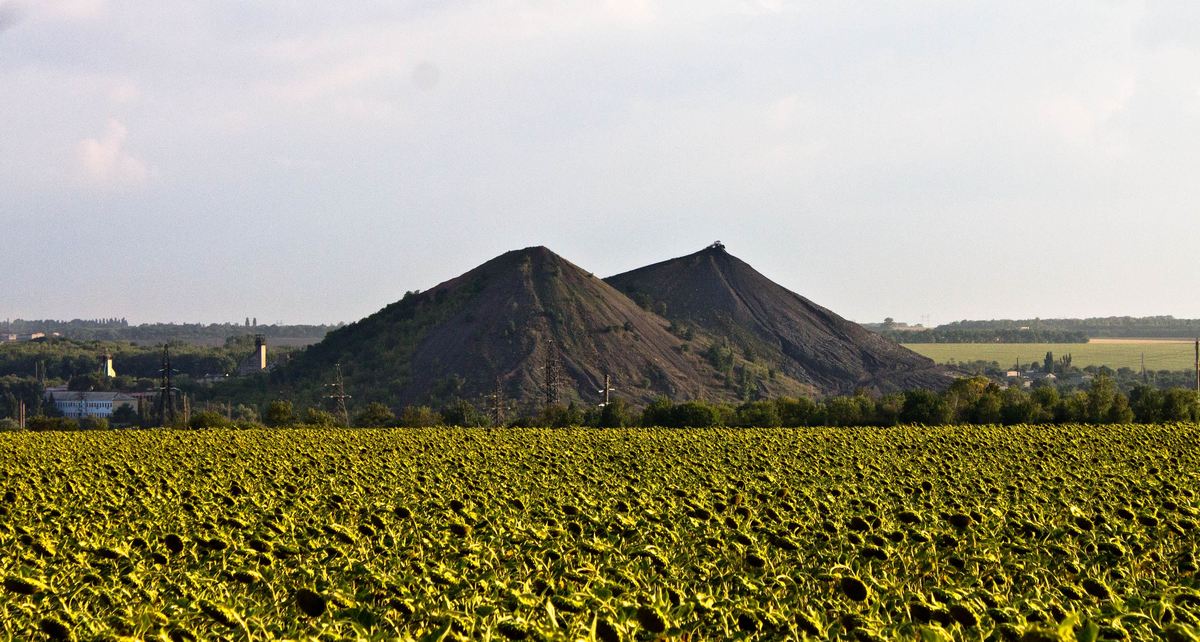 "Coal miners' mountains - the dance of sunflowers", photograph by Oleksandr Fomin. Source; ij.ogo.ua 
The Donetsk Press Club has started publishing digests of neglected news from Donbas news, which we bring to you. The Donetsk journalists in exile mostly focus on peaceful developments in the Ukrainiangovernment controlled, aka free, territory of the Donbas region in the war-ridden  eastern Ukraine. One-third of the region remains occupied by the Russian-hybrid forces and the digest also describes the events in the occupation zone officially known as ORDLO, the "Certain Areas of Donetsk and Luhansk Oblasts."
The Anti-Terrorist Operation becomes the Joint Forces Operation
This year Ukraine has finally changed its official legal position on what is really going on in the conflict zone. The bill #7163 (so-called Donbas Reintegration Bill) provides a legislative base for the transition from the anti-terrorist operation (ATO) to war, or "Joint Forces Operation" (JFO), and declared the Russian Federation a military aggressor who occupied parts of Ukraine.
But what does it change for those living in the areas adjacent to the contact line?
Firstly, the new legislation allows the President of Ukraine to impose martial law on a specific territory, which in turn significantly increases the power of the Ukrainian troops and law enforcers in the region.
Secondly, the Government finally set the protocol of weapons use in the JFO zone. If the use of lethal weapons and military equipment can't be avoided, according to the document, the military will use them for human life protection, prevention of civil casualties, first aid provision and emergency evacuation of the injured.
Thirdly, the military personnel in the JFO zone are allowed to restrict traffic, inspect vehicles and detain individuals for the purpose of identity verification during a 30-day term, instead of 72-hours term.
How will it work? Nobody really knows it yet. However, the new legislation is much more specific about the cases when the weapon use is allowed. It means that, at least theoretically, there should be less criminal activity in the war zone.
Series of explosion incidents in Donetsk in the first decade of March
At the beginning of March, a series of mysterious explosions rocked Donetsk, the regional capital occupied by Russians. On 9 March a hand grenade blew up in Kirovskyi district, wounding 6. The night before, March 5, another grenade exploded in the city killing a woman and causing serious injuries to her male companion. On 3 March another person was wounded in an explosion at Voroshilovskyi district of Donetsk.
Why did it happen? As usual, Russian propaganda rushed to blame the legendary "Ukrainian DRGs," according to Russian propaganda, those intelligence and sabotage groups guilty of everything going wrong in the occupied territories while nobody ever proved they exist. However, pro-Russian chieftain Khodakovsky, who opposes Russian-installed regional leader Aleksandr Zakharchenko, said that too many munitions had accumulated in Donetsk, and "many people can start settling scores."
Telephone code changed to Russian in ORDLO
Meanwhile, a so-called "DNR communication minister" announced the upcoming change of the country code used by the separatist-run mobile operator "Feniks," using the stolen equipment of Ukraine's "Kyivstar," from Ukrainian "+38 to Russian "+7." Ukrainian wireless operators are still out of service in Donetsk Oblast.
Later, a copy of "Feniks" in occupied Luhansk, "Lugakom," announced the same. It's nothing but tossing another bone to those local residents who still believe that the occupied regions will be annexed by Russia as it did it with Crimea. However, the 26-year-long history of Transnistria, a Russian-controlled breakaway region of Moldova, shows that such useless "signs of upcoming reunification" may be shown for decades.
Startups of free Donbas
Donetsk Oblast remains not the best place to launch startups and introduce innovations. However, the region continues to generate ideas. Three interesting startups to watch out for:
A 3D printing company Farm 3D produces a string of 3D printers and conducts R&D in the field of modeling in Kramatorsk, de-facto capital of the free part of Donbas Oblast.
Energodopomoga is a Mariupol-based online service for the shared purchase of energy-saving goods. The idea behind the startup is to help buyers unite for collective purchase to get the best discount price for the product they need.
QuartSoft Corp. is another Kramatorsk company that specializes in the development of SaaS systems for farming.
Why is this important? Well, these are enthusiasm-driven self-funding projects whose founders hope to attract international investment. Despite all the deficiencies of the front-line zone, there are at least three cities in Donetsk Oblast – Mariupol, Svyatohirsk, Pokrovsk – capable of generating innovations and attracting IT talents.
What do the frontline cities need to be innovative? Affordable accommodations, developed infrastructure, a zero-rate tax rate for certain types of business, and state programs for supporting startups.
Ukrainian Donbas Patriots
What started as underground pro-Ukrainian patriotic youth activism at the beginning of the war has later turned in the liberated frontline cities into a large-scale public movement. Member activists of the new NGO "Ukrainian Donbas Patriots" try their best to improve their frontline city of Pokrovsk and its suburbs.
"Ukrainian Donbas Patriots," who have been living right next to the war-zone and helping Ukrainian military, harbor no illusions that the conflict may end soon. And they don't give up contributing to the future common victory, doing the job neglected by local authorities for decades, namely raising the sense of national identity in the region.
The activists organized a number of athletic events, bicycle races, festivals, and marches. Thanks to them the city now has Vulytsia Zakhysnykiv Ukrainy, Defenders of Ukraine Street. The activists initiated the establishment of an Anti-Terrorist Operation exhibition room at a museum of the local history. Recently, they have laid a stone in Pokrovsk marking the place for the future memorial to the heroes of the Revolution of Dignity.
It turns out that even $ 10,000 might be enough to start a new business in the free Donbas
One of the residents of frontline Stanytsa Luhanska used the UNDP financial aid to open a bicycle repair shop. Under the UNDP business grant program, a private dentist's room emerged in Shchastya, as well as cafes in Sievierodonetsk and Popasna, and even a road repair company in Sievierodonetsk.
Ukraine has nearly 1.5 million IDPs
The number of internally displaced persons (IDPs) in Ukraine reached 1,489,659 this February. More people continue to resettle to Kyiv, while the number of those resettling to Central Ukraine continues to decline.
Most of the IDPs reside in Donetsk Oblast – 541,400, other 291,170 found their new homes in Luhansk Oblast, and the capital city of Kiev give sanctuary to 160,287 IDPs. The least popular destination for resettling from the war zone is Chernivtsi Oblast, only 2,490 IDPs have been registered there.
Social projects
The medicinal herbs and spicery company Trava.UA has launched a social entrepreneur's project, allocating funding for educational and cultural projects such as ecology and agriculture classes in summer camps and schools and funding the volunteer project for children Vyshyti Mriyi ("Embroidered Dreams").
Company's owner Maksym Potapchuk also told about their contribution in developing the small farming businesses in Luhansk and Donetsk oblasts.
"Donbas, a coal miners' land"
We publish a photo series "Donbas, a coal miners' land" created by Oleksandr Fomin, a tenth-grader from a Donetsk town of Dobropillia, with which he won the All-Ukraine competition of student art works "I am a journalist" in 2017.