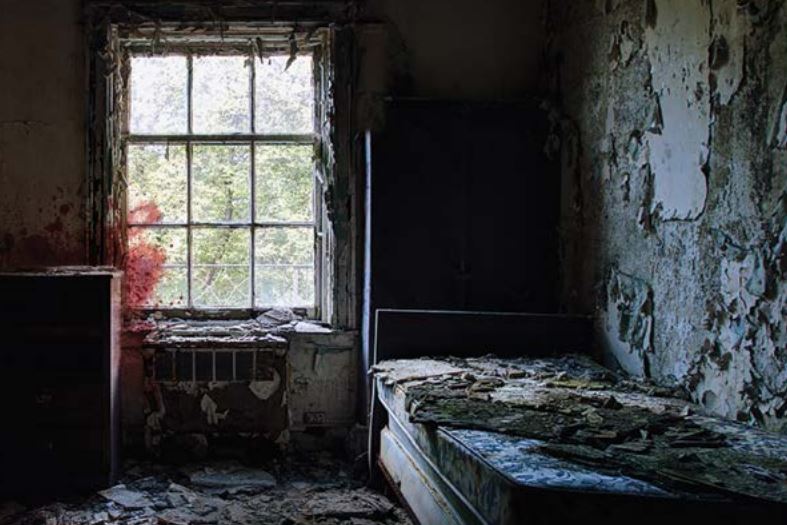 One of the basements holding prisoners in occupied Donbas. Photo: Coalition of public organizations and initiatives "Justice for Peace in Donbas" 
The leaders of France, Germany, France, and Ukraine have extended the expiration date of the Minsk agreements. This means that hundreds of prisoners illegally held in the basements of Donbas will continue being tortured and abused by the militias of the so-called Donetsk and Luhansk "people's republics." The clause of the Minsk agreements to release hostages must be implemented immediately; otherwise, they may not last to see the day. 
86% of imprisoned soldiers and half of the civilians experienced torture and harsh abuse in occupied Donbas.
According to official reports, 130 people remain imprisoned in the occupied territories of Donbas. Among them are both soldiers and ordinary civilians.  According to information from volunteers working on behalf of those detained and disappeared, the number of hostages may be exponentially larger.  All these people should have been freed in accordance with the
second Minsk agreements
, signed on 12 February 2015,
not later than the fifth day following the withdrawal of arms
, which was supposed to take place ten months ago.  They should have celebrated New Year and Christmas holidays at home.
This hostage release and accompanying ceasefire on both sides simply should not have been put off.  The majority of prisons in the occupied territories of Donbas are inadequate even for short-term confinement, as they are found in abandoned basements and cellars.  These are real torture chambers, where beatings take place and evidence is stamped out.  Surveys carried out by the "Justice for Peace in Donbas" Coalition indicate that 86% of soldiers and half of the civilians experienced torture and harsh abuse.
The conclusion is grim: every day of delay can be the last for some of the hostages.
Read more: War crimes in occupied Donbas: every second prisoner tortured, 16% witnessed executions
During the complex negotiations, France and Germany, participants in the Norman format, should have been the first of Ukraine's allies to demand immediate prisoner release from Russia and the "republics" it created. In addition, all democratic nations who declare a commitment to human rights should be raising this issue whenever the Russian-Ukrainian war, which is still referred to as the "Ukrainian crisis" throughout the world, is discussed. [As reported, the participants of the "Norman four" group extended the date of the expiration of the Minsk agreements – ed.]
The demand from the international community to "release all hostages" should be categorical, under threat of withdrawal from the Minsk agreements.  
It is not clear when other parts of the agreement will be met.  The lives of 130 people cannot be contingent on the holding of elections through which Russia wants to legalize its control of occupied territories and force Ukraine to subsidize them. Nor can they depend on total amnesty for all "in relation to events that took place in particular districts of Donetsk and Luhansk oblasts of Ukraine," so that contrary to the provisions of international human rights laws, Motorola (nom de guerre of Russian citizen and resident, and now Donbas mercenary and executioner Arseny Pavlov), who personally finishes hostages off, can be released from any responsibility.
Saving the lives of hostages on condition of fulfillment of agreements is the prerogative of terrorists. And as a rule, few people in the world conduct negotiations with terrorists.
What kind of "democratic elections" on the occupied territories and their coverage in media can even be spoken of, when 30-year-old Luhansk journalist Mariya Varfolomeyeva remains in captivity for a year on trumped-up charges.  The last time she was shown, sobbing and exhausted, in an interview with Russian "colleagues" was in May of 2015.  In general, Russian "journalists" actively participate in filming of forced confessions of captives, who, under threat of continuation of torture, admit to being artillery spotters and Right Sector snipers and anyone you please.
While politicians negotiate a diplomatic solution at numerous meetings of contact groups, even now in basements, garages, sewers and dog kennels, people are losing their last hope for survival.
Most frightening of all, at this very moment the next person may be brought into the interrogation room:
"I remember that the walls and ceiling of the room were covered with dried blood.  Four people beat me at a time. All over my body. Particularly kicks to the chest… I regained consciousness in another room. This was a former industrial refrigerator. The ceiling was tile. I was lying on the bare floor. A paramedic arrived. He cut the rubber ties which bound my hands. From time to time the refrigerator opened. Some people would come in, I don't know who, and prodded me with their feet to check if I was alive. They did not feed me, they did not give me water, they did not take me to the washroom.  The refrigerator was airtight.  There was enough air for a few hours.  There was no light whatsoever. I lay this way for 3 days."
Not only men receive such inhuman treatment. Accounts from those freed show that gender, age and health often have no bearing:
"I asked them not to beat me, telling them I was pregnant.  They said 'good thing, the Ukrop child dies.' They beat us with everything at hand – rifle butts, kicks, the body armor that they found on us. They beat every part of our bodies. They put out their cigarette butts on me. When I watched and cried as they beat others, they duct taped my eyes shut. At that time I was in my third month of pregnancy, and as a result of the beatings I started bleeding".
All the hostages have names, 130 are officially known. But whether they have a future depends on political decisions and active role of the democratic world. Yes, these are Ukrainians, not Germans or French. But we are all born free and equal!
Help them return alive. We await them at home.
Here are three easy steps to #FreeDonbasHostages: 
✔ sign the petition: bit.ly/free_petition
✔ join the twitter storm on 12.02.2016: http://wp.me/p4CYSc-n8u –  Just come in & click
✔ invite your friends to the event bit.ly/freedonbashostages 
This article is based on a report by the Coalition of public organizations and initiatives "Justice for Peace in Donbas" titled "Surviving Hell: Testimonies of Victims on Places of Illegal Detention in Donbas" – find the full English-language text here.
Oleksandra Matviychuk is a human rights activist, coordinator of the Euromaidan-SOS initiative and chair of the Center for Civil Liberties in Ukraine.
Tags: Donbas, Donbas war (2014-present), Hostages, Human rights, Russian mercenaries, Russian military crimes, Torture, Treatment of Ukrainian prisoners