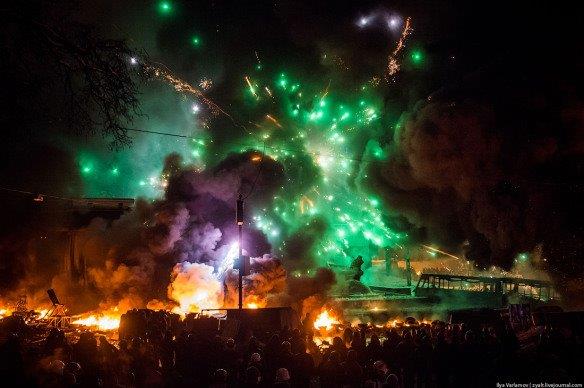 Protestors periodically shoot fireworks at Berkut
Robert van Voren. February 20, 2014
Tonight the atmosphere at Maidan was an extraordinary one, very hard to catch in words.
Totally conflicting emotions. The sky filled with smoke from the burning tires, with an orange-yellow glow fluctuating behind the skeletons of the barricades, with every now and then outbursts of sparks resulting from explosions and big bangs of stun grenades that make the ground shake. 
Self-defense units passing by, with helmets and sticks and self-made shields or those left behind by fleeing Berkut, dark proud creatures in rows sliding between the demonstrators through the night. Most of the sidewalk is without stones, all piled up in places to be used in case of an attack. Stumbling between the piles of tires and other "weapons" you make your way to the barricades, in the end climbing on top and staring in the dark distance, where on the other end Berkut remains invisible. Prayers sound from the central stage, exchanged with speeches, announcements or Ruslana singing the national anthem.
The self-made army of Maidan defenders are proud people, standing ready on the barricades like Vikings at the helm of their ships, while in between men and women are sitting around in small groups either playing cards, or warming themselves over a fire or doing their mails and facebooks on their mobile phones. Most of Maidan is a free wifi zone, and thus Middle-Aged warfare is combined with 21st century technology.
This is a proud nation that has taken another step to freedom, towards shedding the remnants of the Soviet past. For the third time Yanukovych failed to disperse the demonstrators and reconquer Maidan. Yes, part of the territory is taken, but still it is a defeat that resounds through Europe and all the way across the Atlantic. The price Yanukovych paid for his clearly provoked battle of February 18-19 is high. In West Ukraine the government is ousted from the buildings, even secret agency SBU offices are taken and burned, and he is one big step closer to his demise.
This you feel at Maidan: a determination to win, not to be defeated, and to be willing to go to the very end. I am proud I was able to witness this tonight.
Robert van Voren is a Sovietologist teaching at Vytautas Magnus University in Kaunas and Ilia State University in Tbilisi. He was Permanent Representative of Ukraine in the Benelux for Humanitarian Affairs in 1994-1997.
Tags: Berkut SWAT police, EuroMaidan, Police, Self-defense, Violence