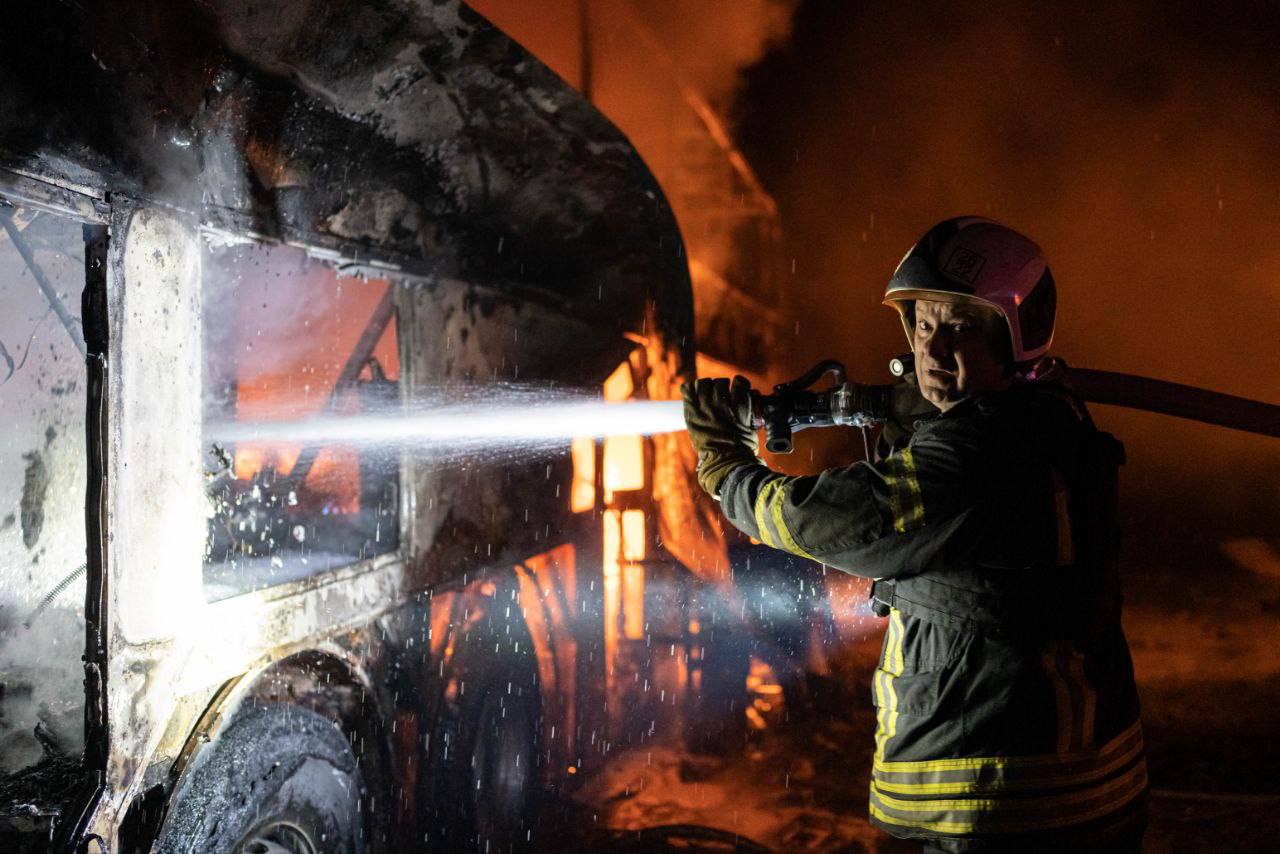 Firefighters deal with consequences of Russian missile debris falling on Ukraine's capital Kyiv on 16 May. Photo: State Emergency Service 
The Ukrainian Army's Air Force Command reports that Ukrainian air defenses shot down all 18 Russian air, sea, and land-based missiles of various types, including six ostensibly "hypersonic" Kinzhals, launched in the early hours of 16 May.
According to the Command, the Russians attacked Ukraine from the north, south, and east at about 3:30 a.m, firing six Kh-47M2 Kinzhal aeroballistic missiles from six MiG-31K aircraft, 9 Kalibr cruise missiles from ships in the Black Sea, and three land-based missiles (S-400, Iskander-M).
"Also, overnight into 16 May, the enemy attacked with Shahed-136/131 attack drones and conducted aerial reconnaissance with three operational and tactical level drones, Orlan-10 and SuperCam. All of them were destroyed," the report reads.
Russia tried to destroy US-made Patriot SAM in Ukraine with Kinzhal missile – CNN citing US officials
Updates:
It was the 8th air attack on Kyiv since the beginning of May.
"This time, the enemy launched a complex attack from different directions simultaneously, using UAVs, cruise missiles and, probably, ballistic missiles. It was exceptional in its density – the maximum number of attacking missiles in the shortest possible time," the Kyiv City Military Administration (KMVA) reported early in the morning.
According to KMVA, fragments of the missiles fell in the capital's five districts, causing the most serious damage in Solomianskyi district, where a non-residential building and several vehicles caught fire. Other affected districts saw minor damage, "in most cases, the debris fell on parked cars, the adjacent territory, or the forest park area."
Cars were damaged in the missile attack on Kyiv; Kyivans take photos of missile wreckage that fell in their neighborhoods.

No info on other damage/casualties yet
📷 https://t.co/7fqGnMEQq0 pic.twitter.com/qf7aASXMh9

— Euromaidan Press (@EuromaidanPress) May 16, 2023
https://twitter.com/EuromaidanPress/status/1658353453297442816
One of the photos shared on social media showed what appears to be a fragment of the Kinzhal missile:
@Osinttechnical suggests that one of the missile fragments found today in Kyiv be the motor section from a Russian "hypersonic" Kh-47M2 Kinzhal pic.twitter.com/MkNRysLSvP

— Euromaidan Press (@EuromaidanPress) May 16, 2023
Kyiv Mayor Vitalii Klitschko says that some missile fragments crashed on the premises of Kyiv Zoo, causing no injuries to employees or animals, damaging only trees.
"The animals are now undergoing anti-stress measures. And today, as usual, the zoo will open for visitors at 10:00. So come to calm down and support the residents of Kyiv Zoo," Klitschko wrote.
Missile debris that fell on the Kyiv zoo damaged some trees, but animals and zoo workers are unharmed, Kyiv mayor Klitschko says.

Adds that "antistress measures" are being conducted with the animals & that the zoo opens at 10 AM

🎥 https://t.co/9U2zbFC0Cf pic.twitter.com/4gfYDYTy3M

— Euromaidan Press (@EuromaidanPress) May 16, 2023
According to an early-morning post by the Kyiv mayor, three people were injured in Solomianskyi district of Kyiv.
The US and the UK wrote about the last night's events:
Grateful for the powerful work of Ukrainian air defenders.
Вдячна за потужну роботу українських ППО.

— Ambassador Bridget A. Brink (@USAmbKyiv) May 16, 2023
A full on aerial attack on Kyiv last night, pretty intense. Bangs and shaking walls are not an easy night. Hope everyone is ok.

— Dame Melinda Simmons (@MelSimmonsFCDO) May 16, 2023
Read also:
Tags: Kalibr, Kinzhal, Kyiv, Russian missile attacks