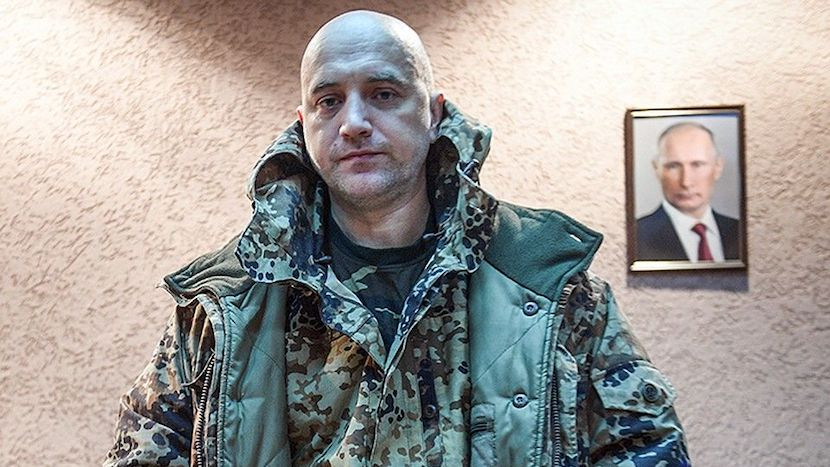 Zakhar Prilepin, a notorious Russian propagandist, was the target of an assassination attempt. File photo 
Atesh, a partisan resistance movement of Ukrainians and Crimean Tatars, claims it carried out an assassination attempt at top Ukraine-hater, Russian propagandist Zakhar Prilepin.
One of the most prominent propagandists of the Kremlin's aggression and a vocal supporter of Vladimir Putin and his February 2022 invasion of Ukraine. Zahar Prilepin was injured in car explosion in Nizhny Novgorod Oblast, the Russian media RBC reported 6 May. The media reports that car carrying Zahar Prilepin, a notorious writer and member of the "Just Russia" party, was blown up, leaving him "severely injured." The driver of the Audi was killed in the explosion. Prilepin's press service clarified that "he is alright."
According to the media, Prilepin was returning to Moscow from occupied Donbas when the incident occurred on 6 May. He had crossed the Russian border and stopped for a meal in Nizhny Novgorod Oblast. The explosion happened shortly after he resumed his journey, creating a crater at the scene.
Prilepin sustained "leg injuries" as a result of the explosion.
The Russian authorities blamed the attack on Ukraine and the West, without providing any evidence. The Russian Investigative Committee, which probes serious crimes, said Prilepin was "travelling with his family" at the time of the blast, but did not specify who else was in the car. The incident sparked a massive manhunt in the region, as law enforcers set up roadblocks and searched for those responsible for the bomb attack.
This was not the first time that Prilepin or his associates were targeted by explosions. In April 2023, a blast from a statuette rigged with explosives killed Vladlen Tatarsky, a pro-Kremlin military blogger and a close friend of Prilepin. And in August 2022, Darya Dugina, the daughter of Aleksandr Dugin, a prominent ultranationalist intellectual and an ally of Prilepin, was killed in a car bombing outside Moscow. Russia also accused Ukraine of being behind these attacks, while Kyiv denied any involvement.
Atesh, a Ukrainian-Crimean Tatar partisan movement, claimed responsibility for the attack, asserting that they were "hunting" for Prilepin since the start of the year.
What is Atesh?
Established in September 2022 with the aim of resisting the Russian invasion of Ukraine, Atesh comprises Ukrainians, Crimean Tatars, and Russians, has been involved in various acts of sabotage and resistance against Russian forces.
In February 2023, Atesh reported that 4,000 Russian soldiers had enrolled in an online course to learn how to wreck their own equipment, signaling a growing level of dissent among Russian forces. The same month, the movement claimed responsibility for an explosion in Nova Kakhovka that targeted a car with four Russian occupiers, further demonstrating their commitment to opposing the Russian invasion.
By April 2023, Atesh had eliminated a Russian military unit in Kherson Oblast, as reported by the group itself. The operation was also confirmed by the National Resistance Center of Ukraine, which stated that the successful mission was carried out in occupied territory.
Zakhar Prilepin: a Ukrainophobic Russian nationalist writer with a machine gun
Zakhar Prilepin is a Russian writer, politician, and militant who has been actively involved in the war against Ukraine since 2014. He is one of the most prominent and influential figures of the Russian nationalist and imperialist ideology that seeks to destroy Ukraine's sovereignty and identity.
Prilepin first gained fame as a novelist and journalist who wrote about the Chechen wars, the Russian opposition, and the social problems of contemporary Russia. He was also a member of the banned National Bolshevik Party and the Other Russia coalition, which advocated for radical changes in the Russian political system.
In 2014, Prilepin joined the ranks of Russia's proxies in occupied Donbas, where he served as a deputy commander of a battalion and an adviser to the leader of the so-called "DNR," Aleksander Zakharchenko.
He claimed that he was motivated by his "love for the Russian people" and his opposition to the "fascist junta" in Kyiv. He became a deputy commander of one of the battalions of the so-called "DNR" (Donetsk People's Republic), a puppet entity created by Russia to destabilize Ukraine. He also served as an adviser to Alexander Zakharchenko, the former leader of the "DNR" who was killed by a bomb in 2018.
Prilepin took part in several battles against the Ukrainian army, including the siege of Debaltseve in 2015. He also helped recruit, train, and arm other Russian fighters who joined the separatist ranks. He boasted about killing Ukrainian soldiers and civilians, and called for a "cultural purge" of Ukraine. He also advocated for the expansion of the war to other regions of Ukraine, such as Kharkiv, Dnipro, and Odesa.
Prilepin used his fame as a writer to spread propaganda and misinformation about the war in Donbas. He wrote books, articles, and poems that portrayed the separatists as heroes and the Ukrainians as enemies. He also appeared frequently on Russian state television and radio, where he justified Russia's intervention and criticized Ukraine's government and society. He accused Ukraine of committing genocide, fascism, and terrorism against the Russian-speaking population of Donbas. He also denied Russia's involvement in the war, despite admitting that he received orders from Moscow.
In 2018, Prilepin left Donbas and returned to Russia, where he became a leader of the A Just Russia – For Truth party, which is part of the pro-Kremlin "systemic opposition." He also continued to appear on Russian TV channels and radio stations, where he expressed his support for Putin's policies and his hostility towards Ukraine.
In 2022, Prilepin announced that he had signed a contract with the Russian National Guard and that he was going to fight in Ukraine again.
Ukrainian-Crimean Tatar partisan movement eliminates Russian military unit in Kherson Oblast
Tags: assassination, Atesh, partisans, Prilepin, Russian propaganda