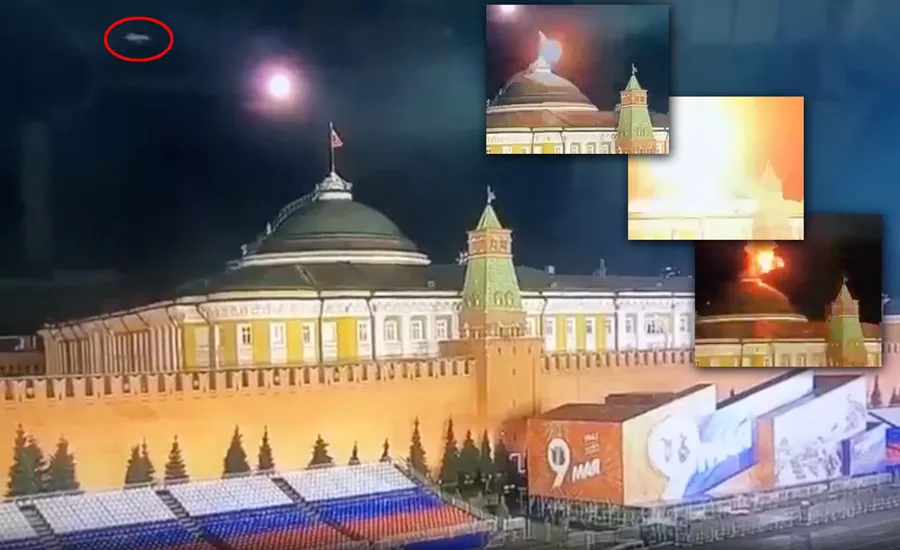 Alleged drone attack on the Kremlin in Moscow, Russia. 3 May 2023. Screenshots from the video. 
The timing of the drone strike on the Kremlin a few days before Victory Day shows Russia's increasing vulnerability to such attacks and has almost certainly raised the threat perception of the Russian leadership over the Victory Day events, UK Intelligence reported.
Twenty-one cities in six Russian regions and occupied Crimea have cancelled their Victory Day military parades, citing security concerns. The Victory Day commemorating the Soviet Union's victory over Nazi Germany has been monopolized and weaponized by Russian propaganda over the past decades.
According to UK Intelligence, the Victory Day celebration will likely advance in Moscow, albeit on a smaller scale. Russia's President Vladimir Putin's reception following the parade will not proceed.
The traditional March of the Immortal Regiment (Bessmertny Polk), where family members display photographs of World War II deceased veterans associated with Victory Day, has also been cancelled. This follows the recent cancellation of the Russian-hosted International Army Games.
The potential for protests and discontent over the Ukraine war are also likely to have influenced the calculus of the Russian leadership, UK Intelligence reported.
Related:
Tags: British intelligence, drone attack, Kremlin, Moscow, Putin, Russian invasion of Ukraine, Victory Day