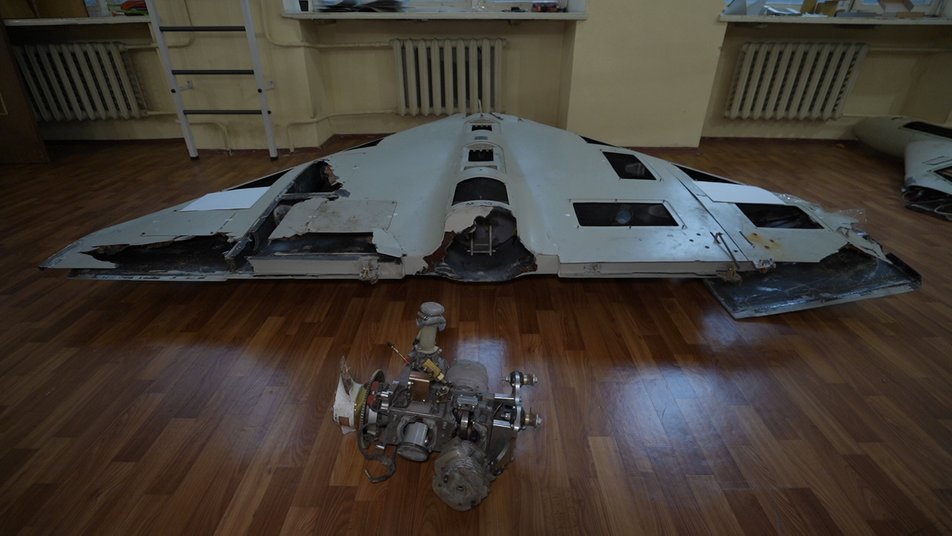 Shahed-136 drone wreckage. Illustrative image 
Ukraine's Air Force Command reports that in the early hours of 4 May, Russian forces attacked Ukraine with "up to 24" Iranian-made Shahed-136/131 attack drones launched from the north and the south, namely from Russia's Bryansk Oblast and the eastern coast of the Azov Sea. Ukrainian air defenses destroyed 18 Russian kamikaze drones and, additionally, one operational-tactical-level unmanned aerial vehicle, according to the Command.
The public broadcaster Suspilne reported explosions heard in Zaporizhzhia, Kyiv, and Odesa around 2:00-3:20 a.m.
Kyiv City saw the third Russian attack over the first days of May. the attack involved the Iranian-made Shahed drones and missiles, all of which were shot down, according to the city's military authorities:
"Ruscists ('Russian fascists,' – Ed.) attacked Kyiv using the  Shahed-type loitering munitions and, probably, the ballistic-type missiles (the type of missiles used will be determined only after the examination of the remains). According to preliminary information, our air defense forces destroyed all enemy missiles and UAVs in Kyiv airspace! The data is being clarified. According to the latest reports, there were no civilian casualties and no damage to residential buildings or infrastructure," the Kyiv City Military administration wrote.
The Zaporizhzhia Oblast military Administration says that last night's damaged detached houses in Zaporizhzhia City as a blast wave broke windows and damaged roofs. The administration doesn't mention the number of affected houses but adds that there were no injuries.
The authorities of Odesa Oblast reported that the Russian nighttime attack on Odesa City involved 15 drones, 12 of which were downed by the Ukrainian air defenses.
"Three drones hit the dormitories of an educational institution. Odesa's rescuers promptly extinguished the fire that broke out after the hit. Fortunately, people were not injured," the Odesa Oblast Military Administration wrote.
Read also:
Tags: Russian attacks, Shahed-136