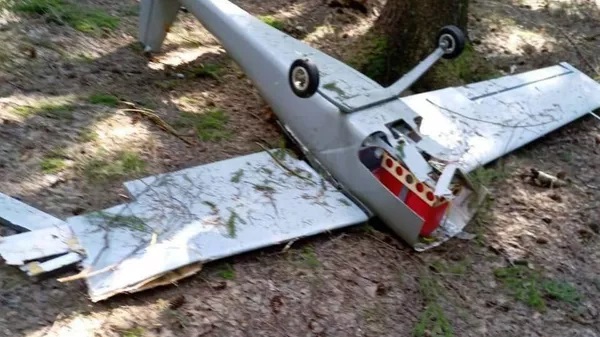 Wreckage of a Ukrainian drone that on 24 April crashed 40 km from Moscow. Image: Russian media 
Ukraine's partners are withholding modern elevation maps that could help Ukrainian drones reach their destinations in Russia.
While several Ukrainian drones have failed to reach Moscow, experts maintain that using these "primitive" drones remains a cost-effective strategy to challenge Russian air defenses, Marko Syrovoi writes at LIGA.net. Military expert Oleksiy Katkov explains that these drones can be produced inexpensively, forcing Russians to expend costly missiles for their interception: "for the destruction of primitive drones at a conditional $10,000, the Russians will spend missiles worth hundreds of thousands."
However, the main thing that stands in the way of these drones hitting targets in the Russian capital is Ukraine's lack of modern elevation maps.
Around Moscow, a dense air defense system has been built, and the best way to penetrate it is to fly as low as possible to avoid being detected by Russian radar stations, explains Katkov. Without modern digital elevation maps, drones risk colliding with newly constructed high-voltage towers or other recently built tall structures. Countries within NATO and those with significant satellite capabilities have access to these maps, which include data on terrain features, artificial obstacles, and can be updated annually or every few years to account for changes in the landscape. Lacking such maps, Ukrainian drones are forced to fly higher, making them more vulnerable to detection and destruction.
"Quite often, the drones would crash into trees and fail to reach Moscow," former General Staff spokesman and Ukrainian Armed Forces Colonel Vladyslav Selezniov told LIGA.net. "It's quite possible that their flight missions didn't account for changes in the landscape, such as trees growing taller over time or the appearance of artificial structures."
Le Monde reports that Ukraine requested digital elevation maps of Belarus from France, but was denied due to Paris's opposition to operations in neighboring countries. As Ukraine lacks its own satellite capabilities, the country has to rely on the goodwill of partners or continue searching for optimal flight routes.
Another area of improvement for Ukrainian drones is their vulnerability to Russian electronic warfare (EW) systems. Katkov does not rule out the possibility of drones losing their way due to GPS signal jamming. However, he adds that quite powerful EW fields are required for a drone to get lost enough to fall due to fuel exhaustion, as they can attempt to fly out of the EW field.
In contrast, cruise missiles have multiple guidance systems, making them nearly impossible to confuse. Equipping drones with similar advanced guidance systems would significantly increase their chances of success but would make them much more expensive. The concept with the drone attacks is different: to "spam" Russia's air defenses with loads of cheap drones.
As well, the confrontation between EW and drones is not a one-sided game. While EW seeks to suppress the drone's piloting program, methods are being developed to allow drones to fly autonomously, including loading digital maps into the drone's electronic brain, adds Colonel Selezniov.
Strategic purpose of Ukraine's drone attacks on Russia
Despite these challenges, drone attacks serve essential strategic purposes.
First, Ukraine's tactic of launching single drones or groups of drones serves the purpose of testing out Russia's air defense and finding optimal routes of movement, especially in Crimea, where such attacks are reported regularly, Selezniov says.
Next, there is a pragmatic purpose: forcing Russia to expend air defense missiles worth hundreds of thousands on cheap drones worth $10,000 drains strains Russia's coffers, as does placing air defense brigades on duty 24/7.
Finally, the attacks fulfilled a goal set by Ukrainian Armed Forces Commander-in-Chief Valerii Zaluzhnyi and General Mykhailo Zabrodskyi in August 2022. The strategy aims to destabilize the center of gravity for Russia, which relies on the perceived distance and impunity of the war, causing average Russians to dismiss losses, failures, and the costs of Russia's war against Ukraine. By acquiring more detailed maps and advanced guidance systems, Ukraine's drones could become even more effective in achieving this strategic goal.
Ukraine needs long-range missiles to really win the war, country's top generals say
Background: Ukrainian drones that made it to Russia or occupied Crimea
Today morning, a fire broke out in a fuel depot in Sevastopol, occupied Crimea, after what the Russian-installed authorities said was a Ukrainian drone attack.
Five days ago, the wreckage of a UJ-22 Airborn drone was found 40 km near Moscow. The drone was supposedly carrying 17 kg of explosives. Another similar incident happened in February, when a UJ-22 Airborne narrowly missed Moscow and crashed 90 kilometers from the Russian capital, thus flying 460 km from the Ukrainian border.
In March 2023, the Tu-141 "Stryzh" (Martlet) UAV, which can fly at high altitudes and long ranges, was reportedly also behind a crash in Russia's Tula, also 400 km from the Ukrainian border, where the explosion from its crash caused a huge crater up to 8 meters deep and up to 15 meters in diameter and broke windows within 500 meters.
Also in March, unidentified UAVs caused significant damage to a Russian airfield in Yeysk, where fighter jets disappeared following a Ukrainian drone strike.
In December 2022, Ukrainian UAVs, reportedly of the Stryzh type, attacked two Russian airbases, in Dyagilevo and Engels.
Russian air defense vulnerable to Ukrainian drones that can hit Moscow
Related: