Chinese President recognized Ukraine's sovereignty and independence in a call with Zelenskyy. Ukraine says Russia is blocking ships transporting grain in the Black Sea. Russian envoy says no breakthrough on grain deal.
Daily overview — Summary report, April 27
A map of the approximate situation on the ground in Ukraine as of 00:00 UTC 27/04/23. pic.twitter.com/vXDxyiM7yn

— War Mapper (@War_Mapper) April 27, 2023
The General Staff's operational update regarding the Russian invasion as of 18.00 pm, April 27, 2023 is in the dropdown menu below:
Despite the significant losses, Russia has not abandoned its plans to occupy Ukrainian territory. The invaders target and shell military and civilian targets alike.
On April 26, the adversary launched 7 missiles and 39 air strikes, 61 MLRS attacks at the positions of Ukrainian troops and critical infrastructure in various settlements.
The likelihood of further missile and air strikes across Ukraine remains high.
The adversary's main efforts are the offensive operations on Bakhmut, Avdiivka and Maryinka axes. On April 26, Ukrainian Defence Forces repelled 54 enemy attacks in these areas of the frontline. The fiercest fighting for Bakhmut and Maryinka continues.
Volyn and Polissya axes: no significant changes. No signs of the formation of an offensive group.
Sivershchyna and Slobozhanshchyna axes: the adversary shelled the settlements of Zarichchya, Bleshnya, Karpovychi, Medvedivka, Yanzhulivka, Halahanivka, Leonivka, Buda-Vorob'ivs'ka, Hrem'yach (Chernihiv oblast), Znob-Trubchevs'ka, Chernats'ke, Seredyna-Buda, Bachivs'k, Sydorivka, Koren'ok, Khodyne, Shpyl', Mykolaivka (Sumy oblast), Hur'yiv Kozachok, Hlyboke, Oliinykove, and Zelene (Kharkiv oblast).
Kupyansk axis: Russian forces continues to fortify their positions in certain areas. Russian forces fired artillery and mortars at the settlements of Kam'yanka, Krasne Pershne, Novomlyns'k, Lyman Pershyi, Kyslivka, Berestove (Kharkiv oblast), and Novoselivs'ke (Luhansk oblast).
Lyman axis: the adversary did not conduct any offensive operations. Terny, Tors'ke, Dibrova, Bilohorivka, Verkhn'okam'yans'ke, and Spirne (Donetsk oblast) came under artillery fire.
Bakhmut axis: Russian forces continue their offensive operations. Heavy battles for the city of Bakhmut continue. The adversary conducted unsuccessful offensive operations towards the settlements of Orikhovo-Vasylivka and Ivanivske. Vasyukivka, Zaliznyans'ke, Orikhovo-Vasylivka, Novomarkove, Hryhorivka, Bakhmut, Chasiv Yar, Ivanivske, Predtechyne, Kostyantynivka, Dyliivka, Pivnichne, Pivdenne, and New York (Donetsk oblast) suffered from enemy shelling.
Avdiivka axis: Russian forces attempted offensive operations in the vicinities of Avdiivka, Sjeverne, and Pervomais'ke (Donetsk oblast), to no success. The invaders shelled the settlements of Novokalynove, Berdychi, Lastochkyne, Avdiivka, Vodyane, Pervomais'ke, Karlivka, and Nevel's'ke (Donetsk oblast).
Marinka axis: during April 26, Ukrainian defenders repelled adversary attacks in the vicinity of the settlement of Marinka. Krasnohorivka, Heorhiivka, Mar'inka, Paraskoviivka, and Novomykhailivka (Donetsk oblast) were shelled by Russian forces.
Shakhtarske axis: Russian forces did not conduct any offensive operations on April 26. The invaders shelled the settlements of Bohoyavlenka, Novoukrainka, Shakhtars'ke, Prechystivka, and Vuhledar (Donetsk oblast).
Zaporizhzhia and Kherson axes: the adversary stays on the defensive. At the same time, the invaders shelled more than 30 settlements, including Vremivka, Novopil' (Donetsk oblast), Hulyaipole, Zaliznychne, Mala Tokmachka Novoandriivka, Kam'yans'ke (Zaporizhzhia oblast), Beryslav, Kozats'ke, Tokarivka, Antonivka, Bilozerka, Berehove (Kherson oblast), and the city of Kherson.
On April 26, the Ukrainian Air Force launched 11 air strikes on the concentrations of occupants. 6 unmanned aerial vehicles of the enemy were destroyed as well. In the meantime, Ukrainian missile and artillery troops destroyed 2 air defence systems and 2 more important military targets of Russian forces.
Military Updates
https://twitter.com/EuromaidanPress/status/1651105162432335872
Social media report explosion in occupied Sevastopol, Ukrinform reports. "An explosion was heard in temporarily occupied Sevastopol on Wednesday, April 26. That's according to the Telegram channel Crimean Bavovna, Ukrinform reports. The sound of an explosion in the center of Sevastopol, Crimea, the post reads. The Telegram channel Crimean Wind reported that the explosion was heard in the center and north of the city.
Earlier reports said that explosions rang out in Sevastopol on the night of April 24. The Sevastopol occupation "authorities" said the city had been attacked by unmanned surface vessels."
Russians set up shelters in Crimea in case of "threats", Ukrainian Pravda reports, citing the National Resistance Center (NRC). "The Russians are working on equipping shelters in temporarily occupied Crimea in case of "[air raid] threats". In particular, according to the NRC, relevant work was carried out in the city of Alupka. They also conducted explanatory work with some residents regarding the course of action in the event of an emergency situation, and also talked about the detection of drones in the sky.
The NRC believes that all this indicates that Russians are preparing for a possible counteroffensive. Accordingly, due to this, panic is growing on the peninsula."
https://twitter.com/DefenceHQ/status/1651164650401067008
According to British Defence Intelligence, (last 48 hours):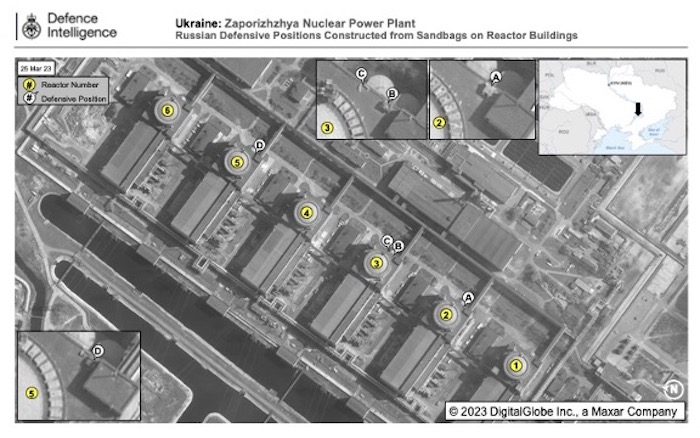 Imagery shows that by March 2023, Russian forces had established sandbag fighting positions on the roofs of several of the six reactor buildings at Zaporizhzhia Nuclear Power Plant (ZNPP).
Russia has controlled ZNPP since March 2022. However, this is the first indication of the actual reactor buildings being integrated in tactical defence planning. Russia has likely constructed these positions because it is increasingly concerned about the prospects of a major Ukrainian offensive.
The move highly likely increases the chances of damage to ZNPP safety systems if fighting takes place around ZNPP. However, direct catastrophic damage to the reactors is unlikely under most plausible scenarios involving infantry weapons because the structures are very heavily reinforced.
Heavy, short-range combat continues in the western districts of the contested Donetsk Oblast town of Bakhmut. A key development over the last week has been fighting on the outskirts of the town, especially near the village of Khromove, as Ukraine seeks to maintain control of its 0506 supply route.
Ukraine's other resupply options into Bakhmut are likely complicated by muddy conditions on unsurfaced tracks.
With the town having now been under attack for over 11 months, the Ukrainian defences of Bakhmut have now been integrated as one element of a much deeper defensive zone, which includes the town of Chasiv Yar to the west.
Losses of the Russian army 
As of  Thursday 27 April, the approximate losses of weapons and military equipment of the Russian Armed Forces from the beginning of the invasion to the present day:
Personnel – about 188920 (+510)
Tanks – 3694 (+2)
Armoured combat vehicles – 7178 (+16)
Artillery systems – 2887 (+10)
Multiple rocket launchers –MLRS – 542 (+3)
Air defence means – 293 (+1)
Aircraft – 308 (+0)
Helicopters – 294 (+0)
Automotive technology and fuel tanks – 5805 (+13)
Vessels/boats – 18 (+0)
UAV operational and tactical level – 2461 (+21)
Special equipment – 352 (+0)
Mobile SRBM system – 4 (+0)
Cruise missiles – 911 (+0)
Russian Parliament suggests that civilians guard borders due to a lack of troops, Ukrainska Pravda reports, citing Meduza. "Andrey Kartapolov, head of the Main Military Political Directorate of the Russian Armed Forces, suggested that the civilian population start guarding the state borders of Russia, as the Russian Armed Forces currently do not have the military capacity for this.
Unfortunately, at the moment we do not have such capabilities that the Soviet Union had, when the whole country was guarded by the military units of the border guard forces of the USSR along the perimeter. So now the border guard is a bit different. To my mind, engaging the local population on a voluntary basis is quite realistic and logical. This is a common practice in many countries.
Kartapolov added that if the government trustw the people, it can start forming the mechanisms of engaging them into the border guard units, such as the formation and the quantity of units, quantity of armament, subordination etc."
Humanitarian 
The Group That Searches for Missing Ukrainian Children

Save Ukraine's mission includes reuniting families victimized by Russia's deportations in occupied areas.https://t.co/Wm5viNqfDO

— Euromaidan Press (@EuromaidanPress) April 25, 2023
Exclusive footage is released of 44 prisoners of war returning to Ukraine, Ukrainska Pravda reports, citing SSU; National Guard and State Border Guard Service. "The Security Service of Ukraine (SSU) and the National Guard have posted footage of 44 Ukrainian prisoners of war being brought back to Ukraine after a swap with Russia on 26 April. This is the result of the work of the Joint Coordination Center for Search and Release of Illegally Deprived Persons and Hostages, which implemented a decision made by the Coordinating Headquarters for the Treatment of Prisoners of War. […]
According to the National Guard, 19 of them are personnel of the Armed Forces of Ukraine, 11 of the State Border Guard Service, 7 of the Ukrainian Naval Forces, 2 of the National Guard of Ukraine, and 3 of the Territorial Defence Forces. The Ukrainian servicemen comprise 6 officers and 37 privates and sergeants.
The released servicemen had fought on the Mariupol, Donetsk, Kherson, Kharkiv, Luhansk and Sumy fronts.  Many of them are wounded and suffering from the consequences of horrific torture. A military surgeon who operated on the wounded in the military hospital in Mariupol and organised mass medical aid was also released from captivity."
European Commission to ban Ukrainian grain exports to Romania, Reuters reports. "The European Commission will ban Ukrainian grain and oilseeds exports to Romania until June 5, Romanian Agriculture Minister Petre Daea said on Wednesday. Romania has stopped short of enforcing a ban, whereas Poland, Hungary, Bulgaria and Slovakia took unilateral steps to protect local markets from a flow of Ukrainian farm products.
With access to its own Black Sea ports blocked and later limited by Russia's invasion, Ukraine, one of the world's leading grain exporters has had to find alternative shipping routes through neighbouring states.
Millions of tons of grains and oilseeds, cheaper than those produced in the European Union and exempt from customs tax, ended up in Central and Eastern Europe, with local farmers complaining demand and prices of local products were distorted.
Earlier this month, the European Commission said it would take emergency preventive measures for wheat, maize, sunflower seeds and rapeseed, compensating local farmers and only allowing grain to enter the five countries from Ukraine if they were set for export to other EU members or the rest of the world."
Poland wants to ban grain imports from Ukraine until the end of the year, European Pravda reports. "The Minister of Development and Technology of Poland, Waldemar Buda, has stated the need to keep an embargo on grain from Ukraine until at least the end of the year. We will not lift our measures until similar measures are introduced at the European level. Time is on our side. We will keep Polish decisions until the situation stabilises, the minister said on Radio Zet.
When asked about the fact that the European Union wants the embargo on goods from Ukraine until the end of June, Waldemar Buda replied that it is absolutely impossible to lift the embargo in June. Otherwise, it may happen that after the harvest, Ukrainian grain will once again fill the silos that we are now so determined to empty, explained the Minister of Development. When asked whether Poland will maintain the embargo until at least the end of the year, despite the EU, Buda stated: In Poland, probably yes.
Currently, five EU countries – Poland, Bulgaria, Romania, Slovakia, and Hungary – have banned imports of Ukrainian food, primarily grain, until 30 June. Initially, Poland also banned the transit of Ukrainian grain through its territory, but at the end of last week, the transit was unblocked.
On Wednesday, the third round of negotiations (Ukr) between the European Commission and the ministers of agriculture of the five countries failed. The European Commission is becoming irritated by the fact that more and more products are being added to the list. It agreed to ban imports of wheat, corn, rapeseed and sunflower seeds, which was already an unprecedented decision."
Russian envoy says no breakthrough on grain deal, Ukraine says Moscow blocking ships, Reuters reports. "Russia's envoy to the United Nations in Geneva on Wednesday said "no real progress" had been achieved in resolving issues raised by Moscow over the Black Sea grain deal, which is set to expire next month. Separately, Ukraine accused Russia of blocking the passage of four grain ships from its Black Sea ports.
The Kremlin has repeatedly said the deal will not be renewed beyond May 18 unless the West removes obstacles to Russian grain and fertiliser exports. As of today, we regret to say that no real progress was reached in resolving this problem, envoy Gennady Gatilov told reporters at the Russian permanent mission in Geneva. Although Russia's agricultural exports have not been explicitly targeted by Western restrictions, Moscow says sanctions on its payments, logistics and insurance industries have created a barrier to the export of its grains and fertilisers.
The Black Sea deal, brokered between Russia and Ukraine by the United Nations and Türkiye in July, aimed to prevent a global food crisis by allowing Ukrainian grain trapped by Russia's invasion to be safely exported from three ports.
The Ukrainian navy, writing on Facebook, said Russia had effectively stalled the deal on Wednesday by refusing to take part in agreeing upon the routes that four grain ships should take, a process that occurs for each export trip."
Environmental
https://twitter.com/EuromaidanPress/status/1651103639379800064
Zelenskyy warns the world about Russia's nuclear blackmail on the anniversary of Chornobyl disaster, Ukrainska Pravda reports. "Thirty-seven years ago, the Chornobyl Nuclear Power Plant accident left a huge scar for the whole world. The radiation leak turned the once peaceful and developed area into an exclusion zone. Today, the 30-kilometre zone around the Chornobyl NPP remains a dangerous area with high concentrations of radiation.
Last year, the occupiers not only captured the power plant, but put the whole world in danger. We have to do everything we can to prevent the terrorist state from using nuclear energy facilities to blackmail Ukraine and the rest of the world.
Zelenskyy explained that in the year following the resumption of Ukrainian control over the Chornobyl NPP, scientific and security facilities have resumed their work there. The Ukrainian President stressed that Ukraine and the world had paid a high price to address the aftermath of the 1986 Chornobyl disaster, the fallout of which can be felt to this day."
Ukraine receives €23 million from donors to restore Chornobyl zone, Ukrinform reports, citing the Head of the State Agency of Ukraine on Exclusion Zone Management Yevhen Kramarenko. "Out of €15 million previously allocated by the partners, €2 million have already been used. Also, the exclusion zone assistance account has been filled up by €8 million. Thus, today we already have €23 million from donors," Kramarenko said. He emphasized that the amount will increase as financial assistance continues to arrive.
As reported, 40 projects have already been developed and registered for the restoration of the exclusion zone, with funding of about €15 million in 2023. The State Agency of Ukraine on Exclusion Zone Management, together with the Ministry of Environmental Protection and Natural Resources, has developed a plan for the restoration of the exclusion zone. The plan includes 9 points and is worth €225 million. The plan aims not only to restore normal operation but also to improve the Chornobyl NPP and create a scientific hub in the exclusion zone."
Legal 
Renowned #CrimeanTatar #humanrights defender detained in #Russia occupied #Crimea#Ukraine #LetMyPeopleGo #Abureshit_Dzhepparov #StandWithUkraine #StopRussiahttps://t.co/7fynkOpFOV pic.twitter.com/EeyvHzW3oX

— Euromaidan Press (@EuromaidanPress) April 26, 2023
Prosecutor General: More than 10,000 civilians killed due to Russian aggression in Ukraine, Ukrinform reports. To date, more than 80,000 war crimes committed by the Russian Federation in Ukraine have been recorded. Such data were made public by Prosecutor General Andriy Kostin at the open hearings of the Committee of the European Parliament's Committee on Civil Liberties, Justice and Home Affairs.
To date, more than 80,000 war crimes committed by the Russian Federation in Ukraine have been recorded. More than 10,000 civilians have been killed, more than 13,000 have been injured, and more than 98,000 civilian infrastructure objects have been damaged or destroyed, Kostin said.
According to him, compensation for damages and destruction caused by Russia will remain one of Ukraine's priorities. The World Bank estimates the reconstruction and recovery needs at $411 billion, the Prosecutor General added. We hope for the EU's support in creating the register of damages and further cooperation in the search and seizure of assets related to the financing of aggression, Kostin said.
He praised the strong position, support, and practical steps taken to establish the International Centre for the Prosecution of the Crime of Aggression (ICPA) which will collect and coordinate information and evidence against the leaders responsible for planning, preparing, starting or waging this war of aggression for future trials.
ICPA is expected to start working in late June this year (based at Eurojust). We are grateful to all states and partners who expressed their willingness to send experts and prosecutors to the ICPA, Kostin emphasized."
Life-saving medication taken away from gravely ill #CrimeanSolidarity civic #journalist in #Russia occupation prison#Amet_Suleimanov #Dzhemil_Gafarov #LetMyPeopleGo #StandWithUkraine #CAT #StopRussia #CrimeanTatarhttps://t.co/6KGDWtIYhc

— Euromaidan Press (@EuromaidanPress) April 25, 2023
Support
"NATO stands with Ukraine. Today and for as long as it takes. We do not know when the war will end. But we know that Russian aggression is a toxic pattern that must be stopped once and for all" – @jensstoltenberg https://t.co/c4o53rpSmr

— Euromaidan Press (@EuromaidanPress) April 26, 2023
Draft resolution on Ukraine's victory in war against Russia presented in Washington, Ukrainska Pravda reports, citing Oksana Markarova, Ambassador of Ukraine to the United States. "A bipartisan draft resolution of the US House of Representatives "On the Position of the House of Representatives on the Conditions for Ukraine's Victory" has been presented in Washington. […]  Markarova said that the draft resolution was presented on Capitol Hill. The document states that the US House of Representatives:
Reaffirms that it is the policy of the United States that Ukraine defeat the invasion [by the Russian Federation] and restore its internationally recognised borders of 1991;
Believes that peace after Ukraine's victory should be secured through Ukraine's integration into NATO and other Euro-Atlantic institutions, which is consistent with the long-term policy of the United States;
Declares that the United States must work with its allies and partners to ensure the following:
Russia is to pay reparations to Ukraine;
the international community shall provide assistance in rebuilding Ukraine;
the leadership of the Russian Federation shall be brought to justice for this war of aggression;
justice shall be restored for the victims of the crimes committed by Russia during the invasion.
Russia reacts to UK supplying Ukraine with depleted uranium ammunition, Ukrainska Pravda reports, citing statement from James Heappey, UK Minister of State (Minister for Armed Forces and Veterans) and TASS. "We have sent thousands of rounds of Challenger 2 ammunition to Ukraine, including depleted uranium armour-piercing rounds. For operational security reasons, we will not comment on Ukrainian usage rates for the rounds provided, [James Heappey, UK Minister of State, said].
The Russian Embassy in London stated that the UK will not be able to avoid responsibility for the consequences of the use of depleted uranium ammunition that they supplied to the Ukrainian Armed Forces."
Slovenia Secretly Sent 20 Valuk Armoured Vehicles to Ukraine, European Pravda reports. "As reported by Slovenian 24UR, transportation to Ukraine was completed this week in complete secrecy. The operation took several months as the armoured vehicles had to be prepared, serviced, and transported. They were transported by a C-17 aircraft to one of the neighbouring countries.
Slovenian Valuk APCs are equipped with 40mm automatic grenade launchers or 12.7mm machine guns. They are designed to transport infantry and protect them from anti-personnel mines and infantry weapons up to 12.7mm. There were 85 units in the Slovenian army, and they have been in service for 24 years. The APC can go about 600 kilometers by road and from 200 to 300 kilometers off-road."
Maintenance hub for Ukrainian Leopard 2 tanks in Poland will open in May – Blaszczak, Ukrinform reports, citing Poland's Deputy Prime Minister, Minister of National Defense Mariusz Blaszczak. "Blaszczak said that last Friday, he and his Ukrainian and German colleagues signed an agreement in Ramstein, Germany, on the creation of a maintenance and repair center for the Ukrainian Leopard 2 main battle tanks in Poland. On the basis of this agreement, the maintenance center will start its work in May, he said.
He added that Ukraine already has or will soon receive two battalions of Leopard 2 tanks in the A4 and A6 variants. All these tanks will be serviced at Bumar-Labedy in Gliwice, Blaszczak said. [….] Blaszczak drew attention to certain challenges related to the repair of Leopard 2 tanks due to limited access to spare parts. In this context, he noted that one of the signatories of the agreement on the creation of the hub is a German minister, since Germany is a manufacturer of Leopard tanks. […] Blaschak noted that T-72 tanks are also maintained and repaired at Bumar-Labedy."
EU ambassadors fail to agree on joint procurement of ammunition for Ukraine again, Ukrainska Pravda reports, citing RMF FM. "European Union ambassadors failed to agree on joint purchases of ammunition for Ukraine on Wednesday, and it is unclear whether a compromise will be reached on Friday. The supply of ammunition from the EU to Ukraine is causing more and more embarrassment, one Western diplomat said. The EU has promised Ukraine 1 million units of ammunition by the end of the year, both from the warehouses of the EU countries and within the framework of joint purchases. Deliveries from their own warehouses are slowing down a lot. To date, EU countries have shipped less than 40,000 munitions. Josep Borrell, High Representative of the European Union for Foreign Affairs and Security Policy, posted a letter in which he called on the defence ministers of 27 countries to pay attention to this problem. The idea is that they should review their stocks because it is hard to believe that they have nothing left, the RMF FM interviewer said.
Tensions and irritation are also growing among EU member states over the behaviour of France, which is blocking joint purchases of ammunition. This topic was discussed today by the ambassadors of the EU countries. France wants all munitions production and arms supply chains to be European. […] Even if the production is in an EU country, and the gunpowder for the ammunition comes from South Korea, France does not want to approve, an irritated diplomat of the Western country said.
Italy put forward a compromise proposal that made France even less receptive. Sweden, which presides over the EU, has announced that it will not put the issue to a vote of EU ambassadors on Friday unless it is certain that there is agreement from all 27 countries. Unanimity is required in this matter. And delaying the vote will again lead to delays in deliveries. Some people think that there is no hurry, one of the diplomats said, irritated by France's position, while Ukraine is bleeding. […]
France insists that only companies from Europe should be involved in the plan. This position disappointed other EU members, in particular Germany, the Netherlands, and Poland. They expressed scepticism that European industry is capable of quickly producing a sufficient number of shells to meet Ukraine's urgent needs."
https://twitter.com/EuromaidanPress/status/1651035868994621442
New Developments
https://twitter.com/EuromaidanPress/status/1651051218691846144
Assessment 
On the war. 
The Institute for the Study of War has made the following assessment as of  April 26, 2022:
Ukrainian sources reported that Russian forces did not conduct any offensive operations along the Kupyansk-Svatove-Kreminna line on April 26. Ukrainian Eastern Grouping of Forces Spokesperson Colonel Serhiy Cherevaty reported that Russian forces have not conducted offensive operations along this sector of the front for "some time" but that Russian forces are continuing to conduct heavy indirect fire in this sector of the front. A Russian milblogger claimed that Russian forces conducted unsuccessful ground attacks near Makiivka (23km northwest of Kreminna), Nevske (19km northwest of Kreminna), Torske (16km west of Kreminna), and Bilohorivka (12km south of Kreminna). Another Russian milblogger claimed that Russian forces pushed back Ukrainian forces from positions on the eastern outskirts of Spirne (24km south of Kreminna) on April 25, although ISW assessed that Russian forces likely occupied these positions at an earlier date.
Russian sources claimed that Ukrainian forces continued reconnaissance activity northeast of Kupyansk and northwest of Svatove. The Russian Ministry of Defense (MoD) claimed that Russian forces suppressed four Ukrainian sabotage and reconnaissance groups near Masyutivka (12km northeast of Kupyansk) and Krokhmalne (21km northwest of Svatove) in Kharkiv Oblast and Novoselivske, Luhansk Oblast (15km northwest of Svatove). Russian Western Grouping of Forces Spokesperson Yaroslav Yakimkin claimed that Russian forces destroyed two Ukrainian sabotage and reconnaissance groups near Novoselivske and Synkivka (9km northeast of Kupyansk).
Russian forces continued making gains in Bakhmut as of April 26. Geolocated footage posted on April 26 shows that Russian troops have advanced to Persha Lisova Street in western Bakhmut (within a few blocks of the Yuvileina 00506 road that runs into Khromove). Russian milbloggers additionally claimed that Wagner fighters reached the intersection of Tchaikovskyi and Yuvileina Streets, which would hypothetically allow them to advance up Yuvileina Street towards Khromove and cut remaining Ukrainian logistics lines into Bakhmut. Wagner Group financier Yevgeny Prigozhin denied these claims, however, and played down the significance of Wagner's capture of that intersection, stating that Ukrainian forces are continuing to use roads under Wagner's fire control anyways. Russian milbloggers claimed that Wagner is continuing to fight in northern, western, and southern Bakhmut. One Russian milblogger claimed that Wagner controls up to 85 percent of the city, which is consistent with ISW's control of terrain calculations including territory covered by Russian claims. Ukrainian Eastern Group of Forces Spokesperson Colonel Serhiy Cherevaty stated that Russian and Ukrainian forces engaged in 17 combat clashes in the Bakhmut direction over the past day. The Ukrainian General Staff reported that Russian troops conducted unsuccessful offensive actions northwest of Bakhmut near Orikhovo-Vasylivka (10km northwest) and Bohdanivka (6km northwest); west of Bakhmut near Ivanivske (5km west) and Khromove (3km west); and southwest of Bakhmut near Klishchiivka (7km southwest).
Russian forces continued ground attacks along the Avdiivka-Donetsk City frontline on April 26 and have made a marginal advance north of Avdiivka. Geolocated footage posted on April 26 shows that Russian forces have made limited gains west of the N20 Donetsk City-Kramatorsk-Sloviansk highway about 10km north of Avdiivka. A Russian milblogger claimed on April 26 that Russian forces successfully advanced west of Novobakhmutivka and pushed Ukrainian forces away from the N20 highway, which appears consistent with available footage confirming these positions. The Ukrainian General Staff reported that Russian forces conducted unsuccessful ground attacks towards Avdiivka itself; west of Avdiivka near Sieverne (5km west of Avdiivka); on the northwestern outskirts of Donetsk City near Pervomaiske; and on the southwestern outskirts of Donetsk City near Marinka. Russian milbloggers claimed that Russian forces continued fighting along the outskirts of Donetsk City and advanced towards Sieverne.
Russian sources claimed that Russian forces continued offensive operations in western Donetsk Oblast on April 26. A Russian milblogger claimed that elements of the 155th Naval Infantry Brigade are conducting small arms engagements on the outskirts of Vuhledar (30km southwest of Donetsk City). Russian milbloggers reported that Russian forces have increased their use of FAB-500 airdropped bombs to target Ukrainian strongholds in urban areas of Bakhmut, and several Russian sources posted footage of Russian airstrikes on Vuhledar. The Ukrainian General Staff reported that there were no confirmed ground attacks in this area on April 26.
Russia appears to be continuing a deliberate depopulation campaign in occupied areas of Ukraine in order to facilitate the repopulation of Ukrainian territories with Russians. Ukrainian Deputy Defense Minister Hanna Malyar stated on April 26 that Russia is trying to change the ethnic composition of Ukraine by actively conducting a large-scale resettlement of people mainly from poorer and remote regions of Russia into Ukraine. Malyar noted that the most intensive efforts are ongoing in occupied Luhansk Oblast and remarked that Russia is also deporting Ukrainians and forcibly resettling them in Russia. ISW previously reported on specific instances of Russian authorities overseeing the depopulation and repopulation of areas of occupied Ukraine, particularly in occupied Kherson Oblast over the course of 2022. Ukrainian sources remarked in October 2022 that Russian authorities in then-occupied parts of Kherson Oblast deported large groups of Ukrainian residents to Russia under the guise of humanitarian evacuations and then repopulated their homes with Russian soldiers. Russia may hope to import Russians to fill depopulated areas of Ukraine in order to further integrate occupied areas into Russian socially, administratively, politically, and economically, thereby complicating conditions for the reintegration of these territories into Ukraine. ISW has previously assessed that such depopulation and repopulation campaigns may amount to a deliberate ethnic cleansing effort and apparent violation of the Geneva Convention on the Prevention and Punishment of the Crime of Genocide.
Competition among Russian private military companies (PMCs) are likely increasing in Bakhmut. A video appeal addressed to Russian President Vladimir Putin by personnel of the "Potok" PMC (reportedly one of three volunteer detachments from Russian-state owned energy company Gazprom) claims that Gazprom officials told members of "Potok" that they would be signing contracts with the Russian Ministry of Defense (MoD) but then forced personnel to sign contracts with PMC "Redut." One Potok soldier claimed that Gazprom created two other units — "Fakel" and "Plamya," which were attached to the Russian MoD. A Russian milblogger claimed that "Potok" is not a PMC, but a BARS (Combat Reserve) unit, however. The "Potok" personnel also reported poor treatment by Wagner fighters who threatened to shoot "Potok" personnel if they withdrew from the line of contact. A Wagner fighter claimed in an interview published on April 26 that "Potok" fighters abandoned Wagner's flanks at night. A Russian milblogger claimed that "Potok" fighters abandoned their positions in Bakhmut due to a lack of ammunition. ISW previously assessed that Wagner financier Yevgeny Prigozhin likely views the proliferation of PMCs around Bakhmut as competition, and it appears that the increased prevalence of other PMCs around Bakhmut may be causing substantial friction.
The Kremlin continues measures to codify conditions for domestic repression. The Russian Federation Council approved three bills on April 26 which would allow for the deprivation of Russian citizenship for discrediting the Russian Armed Forces and for actions that threaten national security, allow for life sentences for high treason, and allow for five-year sentences for those who promote the decisions of international organizations in which Russia does not participate. ISW has previously assessed that the Kremlin has supported laws strengthening punishments for trespassing at facilities run by certain federal bodies, misappropriation of Russian military assets, and discreditation of all Russian personnel fighting in Ukraine to expand pretexts for the arrests of Russian citizens and the removal of officials who have fallen out of favor. The Kremlin is likely setting numerous conditions for domestic crackdowns to give Russian officials carte blanche in prosecuting anyone perceived to be against Russian President Vladimir Putin's war in Ukraine. The harsh punishments stipulated by these laws likely aim to promote widespread self-censorship amongst the Russian population. ISW has also assessed that the Russian Federal Security Service (FSB) appears to be conducting a large-scale overhaul of domestic security organs, and Russian authorities may use these new laws to support these efforts.
Comments made by Russian officials and prominent voices in the Russian information space continue to highlight a pervasive anxiety over potential Ukrainian counteroffensive actions. Wagner Group financier Yevgeny Prigozhin remarked on April 26 that as soon as weather conditions improve in Bakhmut, Ukraine will launch a counteroffensive, which may coincide with Russia's May 9 Victory Day holiday (the commemoration of Soviet victory over Nazi Germany in 1945). A prominent Russian milblogger insinuated that Ukraine may be planning counteroffensive actions in order to ruin May 9 celebrations in Russia. The invocations of May 9 suggest that the Russian information space continues to place symbolic importance on dates associated with Russia's Great Patriotic War, which continues to shape discourse on the prospects of the war. Russian Foreign Minister Sergei Lavrov stated during a press conference in New York on April 25 that discussions about the potential for negotiations after a successful Ukrainian counteroffensive are "schizophrenic." Increasingly despondent and panicked rhetoric emanating from prominent information space figures suggests that the Russian information space has not yet settled on a line about how to address significant and growing concerns about the near future.
Chinese President Xi Jinping stated that mutual respect for sovereignty and territorial integrity are foundational to Ukrainian-Chinese relations in a conversation with Ukrainian President Volodymyr Zelensky. Xi's statement made China's position on Ukrainian independence clear, rejecting Chinese Ambassador to France Lu Shaye's April 22 statements that post-Soviet states lack a basis for sovereignty. Both Ukrainian and Chinese government readouts of the call mentioned a possible role China could play in negotiating nuclear issues. Russian Foreign Ministry spokesperson Maria Zakharova expressed broad agreement with China's peace plan and blamed Ukraine for rejecting it. The tepid Russian response to Zelensky and Xi's call is likely further evidence of Russia's displeasure at China's unwillingness to establish a no-limits bilateral partnership. It is not clear that Chinese actions match Chinese rhetoric, however. According to US government statements and investigative journalism reports, China may be providing non-lethal military assistance to Russia.
The Kremlin is likely attempting to reassure Armenia that it is a reliable partner despite the fact that the war in Ukraine is limiting Russia's ability to play a larger role in mediating the Nagorno-Karabakh conflict. Russian President Vladimir Putin held a telephone conversation with Armenian Prime Minister Nikol Pashinyan on April 26 in which they reportedly discussed the development of the situation around Nagorno-Karabakh. The brief Kremlin readout for the conversation called for strict compliance with the agreements made by Russian, Armenian, and Azerbaijani leaders considering the increasing tensions in the Lachin corridor. The Russian Ministry of Defense (MoD) announced on April 26 that Deputy Commander-in-Chief of the Ground Forces Colonel General Alexander Lentsov is the new commander of the Russian peace-keeping contingent in Nagorno-Karabakh and will oversee operations at the 30 observation posts that Russian forces operate in the area. The Russian MoD likely announced the appointment to signal to Armenia a commitment to meet Russia's peacekeeping responsibilities and to augment Putin's effort to reassure Pashinyan.
The Kremlin may attempt to use conscripts to maintain peacekeeping operations in Nagorno-Karabakh and preserve relations with Armenia and other Collective Security Treaty Organization (CSTO) member states. ISW previously assessed that Russia's redeployment of elements of its peacekeeping force from Nagorno-Karabakh to Ukraine is likely eroding Russia's influence with Armenia. Pashinyan accused Russian peacekeeping forces of not meeting their obligations in December 2022 and stated on March 16, 2023, that Armenia should appeal to the United Nations Security Council (UNSC) if Russia is unable to uphold the November 9, 2020, ceasefire agreement. The Kremlin's efforts are likely failing to convince Armenia that it will uphold its obligations under the ceasefire agreement, and Russia's potential inability to do so may severely degrade Russia's standing with other Collective Security Treaty Organization (CSTO) member states. The Russian State Duma approved on April 4 the first draft of a bill that would allow all Russian personnel, including conscripts, to participate in Russian peacekeeping operations, likely in an effort to send conscripts to sustain the peacekeeping operations in Nagorno-Karabakh.[26] Ukrainian Main Military Intelligence Directorate (GUR) Head Kyrylo Budanov stated on April 24 that the Kremlin made a decision to replace the Russian peacekeeping contingent in Nagorno-Karabakh with a contingent of conscripts, although ISW has not observed visual confirmation of Russian conscripts serving in Nagorno-Karabakh.
Key Takeaways
Russia appears to be continuing a deliberate depopulation campaign in occupied areas of Ukraine in order to facilitate the repopulation of Ukrainian territories with Russians.
Competition among Russian private military companies (PMCs) is likely increasing in Bakhmut.
The Kremlin continues measures to codify conditions for domestic repression.
Comments made by Russian officials and prominent voices in the Russian information space continue to highlight a pervasive anxiety over potential Ukrainian counteroffensive actions.
Chinese President Xi Jinping explicitly recognized Ukraine's sovereignty and independence, stating that mutual respect for sovereignty and territorial integrity are foundational to Ukrainian-Chinese relations in a conversation with Ukrainian President Volodymyr Zelensky.
The Kremlin is likely attempting to reassure Armenia that it is a reliable partner despite the fact that the war in Ukraine is limiting Russia's ability to play a larger role in mediating the Nagorno-Karabakh conflict. The Kremlin may attempt to use conscripts to maintain peacekeeping operations in Nagorno Karabakh and preserve relations with Armenia and other Collective Security Treaty Organization (CSTO) member states.
Ukrainian sources reported that Russian forces did not conduct any offensive operations along the Kupyansk-Svatove-Kreminna line.
Russian forces made gains within Bakhmut and north of Avdiivka.
Russian milbloggers continue to argue amongst themselves about Ukrainian activity along the Dnipro River in Kherson Oblast.
Russian authorities have started sending military registration summonses that include threats of "restrictive measures."
Russian sources claimed that the Russian Federal Security Service (FSB) prevented an attempted attack in Crimea.
Russia deploys about 370,000 troops in battles against Ukraine, Ukrainska Pravda reports, citing Military Media Center, which operates under the Ministry of Defence of Ukraine. "According to the latest data, Russia has deployed up to 48 brigades and 122 regiments in the hostilities against Ukraine; the occupation forces amount to about 315 formations. In total, Russia is using about 369,000 fighters and about 5,900 units of heavy weaponry against Ukrainian troops.
The long-term plans of the Kremlin, according to available information, remain unchanged – to force the leadership of Ukraine to negotiate. To achieve this, the occupiers will soon focus their efforts on conducting offensive operations with the aim of ousting the Defence Forces from important centres of Donetsk Oblast:
Bakhmut remains the primary goal of the enemy, namely establishing complete control over this city;
The enemy will also continue to try to capture other cities in the oblast – Avdiivka and Marinka.
At the same time, it seems extremely unlikely that Russia will conduct offensive operations from the Belarusian front in the near future. However, the aggressor will continue to threaten Ukraine's civilian and military infrastructure by launching large-scale missile attacks. Thus, Russia continues the full-scale armed aggression and, based on the latest information, has not given up its plans to destroy Ukraine as an independent state."
Russia's Prigozhin: Ukrainian counter-offensive is 'inevitable', Reuters reports. "The head of Russia's private Wagner militia, Yevgeny Prigozhin, said Ukraine was preparing for an "inevitable" counter-offensive and was sending well-prepared units to the devastated eastern city of Bakhmut, for many months the focal point of fighting. In a combative audio message posted on his Telegram channel, Prigozhin also renewed his criticism of Russia's security establishment, saying there was a "betrayal" going on inside Russia, as he lambasted the defence ministry for not sending much-needed shipments of ammunition to his fighters.
Today, well-trained enemy units are already being thrown into Bakhmut… A counteroffensive by the Ukrainians is inevitable, Prigozhin said, adding that he expected that campaign to start sometime after May 2 when the weather has improved and the ground has hardened.
Prigozhin – who has for months fought openly with Defence Minister Sergei Shoigu over the conduct of the war – said his troops were suffering five times as many casualties due to a lack of support from Moscow. He also questioned why Russian forces had not launched offensives against the nearby cities of Sloviansk or Kramatorsk in eastern Ukraine to relieve the pressure on Bakhmut."
Black Sea region can't be safe for next 20 years – Ukraine Navy Commander, Ukrinform reports, citing the Navy press service. "The Commander of Ukraine's Naval Forces, Vice Admiral Oleksiy Neizhpapa, is convinced that only if Ukraine returns its territories as of 1991 will it be possible to restore security in the region of the Black Sea and the Sea of Azov. The commander spoke at the Black Sea Security Forum, held in Bulgaria with the participation of representatives from the countries of the Black Sea region and naval commanders from other countries.
During the Forum, the parties discussed the security situation and current threats facing the region, as well as ways to develop further cooperation between the nations to restore stability and security. In an address to the Forum, Vice Admiral Oleksiy Neizhpapa noted that the Black Sea cannot be considered safe for the next 20 years due to the aggressive actions of the Russian Federation.
As examples, he cited the attempt to capture the island of Tuzla in 2003, the war in Georgia in 2008 with the participation of the Moskva cruiser, the illegal annexation of Crimea by Russia in 2014, the occupation of the Sea of Azov in 2022, and the ongoing war which also covers the Black Sea area. The Navy commander emphasized that Russia's imperial ambitions extended not only to the Black Sea and the Sea of Azov but also to the Baltic Sea, the North Sea, and the Pacific Ocean."
Russia can fund war in Ukraine for another year despite sanctions, leaked document says, The Washington Post reports. "U.S. intelligence holds that Russia will be able to fund the war in Ukraine for at least another year, even under the heavy and increasing weight of unprecedented sanctions, according to leaked US military documents. The previously unreported documents provide a rare glimpse into Washington's understanding of the effectiveness of its own economic measures, and of the tenor of the response they have met in Russia, where US intelligence finds that senior officials, agencies and the staff of oligarchs are fretting over the painful disruptions — and adapting to them.
While some of Russia's economic elites might not agree with the country's course in Ukraine, and sanctions have hurt their businesses, they are unlikely to withdraw support for Russian President Vladimir Putin, according to an assessment that appears to date from early March.
Moscow is relying on increased corporate taxes, its sovereign wealth fund, increased imports and businesses adaptability to help mitigate economic pressures, reads part of the assessment, which is labeled top secret, the highest level of classification. The documents are part of a trove shared in a Discord chatroom and obtained by The Washington Post. […]
Since the invasion of Ukraine began last year, the United States and its allies have fired a fusillade of sanctions at Kremlin-linked people and businesses, prohibiting companies from doing business with them, alongside export controls and other trade measures designed to squeeze Russia's economy and punish its elites. Those elites are likely to persist in upholding the Kremlin's objectives in Ukraine and in helping Moscow circumvent sanctions, the leaked assessment finds. But experts say that the sanctions' effectiveness — not just to hurt the Russian economy, but to deter, punish and send a message — relies on factors more complex than what a single assessment can take into account.
The document does not address the impact of newly imposed sanctions or the long-term pain of oil price ceilings in Europe. Russian oil revenue has plummeted. Even if Russia in theory could fund the war for another year, the leaked assessment does not explore other factors that could affect Russia's ability to fight, such as ammunition expenditure and the need to recruit or conscript new soldiers. […]
While Putin and those close to him have dismissed the impact of sanctions, which have failed to stop the Russian war effort, by Washington's own classified assessment, leaked documents also provide a window into the consternation they have caused among some of their intended targets. While the documents do not include in-depth discussion of their sources, they are marked with a code indicating the data was gleaned from intercepted communications. That suggests that the United States has gained access to the channels where Russian figures privately discuss how to limit the impact of sanctions.
Russian Finance Minister Anton Siluanov, US intelligence found, had drafted a letter to Prime Minister Mikhail Mishustin in early March to seek backing for contingency plans to avoid a potentially embarrassing collapse of Russian state-controlled entities such as the International Investment Bank, the International Bank for Economic Cooperation and the Eurasian Investment Bank, because of sanctions imposed by the United States and its allies. […]
According to another document, US intelligence found that officials at Russia's top intelligence agency, the Federal Security Service, or FSB, were concerned about the insufficient amount of foreign currency held by domestic Russian banks. These officials also warned that the United States could impose secondary sanctions on the Chinese companies that still did business with Russia and urged that such transactions be kept secret. […] The document also said that a "finance employee" of the oligarch was concerned that Chinese companies would end their business with Russia to avoid the impact of sanctions.
The Washington-based Center for Strategic and International Studies released a report this month that found Russia still possesses a remarkable degree of adaptability to Western sanctions, echoing the classified assessment, though they had slowed the pace of Moscow's campaign to wear down Ukraine.
Putin publicly praised the resilience of the Russian economy in January, suggesting that it had beaten growth expectations to only shrink by about 2.5 percent during 2022. The actual dynamics of the economy turned out to be better than many expert forecasts, he said during a virtual meeting on the economy. Ukraine's economy, meanwhile, shrank by more than 30 percent."
Media learn about Kremlin's plans to influence Baltic states, Ukrainska Pravda reports. "Journalists from several publications have obtained documents prepared several years ago revealing Russia's strategy of influence in the Baltic states. As European Pravda reports, relevant materials were published in LRT, Delfi Estonia, Expressen, Dossier centre, Kyiv Independent, NDR (Norddeutscher Rundfunk), Frontstory.pl, Süddeutsche Zeitung, VSquare, WDR (Westdeutscher Rundfunk), Yahoo News, and Re:Baltica. These media obtained and examined the documents. The materials studied concern Russia's long-term plans for Estonia, Latvia, and Lithuania. Similar plans of the Russian Federation have already been revealed for Belarus and Moldova.
Most likely, the documents were prepared in autumn 2021. However, it does not seem that the authors of these documents knew that Russian President Vladimir Putin was preparing a full-scale war against Ukraine. There are no mentions of the expected consequences of this, which would be impossible not to take into account in the plans for the Baltics contained in the papers.
The strategy for each of the countries consists of two parts. In the first, they describe what Russia sees as a threat to itself, and in the second, how they plan to counter these threats. All goals were expected to be reached by respective time frames – in 2022, 2025, and 2030.
In general, Russia defines its goals as the preservation of the maximum presence of the Russian language in education, the creation of pro-Russian organisations and the influence on society through them, opposition to the demolition of Soviet-era monuments, and the promotion of the Russian historical narrative in opposition to what Russia itself considers "falsification". In Estonia and Latvia, the Russian Federation relies heavily on the Russian-speaking minority to achieve its goals. In addition, they planned to encourage businesses from the Baltic states to enter the Russian market.
The journalists recalled the events of the past year that resembled elements of the implementation of the strategy in the activities of local pro-Russian activists and organisations. They conducted campaigns to protect Soviet monuments, organising rallies against their demolition, and prepared appeals to the UN. The lion's share of the strategy is dedicated to weakening NATO's presence in the Baltic states.
In the plans, the Kremlin clearly fears that a large NATO base will appear in Lithuania. It has declared its goals of preventing the placement of air defence and medium-range anti-missile systems integrated into the Alliance's common sky defence system and reducing the presence of allied troops and combat readiness measures.
In the long term, the Russian Federation wanted to create conditions under which the country's authorities would "recognise the potential harm" to their security due to the growing influence of NATO in the region and would want deeper cooperation with Russia. These intentions are practically the same for all three Baltic states.
The most undesirable scenario for Russia is the active participation of the Baltic states in activities arranged by NATO and the increase in the presence of allied troops there, as well as sanctions and trade restrictions, which happened after 24 February 2022."
Russia distributed 5,000 false messages in a year in 5 European countries alone, Ukrainska Pravda reports, citing Svitlana Slipchenko, Head of the VoxCheck fact-checking project. "During the year of observation, from 24 February 2022 to 24 February 2023, the VoxCheck team of independent fact-checkers recorded more than about 5,000 cases of the distribution of information with a false message, which Russia spread in the media of Germany, Italy, Poland, the Czech Republic, Slovakia and Hungary."
Consequences and what to do?
World Bank estimates of Ukraine's war losses will double after liberation – Ukrainian PM, Ukrainska Pravda reports, citing Ukrinform and Prime Minister Denys Shmyhal during a bilateral conference on the reconstruction of Ukraine, which is being held in Rome. "Unfortunately, Russia has caused enormous destruction.  According to World Bank estimates, our losses amount to more than €400 billion in the [Ukrainian-]controlled territory of Ukraine alone. This is a large amount, and I am sure that after the liberation of the entire territory of Ukraine, this amount will double, Shmyhal said.
Shmyhal added that the authorities already have a vision of how to rebuild the state, and have invited Italian companies to join reconstruction projects. In March, the World Bank revised its estimate of the funds needed by Ukraine for recovery and reconstruction upwards to a minimum of US$411 billion."
Hans Petter Midttun: Can Ukraine win without Western boots on the ground, an Op-ed in The Washington Post asks?
"The United States sat out the first few years of both 20th-century world wars, hoping arms supplies alone would suffice to counter unconscionable aggression. It was then, and is now, a fatally flawed strategy. The only remaining question (which is unlikely to be addressed in the shadow of a looming election) is whether the United States will enter the fray directly. Russian President Vladimir Putin's forays into Crimea and eastern Ukraine were ostensibly undertaken to protect ethnic Russians. The parallels to Adolf Hitler's seizure of the Czech Sudetenland to protect ethnic Germans are hard to miss."
I wish I could answer the question with a resounding "yes". But I can't do that with good conscience. I fear a Ukrainian victory will be difficult without military intervention by a Western coalition of the willing.
Not for lack of bravery, resilience or resolve, but for lack of tools and critical mass.
Starting with the last point – "mass" – I am not talking about the number of soldiers or equipment, but Russia's perception of Ukraine. In its strategic narrative, Ukraine is falsely portrayed as a "smaller brother", a "failed state" and "historically a part of Russia". A global power wannabe will not accept being defeated by a "small" neighbour state. It's a question about national pride (and the survival of the regime).
This is probably one of the reasons US and European officials don't believe Putin will back down or cut his losses even in the face of a successful Ukrainian counteroffensive. Russian Foreign Minister Sergei Lavrov called the notion of talks between Russia and Ukraine after a successful Ukrainian counteroffensive as schizophrenic logic.
"We don't want any threats to our security to come from Ukrainian territory and these threats have been accumulating there for years, especially after the coup in February 2014", he falsely claimed, painting Russia into a corner it gets increasingly hard to get out.
As previously argued, Russia will never accept being defeated by Ukraine. Not even for a Ukraine supported by the West. The only "acceptable" alternative (as far as defeat is at all acceptable) is a withdrawal in the face of Western intervention. That is a strategically sound decision that can be explained to the internal audience without putting the regime at risk. Being defeated by Ukraine means the end of Putin and his regime leaving him with the option of upholding the war.
Ukraine cannot work miracles without the tools needed. Classified military assessments dating to February and March, from leaked documents, show dire gaps in what allies had pledged to Ukraine and what, at least by then, had been delivered. It lacks air defence means, many of which will be delivered during the next couple of years. Many of the pledged main battle tanks will be delivered later this year. It lacks artillery and not least, ammunition. Ukraine lacks long-range fire and the ability to target the Russian logistical hubs, command and control nodes, concentrations of soldiers and equipment and key elements of the ground line of communication (e.g. bridges and railways). Most importantly, it lacks the modern combat aircraft needed to deny Russian Air Force the opportunity to attack its advancing ground forces and provide air support.
But – and it is a huge BUT – even if it got all of the above, it might not be enough to ensure victory. As long as the Black Sea Fleet (BSF) is free to block maritime trade and deny Ukraine access to its maritime resources, the Ukrainian economy will remain (beyond) fragile.
This threat can only be resolved by establishing a maritime presence in the Black Sea capable of deterring the BSF and protecting the maritime industry. Ukraine will, unfortunately, never be able to build the Navy needed for the task. It will need support from NATO member states for years to come.
The West has all the tools Ukraine needs. More importantly, it has the operators – soldiers, sailors, and pilots – needed to employ them efficiently.
Western military intervention would bridge all of the above. It would offer Putin an off-ramp without a victory. It would offer Ukraine both the weapons it needs as well as the expertise needed to employ them effectively. It would help shorten the war and the consequential suffering and destruction. It would help cut the "tsunami of ripple effects" from the war short.
The bipartisan draft resolution of the US House of Representatives "On the Position of the House of Representatives on the Conditions for Ukraine's Victory" is in this context, an important step in the right direction. If it gains support and is passed, a commitment to a Ukrainian victory and restoration of its internationally recognised borders of 1991 will trigger the crucial question: How?
A Ukraine victory without Western soldiers on the ground, pilots in the sky and sailors at sea, is not impossible but very hard.
That's why I have persistently stressed that Western military intervention is inevitable.
Tags: Russian invasion