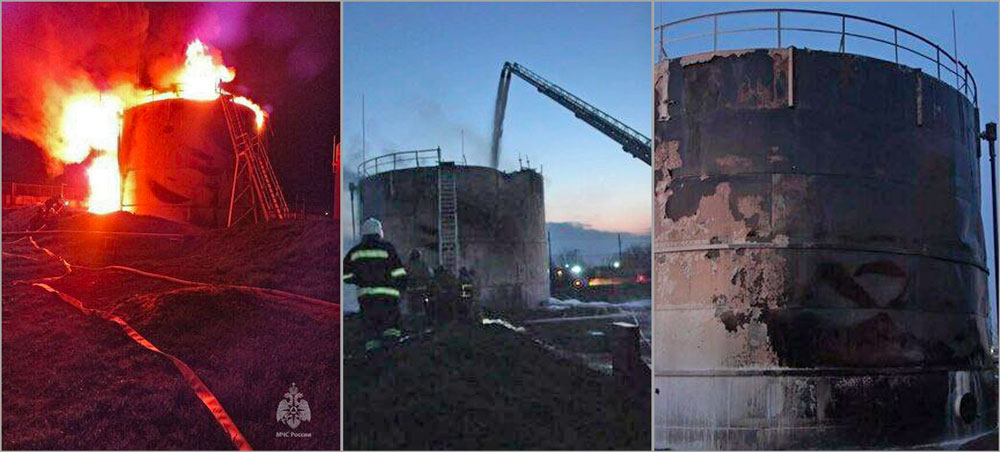 Fuel storage tank destroyed in Russian-occupied Rovenky, Luhansk Oblast, overnight into 24 April 2023. Photos: source. 
On the morning of 24 April, Russian occupation authorities of Luhansk Oblast
reported
an allegedly Ukrainian attack on the town of Rovenky at 2:45 a.m. "with an attack UAV." Later it became known that a fuel storage tank was allegedly hit at a local oil depot, and caught fire. It was one of several alleged Ukrainian attacks on Russian military facilities in various locations.
https://twitter.com/EuromaidanPress/status/1650503614580883458?sdf
The coal-mine town of Rovenky has been under Russian occupation since 2014, and is currently more than 100 kilometers behind the frontline:
Since 2014, Russia has been actively using the local oil depot located next to the railway to store POL (petroleum, oil, and lubricants) for its troops and colonial militia deployed and stationed in occupied Luhansk Oblast:
Not the first attack on Rovenky fuel hub
It wasn't the first ever attack on the Rovenky oil depot. The last time the Rovenky oil depot was hit was on 26 February 2022, the second day of Russia's full-scale invasion of Ukraine:
#Rovenki: oil depot on fire, "200 tons of diesel"https://t.co/xXEyPFbRhj

— English Luhansk (@loogunda) February 26, 2022
On 1 July 2022, a missile strike destroyed an industrial facility in the area of the oil depot. The occupation authorities claimed Ukraine used the HIMARS multiple-rocket launcher for the attack, although at the time, Rovenky was still about 100 km behind the lines, which is out of range of US-supplies GMLRS rockets:
#Rovenki, Luhansk oblast (occupied): a missile impact pic.twitter.com/34weoEy4Sa

— English Luhansk (@loogunda) July 1, 2022
More April 24 attacks
The alleged Ukrainian attack on the fuel facility in occupied Rovenky is one of several known attacks in the early hours of 24 April.
Ukrainian naval surface drones might have attacked the Russian naval base in Crimea's Sevastopol:
Ukrainian surface drones attack Russian fleet in occupied Sevastopol: VIDEO
Also, an allegedly Ukrainian drone filled with explosives fell in a forest belt outside Moscow:
Finally, another possible Ukrainian attack could have taken place on the morning of 24 April in Ilovaisk, one of the key railway hubs in the occupied part of Donetsk Oblast, as local Telegram channels reported a "powerful hit with smoke":
Read also:
Tags: Luhansk Oblast, oil depot, Rovenky