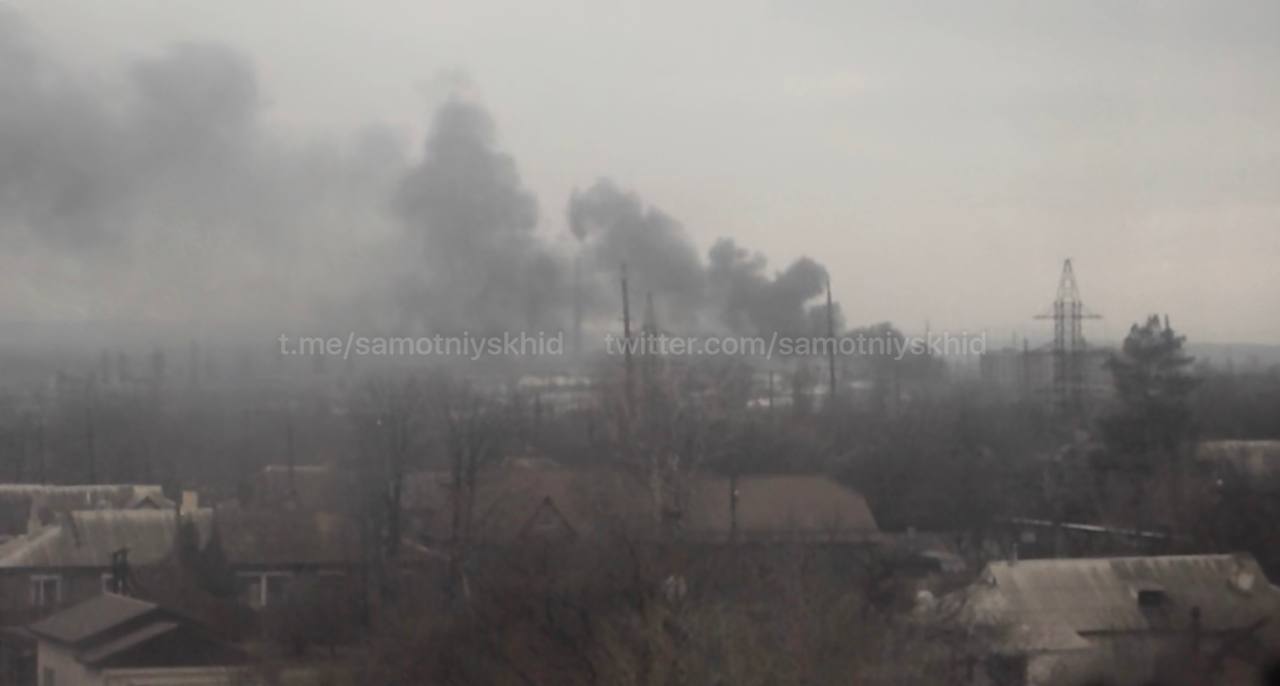 Russian ammunition warehouse on fire in occupied Kadiivka, Donetsk Oblast. 28 February 2023. Source. 
On 28 February, the Russian-occupied city of Kadiivka in Luhansk Oblast saw two long-range attacks on military facilities. Early in the morning, production facilities at the local railcar repair plant, used by the Russian troops as a military base, were hit. In the afternoon, a strike on an ammunition depot in the area of the same factory caused a massive fire and secondary detonations.
Kadiivka lies within the range of the Ukrainian GMLRS systems about 40 kilometers behind the front line, and is a crucial node in the Russian months-long offensive on Donetsk's Bakhmut.
Local sources say that two workshops were hit in the morning attack. The so-called "LNR Joint Center of Control and Coordination," however, published photos of only one workshop damaged by the strike, avoiding to show what was damaged in the second one:
"The occupation authorities stated that there were no casualties among the civilian population, but according to our sources, several ambulances arrived at the scene of the shelling," Ukrainian soldier call sign Skhidnyi reported, who is originally from Kadiivka, remains in touch with the city's residents, and monitors local social media groups.
At about 14:00, local sources reported new explosions in the same area, followed by a massive fire and sounds of secondary detonations.
#Kadiivka (occupied): Aftermath of the second attack, photos via @samotniyskhid pic.twitter.com/ZWLrsGEpFA

— English Luhansk (@loogunda) February 28, 2023
Skhidnyi wrote:
"According to information from sources: the blow hit precisely trucks with shells."
https://twitter.com/EuromaidanPress/status/1630613180882862095?sjdkds
Read also:
Tags: ammunition depots, Kadiivka, Luhansk Oblast