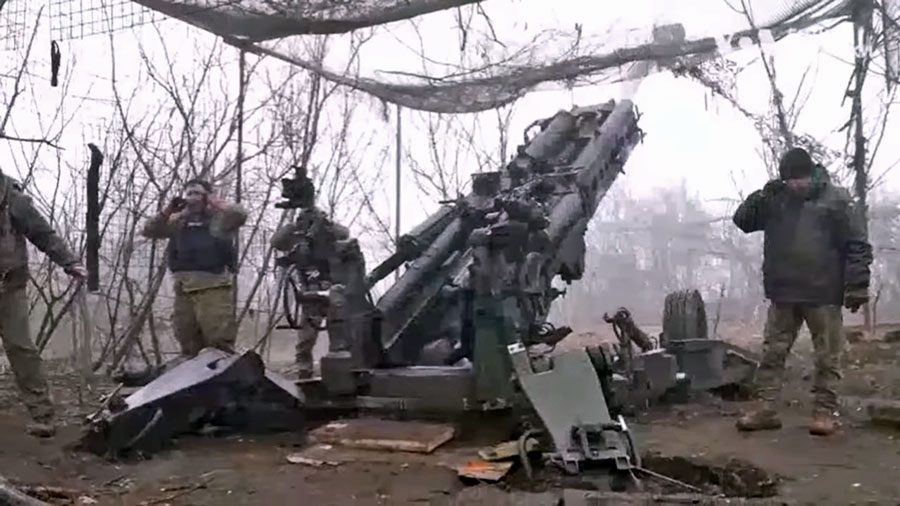 Ukrainian gunner shelling towards Russian positions with the US-supplied M777 howitzer. Screenshot: Video/
Reporting from Ukraine 
In our daily update from the front, we pair up with military blogger Reporting from Ukraine to keep you informed about what's happening on the battlefield in the Russo-Ukrainian war. As the battle for Bakhmut in the Russo-Ukrainian war continues, Ukrainians retreat from the Bakhmut train station while targeting Russian forces with artillery and using nets to catch kamikaze drones.
Day 421: April 20
"Today there is a lot of news from the east. Here, the longer the Battle for Bakhmut goes, the heavier both parties start relying on artillery support."
The freshest reports suggest that the northern part of the region became a grey zone due to the intense artillery and aviation strikes. A Ukrainian fighter that took part in the recent Ukrainian counterattack reported that Ukrainians stepped back from 1 of the previously liberated streets to be able to hold defense from more reliable positions. Looking at the geolocated footage, this is hardly surprising, as the buildings next to Rose Alley have been completely demolished.
Ukrainians also finally stepped back from the train station as the ring around it became too tight. A Ukrainian fighter from the Aidar Battalion explained the situation and elaborated on the reasons for the retreat. As you remember, Ukrainians withdrew from the blocks north of the station quite rapidly and seemingly prematurely. But this move allowed Ukrainians to entice Russians to start storming the train station from the north while Ukrainians held defense in the high-rise buildings around it.
After ten consecutive days of unsuccessful assaults, Russians realized the shortest way was not the fastest and started attacking from the south. This was when the situation became very inconvenient for Ukrainians as there were no powerful positions on the southern line to hold off Russian flank attacks. In fact, this part of the residential area was reduced to rubble. Ukrainian artillery crews from the 93rd Mechanized Brigade were eliminating Russian forces' concentrations here, but some units still managed to cause trouble for some time. When Russians reached Hotel Tranzyt from the south, the bridgehead became too small and counterproductive to hold, and Ukrainians stepped back.
Recent geolocated footage showed that Ukrainian artillery is already targeting Russian forces near the hotel and preventing them from using the intact houses. As usual, Ukrainians know which buildings are still suitable for establishing positions or local ammunition depots, so when they retreat, they closely monitor these positions, and once Russians assume them, they either blow up the building or hit it with artillery.
Ukrainian artillery is also reducing Russian forces in the northern part of the region. In a bid to match the intensity of Russian artillery fire in this area, Ukrainians shelled Russian positons so heavily that Russians also could no longer maintain a permanent presence in this region. Recent geolocated footage showed Russian positions around what was left from the grain elevators, confirming that there is not much place to hide for long. That is why the situation became very dynamic here, and one-hour clashes happen in ruins to the north, and another hour in ruins closer to the center.
Russian sources also complain that Ukrainians are actively using Western artillery, and especially HIMARS. Today's footage from the Bakhmut direction indeed confirms that Ukrainians are increasingly targeting Russian concentrations of manpower and equipment, and not only those located in Bakhmut but also Soledar, Klynove, and Pokrovske. The reason why Russians are apprehensive about western artillery is that it is usually stationed out of reach of their artillery, which does not allow them to conduct counterbattery fire.
For the most part, Russians are using kamikaze drones in order to take out Ukrainian longer-range artillery. Russians sources published a number of videos showing how their Lancets destroyed M777 and other artillery systems. However, this tactic very quickly became inefficient because Ukrainians learned how to catch these drones. In order to prevent unpleasant surprises, Ukrainians started establishing nets on top of the artillery systems. Some Ukrainians even established nets on the machines themselves as a second layer of armor because it takes time to set up nets on a new position, making the artillery vulnerable during the position changes. Russians tried to adapt and started using highly skilled drone operators for counterbattery missions, who could attack artillery by using a more sophisticated trajectory, however, Ukrainians adapted to that as well and started creating all-round mobile cages.
Read also:
Tags: Bakhmut, Frontline update