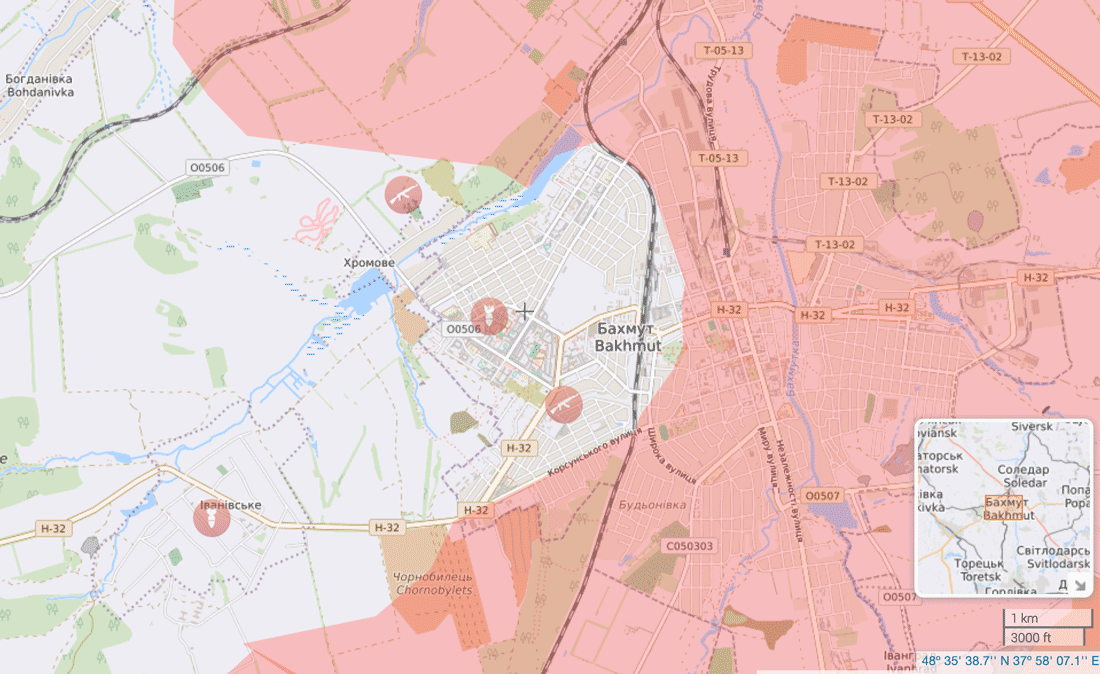 Situation in and around Bakhmut, Donetsk Oblast, as of 16 April 2023. Map: Liveuamap. 
In our daily frontline update, we pair up with the military blogger Reporting From Ukraine to briefly tell you what's happening on the battlefield in the Russo-Ukrainian war.
Day 416: April 15
Russian airborne units continued substituting damaged Wagner Group's formations, and yesterday, Russians reached a peak concentration of forces. The excess manpower allowed Russians to set a record for a one-day advancement inside [Donetsk's] Bakhmut, although it came at a huge cost, as, simultaneously, Ukrainians approached the record of taking Russians captive.
Last time I told you that Wagner's forces degraded to the point where they could not maintain the necessary intensity of attacks and were urgently reinforced by conventional forces. This is a significant development because, previously, the Wagner Group competed with conventional forces, and they were doing everything on their own, so the fact that Wagner forces no longer operate independently on any section of the front line means that they were incurring unsustainable losses.
Frontline report: Ukrainian forces successfully establish defense line along railways in Bakhmut
The freshest reports suggest that Russian conventional units continued reinforcing Wagner Group. Today, many Russian sources reported the operations of Russian airborne forces in the city's southern, central, and northern parts. A rapid reinforcement allowed Russians to not only prevent the culmination of the Wagner forces' offensive effort but also increase the intensity even further. A Ukrainian soldier from the 93rd Mechanized Brigade said that if previously Russians operated in small assault units comprised of 5 to 10 troops, then from yesterday, each assault is conducted by 20, 30, or even 40 troops.
First of all, Russian forces once again attempted to establish control over the grain elevators. Last time Russians here were defeated in a matter of hours because they failed to secure their flanks, and got cut off from the mainland. But it seems like Russians learned from their mistake, increased the scale of their operations, and leveraged the reinforcements provided by the Airborne division. Russians rapidly relocated many troops to Rose Alley and started pushing in every direction. While a substantial portion of Ukrainian troops focused on repelling this attack, Russian forces attacked the grain elevators. As a result, a small Ukrainian group of soldiers in the north had to retreat to avoid complete encirclement, which allowed Russians to secure new positions. Russians also tried to capitalize on recent gains immediately and maintain the momentum, so they made an intense push on the area that they had been shelling non-stop for a week.
A huge inflow of fresh troops that could be sent in large numbers to storm strong points allowed Russians to make significant progress. However, it came at a huge cost. Today, many sources reported that Ukrainians set a record for the number of Russians taken captive while on the defensive. By the evening, Ukrainians captured almost half a hundred troops and killed many times more, most of whom were reportedly mobilized soldiers. One of the Ukrainian soldiers that published the footage said that Ukrainians also exploited the fact that Russians concentrated their forces on such a small area and focused almost all artillery fire on the Russian positions.
The artillery fire allowed Ukrainians to break Russian momentum and slowly start conducting limited counterattacks. So far, several small but successful assaults were reportedly conducted in the north and northeast. The main goal of Ukrainians right now is to prevent Russians from consolidating control over the city's outer edge. This edge allows Ukrainians to counter all assaults toward the village of Khromove, and Russians seek to establish control over it at any cost to cut off one of the main supply roads to Bakhmut.
Overall, the rapid reinforcement of the Wagner Group with airborne units allowed Russians to overwhelm Ukrainians with the sheer number of troops and secure control over a lot of blocks. Some Ukrainian fighters said they are preparing to face something similar from the south. The Battle for Bakhmut approaches the end, and since it looks like Wagner forces were destroyed because Ukrainians are mostly dealing with the conventional Russian army, it seems like Ukrainians achieved their objective of destroying the Wagner Group before the counteroffensive operation. Although it is possible that the Russian High Command just decided that the hardest part is done, so they should save at least some Wagner units for some hard task in the future.
Read  also:
Tags: Bakhmut, Frontline update