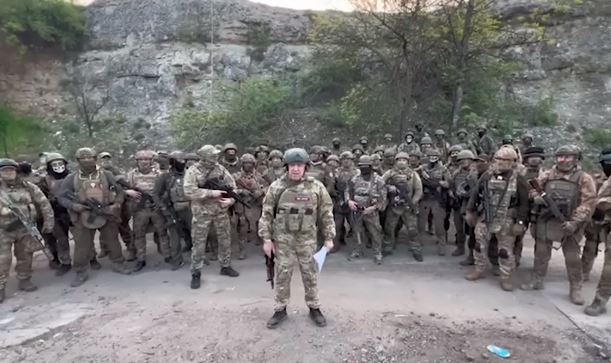 Wagner financier Prigozhin announces the PMC will withdraw from Bakhmut. Screenshot from footage 
Wagner financier Prigozhin announced his PMC will withdraw from Bakhmut by 10 May because of artificial shell shortages created by the Russian MoD. But there is reason to believe he anticipates a Ukrainian encirclement.
Today, the biggest news comes from the east. The Head of the Wagner Group, Prigozhin, publicly announced that they are no longer capable of sustaining such high losses and that they are going to withdraw from Bakhmut on 10 May. He accused the Russian Ministry of Defense and other bureaucrats of creating artificial shell shortages due to the envy towards the overshadowing successes of his Private Military Company, which makes them look bad and incompetent.
This is a clear confirmation that Russian forces will not be able to symbolically establish full control over Bakhmut by the holiday of Victory Day on 9 May, as the Ukrainian High Command, commanders of brigades, battalions, and ordinary soldiers have claimed for weeks. In fact, when it comes to the movements of the front line over the last 7 days, despite absolutely brutal fights, Russian forces failed to breach Ukrainian defense.
As Russians reached the so-called citadel, which is the biggest residential area consisting of 10-story buildings, Russian forces would either incur massive losses by trying to storm it directly from the east, or they would incur massive losses by getting into a crossfire in trying to move around. On top of that, Ukrainians continue conducting devastating tank raids, preventing Russians from consolidating control over the proximate positions.
Today, Ukrainian fighters published a video of how two tanks approached Russian positions from two sides and, within minutes, completely obliterated several buildings at once. With automatic loaders, two tanks can deliver 125 mm high-explosive shells every 3 to 5 seconds. Those who survive such a raid are usually finished by snipers, who can control the whole perimeter by establishing positions in the citadel.
Recently Russians tried to advance along the western edge, but here Ukrainians also have powerful positions, and as fighters from the 93rd Mechanized Brigade show, the overwhelming fire on Wagner flanks can quickly halt their assault and prevent rapid and deep penetrations. Once the enemy is immobilized, artillery and mortar crews help to eliminate the stationary attackers.
However, the fighting is not easy. Ukrainian fighters continue to say that the biggest problem continues to be Russian artillery. After a week of futile ground assaults, Russians decided to burn everything to the ground. The footage released just several hours ago shows that the whole residential area is under the attack of incendiary munitions.
https://twitter.com/EuromaidanPress/status/1654728238814441474
On the other hand, we have already seen a lot of similar attacks on Vuhledar. Even though some buildings catch on fire if an incendiary granule gets inside a flat, the main target of these strikes is likely Ukrainian equipment. As Ukrainians are constantly conducting tank raids and driving between different parts of the western part of the town, the vehicles are often parked just next to the house under camouflage netting.
This strike has raised suspicions about the genuineness of Prigozhin's claims.
As Ukrainian fighters are constantly experiencing heavy shelling, many downplay Prigozhin's claims and speculate that he is pursuing other interests. Some speculate that he is just trying to attract attention to his company and gain more recruits and, therefore, money; others say that he has political ambitions and wants to replace the Minister of Defense, if not the current president; and some also say that he just failed to fulfill his promises to take Bakhmut by 9 May, and is trying to deflect the blame and save his reputation.
However, many things can be true simultaneously.
First of all, after today's other video, where he showed one hundred fresh corpses of his soldiers and specifically named Shoigu, Gerasimov, and the rest of the Ministry of Defense, calling them all the bad words known to men, it is implausible to be simply attention-seeking and marketing. No one has ever said so many bad things about the top shots and seen a happy retirement, let alone during the war.
Secondly, even though Ukrainians indeed experience heavy shelling, they are still successfully preventing Russians from advancing – exactly what Prigozhin complains about. Prigozhin wanted several times more shells to not allow Ukrainians to keep their head up so that he could make some advancements in the citadel.
Thirdly, Prigozhin has been raising the alarm about the fact that Ukrainians might be preparing to conduct a massive flank attack and that he is not satisfied with the quality of the defense. Today he also said that Russian bureaucrats are once again exaggerating the number of troops on the flanks in order to submit good reports, while in his experience, the flanks are barely holding. He also emphasized multiple times that in the event of a breakthrough, Wagner forces in Bakhmut would be surrounded and eliminated.
And coincidentally, yesterday, we discussed precisely how Ukrainians are increasing the intensity of fights in the Siversk direction, relocating their tanks, and possibly preparing for a large-scale offensive operation. This also fits very well into the Ukrainian narrative that is increasingly circulating information about an unspecified surprise for Russians, and in particular, Wagner forces in this direction.
Prigozhin has his own intelligence – he probably anticipates it as well and decided to give up Bakhmut and escape the encirclement. It looks like he planned to kill two birds with one stone: take Bakhmut and then escape.
But the internal politics undermined his efforts by creating artificial shell shortages, which resulted in unsustainable losses and left him with two choices: he can either continue pushing with the last men and see whether they die before or after Ukrainians take Bakhmut into a pocket, or he can save the last men, get out of there before it is too late, and as a bonus save his reputation.
In our daily frontline report, we pair up with the military blogger Reporting from Ukraine to keep you informed about what's happening on the battlefield in the Russo-Ukrainian war.
Related:
Tags: Bakhmut, Frontline report, Prigozhin, Wagner