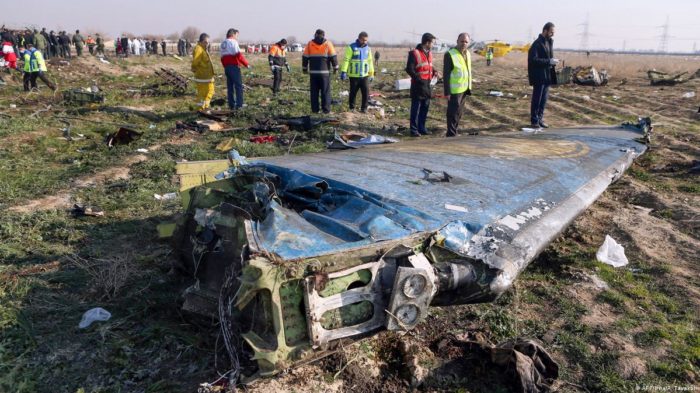 Debris at the crash site of a Ukrainian UIA plane in Iran/ Source: Telegram, @news_5ua 
The International Coordination and Response Group for the victims of Ukrainian International Airlines (UIA) Flight PS752 believes that Iran's trial on the downing of the airliner lacked impartiality and transparency, and the verdict is unjust. The Canada-led coordination group states that it will make every effort to ensure that justice is served, as reported by Suspilne, referencing the joint statement by the group published on the website of the Ministry of Foreign Affairs of Ukraine.
The group representing Canada, Sweden, the UK, and Ukraine stated the verdicts "must not distract the world from Iran's failure to meet its international obligations and take responsibility for its actions."
Therefore, Iran's failure to fulfill its international obligations and avoid responsibility for its actions should not be overshadowed by the "sham trials" that took place in Tehran.
"Neither the trials nor the verdicts announced this week bring truth or justice to the families of the victims, as the entire process starting with Iran's biased investigation into the downing lacked the necessary impartiality and transparency," reads the joint statement by the coordination group.
The joint statement emphasizes that the families of the 176 innocent victims are still awaiting the justice they deserve. In addition, the group stands in solidarity with the families and loved ones of the victims of the downing of Flight PS752. Furthermore, the group will do everything possible until justice is served.
Earlier on 16 April, Iran's court sentenced ten Iranian military personnel in connection with the 2020 crash of a UIA airliner over Tehran. The commander of the Tor-M1 air defense system, which shot down the plane, was sentenced to 13 years in prison. At the same time, nine others received sentences ranging from one to three years.
Read also:
Iran sentences ten air defense military over downed Ukraine's airliner
Zelenskyy imposes sanctions on 240 Russian, Iranian individuals, former Motor Sich president, and 410 companies
Two Russian cargo ships delivered bullets and shells from Iran to Russia – SkyNews
Ukrainian airliner apparently downed in Iran by Russian-made missile: all we know so far
Tags: Iran, Ukraine, Ukraine-Iran relations, Ukrainian plane