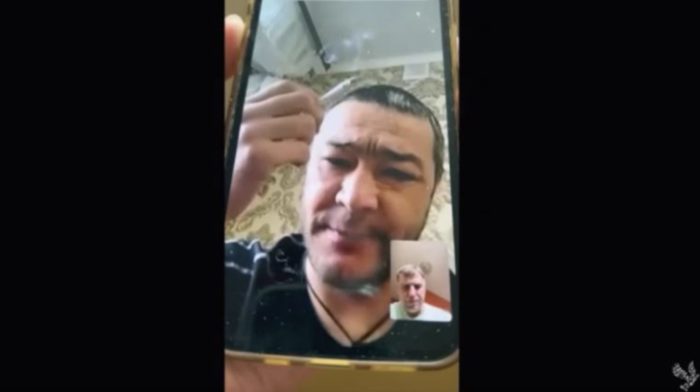 An ex-convict and Wagner PMC mercenary confessing live killing Ukrainian children, a video screenshot/ Source: YouTube, Gulagu.net channel 
A Russian initiative has released a video of Wagner PMC inmates confessing to the murders of Ukrainian children in Bakhmut and Soledar. According to one of the murderers, unarmed 15-year-old Ukrainian teenagers "can hardly be called civilians," as reported by the Ukrianska Pravda, referencing the video by the Gulagu.net project (a Russian anti-torture human rights organization – ed.)
The project Gulagu.net published the testimonies of two former Wagner PMC units' commanders. They were recruited from Russian colonies to join Yevgeny Prigozhin's mercenaries.
In particular, Azamat Uldarov, an ex-convict from the Penitentiary colony № 13 of the Russian Federal Penitentiary Service, Saratov Oblast (pardoned by the decree of the President of Russia on 23 August 2022), and Alexei Savichev, an ex-convict from the Penitentiary colony № 1 of the Voronezh Oblast (pardoned by Putin's decree of 02 September 2022).
Currently, the criminals are in Russia.
Throughout the week,
they testified in video and audio interviews
to Gulagu.net's founder, Vladimir Osechkin, about:
the execution of more than 20 Ukrainian children and teenagers
the explosion of a pit containing more than 50 wounded prisoners, and the so-called "500" (those who decided to cease fighting and refused to carry out orders to kill Ukrainians)
the clearing of residential buildings and massacre of everyone, including children
One of the Wagnerites confesses that he "shot a 5-year-old girl in the head" when they entered Soledar and Bakhmut, "She's screaming, she is a small child, you know. I shot a girl between ages 5 and 6 in the head."
Uldarov also stated that he "cleared" the basement of a nine-story building in Bakhmut, containing 300-400 civilians and about 40 children. The Russian occupier added that "he had no choice." He was ordered to eliminate everyone.
"I carried out the order with this very hand; I murdered the children. You know, per directives. The truth that we were ordered to clear the area and eliminate everyone. We were 150 Wagnerites, and we killed everyone – women, men, pensioners, and children as young as five years old," said Uldarov.
Prigozhin personally ordered executions and murders, according to both former commanders of the Wagner PMC units.
According to the terrorists, Prigozhin gave them the order to clear Bakhmut. He ordered that no one be spared, not even the elderly or the young, and that they all be executed. The situation was worse in Soledar.
The terrorist stated that it occurred in March of 2023.
"Civilians were leaving. And there was an order: all individuals aged 15 and older were to be executed without warning. 20-24 people were shot, ten of the victims were between 15 and 17 years old," said Savichev.

 

When asked how many unarmed civilians they killed in February 2023, Savichev responded that 15-year-old Ukrainians "can hardly be called civilians."
One of the Russian occupiers also claimed that the Wagnerites once became intoxicated and captured 15 Kadyrovites who were unwilling to fight.
Savichev stated that the Wagner mercenaries were threatened with execution if they spoke to journalists.
It should be noted that the Russian project Gulagu.net publishes data on Russian occupiers. With the assistance of this project, the Russian occupiers' military and security forces that "repented" left Russian territory. Later, it was discovered that one of the "evacuees," former paratrooper Pavel Filatiev, was later implicated in war crimes in Ukraine.
The Gulagu.net video lasts 77 minutes. None of the Russian occupiers expressed regret for the crimes they committed in Ukraine. Furthermore, Uldarov is consistently intoxicated throughout the entire video.
Uldarov also admitted that the Wagnerites do not take prisoners and routinely murder Ukrainian soldiers "Most often with a knife. We slashed the throat. We record it. When Prigozhin instructed us to use a sledgehammer, we grabbed one and killed [a man] with it. This is his method. He is an awful person."
In addition, Uldarov expressed a wish to return to the front and continue fighting.
Read also:
EU imposes sanctions on Russia's Wagner PMC after a video of the alleged beheading of a Ukrainian POW surfaces
Fugitive ex-Wagner commander identifies fellow servicemen in POW beheading video
Tags: Bakhmut, PMC Wagner, Russian war crimes, Soledar, Ukrainian children