Ukrainian military forces have begun using 120-mm mortar shells, produced jointly by Ukraine and an undisclosed NATO member, on the battlefield, according to a post from the Twitter account Ukraine Weapons Tracker. The account shared a photo of the ammunition, marking the first batch of high-explosive fragmentation 120-mm mines, model OF-843B, produced in 2023.
https://twitter.com/UAWeapons/status/1647271231396126721?ref_src=twsrc%5Etfw%7Ctwcamp%5Etweetembed%7Ctwterm%5E1647271231396126721%7Ctwgr%5E2253edea5c509b4081a6be5846a94d31b9d79cc8%7Ctwcon%5Es1_&ref_url=https%3A%2F%2Fdefence-ua.com%2Fl-media%2Faddarticles%2F
Ukraine's state concern "Ukroboronprom" reported the start of the 120-mm mine production at the beginning of February this year, which means  just a little over two months had passed between the announcement and first photos of the ammunition at the front. The defense concern stated that these mines are the first product of joint production between the Ukrainian defense industry and a NATO member country. The production facilities are dispersed.
Some tactical and technical characteristics of this mine were also reported; in particular, the effective defeat of infantry occurs within a radius of 25 to 60 meters, and the fragmentation can reach 250 meters. The mine can also be used to destroy engineering structures and lightly armored vehicles. Their range can be over 8 km.
On 10 April, Ukroboronprom showed off the results of another project in cooperation with a NATO member state, stating that a batch of 125-mm tank ammunition, the production of which was announced in March: 125-mm tank shells.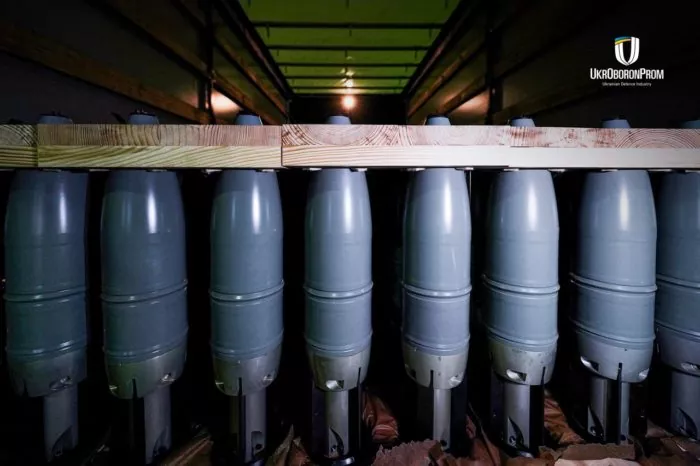 The next day, Ukroboronprom reported that another batch of 122-mm artillery ammunition produced jointly with a NATO country was sent to the front. It added that the shells are produced jointly with a NATO country at facilities abroad, but using Ukrainian technology and with the involvement of Ukrainian specialists.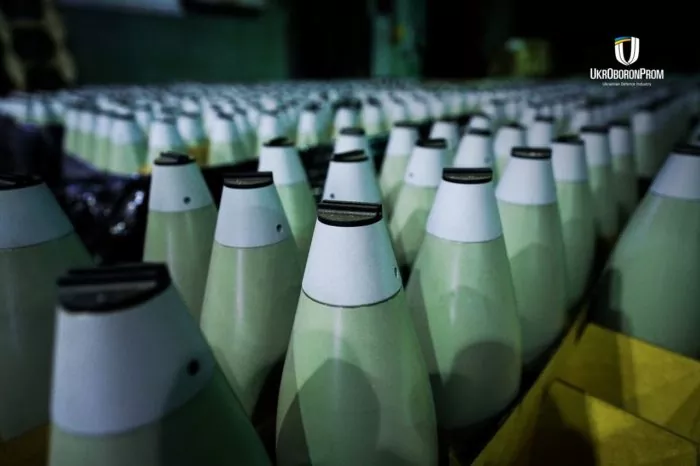 Ukraine has aimed to breach the shortage of its artillery through joint production agreements with various NATO countries.
In September 2022, Ukroboronprom and a NATO member country had revealed plans to construct a factory dedicated to the production of ammunition.
On 18 November 2022, it was announced that Ukraine would jointly produce heavy weapons and military equipment with at least six NATO countries. In a further development on 14 March 2023, Ukraine's state concern "Ukrobornprom" entered into a partnership with a NATO country to produce 125-mm projectiles for tanks, and the following month, it was reported that Ukraine and Poland would jointly produce shells of this caliber. This announcement followed a meeting between NATO Secretary General Jens Stoltenberg and the Ukrainian leadership on April 4, 2023, during which they discussed increasing the production of ammunition to support Ukraine.
Additionally, on March 14, 2023, Ukraine's Defense Minister Oleksiy Reznikov announced that Ukraine was establishing a naval coalition with the participation of two other countries to further develop its fleet.