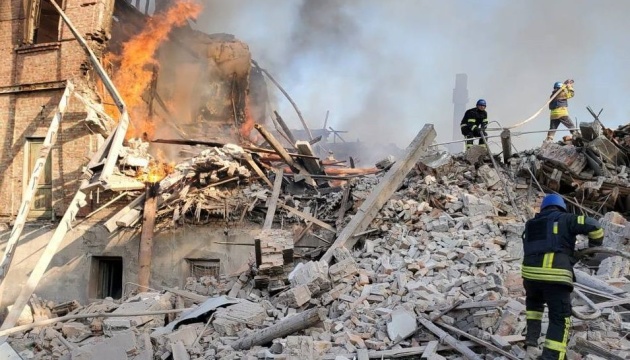 Ukrainian firefighters extinguish the fire caused by the Russian shelling. Credit: UkrInform
 
Regional military administrations have said the Russian Army targeted eight regions of Ukraine, including Chernihiv, Sumy, Zaporizhzhia, Kharkiv, Luhansk, Donetsk, Kherson, and Mykolaiv oblasts over the last 24 hours, UkrInform reported.
On 10 April, Russian troops reportedly launched 20 mortar attacks on Sumy Oblast. In addition, Ukrainian air defense successfully shot down an unmanned aerial vehicle identified as a Zala 421-16e.
In Chernihiv Oblast, a bridge over the Sudost River was partially destroyed in a Russian missile attack. According to Sergei Kuzan from the Ukrainian Center for Security and Cooperation, the "air-to-surface" missile was launched from an aircraft.
Tags: Russia