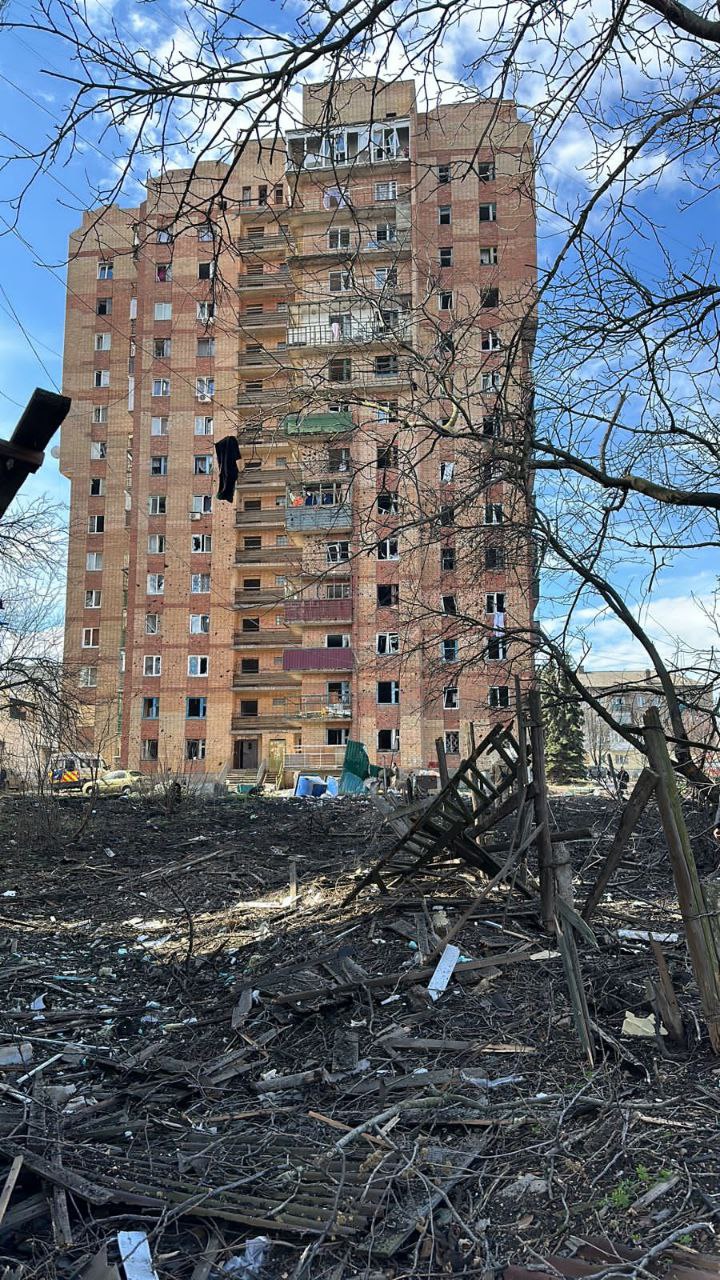 Apartment block in central Kostiantynivka, Donetsk Oblast, damaged in a Russian shelling attack, killed at least three civilians. Photo: Telegram/Donetsk Regional Military Administration Head Pavlo Kyrylenko 
Pavlo Kyrylenko, the head of the Donetsk Oblast Military Administration, wrote on Telegram that at least three civilians were killed, six more injured in a Russian fire attack on the town of Kostiantynivka on the morning of 2 April 2023
"At least three people were killed and six wounded during the shelling in Kostyantynivka. The Russians shelled the central part of the city this morning. Multi-storey buildings and private homes sustained extensive damage. The victims are currently being provided with the necessary assistance. Rescuers and police are working at the scene. Information on the extent of the damage and the number of victims will be updated as it becomes available," the message reads.
Ukraine-controlled towns and cities in the northwest of Donetsk Oblast suffer from daily Russian artillery and missile attacks.
Update:
The President's Office published an update on the Russian attack on Kostiantynivka, saying that Russians fired two S-300 missiles and four MRLS Uragan rockets.
"16 apartment buildings, eight private houses, a kindergarten, the Kostyantynivka State Tax Inspectorate building, gas pipes, and three cars were damaged. Eight people were injured – they sustained shrapnel wounds. All of them are receiving medical aid. Six people were killed," the update reads.
According to Kyrylenko, five civilians sustained injuries in Donetsk Oblast on 1 April due to Russian attacks:
Russia kills civilians!

On April 1st number of victims of russian army in Donetsk oblast increased by 5 injured.

Every russian will pay for his crimes in Ukraine!#StopRussia#RussiaKillsCivilians pic.twitter.com/hKzVJK176k

— Павло Кириленко (@Pavlo_Kyrylenko) April 2, 2023
https://twitter.com/EuromaidanPress/status/1642008131411537922?dss
Read also:
https://twitter.com/EuromaidanPress/status/1639241904213852164?dsfs
https://twitter.com/EuromaidanPress/status/1641126032597041183?sdf
https://twitter.com/EuromaidanPress/status/1640394246976065536?dsfsfs
Tags: Donetsk Oblast, Kostiantynivka