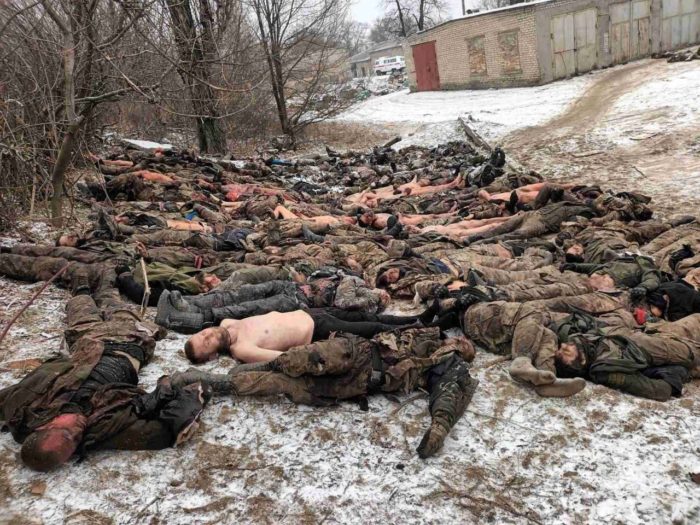 Photo of Russian Wagner mercenaries who were allegedly killed near Bakhmut on 21 February 2023, according to Wagner manager Yevgeny Prigozhin. 
Vladimir Putin's new spring conscription, expected to induct 147,000 Russians between 1 April and 15 July, will not increase Russia's short-term combat power, as the conscripts must undergo months of training, sapping the scarce Russian training resources that would otherwise be used on those who would fight in Ukraine, the Institute for Study of war writes in its daily update.
Furthermore, Putin remains unlikely to deploy newly conscripted troops to participate in combat in Ukraine due to concerns for the stability of his regime;
According to the ISW, the Russian State Duma Defense Committee has announced that newly conscripted troops will not be deployed to Russian-occupied territories in Ukraine during the spring 2023 conscription cycle. Chairman of the committee, Andrey Kartapolov, stated on March 30 that Russian forces will not conscript men from occupied territories. Putin's use of conscripts during the winter-spring period of 2022 sparked social tensions in Russia, and Putin is unlikely to risk his regime's stability by deploying newly conscripted servicemen to the frontlines.
The ISW notes that this decision was made despite Russia's limited training capacity, and the Kremlin may seek to increase its combat personnel in Ukraine by coercing spring 2022 conscripts who are finishing their one-year service into signing military contracts. The ISW also reports that a prominent Russian news aggregator criticized the Russian conscription system, noting that Russia's current staffing levels for contract servicemen are insufficient. The aggregator added that it is "unacceptable" that "half of the Russian army is fighting with all its strength, while the other part is sitting in the barracks."
The ISW further suggests that Putin's decision not to deploy conscripts may indicate his preference for mobilizing reservists rather than committing conscripts to battle, likely for political reasons. In response to Ukraine's September 2022 counteroffensive in Kharkiv Oblast, Putin did not deploy conscripts from the spring 2022 conscription cycles but instead mobilized reservists to stabilize collapsing frontlines.
Therefore, the start of the new conscription period, even with a slightly increased number of conscripts, may actually reduce Russian training capacity for reservists and other personnel recruited via crypto-mobilization campaigns, ISW writes. Russia has limited training capacity and allocating it to training conscripts who will not fight in 2023 deprives the Kremlin of the opportunity to train reservists and volunteers who would, the think tank explains.
According to Major General Vadym Skibitskyi, the deputy head of Ukraine's military intelligence, Russia is preparing for a new wave of mobilization. However, Skibitskyi told WSJ that Russia is struggling to integrate troops it had already drafted and is waiting to gauge the success of a stepped-up offensive ahead of the first anniversary of its invasion later this month. WSJ reported that Skibitskyi believes that even if Russia goes ahead with a new round of mobilization, it will likely face similar issues as the previous wave, including shortages of modern equipment and a sufficient number of officers to train the influx of untrained men.
Ukraine intel says Russia delaying new mobilization amid stepped-up offensive – WSJ
Tags: mobilization