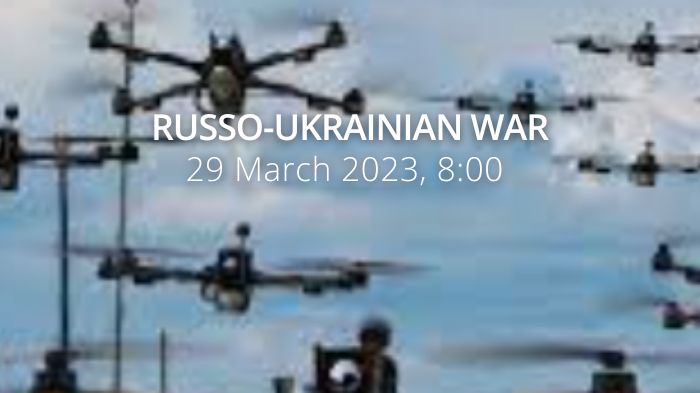 Ukraine forms three strike groups in Army of drones. Ukraine ready to resume export of electricity to EU – Energy Minister. Ukraine's main task in Bakhmut is depleting Russian forces, inflicting heavy losses on them – Syrskyi.
Ukraine forms 3 strike groups in Army of drones, said Digital Minister Mykhailo Fedorov

In collaboration with partners, the groups have been equipped with pickups, strike copters, & Starlinks. All of the UAVs for Army were produced in Ukraine, he added https://t.co/v8WstGhvaR

— Euromaidan Press (@EuromaidanPress) March 28, 2023
Daily overview — Summary report, March 29
A map of the approximate situation on the ground in Ukraine as of 00:00 UTC 29/03/23.

There have been no notable changes to control since the last update. pic.twitter.com/cDR0tSB114

— War Mapper (@War_Mapper) March 28, 2023
The General Staff's operational update regarding the Russian invasion as of 18.00 pm, March 29, 2023 is in the dropdown menu below:
Day 399 of the full-scale russian military aggression has begun.
Over the past day, the enemy launched 18x air and 3x missile strikes, and conducted 50x MLRS attacks against civilian infrastructure and positions of Ukrainian Defense Forces.
There is a high probability of further missile and air strikes across Ukraine, as russia continues to ignore laws and customs of war, and continues to use terror tactics against civilian population. Russian missile strike on the infrastructure of the city of Bogodukhiv (Kharkiv oblast) on 28th March, 2023 resulted in casualties among civilian population and damage to private houses.
The enemy concentrates main efforts on further offensives on Lyman, Bakhmut, Avdiivka and Mar'yinka axes. Biloghorivka, Bakhmut, Avdiivka, Mar'yinka and their surroundings remain at the epicenter of hostilities. Thanks to professional and coordinated actions Ukrainian Defense Forces repelled 57x enemy attacks on the indicated axes during the past day.
Volyn', Polissya, Sivershchyna, and Slobozhanshchyna axes: the operational situation has not changed significantly; and there were no signs of the formation of enemy offensive groupings reported. Russian militaries continue their combat trainings at the training grounds in the republic of belarus. Russia maintains military presence in the border areas of its Kursk and Belgorod oblasts. During the past day, the enemy shelled the vicinities of Kucherivka, Bilopylla, and Volfyne (Sumy oblast); Timofiivka, Chervona Zorya, Veterynarne, Strilecha, Hlyboke, Krasne, Starytsya, Ohirtseve, Komisarov, Ustynivka, Vilkhuvatka, and Stroivka (Kharkiv oblast).
Kup'yans'k and Lyman axes: during the past day, the enemy attempted unsuccessful offensives in the vicinities of Krokhmalne, Novoselivs'ke, Stelmakhivka, Biloghorivka, Verkhn'yokam'yans'ke, and Berestov settlements. The vicinities of Kam'yanka, Krasne Pershe, Figolivka, Novomlynsk, Kutkivka, Dvorichna, Zapadne, Vilshana, Kislivka, and Berestov (Kharkiv oblast); Novoselivs'ke, Nevs'ke, Kuzmyne, Dibrova, and Biloghorivka (Luhansk oblast), as well as Spirne (Donetsk oblast) were subjects to artillery fire.
Bakhmut axis: the enemy makes further attempts to seize the town of Bakhmut. However, our defenders courageously hold the city, while repelling numerous enemy attacks. During the past day, the enemy conducted unsuccessful offensive actions in the vicinities of Orikhovo-Vasylivka, Bohdanivka, Ivanivs'ke, Predtechine, and Ozaryanivka settlements (Donetsk oblast). Russian forces shelled Vasyukivka, Minkivka, Orihovo-Vasylivka, Novomarkove, Khromove, Bakhmut, Ivanivske, Chasiv Yar, Kurdyumivka, Ozaryanivka, Druzhba, Shumy, and Mayorsk.
Avdiivka and Mar'yinka axes: the enemy attempted to advance towards Novokalynove, Krasnohorivka, Stepove, Pervomais'ke, and Mar'yinka. However, all attempts have failed. Russian artillery shelled the vicinities of Novokalynove, Krasnohorivka, Hostre, Heorgiivka, Stepove, Lastochkine, Avdiivka, Tonen'ke, Pervomais'ke, Maryinka, Pobieda, Paraskoviivka, and Novomykhailivka (Donetsk oblast).
Shakhtars'ke axis: during the past day, the enemy shelled the vicinities of Vuhledar, Zolota Nyva, Velyka Novosilka, and Vremivka settlements (Donetsk oblast).
Zaporizhzhia and Kherson axes: the enemy stays in the defensive. Russian forces shelled Novosilka and Novopil' (Donetsk oblast); Hulyaipole, Biloghirya, Mala Tokmachka, Novodanilivka, and Novoandriivka (Zaporizhzhia oblast); Antonivka and the city of Kherson.
Russia continues to cynically use medical facilities of the temporarily occupied territories for their own purposes. Thus, Bilovodsk city hospital (Luhansk oblast) has been converted into a military hospital with 200x beds, that provides treatment to russian occupiers with minor injuries. Meanwhile, local population is denied access to the medical facility.
Recently, there has been a tendency for the russian invaders to refuse to follow the orders of their commanders. So, on March 23 of this year, due to refusing to perform a combat mission, about 70x people from the units of the Nevsky and Veterans volunteer formations were disarmed and taken to Makiivka, Donetsk Oblast. A similar incident occurred on March 25, when the personnel of the enemy's reconnaissance company operating on the Avdiivka axis refused to carry out the order.
Over the past day, Ukrainian Air Force attacked 5x concentrations of russian troops and military equipment. At the same time, our defenders shot down 1x "Orlan-10″ and 1x "ZALA" UAVs.
Ukrainian missile and artillery troops hit 1x command post, 6x concentrations of enemy troops, weapons and military equipment, 1x anti-aircraft missile complex, and 1x ammunition depot.
Military Updates
Ukraine's main task in Bakhmut is "to wear down the overwhelming forces of the enemy and inflict heavy losses on him," Land Forces Commander Gen Syrskyi sayshttps://t.co/2P8NZrucha

— Euromaidan Press (@EuromaidanPress) March 28, 2023
Ukraine's main task in Bakhmut is depleting Russian forces, inflicting heavy losses on them – Syrskyi. According to Ukrainian Land Forces commander Gen. Oleksandr Syrskyi, Ukraine's main task in besieged Bakhmut, the hottest spot of the ongoing war for months, is "to wear down the overwhelming forces of the enemy and inflict heavy losses on him. This will make it possible to create the necessary conditions to facilitate the liberation of Ukrainian land and speed up our victory."Gen. Syrskyi's address to Bakhmut defenders was published on his Telegram channel on 28 March.
https://twitter.com/EuromaidanPress/status/1640751734053040128
Ukrainian investigation team identifies Russian commander who ordered to kill civilians in Mariupol. On 28 March, the adviser of Mariupol's major Petro Andriushchenko said that the Ukrainian investigation team Inform Napalm identified the "number one killer" of civilians in the city. According to the group's new report, Russian warplanes which took off the Primorsko-Akhtarsk airfield on 16 March 2022 dropped two 500kg bombs on the Mariupol's Drama Theatre, killing 300 civilians, were led by Russian commander Sergey Atroshchenko. Later the same planes targeted maternity and children's hospitals in the city.
Ukraine forms three strike groups in Army of drones, minister says. "Today, the first three UAV strike groups are ready for a battle. In collaboration with partners, they have been fully equipped with pickups, strike copters, and Starlinks. All of the unmanned aerial vehicles were produced in Ukraine. The private patrons have purchased equipment for the strike groups of the Army of drones," said Minister of Digital Transformation Mykhailo Fedorov.
Russia's 10th Tank Regiment likely lost large proportion of tanks near Avdiivka – British intel. In its latest intelligence update on the situation in Ukraine, the UK Defense Ministry reports that Russia's 10th Tank Regiment has likely lost a significant number of tanks in its failed attempts to encircle Avdiivka near Donetsk, with open-source accounts suggesting that the 3rd Army Corps, to which the regiment belongs, continues to suffer from ill-discipline and poor morale.
Ukraine air defenses shoot down 14 Russian kamikaze drones of 15.
Overnight into 28 March, Russia attacked Ukraine with the Shahed-136/131 one-way strike drones, and guided air bombs. The Air Force Command initially 
reported
 that Ukrainian air defenses shot down 12 of 13 Shaheds, and the Granat-4 reconnaissance UAV. Later, Ukraine's General Staff updated that 14 of Russia's 15 launched Shahed UAVs were shot down. Dnipropetrovsk Oblast Authorities said one of three Shaheds targeting Dnipro hit a private enterprise in the city.
According to British Defence Intelligence, (last 48 hours): 
https://twitter.com/DefenceHQ/status/1640999561366851586
Fighting continues in the Donbas town of Bakhmut, though Russian assaults are still at a reduced level compared to recent weeks.
One of the key achievements of recent Ukrainian operations has likely been to push Russian Wagner Group fighters back from the 0506 route. This minor country road has become a critical supply line for Ukrainian defenders. Wagner had previously been within a few hundred metres of the route.
On 26 March 2023, Russian media claimed Wagner had taken full control of the Azom factory complex to the north of Bakhmut town centre. However, the area likely remains contested, as it has been for the past fortnight. With Wagner having now confirmed the release of at least 5000 prisoner fighters, personnel shortages are likely hampering Russian offensive efforts in the sector.
Losses of the Russian army 
Humanitarian 
https://twitter.com/EuromaidanPress/status/1640655217162326017
Last night, Russian mortar fire hit a hospital in Kherson's Dniprovskyi district smashing almost all windows, damaging its heating system – Kherson Obl Military Administration Also, artillery his a post office. No civilians were injured in the attacks.
Environmental
EU aims to give members option to block Russian LNG imports

The European Union is targeting a way for member states to have the option to effectively ban Russian shipments of liquefied natural gas without implementing new energy sanctions. https://t.co/ZEysuVSvYE

— Euromaidan Press (@EuromaidanPress) March 28, 2023
Ukraine hides hydropower equipment underground to protect it from Russian attacks – Reuters. Ukraine is trying to give hydropower facilities "maximum protection" by hiding equipment underground as it repairs an estimated $1 billion in damage from Russian air strikes, according to Ihor Syrota, head of state-run hydropower generating company Ukrhydroenergo, Reuters reports. Russia started its all-out invasion of Ukraine 13 months ago. Last October, Russia launched a strategic bombing campaign targeting Ukraine's energy system. Waves or missiles and "kamikaze" drone attacks damaged and destroyed many energy facilities, at times leaving millions of people without power. Thanks to timely repairs and preventive measures by Ukrainian energy companies, the Russian missile attacks would cause increasingly less damage by the beginning of the spring.
How Ukraine's power grid survived a winter of Russian energy terror. Russia rained missiles on Ukraine's power grid, aiming to utilize the cold winter as a weapon of mass destruction. But something went wrong. Hours before the first bombs targeted Ukraine on 24 February 2022, technicians disconnected the country from a unified energy system from Soviet times, severing it from Russia and Belarus. On 16 March, Ukraine's energy system completed its integration with the European one and become part of ENTSO-E, Ekonomichna Pravda reported. This step helped the country to strengthen energy security and increase export profit. At the same time, Ukraine's membership in ENTSO-E allowed the EU to reduce its dependence on Russian energy sources.
Ukraine ready to resume export of electricity to EU – Energy Minister. With the current surplus of generation in the country's energy system, Ukraine is ready to resume exporting electricity to the EU, Ukrainian Energy Minister Herman Halushchenko said after he met with EU Commissioner for Energy Kadri Simson in Brussels. The two discussed the current state of Ukraine's energy sector and the prospects for expanding opportunities for commercial energy exchange between Ukraine and the EU. Halushchenko noted that the energy exchange is mutually beneficial, as the EU can receive electricity at acceptable prices, while Ukrainian generating companies can earn money, including for the restoration of capacity when the war ends.
Legal 
French Parliament recognizes Holodomor as genocide against Ukrainians. On 28 March, the French Parliament recognized the Holodomor of 1932-1933 as genocide against the Ukrainian people, Ukrainian President Volodymyr Zelenskyy reported on Twitter. The Holodomor was Stalin's man-made that killed roughly four million Ukrainians. "The [French] Parliament's recognition of the Holodomor of 1932-1933 as genocide of the [Ukrainian] people is important and symbolic. We're grateful for [France's] strong contribution to exposing the crimes of totalitarian Russia, past and present," Zelenskyy wrote on Twitter thanking France.
Support
Switzerland will help Ukraine to rebuild its dairy and organic industries. Ministry of Agrarian Policy and Food and the State Service of Ukraine for Food Safety and Consumer Protection, together with experts from the Swiss-Ukrainian Quality FOOD Trade Program (QFTP), have developed a plan for the renewal and development of the organic and dairy industries, which have been significantly affected by the war. The plan includes steps to improve Ukraine's regulatory framework and bring it into compliance with EU legislation, increase trade opportunities for organic products in domestic and foreign markets, and implement quality control of the products.
Romania, Poland pledge to support Ukraine "for as long as it takes." Bucharest and Warsaw will continue to support Ukraine's efforts against Russian troops for as long as it takes, President of Romania Klaus Iohannis said during a meeting with Prime Minister of Poland Mateusz Morawiecki on 28 March in Bucharest, UkrInform reported. "Today, once again, we, together with Prime Minister Morawiecki, strongly condemned Russian aggression against Ukraine. Romania and Poland will undoubtedly support Ukraine for as long as it is needed," he stated.
France to double number of 155 mm shells delivered to Ukraine, bringing it to 2K per month – French Defense Minister Lecornu

Per @jensstoltenberg, Ukraine uses 4-7K shells per day against Russia's 20K. Ukraine's allies seek ways to increase ammo supplieshttps://t.co/yWkwUWrR4X

— Euromaidan Press (@EuromaidanPress) March 28, 2023
France to double monthly deliveries of 155mm shells to Ukraine to 2,000 per month, announced the French Minister for the Armed Forces Sébastien Lecornu in an interview with Le Figaro published on 28 March, BFM Business reports. Paris will "deliver ground equipment necessary for Ukraine's counteroffensive: we are thus doubling the delivery of 155mm shells to bring it to 2,000 per month starting from late March," he said in a joint interview with Economy Minister Bruno Le Maire.
German weapon assistance to Ukraine may be massively increased – Spiegel. The German newspaper Spiegel reports that Berlin has announced plans to increase its military aid spending to Ukraine in the coming years by several orders of magnitude, from three billion euros currently to over 15 billion euros. Der Spiegel reportedly obtained a four-page-long letter from the country's Finance Ministry to the Parliament's Budget Committee, which "politely asks parliamentarians for more money." The letter's message is that the German government wants to "dramatically expand military aid to Ukraine in the coming years."
Portugal already delivered four Leopard 2 tanks to Ukraine. On 27 March, Portugal's Defense Ministry reported on Twitter that the 3 Leopard 2A6 tanks donated by Portugal had already arrived in Ukraine, "delivered as agreed with our partners." "Portugal continues to support the Ukrainian resistance against Russia's illegal invasion," the message reads. Portugal announced it would send Ukraine three of its Leopards in early February.
France considers handing 40 fighter jets to Ukraine – Intelligence Online. France's government may provide Ukraine with fighter jets Dassault Mirage 2000 that were produced for sale to the United Arab Emirates, according to Intelligence Online. Intelligence Online claimed France might also purchase Mirage fighter jets from Indonesia and Greece to hand the aircraft to Ukraine.
New Developments
China calls for de-escalation and blames US after Putin decides to deploy nukes to Belarus. All sides need to work together for de-escalation, China's Foreign Ministry spox Mao Ning said during a regular press conference on 27 March 2023, when answering a question about Russia's decision to deploy tactical nuclear weapons to Belarus. "In January last year, the leaders of the five nuclear-weapon states released a joint statement, in which they affirmed that a nuclear war cannot be won and must never be fought and stressed the importance of avoiding war between nuclear-weapon states and the reduction of strategic risks," Mao Ning said. "Under the current circumstances, all sides need to focus on making diplomatic efforts towards a peaceful settlement of the Ukraine crisis."
Kremlin's emissary Lukashenka catalyzes the axis of evil around Belarus. No longer Putin's little helper, Lukashenka has not only turned Belarus into a vital rear base for Russia's war against Ukraine, but is building a sanctions-circumvention scheme with Iran and China to bolster Russia's depleted arsenal.
Kremlin's emissary Lukashenka catalyzes axis of evil around Belarus
Georgia's risky gamble on Russia backfires as country falls into a trap, say journalists. 100,000 Russians fleeing mobilization have settled in Georgia, carrying economic and primarily political implications. Meanwhile, Georgian society supports Ukraine and EU integration. Still, the Georgian government is failing to act against Russia as society demands because it placed its bets on Russia winning the war. We sit down with the founder of Georgian outlet Real Politika Zaza Abashidze, Georgian journalist Akaki Zarkua, and Georgian photographer and artist Tbel Abuseridze for a deep dive into Georgia's protests against the "foreign agents" law and fallout of Russian mobilization refuseniks.
Assessment 
On the war. 
The Institute for the Study of War has made the following assessment as of  March 28, 2022:
Wagner Group forces have likely taken the AZOM industrial complex in northern Bakhmut and continue to make gains within the city. Russian milbloggers widely claimed on March 28 that Wagner fighters have captured the AZOM complex and are working to clear the area of remaining Ukrainian forces.[1] These claims are relatively consistent with available visual evidence of Russian presence in the AZOM complex. Geolocated footage posted on March 26 shows a military correspondent from Russian outlet RIA Novosti moving around the territory of the complex with apparent ease, indicating that Wagner likely controls enough of the plant to host media personalities in relative safety.[2] RIA Novosti correspondent Sergei Shilov additionally visited AZOM on March 28 and indicated that fighting has now moved to the industrial zone south of AZOM.[3] Several Russian milbloggers also claimed on March 28 that Wagner fighters have advanced closer to Bakhmut's city center, taken control of the city market, and reached the Palace of Culture.[4] These claims are plausible considering geolocated visual evidence of Wagner's advances towards the city center posted on March 28, as well as combat footage of Ukrainian infantry engaging in small arms exchanges with Russian forces near the Palace of Culture and central market area in Bakhmut city's center.[5] Wagner is likely working to consolidate gains in northern and central Bakhmut to push towards the city center and expand its zone of control into western Bakhmut. ISW assesses that Russian forces have advanced into an additional five percent of Bakhmut in the last seven days and that they currently occupy roughly 65 percent of the city.
Russian and Ukrainian sources speculated that Lieutenant General Sergei Kuzmenko will replace Colonel General Rustam Muradov as Eastern Military District (EMD) commander.[6] Kuzmenko previously served as the commander of the 6th Combined Arms Army from 2015 to 2019 and more recently as a department head at the Russian Armed Forces General Staff Academy.[7] Kuzmenko has never held a command position comparable to the role of a military district commander, and his appointment as EMD commander would be an unusual step. Russian military authorities reportedly dismissed Muradov due to battlefield failures and significant losses in western Donetsk Oblast, and Kuzmenko would likely inherit expectations to reverse the total lack of progress in the EMD's zone of responsibility in Ukraine.[8] There is no indication that Kuzmenko would be better equipped to succeed in overseeing offensive operations in western Donetsk Oblast with even further degraded forces than the more experienced Muradov. ISW has not observed any confirmation that Russian military officials have dismissed Muradov as EMD commander or that Kuzmenko has assumed the role.
Wagner Group financier Yevgeny Prigozhin may be using his influence in Russia's mainstream media landscape to present himself as a contender in Russia's 2024 presidential elections. Prigozhin's own Federal News Agency published an interview that Prigozhin conducted with Russian journalists from Russia Today, RIA Novosti and Federal News Agency on March 14.[9] This interview was noteworthy for its unique format–during the interview Prigozhin seemed to mimic the way that Russian President Vladimir Putin films his choreographed public meetings, either to mock Putin quietly or to suggest subtly that Prigozhin could become Russian president like Putin. The choreography and staging of Prigozhin's interview places Prigozhin in the camera's frame at Prigozhin's desk across from his audience in the same way that Putin's filmed meetings and photo ops usually do.[10] This film style is unusual for Prigozhin, as Prigozhin's public video statements typically do not employ such a sterile format; Prigozhin has usually opted to film himself with wide shots on battlefields or in dynamic but staged videos that strive to appear candid and gritty.[11] Prigozhin also used this interview to reiterate his previous arguments about the need to instill hardline ideology in Russian fighters and insinuate that the Russian Ministry of Defense is deliberately depriving the Wagner Group of artillery ammunition.[12]
Prigozhin may seek to parody Putin's cinematography style as part of a larger trolling campaign to attack the Kremlin or draw tacit parallels between Prigozhin and the office of the Russian presidency. Prigozhin has previously insinuated that he could replace Putin. Prigozhin made a sarcastic announcement on March 11 that he will run for the Ukrainian presidency in 2024 — a statement that a prominent Kremlin-linked Russian scholar argued implicitly promoted a narrative that Prigozhin would run in Russia's presidential elections which are also scheduled for 2024.[13] Prigozhin directly attacked Putin's presidential administration on January 18 and insinuated that some officials working there are traitors who want Russia to lose the war in Ukraine — one of Prigozhin's boldest attacks against the Kremlin to date.[14] Prigozhin also denied the Kremlin's claims that Russia is fighting NATO in Ukraine and questioned whether there are actually Nazis in Ukraine as the Kremlin — and specifically Putin — constantly claims.[15] Prigozhin's recent behavior — regardless of its intent — is advancing a narrative among Russian society that Prigozhin has larger political aspirations in Russia. Former Russian officer and convicted war criminal Igor Girkin (one of Prigozhin's critics) joked on March 26 that Prigozhin is like Julius Caesar, except that Julius Caesar first achieved military victories before agitating for his political advancement — likely referring to Prigozhin's failure to deliver on his reported promise to capture Bakhmut by September 2022.[16]
High-ranking Russian officials continue a campaign begun in December 2022 to set domestic conditions for a protracted war both in private and in public. The Guardian, citing anonymous internal sources, reported on March 28 that Kremlin Spokesperson Dmitry Peskov told a group of Russian political and cultural elite that "things will get much harder" and that the current situation (in reference to the war) "will take a very, very, long time" during a private dinner in December 2022.[17] Peskov's reported warning supports ISW's assessment that Russian authorities have been preparing multiple aspects of Russian society for a protracted war through careful setting of information conditions and engagement of the Russian defense industrial base (DIB) since the end of 2022.[18] Russian Minister of Defense Sergei Shoigu relatedly visited artillery shell production facilities in Chelyabinsk and Kirov oblasts on March 28 and claimed that Russian ammunition production has increased significantly over the past year, promising that production will increase a further seven to eight times for certain unspecified artillery products by the end of the year.[19] Shoigu's visit to artillery factories is the latest in a slew of choreographed visits to DIB facilities by various Russian officials and is part of a concerted effort to present the Russian DIB as effective in advance of a protracted war effort.[20]
The Russian budget continues to reflect the overall costs of Russia's war in Ukraine. Bloomberg reported on March 28 that Russia has classified an unprecedented one-third of its entire budget expenditures and noted that classified spending as of March 24 is twice as high as it was during the same period in 2022.[21] Bloomberg also found that Russian defense and security spending is the second largest budget category after spending on social programs.[22] Bloomberg concluded that the classified share of the Russian budget will account for nearly a quarter of all expenditures for the whole of 2023 and will be due to an increase in expenses classed as "other expenses in the field of national defense."[23] Russian outlet RBC relatedly reported on March 28 that the Russian Ministry of Finance plans to submit a proposal to reduce the number of federal state institutions subordinate to federal authorities in order to increase the efficiency of budget expenditure management.[24] Such expenditure manipulations suggest that Russia is trying to cut spending in a variety of spheres to support increased defense spending, further responding to costs associated with the war and setting conditions for a long war.
Key Takeaways
Wagner Group forces have likely taken the AZOM industrial complex in northern Bakhmut and continue to make gains within the city.
Russian and Ukrainian sources speculated that Lieutenant General Sergei Kuzmenko will replace Colonel General Rustam Muradov as Eastern Military District (EMD) commander.
Wagner Group Financier Yevgeny Prigozhin may be using his influence in Russia's mainstream media landscape to present himself as a potential contender in Russia's 2024 presidential elections.
High-ranking Russian officials continue to set domestic conditions for a protracted war.
The cost of Russia's war in Ukraine is likely continuing to consume a substantial portion of the Russian Federal Budget.
Russian forces continued ground attacks along the Kupyansk-Svatove-Kreminna line.
Russian forces continued offensive operations in and around Bakhmut and along the Avdiivka-Donetsk City frontline.
Russian sources claimed that Ukrainian forces conducted localized ground attacks in Zaporizhzhia Oblast.
Russian President Vladimir Putin signed a decree removing the upper age limit for Russian National Guard (Rosgvardia) servicemen serving in occupied Ukraine until January 1, 2026.
Russian occupation officials continue efforts to expand Russia's bureaucratic and administrative control of occupied areas of Ukraine.
The Belarusian Ministry of Foreign Affairs confirmed on March 28 Belarus' intent to host Russian tactical nuclear weapons in Belarus as Russian President Vladimir Putin announced on March 25.
Tags: Russian invasion