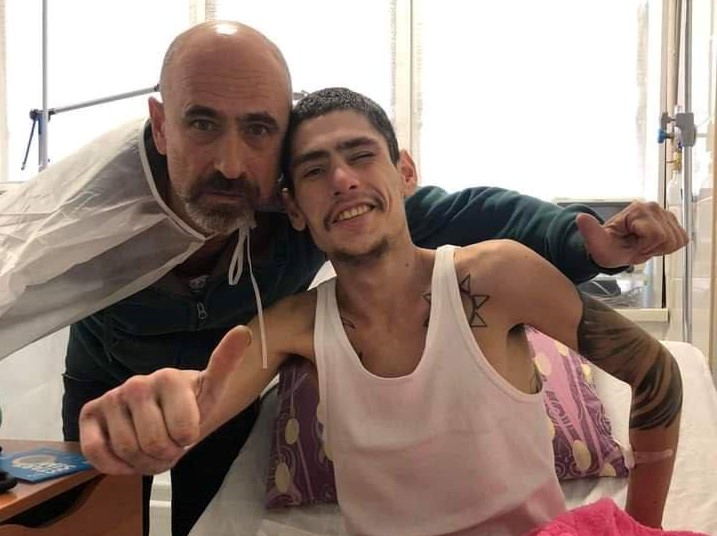 Ukrainian soldier Oleksiy Hordeiev (right) in hospital. Photo: open source 
Surviving the horrors of war is no easy feat, but in the ongoing war in Ukraine, there are those who have defied the odds and emerged as beacons of resilience and hope. From soldiers who have endured months of captivity and starvation at the hands of their Russian captors, to civilians who have faced the terror of bombings and displacement, these stories of survival are a testament to the strength of the human spirit in times of war.
A Ukrainian soldier was recently discovered in the basement of a destroyed residential building near Bakhmut, where he had been held captive by the Russians for close to two months and almost starved to death.
Oleksiy Hordeiev, 27 years old, lost 40 kilograms – going from 80 to 42 kilograms – during his imprisonment in the Russian hellhole. He spent 42 days in this "prison" among his comrades who were dead or dying of wounds, but he was not able to help them. He survived by eating crumbs and abandoned army rations, and drinking from puddles. When there was no more muddy, stale water, he even resorted to drinking poisonous anti-freeze from the heater.
On March 15, Ukrainian journalist Andriy Tsaplienko recounted the details of this incredible story.
"The Ukrainian soldiers who liberated a village near Bakhmut found a captured Ukrainian soldier, Oleksiy Hordeiev, in the basement. He had bullet and shrapnel wounds in his thigh and back, but he was alive! An Armed Forces volunteer from New Zealand pulled him out of hell."
Kane Te Tai, a volunteer fighter from New Zealand and a veteran of the New Zealand army and the war in Afghanistan, was one of Oleksiy's rescuers. Here is his personal account of the amazing rescue (edited).
"A few days ago, our team hit a Russian position and, after a quick battle and breach, we began clearing the bunker and basement. Suddenly, a voice from the stairwell said: "Ya Ukrayinets!" (I'm Ukrainian). I stopped my men from tossing a grenade in and pushed some Ukrainian soldiers forward to interact with the voice. We were skeptical and felt a trap brewing, but we pushed forward and I began to search the area.

I found him, searched his body, and tossed him to his front. Then, our eyes met. "New Zealand! New Zealand!" he exclaimed. I looked down and recognized him; it was my friend who I thought had been killed by the Russians when they invaded his house. He had been heavily starved for almost two months and was forced to drink anti-freeze to survive. He barely looked like the man I knew a couple of months ago.

But it was the best thing to happen to me in this God-forsaken war. Being able to save a friend is something that almost never happens, but I am thankful and feel blessed that we were the ones who could pull him from that hellhole."
"Hey Putin, NATO's already here!" Foreign fighters arrive to battle Russian invaders in Ukraine
On March 20, Kane Te Tai was killed in combat while defending Ukraine. The day before his death, he changed his profile photo and wrote:
"Eastern Ukraine – Mar 2023. Best job I ever had."
Today, soldier Oleksiy Hordeiev is in a hospital in Dnipro, where he has undergone several operations and is being treated for poisoning and dystrophy.
Despite the challenges that lay before them, such men as Oleksiy Hordeiev and Kane Te Tai refused to give up and instead, found a way to persevere, inspiring others with their courage and determination. Oleksiy Hordeiev's unwavering will to live is a testament to human resilience in the face of adversity, while Kane Te Tai's courage and selflessness in the face of constant danger and death, all for the sake of justice and Ukraine, shall forever remain ingrained in our hearts.
Tags: Bakhmut, New Zealand, poison, rescue, Russian captivity, Starvation, Ukrainian soldier, volunteer fighter