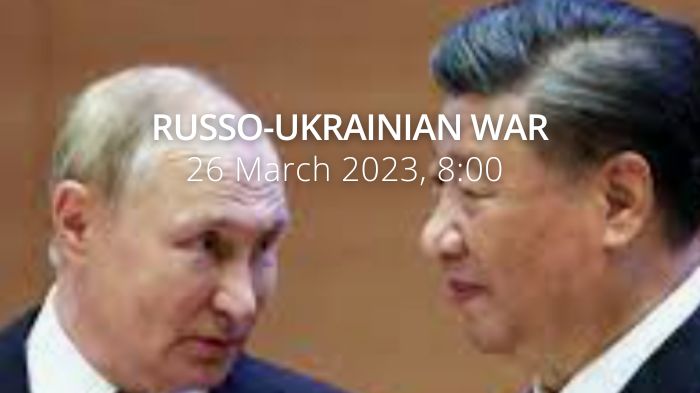 Information about Ukraine's possible counteroffensive causes "considerable concern" in Russia–ISW. Biden says China has not yet provided weapons to Russia. Russian occupiers sell their property in Crimea and evacuate their families.
https://twitter.com/EuromaidanPress/status/1639702438746701824
Daily overview — Summary report, March 26
A map of the approximate situation on the ground in Ukraine as of 00:00 UTC 26/03/23.

There have been no notable changes to control since the last update. pic.twitter.com/PgdVB40Arp

— War Mapper (@War_Mapper) March 26, 2023
The General Staff's operational update regarding the Russian invasion as of 18.00 pm, March 26, 2023 is in the dropdown menu below:
Over the past 24 hours, the occupiers have carried out 34 air and 4 missile strikes, carried out more than 70 attacks from MLRS, in particular, on the civilian infrastructure of populated areas. There are wounded among the civilian population.
The probability of Russia launching missile and air strikes on the entire territory of Ukraine remains high.
Russian forces continue to focus their main efforts on conducting offensive actions in the Lyman, Bakhmut, Avdiivka, and Mar'yinka areas. Our soldiers repelled more than 85 attacks by invaders.
Volyn', Polissya, Sivershchyna, and Slobozhanshchyna axes: the operational situation has not changed significantly, and no signs of the formation of offensive groups have been detected. During the past day, Russian forces shelled the areas of settlements of Horodyshche, Chernihiv Oblast; Kharkivka, Novovasylivka, Ukrainske and Bachivsk in the Sumy Oblast, as well as Chervona Zorya, Veterinarne, Strelecha, Krasne, Neskuchne, Vovchansk, Vilcha and Krasne Pershe in the Kharkiv Oblast.
Lyman axis: Russian forces conducted unsuccessful offensives near Synkivka, Kreminnoh, Bilogorivka, and Vyimka during the day. Areas of Pishchane, Dvorichna, Kupyansk and Tabaivka settlements of Kharkiv Oblast were affected by the fire; Stelmakhivka, Makiivka, Nevske, Dibrova and Bilogorivka in the Luhansk Oblast, as well as Vyimka and Vesele in the Donetsk Oblast.
Bakhmut axis: Russian forces continue their assault on the city of Bakhmut, which is held by our defenders, as well as in the areas of Bohdanivka and Predtechyny. They shelled the settlements of Orihovo-Vasylivka, Novomarkove, Bakhmut, Chasiv Yar, Stupochki, Oleksandro-Shultyne, Kostyantynivka, Severnye and New York of the Donetsk Oblast.
Avdiivka and Mar'yinka axes: Russian forces carried out unsuccessful attacks in the vicinities of Keramik, Avdiivka, Tonenke, Severne, Vodyane, Pervomaiske, Mar'yinka and Novomykhailivka settlements. Avdiivka, Severne, Tonenka, Netaylove, Krasnohorivka, Mary'inka, Pobyeda, Novomykhailivka, Paraskoviivka and Prechistivka in Donetsk Oblast were subjected to numerous enemy attacks.
Zaporizhzhia and Kherson axes: Russian forces continue to conduct defensive Shells the settlements of Olhivske, Malynivka, Novodanilivka, Orihiv, Novoandriivka and Stepove in Zaporizhzhia and Kherson, Kozatske, Lviv, Ivanivka, Komysany and Kizomys in the Kherson Oblast.
In Berdiansk, Zaporizhzhia Oblast, the Russian occupation so-called "administration" issued an order to local residents to obtain passes from the city commandant's office by April 1 to move around the temporarily occupied territories of Zaporizhzhia Oblast. But under the condition of successful filtering. Passes will be issued separately for people and vehicles.
[The Russian occupiers continue to rob the residents of the temporarily occupied territory of Kherson oblast. In particular, Russian mercenaries are actively taking away private light vehicles with trailers and trucks in the village of Krasne (Kakhovs'kyi district) to load local residents' looted property.]
Ukrainian Air Force during the day made 11 strikes on areas where the invaders were concentrated. Also, our defenders shot down enemy UAVs of the "Orlan-10" and "Supercam" types.
Units of missile and artillery troops hit 3 control points and 5 areas of concentration of manpower, weapons and military equipment of Russian forces.
Military Updates
Russia reportedly has up to 250 recoverable 70-year-old T-54/55s, and intends to use them as tank, not as artillery in Ukraine to buy time for Russian industry trying to ramp up production of new T-72B3s & T-90Ms, modernization of T-80Bs, T-72Bs & T-62Mshttps://t.co/lQVshm7W1Z

— Euromaidan Press (@EuromaidanPress) March 26, 2023
Ukrainian Armed Forces comment on statements about Russian attrition near Bakhmut, Ukrainska Pravda reports, citing Serhii Cherevatyi, a representative of the Eastern group of troops of the Armed Forces of Ukraine. "Cherevatyi had been asked to comment on data from British intelligence which said that the assault by Russian troops on Bakhmut has largely stalled, primarily as a result of the extreme attrition of the occupiers' forces.
This still needs to be analysed. But the last three days show that there were 18 clashes on the Bakhmut front today, and until recently there were between 30 and 50. But this requires more detailed analysis, and I think next week will show this. For now, Bakhmut remains the epicentre of military operations, the area of the main enemy attack."
"At an unassuming industrial estate in northern Ukraine, two former Microsoft executives and a team of engineers are producing military drones that can travel over long distances and carry large payloads."https://t.co/tbrZOU6TOM

— Euromaidan Press (@EuromaidanPress) March 25, 2023
Ukraine says Bakhmut situation is stabilising, Putin plays down tank shortage, Reuters reports. "Ukrainian forces have managed to blunt Russia's offensive in and around the embattled eastern city of Bakhmut, where the situation is stabilising, commander in chief General Valery Zaluzhniy said on Saturday.
Separately, Britain's defence ministry said the months-long Russian assault on the city had stalled, mainly as a result of heavy troop losses. Military experts say there are clear signs Russia is running short of equipment, particularly heavy tanks.
President Vladimir Putin told state television that Russia planned to build and upgrade a total of 1,600 tanks over the next three years, well above the 440 he said Western nations would supply Ukraine over the same period."
Information about Ukraine's possible counteroffensive causes "considerable concern" in Russia – ISW, Ukrainska Pravda reports citing ISW. "Analysts at the Institute for the Study of War (ISW) have noted that Russia's information space is reacting "with considerable concern" to reports of a slowdown in Russian operations and a possible counteroffensive by Ukraine's Armed Forces. […]
Analysts have concluded that the so-called "big" Russian spring offensive "appears to be culminating, and the Russian information space appears to be responding to the slow-down of Russian operations and potential for Ukraine to regain the initiative with substantial anxiety.
Russian military command will need to commit a significant number of forces to the frontline to either prevent culmination or launch renewed offensive operations, and it is unlikely that such forces exist at sufficient scale to do either, the report states."
Russia keeps two cruise missile ships in Black Sea, Ukrinform reports, citing Ukraine's Operational Command South. "An enemy grouping of ships in the Black Sea was reduced to ten this morning. Surface missile ships returned to their bases. There are two submarines in the sea, armed with up to eight Kalibrs, the report reads. The command warned that the threat of missile attacks remains high."
As of today, it is still too early to say that the Russian offensive in the Bakhmut area has completely stalled as the city remains the "epicenter of hostilities" – OpCommand East spox Serhii Cherevatyi commenting on today's British intel updatehttps://t.co/ga23tYs87i

— Euromaidan Press (@EuromaidanPress) March 25, 2023
According to British Defence Intelligence, (last 48 hours): 
Since the start of March 2023, Russia has likely launched at least 71 Iranian-designed Shahed series one-way attack uncrewed aerial vehicle (OWA-UAVS) against targets across Ukraine.
These attacks followed a two-week pause in OWA-UAV attacks in late February 2023. Russia has likely started receiving regular resupplies of small numbers of Shahed OWA-UAVs.
Russia is likely launching Shaheds from two axes: from Russia's Krasnodar Krai in the east and from Bryansk Oblast in the north-east. This allows Russia flexibility to target a broad sector of Ukraine and decreases flying time to targets in the north of Ukraine. It is also likely to be a further attempt to stretch Ukrainian air defences.
Russia's assault on the Donbas town of Bakhmut has largely stalled. This is likely primarily a result of extreme attrition of the Russian force. Ukraine has also suffered heavy casualties during its defence.
The Russian situation has also likely been made worse by tensions between the Russian Ministry of Defence and Wagner Group, both of whom contribute troops in the sector.
Russia has likely shifted its operational focus towards Avdiivka, south of Bakhmut, and to the Kremina-Svatove sector in the north, areas where Russia likely only aspires to stabilise its front line. This suggests an overall return to a more defensive operational design after inconclusive results from its attempts to conduct a general offensive since January 2023.
Losses of the Russian army 
As of Sunday 26 March, the approximate losses of weapons and military equipment of the Russian Armed Forces from the beginning of the invasion to the present day:
Personnel – about 170550 (+660)
Tanks – 3595 (+15)
Armoured combat vehicles – 6947 (+15)
Artillery systems – 2631 (+8)
Multiple rocket launchers –MLRS – 522 (+2)
Air defence means – 277 (+1)
Aircraft – 305 (+0)
Helicopters – 291 (+0)
Automotive technology and fuel tanks – 5486 (+3)
Vessels/boats – 18 (+0)
UAV operational and tactical level – 2216 (+2)
Special equipment – 282 (+3)
Mobile SRBM system – 4 (+0)
Cruise missiles – 911 (+0)
Prigozhin declared that 5,000 Wagner prisoners had already been released, Ukrainska Pravda reports, citing Yevgeny Prigozhin. "Currently, the contract with PMC 'Wagner' has ended, and more than 5,000 people have been released under amnesty.
On 21 March, British intelligence reported that soon, the Wagner prisoners who went through the war in Ukraine and survived would receive the promised pardon and freedom, and their return may be a challenge for Russian society.
Analysts of the Institute for the Study of War believe that in the coming weeks, the Wagner PMC may lose most of its mercenaries from among the recruited prisoners as their six-month military contracts expire."
Biden says China has not yet provided weapons to Russia, Reuters reports. "US President Joe Biden said on Friday that China has not provided significant weapons to Russia for its war in Ukraine. I've been hearing now for the past three months about China's going to provide significant weapons to Russia, Biden said at a news conference alongside Canadian Prime Minister Justin Trudeau. They haven't yet, doesn't mean they won't, but they haven't yet, Biden said."
In occupied Melitopol, invaders panicking, spreading fake news about Ukraine's counteroffensive – mayor, Ukrinform reports, citing Melitopol Mayor in exile, Ivan Fedorov. "The occupiers and collaborators in Melitopol are panicking themselves and trying to intimidate others – they are preparing to pack their suitcases and are spreading provocative reports about the counteroffensive by the Armed Forces of Ukraine," the report reads.
Fedorov noted that recently the Russians held "secret" meetings with their accomplices among the staff of educational and healthcare facilities, as well as police, in Melitopol district. Collaborators were instructed on the evacuation routine because time may be short. They suggested the path out toward Crimea. Also, in the pro-Russia Telegram channels, instructions are circulating for local residents on what to do in the event of a counteroffensive of the Ukrainian Armed Forces. Fake stories about the alleged massacres of Melitopol residents after de-occupation are being spread around the city."
Russian occupiers sell their property in Crimea and evacuate their families, Ukrainska Pravda reports, citing Andrii Yusov, spokesman for Ukraine's Defence Intelligence (DIU). "The Defence Intelligence spokesman said that Russian authorities and officials from the Russian occupation administration in Crimea are rushing to sell their property and evacuate their families from the peninsula.
Meanwhile, they tell the rank and file officials not to worry, that everything is fine and everything is under control… All this resembles the [Russians saying] that their 'special operation' is going according to the plan…" Yusov said. Families linked to the Russians are being evacuated, and quite urgently. This is food for thought for everyone who tied their lives to Putin's malicious ruscist regime. They better leave Crimea while they still can."
Humanitarian 
https://twitter.com/EuromaidanPress/status/1639761578278158336
UN rights office details latest abuses in Russia's attack on Ukraine, Reuters reports. The United Nations human rights office said on Friday its investigators had confirmed thousands more civilian casualties in Russia's invasion of Ukraine, including 21 people killed by Russian forces in executions or individual attacks. A year after the Russian Federation launched a full-scale armed attack against Ukraine, the hostilities continue to exert a severe toll on children, women and men across the country, the Office of the High Commissioner for Human Rights (OHCHR) said in a new report.
It found at least 5,987 civilians had been killed or injured between Aug. 1, 2022, and Jan. 31, 2023, a number it said was likely to be a significant underestimate since it only covered those cases its investigators had been able to verify. Indiscriminate explosive weapons were responsible for a large number of civilian casualties, the report said, and its figures showed at that least four times more civilian casualties occurred in Ukrainian-held territory than Russian-held areas.
A majority of 133 instances of conflict-related sexual violence OHCHR documented took place on Russian-occupied territory, including during "so-called 'filtration' processes, it said. […] The report documented the disappearance or "arbitrary detention" of 214 Ukrainians in Russian-occupied territory and 91 such cases in Ukrainian government-held areas. Most of those arrested by Ukraine were suspected collaborators, it said.
The report said the OHCHR is gravely concerned about what it described as the mistreatment, torture and disappearance of children by Russian forces, including the abduction of five teenage boys, all of whom were tortured. The International Criminal Court last week issued an arrest warrant against Russian President Vladimir Putin for the war crime of illegally deporting hundreds of children from Ukraine. The Kremlin called the move unacceptable and outrageous. […]
A separate OHCHR report, also released on Friday, blamed both Russian and Ukrainian forces for the mistreatment of prisoners of war. It said the Ukrainian government had provided full and confidential access to official internment sites. It said it had documented the summary execution of 15 Ukrainian POWs and 25 Russian POWs, which the agency said may constitute war crimes, but that the findings were influenced in substantial measure by the level and kind of access to detention facilities and POWs.
The U.N. added that overall Russian POWs were treated in better fashion, once held in transit and permanent places of internments (sic). It also said Ukrainian authorities have actively engaged on U.N. concerns over POW treatment."
Ukraine sends back to Russia all seriously wounded prisoners who could be transported, Ukrainska Pravda reports, citing Coordination Headquarters for the Treatment of Prisoners of War. "Adhering to its international obligations under Articles 109-114 of the Geneva Conventions, and with the participation of the International Committee of the Red Cross, Ukraine has unilaterally transferred severely wounded and seriously ill captive occupiers to the Russian side. This is not an exchange of prisoners of war, but repatriation: it is the return of severely wounded prisoners without any conditions, as stipulated by international humanitarian law, the headquarters explained.
At the same time, the aggressor state, systematically disregarding international norms, is still holding thousands of Ukrainian citizens hostage, including seriously ill and wounded people, civilians, children and women, elderly people, and some who were captured by Russia even before the start of the large-scale invasion.
According to international humanitarian law, all these categories of citizens should be returned to Ukraine by repatriation without any conditions. Despite this, Russia not only continues to hold civilians and non-combatants hostage but also refuses to allow representatives of the International Committee of the Red Cross into their places of detention, and does not provide them with contact with relatives, proper nutrition, or medical care, deliberately creating inhumane conditions of captivity.
Ukraine is calling on the international community to increase pressure on the aggressor state to force Russia to comply with international humanitarian law and release all illegally detained citizens of Ukraine from captivity."
Thousands of civilians 'at the limit of existence' in Ukraine's Bakhmut, Red Cross says, Reuters reports. "Some 10,000 Ukrainian civilians, many elderly and with disabilities, are clinging on to existence in horrific circumstances in and around the besieged city of Bakhmut, the International Committee of the Red Cross (ICRC) said on Friday. […] Several thousand are estimated to remain in the city itself, said the ICRC's Umar Khan, who has been providing them with aid in recent days.
For the civilians that are stuck there, they are living in very dire conditions, spending almost the entire days in intense shelling in the [underground] shelters, he told a Geneva press briefing by video link from Dnipro in Ukraine. All you see is people pushed to the very limits of their existence and survival and resilience. […]
Khan said he had been shocked by the scale of destruction he had witnessed. Houses are crushed by military firepower, roofs are ripped off, apartment buildings are littered with holes … the constant threat of exploding shells, bombs – and some people still living in the shelters, trying to survive these intense hostilities."
Minister Solskyi expects new-harvest agricultural exports to be 10% lower, Ukrinform reports, citing Ukrainian Agrarian Policy and Food Minister Mykola Solskyi. "Last year Ukraine harvested 70 million tonnes of grain and oilseed crops. At the beginning of this week, a total of 14-15 million tonnes of agricultural crops were yet to be exported, Solskyi told.
In his words, the Ukrainian side is planning to export the remaining yield before this year's harvesting campaign begins. According to Solskyi, the volume of new-harvest agricultural exports will be approximately 10% lower, as many farmers chose soybeans and sunflowers, having reduced corn plantations."
Russian forces shell humanitarian assistance point in Kherson, injuring civilians, Ukrainska Pravda reports, citing Oleksandr Prokudin, Head of the Kherson Oblast State Administration. "Last night, the Russian army attacked an invincibility centre [a heated premises stocked with food and power banks to assist residents facing hardships due to power cuts – ed.] in Kostiantynivka in Donetsk Oblast, today Russian artillery shelled a humanitarian assistance point in Kherson. Two civilians were injured in the attack: a 41-year-old woman and a 25-year-old man."
Children 'beaten for supporting #Ukraine'. 17 #Kherson kids returned after being held in #Russia occupied #Crimea #StandWithUkraine #RussiaWarCrimes #StopRussia #Zaporizhzhia #ICC #LetMyPeopleGohttps://t.co/Ok0kEIrEzr

— Euromaidan Press (@EuromaidanPress) March 25, 2023
Environmental
The IAEA DG Grossi intends to visit Zaporizhzhia NPP next week. It is the 2nd visit during the war. Despite the org's 7-month presence, the situation at the facility remains unstable. This trip is to ensure a regular rotation of IAEA experts at the ZNPP.https://t.co/bR4wydgIxJ

— Euromaidan Press (@EuromaidanPress) March 25, 2023
The Director General of the IAEA will visit the Zaporizhzhia NPP next week, Ukrainska Pravda reports, citing IAEA website. "Rafael Grossi, the Director General of the International Atomic Energy Agency (IAEA), intends to visit the Zaporizhzhia Nuclear Power Plant (NPP) next week. This will be the second time Grossi has visited the nuclear power plant during the war and the first since establishing a permanent presence of IAEA experts on 1 September last year. […]
Grossi noted that despite the organisation's presence at the Zaporizhzhia NPP for seven months, the situation at the facility remains unstable. The threats to nuclear safety are all too obvious, as is the need to act immediately to prevent an accident with potential radiological consequences for the health and environment of people in Ukraine and beyond. Therefore, I continue to work on a proposal to protect the plant, he said.
Grossi noted that his trip to Ukraine is also aimed at ensuring a regular rotation of IAEA experts at the Zaporizhzhia NPP after challenging circumstances faced by experts during the previous rotation in February, which was delayed for almost a month. A new group of IAEA experts will accompany him.
On 23 March, Grossi said that the IAEA abandoned creating a demilitarised zone around the Zaporizhzhia NPP, negotiations that lasted eight months. According to Grossi, it is now about the cessation of hostilities near the NPP."
Legal 
#Crimea lecturer dismissed, beaten and jailed for #Ukrainian songs gets new sentence over a post about #Russia killing of civilians in #Ukraine#StandWithUkraine #LetMyPeopleGo #RussiaWarCrimes #StopRussia #Bielozierov https://t.co/ZWTI4uCspJ pic.twitter.com/WUka076pqz

— Euromaidan Press (@EuromaidanPress) March 26, 2023
Ukraine's Foreign Ministry: It is unacceptable for UN to blame the victim of aggression, Ukrainska Pravda reports, citing The Ministry of Foreign Affairs of Ukraine. "The Ministry of Foreign Affairs of Ukraine said it was unacceptable to blame the victim of aggression in response to the conclusion of the UN Human Rights Monitoring Mission in Ukraine, which holds that both Russia and Ukraine have violated human rights. […]
We are grateful to the Monitoring Mission for its work; particularly the documentation of international human rights and humanitarian law violations committed by the Russian Federation in the course of its armed aggression against Ukraine. At the same time, we deem placing responsibility on the victim of such aggression unacceptable. According to the UN Statue, Ukraine has the right to self-defence.
The Ministry of Foreign Affairs of Ukraine has stressed on multiple occasions that the Ukrainian side hopes that the UN mission will avoid any statements that could be interpreted as asserting an equivalence of the victim with the aggressor."
The United Nations Human Rights Monitoring Mission in Ukraine published two new reports on Friday, 24 March: on human rights and treatment of prisoners of war (POW); the reports indicated violations on both sides of the conflict. Dmytro Lubinets, Ukrainian Parliamentary Commissioner for Human Rights, said he disagreed with the UN Human Rights Monitoring Mission's conclusion that the Ukrainian side had violated the rights of Russian POWs. Lubinets demanded that the mission provide evidence of POW executions."
Putin ally proposing banning ICC in Russia, Reuters reports. "Russia's parliament speaker on Saturday proposed banning the activities of the International Criminal Court (ICC) after the court issued an arrest warrant for President Vladimir Putin, accusing him of the war crimes.
Vyacheslav Volodin, an ally of Putin's, said that Russian legislation should be amended to prohibit any activity of the ICC in Russia and to punish any who gave assistance and support to the ICC. […] Volodin said that the United States had legislated to prevent its citizens ever being tried by the Hague court and that Russia should continue that work.
Any assistance or support for the ICC inside Russia, he said, should be punishable under law."
US senators urge Biden to share information on war crimes with ICC as it pursues Putin, Reuters reports. "Democratic and Republican US senators urged the Biden administration on Friday to share information with the International Criminal Court that could assist as it pursues war crimes charges against Russian President Vladimir Putin. […]
The letter to President Joe Biden from Democrats Dick Durbin, Bob Menendez, Richard Blumenthal and Sheldon Whitehouse and Republicans Lindsey Graham and Thom Tillis, noted that Congress passed legislation to give the administration more flexibility in assisting the ICC.
Yet, months later, as the ICC is working to build cases against Russian officials, including Putin himself, the United States reportedly has not yet shared key evidence that could aid in these prosecutions, the letter said."
Support
German Chancellor Scholz anticipates the Russian war against Ukraine to continue until Putin realizes he cannot annex a substantial portion of Ukraine. When this realization is reached, it will become possible to come to a resolution to end the war.https://t.co/RiEeaLTGPt

— Euromaidan Press (@EuromaidanPress) March 25, 2023
Ukrainian Air Force allows foreigners to be pilots of the Armed Forces of Ukraine, Mil.in.ua reports. "Foreigners can now serve in the Ukrainian Air Force. Yurii Ihnat, Spokesperson of the Air Forces Command of the Armed Forces of Ukraine made a corresponding statement on Thursday. According to him, foreign citizens can become pilots or employees of the aviation engineering staff, if they have the appropriate military occupation. He also noted that since the beginning of the full-scale Russian invasion, thousands of people had contacted the Ukrainian Air Force. […]
The Spokesperson added that at the moment the Ukrainian Air Force operated Soviet-era aviation equipment, therefore there was no lack of pilots. However, according to him, the need for such specialists may increase once the Ukrainian military receives Western combat aircraft."
Poland to ramp up ammunition production capacity to meet Ukraine's needs, Ukrainska Pravda reports, citing Mateusz Morawiecki, Prime Minister of Poland, in an interview with RMF FM. "Polish ammunition manufacturer Dezamet, part of the state-owned Polska Grupa Zbrojeniowa (PGZ), is to drastically increase its ammunition production capacity in order to be able to provide adequate supplies to Ukraine. […] PGZ CEO Sebastian Chwałek said on Friday that the group is planning to hire several thousand new personnel, in addition to the 20,000 staff it currently employs.
On 20 March, 17 EU countries and Norway agreed to jointly produce and purchase ammunition to replenish their stockpiles and meet Ukraine's needs. The plan envisages providing Ukraine with one million pieces of artillery ammunition over 12 months. Poland and Spain later joined these 18 countries."
Ukraine cannot launch a counteroffensive yet due to the shortage of ammunition and heavy weaponry – Zelenskyy

Russians fire three times more shells daily than Ukrainians. Zelenskyy urged for more aid for Ukraine, incl providing ammo and combat aircrafthttps://t.co/W2TWk3zYPW

— Euromaidan Press (@EuromaidanPress) March 25, 2023
Ukraine needs munitions "here and now": Morawiecki suggests buying rounds outside EU, Ukrinform reports, citing Poland's Prime Minister Mateusz Morawiecki, who spoke in an interview with RMF.FM. "In Brussels, Polichinelle's secret is that there is no ammunition in Europe. But there are several places in the world, including South Korea and Israel, where there is much more of these munitions. Therefore, I expect that our joint talks – by the European Commission and several key countries, in particular Poland, Germany, and France – will lead to the quick receipt of ammunition, as Ukraine needs them here and now, Morawietcki emphasized.
He assured that he would convince skeptical nations, such as France, about the need for the EU to  jointly purchase ammunition for Ukraine in third countries because these volumes are needed very quickly. Since we don't have enough ammunition in Europe, we have to buy it from abroad, the Polish Prime Minister emphasized. He added that this is exactly what Poland is doing now, purchasing modern weaponry from South Korea and the USA.
Morawiecki also said that both enterprises of the state-owned Polish Arms Group (PGZ) and private defence companies can count on more defence orders for the production of additional ammunition. […]
The head of the Polish government said it was "difficult to imagine" how many missiles and artillery shells are being fired off at the front in Ukraine each day. Daily, Ukraine's Armed Forces utilize 2,000 to 6,000 rounds, while the Russians fire 20,000 to 60,000. Therefore, this production must cover the needs, Morawiecki stated."
New Developments
Russia has struck a deal with neighboring Belarus to station tactical nuclear weapons on its territory, Russian President Putin claimedhttps://t.co/uX4JVKunz1

— Euromaidan Press (@EuromaidanPress) March 26, 2023
No longer Putin's little helper, Lukashenka has not only turned Belarus into a vital rear base for Russia's war against Ukraine, but is building a sanctions-circumvention scheme with Iran and China to bolster Russia's depleted arsenalhttps://t.co/RnLUdd9c5g

— Euromaidan Press (@EuromaidanPress) March 25, 2023
Assessment 
On the war. 
The Institute for the Study of War has made the following assessment as of  March 25, 2022:
Russian forces conducted limited ground attacks northeast of Kupyansk on March 25. The Ukrainian General Staff reported that Russian forces conducted unsuccessful ground attacks near Hryanykivka (17km northeast of Kupyansk) and Synkivka (8km northeast of Kupyansk). Footage published on March 25 purportedly shows drone operators of the 138th Motorized Rifle Brigade (6th Combined Arms Army, Western Military District) striking Ukrainian positions in an unspecified location in Kharkiv Oblast. Ukrainian Eastern Group of Forces Spokesperson Colonel Serhiy Cherevaty stated that Russian forces are failing to make decisive advances along the Kupyansk-Lyman line despite using conventional units that act more cautiously, conduct reconnaissance, and use artillery. […] 
Russian forces conducted limited ground attacks along the Svatove-Kremmina line on March 25. The Ukrainian General Staff reported that Russian forces conducted unsuccessful offensive operations near Dibrova (5km southwest of Kreminna), the Serebrianska forest area (10km south of Kreminna), Bilohorivka (11km south of Kreminna), Spirne (25km south of Kreminna), and Vyimka (26km south of Kreminna). Geolocated footage published on March 24 indicates that Russian forces made a limited advance near Kovalivka (10km southwest of Svatove) and Verkhnokamianske (21km south of Kremmina). A Russian milblogger claimed on March 25 that Russian forces unsuccessfully attacked in the direction of Terny, Nevske, and Makiivka (within 21km northwest of Kreminna) and made marginal advances near Bilohorivka.
Russian forces continued to conduct ground attacks in and around Bakhmut and gained ground in the city on March 25. Geolocated footage posted on March 25 shows that Russian forces have advanced up the T0513 highway in Bakhmut towards the city center and marginally in southwestern Bakhmut. The Ukrainian General Staff reported that Russian forces conducted unsuccessful ground attacks in Bakhmut, northwest of Bakhmut near Orikhovo-Vasylivka (11km northwest) and Bohdanivka (5km northwest), and southwest of Bakhmut near Ivanivske (3km southwest), Stupochky (10km southwest), and Predtechyne (12km southwest). Russian milbloggers also claimed that fighting is ongoing north of Bakhmut, in the Bakhmut city center, and southwest of Bakhmut, and that Russian forces gained ground in southwestern Bakhmut. One Russian milblogger claimed that Russian forces advanced north of Bakhmut near Orikhovo-Vasylivka and Bohdanivka. Geolocated footage posted on March 24 shows that Ukrainian forces regained some ground along the E40 highway north of Bakhmut during a recent counterattack, however.
Russian forces continued to conduct ground attacks along the Avdiivka-Donetsk City line on March 25. The Ukrainian General Staff reported that Russian forces conducted unsuccessful ground attacks near Keramik (10km north of Avdiivka), Stepove (5km northwest of Avdiivka), Avdiivka, Tonenke (6km west of Avdiivka), Sieverne (5km west of Avdiivka), Pervomaiske, (11km southwest of Avdiivka) and Marinka. Russian sources claimed that Russian forces continue attempting to approach Avdiivka from the north near Berdychi, Novobakhmutivka, Novokalynove, and Stepove, and from the south rather than conduct frontal assaults directly against the city. Russian milbloggers claimed that fighting continues in western Marinka (4km west of Donetsk City). Former Donetsk People's Republic (DNR) People's Militia Spokesperson Eduard Basurin claimed that Ukrainian defenses in both Avdiivka and Bakhmut will collapse once Russian forces cut all GLOCs to the cities.[…]
Russian forces continue to integrate irregular DNR forces into conventional Russian formations in the Avdiivka-Donetsk City area. A group of Russian soldiers of the "Shtorm" formation claimed to be part of the 5th Brigade (1st Army Corps, 8th Guards Combined Arms Army, Southern Military District), indicating that Russia continues to formally integrate DNR and Russian conventional forces and deploy them along the same axes of advance. Other Russian sources, including the Russian Ministry of Defense and DNR, claimed that Russian Southern Military District elements and the 1454th Self Propelled Artillery Regiment, 132nd Motorized Rifle Brigade, and 58th Spetsnaz Battalions (all of the 1st Army Corps) continue to operate in the Avdiivka-Donetsk City direction.
Russian forces conducted limited ground attacks in western Donetsk Oblast on March 25. The Ukrainian General Staff reported that Ukrainian forces repelled Russian ground attacks near Vuhledar and Novomykhailivka (10km southwest of Donetsk City). Russian forces continued to strike frontline areas in western Donetsk Oblast.
Russian President Vladimir Putin launched the predictable next information operation to discourage Ukrainian resistance and disrupt Western support for Ukraine as Russian offensives culminate and Ukraine prepares to launch counter-offensives in an interview with a state-owned Russian news channel on March 25.
Putin claimed that the West cannot sustain weapons provisions to Ukraine and exaggerated Russia's potential to mobilize its own defense industrial base (DIB) to create the false impression that further Ukrainian resistance and Western support to Ukraine is futile. Putin claimed that Ukrainian forces expend up to 5,000 shells a day, while the United States produces an average of 14,000–15,000 shells a month. Putin alleged that planned Western defense production increases will not match Russian planned increases. Putin announced that Russia will build over 1,600 new tanks by the end of 2023 and that Russia will have more than three times the number of tanks as Ukraine at that time. Putin likely seized the opportunity to advance this narrative based on The Financial Times's March 19 report that European arms manufacturers are "hobbled" by an explosives shortage. Putin argued that continued Western weapons provisions to Ukraine are merely an attempt to prolong the war.
Putin compared the state of the Russian wartime DIB with current Western military industrial outputs, stating that the West would need to make significant sacrifices to civilian projects to increase military production to support war in Ukraine. Putin added that unlike the West, Russia does not need excessive militarization of the economy to expand its DIB capabilities. These claims are not supportable. The US GDP alone is 10 times the size of Russia's. Germany, the UK, and France together have economies nearly five times the size of Russia's. The US and its allies certainly must make choices when considering spending the large sums required to support Ukraine, but the choices they face are nothing like as hard as those confronting Russia. The balance of overall available resources and industrial capacity is decisively weighted toward the West. Russian military industrial potential is, in fact, hopelessly outmatched by Western military industrial potential. Putin's messaging is intended to persuade the West to commit less of that potential to supporting Ukraine by convincing the West, falsely, that it cannot match Russia. Russia must move to a full war footing to sustain its current military operations—something Putin has been very reluctant to do. The West does not need to shift to a wartime footing to continue to support Ukraine if it chooses to do so.
Putin's stated goals for Russian tank production in 2023 and comparisons with Ukrainian tank stocks also disregard Russia's limited industrial capacity to produce more advanced tanks rapidly and ignore Russian tank losses on the battlefield. Russia's sole tank production factory, UralVagonZavod, reportedly produces 20 tanks a month. It would take over six years to meet Putin's goal at that rate. UralVagonZavod is unlikely to expand production of modern tanks such as the T-90 rapidly enough to meet these targets in nine months due to international sanctions and shortages of skilled labor. The Kremlin will thus likely continue to pull archaic tanks from storage and may attempt to refurbish some older tanks to meet the stated quota. A Kremlin pundit stated on a live broadcast on March 25 that Russia would pull old T-34 tanks from storage and monuments if needed for the war effort while attempting to justify Russia's recent deployments of the T-54 and T-55 tanks to the frontlines. These tanks are not comparable to modern Abrams, Challenger, or Leopard tanks, or even to T-72s, in either armament or armor protection.
Even Putin's announced (and unrealistic) production targets are actually close to the minimum level required to replace Russian battlefield losses. Russia has reportedly been losing 150 tanks per month and so would need to produce 1,350 tanks in the next nine months merely to remain at current levels.
Putin's observations also ignore the fact that the West has been providing Ukraine with smaller numbers of technologically advanced systems in part to offset the requirement to send masses of ammunition and equipment. Western militaries have historically held lower stocks of conventional artillery rounds, for example, because they rely on precision long-range fires such as the HIMARS systems the US has provided Ukraine. The Ukrainian military and its Western backers can confidently expect that loss rates in tank duels between M1s, Leopards, and Challengers, on the one hand, and T-55s, T-62s, or even T-72s, on the other, will be far from one-to-one. The US military, after all, has repeatedly demonstrated the relative effectiveness of M1s and T-72s on the battlefields of Iraq.
Putin's comments are an information operation designed to revive the aura of Soviet-era military industry and massed forces. They do not reflect current Russian realities or the balance of economic power or military industrial capacity between Russia and the collective West.
Putin advanced another information operation by announcing that Russia will deploy tactical nuclear weapons to Belarus by July 1 and renewed tired information operations about the potential for nuclear escalation. Putin implied that the United Kingdom's (UK) decision to send munitions containing depleted uranium – uranium that is significantly less radioactive than natural uranium – to Ukraine triggered his decision to deploy tactical nuclear weapons to Belarus for fear of nuclear escalation. Putin rejected Western statements that such munitions are safe to use and do not contain radioactive components. Putin insisted that the projectile core releases "radiation dust" and may sicken Ukrainian citizens and damage Ukraine's environment. Western anti-tank munitions commonly contain depleted uranium, which the International Atomic Energy Agency (IAEA) notes is "very suitable for military uses." Such munitions cannot be used to create either nuclear or radiological weapons. Putin's argument is false-to-fact, and even some domestic audiences likely realize it. A prominent Russian milblogger on March 25 challenged Putin's argument and stated that it the Western provision of depleted uranium rounds is not a "real problem." Putin's concern for the well-being of the environment in Ukraine, furthermore, appears somewhat misplaced considering the massive damage Russian forces have inflicted on Ukraine's agricultural lands, to say nothing of Ukraine's cities and people. If Putin really is so concerned about the future of Ukraine's ecology he could best serve it by withdrawing from Ukraine and allowing Ukraine and the rest of the world to begin repairing the damage the Russian invasion has caused.
The announcement of the deployment of tactical nuclear weapons to Belarus is irrelevant to the risk of escalation to nuclear war, which remains extremely low. Putin is attempting to exploit Western fears of nuclear escalation by deploying tactical nuclear weapons to Belarus. Russia has long fielded nuclear-capable weapons able to strike any target that tactical nuclear weapons based in Belarus could hit. ISW continues to assess that Putin is a risk-averse actor who repeatedly threatens to use nuclear weapons without any intention of following through in order to break Western resolve. The Financial Times further reported on March 24 that EU High Representative for Foreign Affairs Josep Borrell stated that Chinese President Xi Jinping's recent visit to Russia reduced the chance that Russia forces would use nuclear weapons because Xi made it "very, very clear" to Putin that he should not deploy nuclear weapons.
Putin has likely sought to deploy Russian nuclear weapons to Belarus since before the February 2022 invasion of Ukraine and has likely chosen this moment to do so in order to serve the immediate information operation he is now conducting. Belarusian President Alexander Lukashenko offered to host Russia nuclear weapons on Belarusian territory on November 30, 2021, and Belarus removed the constitutional clause enshrining Belarus' neutral status in a referendum in February 2022. ISW forecasted in January and February 2022 that Putin might seek to deploy tactical or strategic nuclear weapons to Belarus as part of a broader effort to deepen Russian control over Belarus. […]
Putin likely chose to push these narratives now in hopes of diminishing Ukrainian morale and Western aid to diminish the effectiveness of a rumored pending Ukrainian counteroffensive. Many prominent Russian milbloggers and officials warned that Ukrainian forces will likely attempt a major counteroffensive soon. Putin's actions suggest that he agrees and that he fears the potential success of a Ukrainian counteroffensive. Putin and senior Kremlin officials have previously leveraged narratives around Russian heightened nuclear readiness, false flag warnings, and vague statements about negative battlefield developments claiming that Russia is entitled to use nuclear weapons to defend itself in Ukraine in order to deter further Western support for or military aid to Ukraine. ISW has previously reported on Putin's escalation of nuclear rhetoric in September and October 2022 followed by a de-escalation in early November 2022 before the Russian loss of Kherson City and west (right) bank Kherson Oblast and assessed that the Kremlin might leverage further nuclear escalation rhetoric to coerce Western states to negotiate with Russia and halt further military aid to Ukraine. ISW assesses that Putin's March 25 announcement is part of this effort and continues to assess that Russia is very unlikely to use nuclear weapons in Ukraine or elsewhere.
Ukrainian and Western officials offered various views of the state of the Russian offensive in Bakhmut on March 25, but all are consistent with the assessment that the Russian effort around Bakhmut is likely culminating. The United Kingdom Ministry of Defense (MoD) assessed on March 25 that the Russian offensive against Bakhmut is stalling and that Russian forces may shift their focus to the Avdiivka and Svatove-Kreminna areas. Ukrainian Eastern Group of Forces Spokesperson Colonel Serhiy Cherevaty cautioned that the recent decrease in reported Russian ground assaults near Bakhmut needs further analysis. Cherevaty also stated that unspecified Russian conventional forces are reinforcing Wagner Group forces, suggesting that Russian conventional forces are intervening to prevent the Wagner offensive from culminating prematurely. Cherevaty noted that Russian forces conducted 18 ground attacks near Bakhmut on March 25 but recently conducted 40–50 attacks a day in the area, suggesting that exhausted Wagner forces are unable to sustain their prior tempo of operations alone but may increase their tempo to earlier levels with assistance from Russian conventional forces. Ukrainian Armed Forces Commander in Chief General Valery Zaluzhny stated that the Bakhmut situation is stabilizing. These statements are not mutually exclusive, however, and the Russian effort against Bakhmut is likely culminating. Russian forces may continue to attack Bakhmut frequently and aggressively even if the offensive has culminated with little to no success, as ISW has previously assessed, as culmination does not mean the absence of fighting. Russian attacks in and around Bakhmut may resume at high levels without generating significant new gains if conventional Russian forces do, in fact, enter the fray. The commitment of conventional reserves could even prevent the attack from culminating and generate operationally significant advances or persuade Ukrainian forces to withdraw, although ISW regards those eventualities as unlikely at this time.
Russian forces do not have the degree of fire control over Ukrainian ground lines of communication (GLOCs) to Bakhmut, Avdiivka, and likely other areas of the front that Russian milbloggers claim, further undermining the Russian effort to take Bakhmut. Recent footage shows that Ukrainian forces remain able to drive on the Bakhmut-Chasiv Yar and Bakhmut-Khromove roads despite Russian artillery targeting the Ukrainian vehicles. Russian milbloggers likely based their fire control claims on Russian artillery system ranges, but even Russian ground advances close to these GLOCs have failed to prevent Ukrainian vehicles from using them at least on a small scale. Geolocated footage posted on March 25 shows that Wagner Group forces have crossed the T0504 but remain unable to establish sustained positions that would cut the GLOC.
Key Takeaways
Russian President Vladimir Putin launched the predictable next information operation to discourage Ukrainian resistance and disrupt Western support for Ukraine as Russian offensives culminate and Ukraine prepares to launch counter-offensives in an interview with a state-owned Russian news channel on March 25.
Putin pushed the false narrative that the West cannot sustain weapons provision to Ukraine due to limited Western production and hyperbolized Russia's potential to mobilize its own defense industrial base (DIB).
Putin advanced another information operation by announcing that Russia will deploy tactical nuclear weapons to Belarus by July 1 and renewed tired information operations about the potential for nuclear escalation.
Russian conventional forces may intervene in Wagner Group's offensive around Bakhmut to prevent the offensive from culminating prematurely.
Russian forces do not have the degree of fire control over Ukrainian ground lines of communication (GLOCs) to Bakhmut, Avdiivka, and likely other areas of the front that Russian milbloggers claim.
Russian forces conducted limited attacks along the Kupyansk-Svatove-Kreminna line.
Russian forces continued to conduct ground attacks in and around Bakhmut and gained limited ground in the city.
Russian forces reportedly conducted a mass rotation of forces in Nova Kakhovka on the east (left) bank of the Dnipro River.
Wagner Group financier Yevgeny Prigozhin accused Russian authorities on March 25 of rewriting history to cut out Wagner by forcing state-controlled media outlet RT to cut some coverage of the Wagner Group.
The Ukrainian Resistance Center reported on March 24 that Moscow elites are competing for funding to "restore" occupied territories and really plan to use the projects to further their own interests.
Russia gives up on further offensive and focuses on deterring defence forces, Ukrainska Pravda reports, citing Bloomberg. "The publication notes that Russia made this decision after failing to gain significant ground. Thus, Russia's military command decided to focus on deterring the counteroffensive of the Armed Forces, which is expected to begin soon. Bloomberg, citing its sources, writes that in preparation for a long struggle, the Kremlin aims to recruit up to 400,000 contract servicemen this year to replenish its ranks.
According to these sources, the ambitious recruiting campaign would allow the Kremlin to avoid another forced mobilisation of reservists as it ramps up the campaign to re-elect President Vladimir Putin later this year, the people said.  Last autumn's call-up shook public confidence and triggered an exodus of as many as a million Russians from the country.
Even with the battlefield and political challenges, Putin has signaled he's confident Russia will be able to outlast Ukraine's supporters in the US and Europe, betting that if his forces are able to prevent another breakthrough by Ukrainian troops in the coming months, the backup for Kyiv will weaken. 
The publication also notes that, according to Ukrainian and Western officials, almost all of the 300,000 Russians mobilised in the fall are now on the battlefield, but Russia has not managed to capture a single major city in recent months.
Ukraine, meanwhile, is planning to launch a major counteroffensive in the coming months with troops fresh from training in Europe and the US and using newly supplied tanks, armored vehicles and other weapons. The US officials assume Kyiv may seek to break through Russian supply lines and sever the land bridge of occupied territory that now links Crimea to the Russian mainland. […]
Some officials said the goal of attracting 400,000 contract soldiers this year is likely to be unrealistic. That's roughly equal to the total number of professional troops Russia had before the invasion was launched on 24 February 2022," they point out."
Consequences and what to do?
Nordic countries plan joint air defence to counter Russian threat, Reuters reports. "Air force commanders from Sweden, Norway, Finland and Denmark said on Friday they have signed a letter of intent to create a unified Nordic air defence aimed at countering the rising threat from Russia. The intention is to be able to operate jointly based on already known ways of operating under NATO, according to statements by the four countries' armed forces.
The move to integrate the air forces was triggered by Russia's invasion of Ukraine in February last year, commander of the Danish air force, Major General Jan Dam, told Reuters.Our combined fleet can be compared to a large European country, Dam said.
Norway has […] 37 F-35 fighter jets with 15 more of the latter on order. Finland has 62 F/A-18 Hornet jets and 64 F-35s on order, while Denmark has 58 F-16s and 27 F-35s on order. Sweden has more than 90 Gripens jets.»
"Not easy" to seize Russia assets, says EU task force chief, Ukrinform reports. "Nothing is simple when it comes to finding the massive sums intended to be diverted to pay for Ukraine's reconstruction. That's according to Anders Ahnlid, head of the EU task force on seizing Russian assets, Euractiv reports. Europe plans to be innovative in this regard, he added. It is a challenge to find legal means that are acceptable, Ahnlid said, a week after the EU working group's first meeting.
Many Russian citizens targeted by sanctions have contested them in court. It is noted that in one high-profile case, the EU General Court in early March issued an interim order suspending part of the sanctions against Russian Formula One racing driver Nikita Mazepin. He is the son of the owner and chief executive of chemical products manufacturer Uralchem. According to Ahnild, that just shows that our European Union is a union built on the rule of law.
Foreign asset seizure precedents are rare even at the global level, apart from Iraqi assets seized by the United States at the end of Saddam Hussein's regime, Ahnlid said. […] Legal experts make a distinction between private assets frozen by Western governments — an oligarch's yacht, for example — and state property, such as the foreign currency reserves of Russia's central bank. State assets are usually larger — Russia's foreign currency reserves alone amount to almost $300 billion, according to the EU — and easier to seize legally. In the case of private assets, legal safeguards mean Western states can permanently seize them only in very limited circumstances — usually when they can be proven to be the proceeds of crime.
One option, Ahnlid explained, would be to not confiscate assets permanently, and only seize income or interest on the capital. Meanwhile, the EU task force is still trying to identify the Russian assets, and hopes to have made progress on that by May. […] Private assets are meanwhile often protected by dummy companies, making them more difficult to seize. But despite the difficulties, Ahnlid said it is natural that this aggressor should pay and make up for the brutal destruction of Ukraine that is taking place."
As Ukrinform reported, the Council of the European Union Legal Service informed the EU member states that the bloc has the legal authority to temporarily utilize at least EUR 33.8 billion worth of assets of the Russian central bank to finance Ukraine's reconstruction."
Hans Petter Midttun: It is sort of ironic to find that the information sphere in Russia is ripe with concerns over an anticipated Ukrainian counteroffensive, as President Zelensky states that Ukraine cannot start a counteroffensive because it lacks weapons.
"Prominent voices in the Russian information space are increasingly setting information conditions to prepare for a potential Ukrainian counteroffensive. The wider Russian spring offensive appears to be culminating, and the Russian information space appears to be responding to the slow-down of Russian operations and the potential for Ukraine to regain the initiative with substantial anxiety. Russian military command will need to commit a significant number of forces to the frontline to either prevent culmination or launch renewed offensive operations, and it is unlikely that such forces exist at sufficient scale to do either." (ISW, March 24).
Media has reported about the relocation of families of Russian servicemen, sales of real estate, meetings to coordinate potential evacuations, and more.
"The Russian command and Moscow-installed proxies in Crimea have begun evacuation from the occupied peninsula, selling their real estate and taking families away, Andrii Yusov, spokesperson for Ukraine's military intelligence, said on March 23. Crimean residents heard a warning on radio stations the day before urging them to prepare for leaving Crimea, Yusov told Ukrainian TV channel Freedom, suggesting the announcement was intended for those cooperating with Russian occupying authorities."
It stands in contrast to the very sober messaging of President Zelensky that Ukraine is currently unable to launch a counteroffensive. That's hardly surprising given that the West has not provided Ukraine with the tools it needs to defeat and evict Russian forces from the occupied territories.
Russia has suffered tremendous losses while trying to attack well-prepared, fortified Ukrainian defensive positions in Bakhmut, Avdiivka, Vuhledar and elsewhere. NATO intelligence believes that for every Ukrainian soldier killed defending Bakhmut, Russian forces have lost at least five soldiers. They have been forced to attack across prepared minefields while facing accurate artillery, mortar and small-arms fire, drone attacks and effective anti-tank weapons. It's a killing field.
In January, the Commander-in-Chief of the Armed Forces of Ukraine, Valerii Zaluzhnyi, told General Milley that Russian forces were trying to advance by marching over the corpses of their fellow soldiers left on the battlefield.
General Kyrylo Budanov, Head of the Defence Intelligence of Ukraine (DIU) made a similar assessment after a visit to the frontline in December.
"Soldiers showed me a section where dead bodies are piled up like something you would see in a movie… There are hundreds of dead bodies just rotting away in the open field; in certain places, they are piled on top of other bodies like makeshift walls; when Russian troops attack that field, they use those bodies for cover, like a shield… But it's not working. There are actual fields of dead bodies there."
The frontline in Donetsk, which has hardly moved since February 2015, is a testimony of how difficult it might be to breach a frontline consisting of well-prepared, protected and defended defensive positions.
The Ukrainian Kharkiv offensive in September will not be repeated simply because Russia no longer underestimate the Ukrainian Armed Forces.
If Ukraine were to start a counteroffensive today, Ukraine would be trying to do what Russia has been trying to do since 2015 without Air Power and while being inferior in artillery and MLRS firepower.
When Zelenskyy says that Ukraine cannot start a counteroffensive because it lacks weapons, he has the extreme losses Russia has suffered during the last year in mind. It will be very hard to succeed without all the required tools in place in the theatre.
"Zelenskyy explained that additional support with weaponry supplies, including the ammunition and fighter jets, is pivotal, and therefore the military is waiting for these supplies to arrive from Ukraine's partners."
I have previously listed some of the prerequisites needed to succeed. Most of them will, however, not be in place before summer. Some – including long-range fire, combat aircraft and sheer numbers – might not be in place at all this year. The Ukrainian Defence Intelligence has previously warned that the spring-summer campaign will be extremely difficult.
The problem is – and as previously stressed – Ukraine must evict Russian forces to avoid being defeated. Seen through the prism of hybrid war, Russia does not need to take another centimetre of Ukrainian territory to defeat Ukraine.
Its potential victory will not be decided on the battlefield alone.
The combined efforts of its military and non-military means are seeking to undermine Ukraine economically. The aggressor is still allowed to wage a full-scale "economic war", destroying the economic viability of the state. The ways, ends and means were discussed in my report "Role of the hybrid component in Crimea occupation" (pages 31-35). Today, Ukraine needs $3-5 billion every month in support to survive. This situation will not change unless Russia is defeated in Ukraine. According to President Zelensky:
"Russia must lose on the battlefield, in the economy, in international relations, and in its attempts to replace the historical truth with some imperial myths. The Kremlin is losing in its efforts to spiritually enslave our people. The full-scale defeat of Russia will be a reliable guarantee against new aggressions and crises."
Russia is using diplomacy, politics, energy, information, humanitarian, and lawfare to defeat Ukraine, knowing that Western support comes with a "best before date". The cost of rebuilding Ukraine alone is presently assessed to be a staggering $ 750 billion, a bill that no one is keen to pay.
It is s hybrid war – and Russia is seeking a Ukrainian defeat through the parallel and synchronised use of both military and non-military means. The only thing that matters is the result: a Ukrainian – and therefore, a Western defeat.
How it is achieved matters not. A Russian military victory was always out of reach.
Tags: Russian invasion