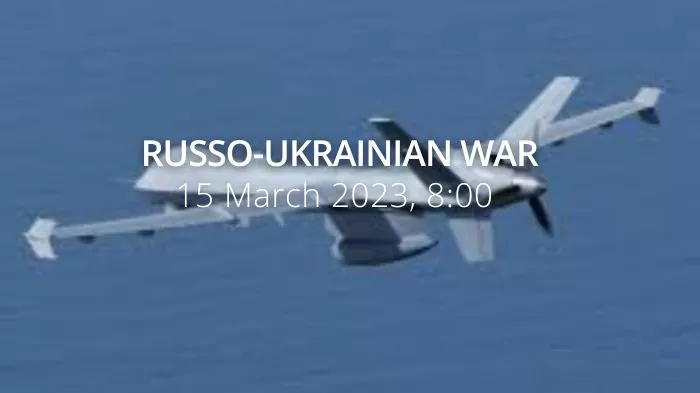 US drone brought down by Russian aircraft over Black Sea. Russians hit the center of Kramatorsk, damaging six high-rise buildings: at least one civilian killed, and three injured. Lithuania declares Russia's Wagner a terrorist organization.
https://twitter.com/EuromaidanPress/status/1635814318880038912
Daily overview — Summary report, March 15
A map of the approximate situation on the ground in Ukraine as of 00:00 UTC 15/03/23. pic.twitter.com/KwIUSTHgjh

— War Mapper (@War_Mapper) March 15, 2023
The General Staff's operational update regarding the Russian invasion as of 18.00 pm, March 14, 2023 is in the dropdown menu below:
Day 385 of the full-scale russian military aggression has begun.
During the day, the enemy carried out 40x air strikes, 12x missile strikes and launched more than 100x attacks from MLRS. One of the rocket strikes hit the city of Kramatorsk – a three-story residential building was damaged, there were dead and wounded among the local population. Another missile attack took place in the city of Zatoka, Odesa Oblast – one of the buildings of the "Zolota Rybka" children's educational institution was damaged by the fragments of the missile. There were no victims or losses among the local population. The enemy also launched a missile attack on a civil infrastructure object in the settlement of Ivanivka, Kherson Oblast. There are casualties among the local population and at least one private house has been damaged.
The probability of further missile strikes throughout the territory of Ukraine remains quite high.
The enemy's main goal during the past day, as before, remained attempts to reach the administrative borders of Donetsk and Luhansk Oblasts. To do this, they concentrated efforts on conducting offensive actions on the Lyman, Bakhmut, Avdiivka, Mar'yinka, and Shakhtars'k axes. Thanks to professional and coordinated actions, our defenders repelled more than 90x enemy attacks in the indicated directions.
Volyn', Polissya, Sivershchyna and Slobozhanshchyna axes: the operational situation has not changed significantly. The enemy maintains a military presence near the state border of Ukraine, but the formation of offensive groups has not been detected. At the same time, the enemy continued to engineer terrain in the border areas of Bryansk and Kursk Oblasts. During the past day, the enemy shelled the districts of Arkhipivka, Mykhalchyna Sloboda, Kolos and Yeliny in Chernihiv Oblast; 9x settlements of Sumy Oblast: Ukrainy, Znob-Novgorod, Seredyna-Buda, Romashkov, Bachivsk, Starykov, Volfine, Grabovske and Porozok, as well as 15x settlements of Kharkiv Oblast. Among them are Gur'iv Kozachok, Kozacha Lopan, Graniv, Hlyboke, Krasne and Bologhivka.
Kupyansk and Lyman axes: the enemy maintains its military presence in the border areas with Ukraine, in order to prevent our units from being transferred to other directions. Also, during the previous day, the enemy unsuccessfully tried to break through the defense of our troops. The occupiers carried out artillery shelling of 4x settlements along the line of combat in the Kharkiv Oblast (Dvorichna, Hryanikyvka, Masyutivka and Krokhmalne); 7x settlements of Luhansk Oblast: Novoselivske, Makiivka, Nevske, Dibrova, Bilogorivka, Zolotarivka and Chervopopivka. Spirne and Fedorivka in Donetsk Oblast also suffered under the influence of fire.
Bakhmut axis: the enemy does not stop trying to capture the city of Bakhmut, where constant positional battles continue. At the same time, our defenders repelled enemy attacks in the areas of Yagidne, Khromov and Orikhovo-Vasylivka settlements. 15x settlements of the Donetsk Oblast near the contact line were under enemy shelling. Among them are Nikiforivka, Vasyukivka, Minkivka, Dubovo-Vasylivka, Bakhmut, Ivanovske and Kostyantynivka.
Avdiivka, Mar'yinka, and Shakhtars'k axes: the enemy carried out unsuccessful offensive actions in the direction of the settlements of Kam'ianka, Nevelske, Novokalynove, Severne, Pervomaiske, Novomykhailivka, Pobyeda, and Vodyane of the Donetsk Oblast. Areas of 16x settlements of Donetsk Oblast were hit by enemy shelling: Berdychi, Kam'ianka, Avdiivka, Vodyane, Netaylove, Krasnohorivka, Nevelske, Mar'yinka, Georgiivka, Vugledar, Paraskoviivka, Ocheretine, Orlivka, Pobyeda, Prechistivka, and Neskuchne.
Zaporizhzhia and Kherson axes: the enemy conducted defensive operations. 17x settlements of the Zaporizhzhia Oblast, near which hostilities are taking place, were shelled. In particular, Olhivske, Gulyaipole, Biloghirya, Mala Tokmachka, Novodanilivka and Stepnohirsk. Primyske of Dnipropetrovsk Oblast was also affected by the fire; Ochakiv – Mykolaiv Oblast, as well as 20x settlements of Kherson Oblast. Among them are Zolota Balka, Mykhailivka, Kachkarivka, Vesele, Ivanivka, Mykilske, Antonivka, Zelenivka, Dniprovske and Kherson.
In Horlivka, which is located on the territory of the temporarily occupied Donetsk Oblast, about 90c servicemen of the russian army, who are being treated in medical institutions of the city, will soon be sent to the city of Urzuf to undergo a medical examination to determine their suitability for further military service. At the same time, the occupiers in Horlivka received an order to conduct another wave of mobilization in the city to replenish the manpower of the units, which are temporarily withdrawn from the combat zone due to the loss of combat capability.
It is planned to mobilize about 500x people from those categories who previously received delay for reasons of limited or complete unfitness for military service.
During the day, the Air Force made 9x strikes on the areas where the occupiers were concentrated, 3x strikes on the enemy's SAM deployment sites, and 3x strikes on other important objects of the occupiers.
Units of missile and artillery forces hit 3x areas of concentration of enemy personnel, 3x control points of units of the russian army and a position of enemy air defense.
Military Updates
Ukraine establishing "naval coalition" as UK, Netherlands join it – Ukrainian Defense Minister. Ukraine's Defense Minister Oleksiy Reznikov says that Ukraine will develop its fleet, and currently, three countries have joined the naval coalition: Ukraine, Great Britain, and the Netherlands. Reznikov stated this at a meeting with the head of the Ministry of Defense of the Netherlands. The meeting with the Minister of Defense of the Netherlands, Kaisa Ollongren is taking place in the south of Ukraine.
Poland may send Ukraine Soviet-era MiG-29 jets within 4-6 weeks, PM says – Bloomberg. Poland may deliver Soviet-era MiG-29 fighter jets to Ukraine in the coming weeks, a move that would cross a threshold among NATO member states cautious about sending air power, Bloomberg reports. "This might happen within the next four to six weeks," Polish Prime Minister Mateusz Morawiecki told reporters on 14 March, not elaborating on other details, including the size of a contingent.
According to British Defence Intelligence, (last 48 hours): 
https://twitter.com/DefenceHQ/status/1635957625421479936
Since the start of Russia's invasion of Ukraine, Russian public officials and workers have been subject to increasingly severe foreign travel restrictions. Some officials have likely had to forfeit their passports to the Federal Security Service. Employees closer to the centre of power face more severe restrictions; Kremlin officials are banned from all international leisure travel.
This is a widening of existing measures which date from the Soviet era. Travel restrictions were tightened after the Russian annexation of Crimea in 2014.
The measures are likely designed to prevent the flight or defection of increasingly disaffected officials. There is a realistic possibility that as the securitisation of the Russian state continues, travel restrictions will be tightened for an increasing number of public sector employees.
Losses of the Russian army 
Humanitarian 
Singer, volunteer for Ukraine's army & his music band Khoreya Kozatska win most prestigious national Shevchenko Award for Songs of the Ukrainian Revolution album

"Moscow's big lie & dirty methods in 1917–1921 are similar to 2022," Taras Kompanichenko says https://t.co/60FjlzwpBl pic.twitter.com/mMjl3mV8zw

— Euromaidan Press (@EuromaidanPress) March 15, 2023
Singer serving in Ukraine's army wins Shevchenko National Prize for Ukrainian Revolution Songs album. Taras Kompanichenko and members of his Khoreya music band Kozatska Maksym Berezhniuk, Severyn Danyleyko, Yaroslav Krysko, and Serhiy Okhrimchuk received the Ukrainian national annual award Shevchenko Prize — for the audio album titled "Songs of the Ukrainian Revolution." The Shevchenko National Prize is Ukraine's most prestigious state award for achievements in culture and arts, named after Taras Shevchenko, a prominent 19th-century poet and painter. It has been awarded annually since 1961.
95% of Kyiv high school students feel proud of their country

Acc to survey by Kyiv City Adm, comp to 2021, this indicator doubled & is highest since 2014

86% noted that majority of their environment communicates in Ukrainian. 22% of rspondents are IDPs https://t.co/ps2KOZbD0T pic.twitter.com/V26uM8qzMA

— Euromaidan Press (@EuromaidanPress) March 15, 2023
95% of Kyiv high school students feel proud of their country – poll. 95% of Kyiv high school students feel proud of their country, according to the regular survey of schoolchildren in grades 8-11 regarding the language environment conducted by Kyiv City Administration. Compared to 2021, this indicator has doubled and is the highest since 2014. 86% of students noted that the majority of their environment communicates in Ukrainian. 69% of teenagers consider the concept of "patriotism" to work for the well-being of their country. Half of the respondents emphasize that communication in the state language is an important component. 76% of students believe that Ukrainian should be the only state language.
https://twitter.com/EuromaidanPress/status/1635688993017954305
"The nation of volunteers is invincible," Ukraine Comm-in-Chief says on Day of Ukrainian Volunteer. The Commander-in-Chief of the Armed Forces of Ukraine, General Valeriy Zaluzhnyi hightlighted the role of volunteers in the liberation war against the Russian invaders on the Day of the Ukrainian Volunteer "Dedication. Determination. And a sincere desire to protect the Motherland. Every day. Every second. Ukrainians demonstrate to the whole world what it means to be a volunteer. First of all, in heroic battles on the front lines. In 24-hour volunteer work. Help in the rear. At the call of the heart, for the sake of victory. The enemy wants to break us, but the nation of volunteers is invincible. Today, more than ever, we are all united and fighting for our independence," Zaluzhnyi wrote.
Russians hit center of Kramatorsk, damaging 6 high-rise buildings: at least 1 civilian killed, 3 injured. In the morning, Russian invaders launched a missile attack on the center of the city of Kramatorsk, Donetsk Oblast. As a result, one person was killed, Head of Donetsk Administration Pavlo Kyrylenko reported.
Legal 
https://twitter.com/EuromaidanPress/status/1635773046819631104
Ukraine accuses Russian snipers of sexually assaulting 4-year-old girl, gang raping mother – Reuters. Ukraine has accused two Russian soldiers of sexually assaulting a four-year-old girl and gang raping her mother at gunpoint in front of her father, as part of widespread allegations of abuse during the more than one-year-long war, Reuters reports. According to Ukrainian prosecution files seen by Reuters, the incidents were among a spree of sex crimes Russian soldiers of the 15th Separate Motorized Rifle Brigade committed in four homes of Brovary district near the capital Kyiv in March 2022.
https://twitter.com/EuromaidanPress/status/1635669866807181312
Ukraine President and Iceland PM discussed Russia compensation mechanism and efforts to bring Russia to justice. President of Ukraine Volodymyr Zelenskyy had a meeting with Prime Minister of Iceland Katrín Jakobsdóttir. Zelenskyy noted the active position of Iceland as the state holding the presidency of the Council of Europe. In this context, the parties discussed efforts to bring Russia to justice for war crimes, genocide, crimes against humanity and crimes of aggression committed in Ukraine. Attention was also paid to the measures taken to create a register of damages caused by Russian aggression and a full-fledged compensation mechanism, in particular in the context of preparations for the Summit of Heads of State and Government of the Council of Europe in Reykjavik.
Lithuania declares Russia's Wagner a terrorist organization. On March 14, the Lithuanian Seimas adopted a resolution stating that the Russian private military company "Wagner" is a terrorist organization, and its members and hires pose a threat to the security of the state and society, BNS reports. The Lithuanian parliament strongly condemned any such mercenary groups established with the support of the Russian government and their commission of aggressive crimes in Ukraine. The resolution was unanimously voted by 117 Seimas members.
Support
Iceland PM and FM arrived in Ukraine to discuss Council of Europe summit focused on Ukraine's issues. The Prime Minister of Iceland, Katrin Jakobsdóttir, and the head of the country's Foreign Ministry, Tordis Kolbrun R. Gylfadóttir, arrived in Ukraine on March 14, Iceland Review announced. On Tuesday morning, both representatives of Iceland visited Bucha and Borodianka. According to Jakobsdottir, it is important to witness the consequences of the war and communicate with those who survived the Russian attacks.
Ukrainian defense enterprise started production of 125-mm shells for tanks with a NATO country. Ukraine's state enterpise "Ukrobornprom" in partnership with one of the NATO countries launched the production of 125-mm projectiles for tanks, which are used by defenders, press service of "Ukroboronprom" reported.
New Developments
https://twitter.com/EuromaidanPress/status/1635793179747266561
Russia's assets accumulation abroad hit records due to Europe's delay with targeting Russia's energy sector —Bloomberg. Russia built $80 billion offshore cash pile in year of sanctions, Bloomberg writes. Record current-account surplus provided lifeline for Kremlin, while these assets accumulated abroad may become target of Ukraine supporters. Russia was able to save abroad about a third of the $227 billion windfall earned last year from its commodity exports, creating a potential new flashpoint as the US and its allies look to tighten their sanctions over the invasion of Ukraine.
Romania to build gunpowder and ammunition plant in collaboration with US and South Korea. Romania, in cooperation with the United States and South Korea, plans to build a plant for the production of gunpowder and ammunition, Romanian Economy Minister Florin Spataru said on the air of the Romanian TV channel TVR Info. He recalled that the last gunpowder plant in Romania was closed in 2004, after which the country imported ammunition and gunpowder for the needs of its armed forces.
https://twitter.com/EuromaidanPress/status/1635716574471389191
US MQ-9 drone struck and brought down by Russian Su-27 aircraft over Black Sea

"Several times before the collision, the Su-27s dumped fuel on and flew in front of the MQ-9 in a reckless, environmentally unsound and unprofessional manner" – US statementhttps://t.co/3vFToXImVs

— Euromaidan Press (@EuromaidanPress) March 14, 2023
Assessment 
On the war. 
The Institute for the Study of War has made the following assessment as of  March 14, 2022:
Prominent Russian milbloggers are reamplifying a longstanding Russian information operation that seeks to weaponize religion to discredit Ukraine. The Ukrainian Ministry of Culture issued a decision on March 9 stipulating that the Kyiv-Pechersk Lavra Reserve will terminate its lease agreement with the Kremlin-affiliated Ukrainian Orthodox Church Moscow Patriarchate (UOC MP), meaning that the UOC MP will need to vacate the premises of the lower Lavra by March 29.[1] The Ukrainian government did not renew the UOC MP's expired lease on the upper Lavra and allowed the Orthodox Church of Ukraine (OCU) to hold Christmas services at the Lavra on January 7, as ISW previously reported.[2] Two prominent milbloggers responded on March 14 to the latest decision requiring the UOC MP to vacate the lower Lavra by March 29 and exploited the story to accuse Kyiv of repressing freedom of religion within Ukraine.[3] Former Russian officer and convicted war criminal Igor Girkin claimed with no evidence that Kyiv will likely stage a military takeover of the Lavra because Ukrainian authorities are bent on "bloodily pitting the Russians on both sides of an artificial border" against one another.[4] Donetsk People's Republic (DNR) commander and former DNR Security Minister Alexander Khodakovsky accused Ukraine of causing a "church frenzy" to divide the UOC MP and OCU dioceses and encouraged Ukrainian authorities to see past Ukrainian and Russian distinctions and exercise "restraint and Christian patience."[5] Khodakovsky's comment is remarkable because it is Russia's rejection of the validity of seeing any distinctions between Russians and Ukrainians that was one of the justifications for the illegal Russian invasion of Ukraine in the first place.
Both Girkin's and Khodakovsky's renewed exploitations of the Lavra issue are based on a misrepresentation of events and disingenuously seek to portray Kyiv as attacking religious liberty in Ukraine. The UOC MP is the Kremlin-controlled Russian Orthodox Church's subordinate element in Ukraine and provided material support for Russia's illegal invasion of Crimea and Eastern Ukraine in 2014.[6] The UOC MP is not an independent religious organization but rather an extension of the Russian state and an instrument of Russian hybrid warfare.[7] By misrepresenting the Ukrainian government's decision to reduce the Kremlin-controlled UOC MP's influence in Ukraine, Russian milbloggers are amplifying a known information operation attempting to delegitimize the Ukrainian state and turn international public opinion against Ukraine.
Russian authorities continue measures to mobilize the struggling Russian defense industrial base (DIB) for a protracted war effort, including measures that will force the Kremlin to choose between having skilled workers in the DIB and skilled military personnel fighting in Ukraine. Russian President Vladimir Putin claimed during a March 14 visit to an aviation production plant in Ulan-Ude, Buryatia, that the DIB suffers from a lack of adequately trained personnel and announced a series of reforms to attract more specialists to work at military production plants, including the reallocation of federal assets to housing and increasing pay.[8] Russian Defense Minister Sergei Shoigu visited Tactical Missile Corporation in Moscow Oblast and called on the plant to double production even after announcing that the plant had met the requirements of the state defense order.[9] Putin also announced that the Russian Ministry of Industry and Trade has prepared a list of unspecified specialties to defer from military service, which may suggest that the Kremlin is prioritizing using skilled workers in the production of Russian weapons over having skilled soldiers fight in Russia's military.[10] Russian news outlets Interfax and RBK, the latter citing a Russian federal official, reported that the Russian Ministry of Finance is also considering issuing war bonds.[11] The United Kingdom Ministry of Defense (UK MoD) assessed that Putin's March 3 presidential decree on government oversight of the DIB sets conditions for the Russian Ministry of Trade and Industry to bypass DIB managers at enterprises that fail to meet Russia's production standards.[12] The Ukrainian Foreign Intelligence Service reported that Russian defense enterprises significantly decreased their hiring standards and now accept workers without experience and with histories of drug use, criminal records, and bankruptcy.[13] ISW has previously reported on Russia's struggle to rejuvenate its DIB amid labor shortages and Western sanctions and its ensuing lack of success in this endeavor.[14]
Two Russian Su-27 aircraft forced down a US MQ-9 Reaper drone over the Black Sea in international airspace. US General James B. Hecker stated that two Russian aircraft hit the drone nearly causing both aircraft to crash and resulting in the loss of the drone.[15] The Russian Ministry of Defense (MoD) claimed that the drone crashed due to "sharp maneuvering."[16] The incident will not cause an escalation to direct conflict between Russia and the US. Russian forces have used coercive signaling against US and allied flights and naval vessels for decades in multiple theaters without triggering conflict.[17] The US and Russian presidents retain full freedom to choose how to respond to such incidents, and there is nothing automatic about escalation in such situations. Given President Joe Biden's repeated commitments to avoid committing US forces to direct conflict with Russia and the Kremlin's clear and repeatedly demonstrated reluctance to get into a war with NATO, there is no reason for incidents such as these to cause dangerous escalations.
Poland may send Soviet-era MiG-29 jets to Ukraine in coming weeks, PM says – Bloomberg

MiG deliveries would cross threshold on air power. US, Germany have ruled out sending Western-made fighter jets, for now.https://t.co/D5nko8uKen

— Euromaidan Press (@EuromaidanPress) March 14, 2023
Polish Prime Minister Mateusz Morawiecki stated on March 14 that Poland could supply MiG-29 multirole fighters to Ukraine within four-to-six weeks. Morawiecki stated that Poland is ready to give Ukraine an unspecified proportion of its total fleet of 28 MiG-29 fighters to Ukraine as part of an international coalition. Slovak Defense Minister Jaroslav Nad previously signaled Slovakia's support for providing Ukraine MiG-29 aircraft on March 9.[18] The Ukrainian Air Force operates MiG-29s and would be able to use them in counteroffensive operations if Ukraine receives them with enough time in advance of its next counteroffensive.
Key Takeaways
Prominent Russian milbloggers are reamplifying a longstanding Russian information operation that seeks to weaponize religion to discredit Ukraine.
Russian authorities continue measures to mobilize the struggling Russian defense industrial base (DIB) for a protracted war effort.
Russian Su-27 jets forced down a US MQ-9 Reaper drone over the Black Sea in international airspace.
Polish Prime Minister Mateusz Morawiecki stated on March 14 that Poland could supply MiG-29 multirole fighters to Ukraine within four-to-six weeks.
Ukrainian sources reported that Russian forces continue building defenses along Russia's border with Ukraine in order to pin Ukrainian troops to northern border areas.
Russian forces conducted limited ground attacks northeast of Kupyansk and along the Svatove-Kreminna line.
Russian forces advanced within Bakhmut and continued ground attacks along the Avdiivka–Donetsk City frontline and in western Donetsk Oblast.
Russian forces continue fortifying rear areas in Russian occupied Zaporizhzhia Oblast.
United Russia Secretary Andrey Turchak announced on March 14 that the Russian State Duma will consider a law simplifying the legal recognition of missing Russian soldiers as dead.
Ukrainian partisans injured the Deputy Head of the Nova Kakhovka Occupation Military Administration in an improvised explosive device (IED) attack.
Tags: Russian invasion