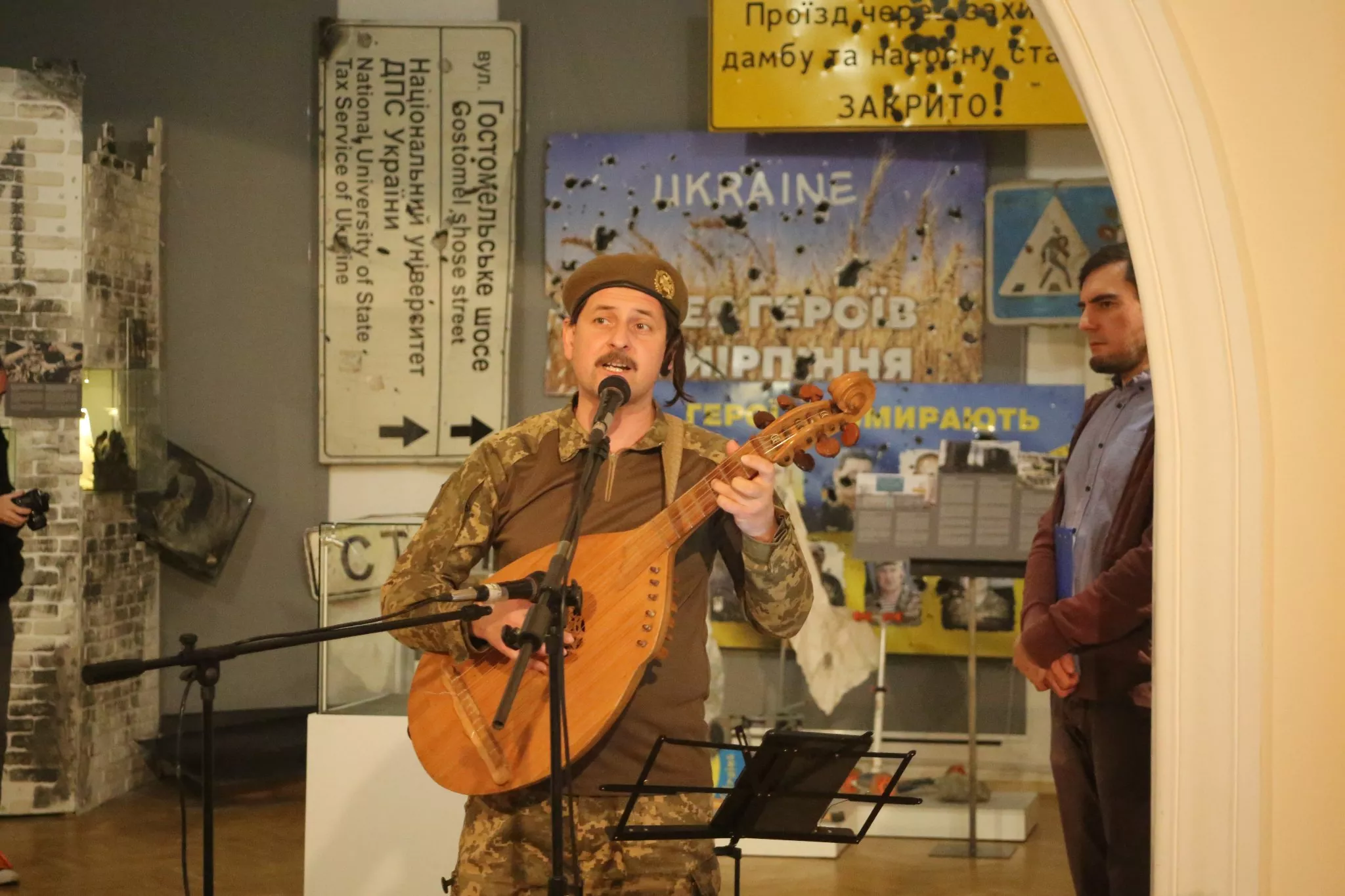 Taras Kompanichenko singing during the exhibition "Invasion, Kyiv shot" 
Taras Kompanichenko and members of his Khoreya music band Kozatska Maksym Berezhniuk, Severyn Danyleyko, Yaroslav Krysko, and Serhiy Okhrimchuk received the Ukrainian national annual award Shevchenko Prize — for the audio album titled "Songs of the Ukrainian Revolution."
The Shevchenko National Prize is Ukraine's most prestigious state award for achievements in culture and arts, named after Taras Shevchenko, a prominent 19th-century poet and painter. It has been awarded annually since 1961.
Currently, Kompanichenko serves in the Territorial Defense Forces of Ukraine.
A few years before the full-scale war, Kompanichenko joined a project led by the Institute of the National Memory to record lost songs from the Ukrainian Revolution. At first, Kompanichenko undertook the project in the Ukrainian library of Chicago, where he discovered many works from the 1917-1921 period produced by Ukrainian composers Yaroslav Yaroslavenko, Kyrylo Stetsenko, Yosyp Kyshakevych, Vasyl Barvinskyi, in particular a lot of military marches.
"The Ukrainian movement for universal love and for their own national state was falsified and lied about by Bolsheviks, turned into so-called 'anti-Semites'," Kompanichenko explains. "You read Ukrainian newspapers and see what a big lie poured about our predecessors from Soviet propaganda. Now this lie has become such an established rock that is difficult to move. Because when a lie is told – and such a big lie – it becomes hard to turn it around. It is as if a man publicly says 'your daughter is a whore'. 'I don't have a daughter,' you answer, but this already doesn't matter. A lie was said, people have heard it, and you can do whatever you want. This is how Moscow propaganda worked. When you study these newspapers and journals, you see what our ancestors fought for."
Read an exclusive about Kompanichenko and his work:
Read also:
"The nation of volunteers is invincible," Ukraine Comm-in-Chief says on Day of Ukrainian Volunteer
Tags: Shevchenko Prize