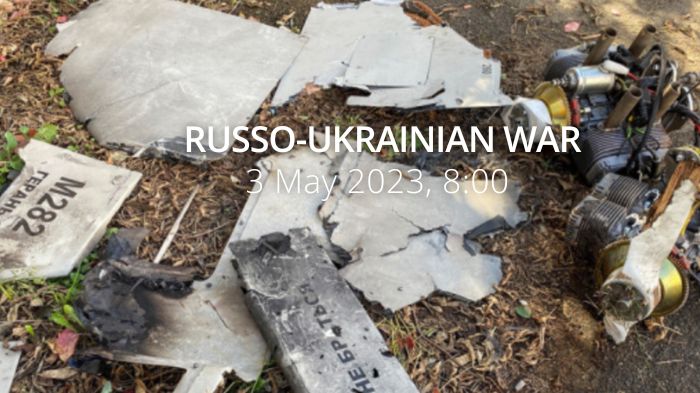 Russia launched 26 Shahed-136/131 kamikaze drones; Ukrainian air defense destroyed 21. Russia fires almost 20 guided bombs at Ukraine every day. European Commission bans certain agri-imports from Ukraine.
The successful blackmail of the commission by 5 EU countries now questions the strength of EU internal regulations and its foreign agreements. It's also a stab in the back to Ukraine's wartime economyhttps://t.co/1ALIqlbjot

— Euromaidan Press (@EuromaidanPress) May 2, 2023
Daily overview — Summary report, May 3
A map of the approximate situation on the ground in Ukraine as of 00:00 UTC 02/05/23.

There have been no notable changes to control since the last update. pic.twitter.com/qEOxBWrDqV

— War Mapper (@War_Mapper) May 2, 2023
The General Staff's operational update regarding the Russian invasion as of 18.00 pm, May 3, 2023 is in the dropdown menu below:
Tonight, Russian terrorists once again attacked with "Shahed-136/131" kamikaze drones. Information regarding the consequences of this attack is currently being clarified.
Last day, Russian forces launched 3 missile strikes, 39 air strikes and launched 63 rounds from MLRS on the positions of our troops and populated areas. Civilians suffered, and private residential buildings and other civilian infrastructure were destroyed and damaged.
The threat of Russian forces launching missile and air strikes on the entire territory of Ukraine remains high.
Russian forces continue to focus their main efforts on conducting offensive actions on the Lyman, Bakhmut, Avdiivka and Maryinka axes – they have carried out more than 30 attacks. Bakhmut and Maryinka remain at the epicentre of hostilities, our defenders are holding the defence.
Volyn' and Polissya axes: the operational situation has not undergone significant changes. No signs of the formation of enemy offensive groups were detected.
Sivershchyna and Slobozhanshchyna axes: Russian forces shelled the settlements of Hasychivka, Yeline, Bleshnya, Karpovychi, Tymonovichi, Leonivka, and Muravyi of the Chernihiv Oblast with artillery; Znob-Novgorodsk, Uralov, Seredyna-Buda, Kucherivka, Rivne, Vorozhba, Volfine, Mykolaivka, Myropillia in the Sumy Oblast, as well as Veterinarne, Vilkhivka, Gatyshche, Vovchansk and Potikhonov in the Kharkiv Oblast.
Kupyansk axis: Russian forces did not carry out offensive actions, and actively engaged anti-aircraft fire to adjust the artillery fire. Krasne Pershe, Figolivka, Novomlynsk, Liman Pershey, Kupyansk, Kislivka, Krokhmalne and Berestov of the Kharkiv Oblast were subjected to artillery and mortar shelling.
Lyman axis: the adversary conducted unsuccessful offensive actions in the area south of Dibrova. Makiivka in the Luhansk Oblast and Belogorivka, Verkhnokamianske and Spirne in the Donetsk Oblast were hit by artillery fire.
Bakhmut axis: Russian forces continue to conduct offensive actions. Fighting carries on in the city of Bakhmut. In addition, the occupiers unsuccessfully attacked the vicinities of Ivanivskyi and Predtechyny. Vasyukivka, Orikhovo-Vasylivka, Novomarkove, Hryhorivka, Khromove, Bakhmut, Ivanivske, Chasiv Yar, Kostyantynivka, Predtechine, Diliivka and Pivdenne of the Donetsk Oblast were affected by enemy shelling.
Avdiivka axis: Russian forces carried out offensive actions in the Pervomaisky Oblast of the Donetsk Oblast, without success. They also shelled Novokalynov, Avdiivka, Severne, Tonenka, Karlivka and Netaylov.
Maryinka axis: adversary attacks were repulsed in the Maryinka area. Krasnohorivka, Georgiivka, Pobyeda and Novomykhailivka of the Donetsk Oblast came under enemy fire.
Shakhtarske axis: Russian forces did not carry out any offensive operations on the last day. Shelled Novoukrayinka and Prechistivka in Donetsk Oblast.
Zaporizhzhia and Kherson axes: Russian forces continue to conduct defensive operations. Fired at more than 30 settlements. Among them are Vremivka and Novosilka of the Donetsk Oblast; Gulyaipole, Biloghirya, Mala Tokmachka, Novodanilivka, Novoandriivka and Kamianske of the Zaporizhzhia Oblast; Nikopol' in the Dnipropetrovsk Oblast; Zolota Balka, Dudchany, Kachkarivka, Vesele, Lviv, Ivanivka, Mykilske, Antonivka, Dniprovske, Kizomys of the Kherson Oblast and the city of Kherson.
The Russian occupiers continue the forced passporting of the population of the temporarily occupied territory of the Kherson Oblast. In order to speed up this process, the invaders are conducting demonstrative raids aimed at intimidating the local population with possible deportation and alienation of property. The content of the events is that a convoy of empty buses arrives at the settlement accompanied by representatives of the FSB, who, referring to the decree recently signed by the President of the Russian Federation on the deportation of persons without Russian citizenship from the occupied territories, set people a radical condition: either they give up their Ukrainian passports in favour of Russian, or immediate eviction with confiscation of property.
[In the temporarily occupied territories of Ukraine, there are still cases of violent abduction of the pro-Ukrainian civilian population, as well as the construction of new torture camps for their detention. In particular, Russian terrorists set up one of these torture chambers in the police department of the temporarily captured Chaplynka of the Kherson Oblast. Up to ten civilians, including minors, are being illegally detained there at the moment. The Russian occupiers keep people in harsh, inhumane conditions and torture them. There are cases when kidnapped people were tortured to death by Russian terrorists.]
Over the past 24 hours, the Ukrainian Air Force has carried out 8 strikes on enemy personnel concentration areas, while missile and artillery troops have hit 1 command post, 12 areas of concentration of weapons and military equipment, 4 ammunition depots, 1 anti-aircraft defence device and another important enemy target.
Military Updates
Russia launched a new wave of Shahed-136/131 kamikaze drones, the Ukrainian General Staff reports. "On the night of May 3, 2023, the Russian occupiers attacked Ukraine with Iranian-made kamikaze drones from the north (Bryansk region) and the south – the eastern coast of the Sea of Azov.
In total, the invaders used up to 26 "Shahed-136/131" attack drones. The forces and means of the Air Force, in cooperation with the air defence of other components of the Defence Forces of Ukraine, destroyed 21 attack UAVs."
https://twitter.com/EuromaidanPress/status/1653387552752037889
All incoming Shahed kamikaze drones downed around Kyiv, Ukrinform reports, citing Serhii Popko, head of the Kyiv City Military Administration. "Russian forces once again attacked the capital of Ukraine from the air. The third barrage in the last six days! This time Kyiv was attacked by drones only. According to tentative reports, the russicts, as usual, employed Iranian-made Shahed UAVs. Russian forces tactics remain traditional and unchanged – with the onset of the dark, the terrorist state launched the barrage from various areas, official wrote on Telegram.
According to preliminary information, all enemy targets were detected and shot down in the airspace around the capital. According to Popko, no casualties or destruction have been reported so far. Incoming reports from the ground are still being verified."
https://twitter.com/EuromaidanPress/status/1653414289917755394
Russians prepare provocation on Ukraine's northern border, Ukrainska Pravda reports, citing press service of Ukraine's National Resistance Center. "Russians are preparing provocations on the northern border with Ukraine. Russian servicemen stationed in the Bryansk and Kursk [oblasts] received Ukrainian military uniforms.
This is reported by local[s], cooperating with the Ukrainian underground [resistance]. All these actions indicate that the Russians are preparing a provocation under a false flag to mobilize their society and also to mislead the world society to divert attention from the crimes of the [Russian – ed.] armed forces.
According to the National Resistance Center, terrorist attacks on the territory of the Russian Federation or imitation of hostage-taking are not excluded."
In Russia's Briansk region second freight train derail in two days due to rail track blast, Ukrinform reports. "The governor of Russia's Bryansk region bordering Ukraine, Aleksandr Bogomaz, said an explosive device went off just outside the Snezhetska station, causing a locomotive and a number of freight cars to derail.
An unidentified explosive device went off in the vicinity of the Snezhetska railway station. There are no casualties. As a result of the incident, a locomotive and several freight cars derailed. All emergency services are working at the scene, Bogomaz writes.
As reported on Monday, a freight train derailed in the Bryansk region on the Rozsukha-Unech line due to damage to the track caused by an explosion. The train was carrying petroleum products and lumber. The explosion also caused a fire."
https://twitter.com/EuromaidanPress/status/1653447005132161045
Blast rocks Russian military base near occupied Crimea's Simferopol – media, Ukrinform reports, citing RFE/RL. "An explosion occurred at the former border guard training base near the Simferopol airport in Russian-occupied Crimea. […]
As Ukrinform reported earlier, since the start of 2023, more than 30 explosions were recorded in various areas of Crimea, a Ukrainian peninsula temporarily occupied by Russia."
As counteroffensive looms, Ukraine vows not to give up Bakhmut, Reuters reports. "Ukraine's military vowed on Tuesday not to give up the eastern city of Bakhmut as it prepares to launch a counteroffensive against Russian forces. General Oleksandr Syrskyi, commander of Ukrainian ground forces, underlined the importance Kyiv attaches to holding Bakhmut as preparations continue for a counterattack which it hopes will change the dynamic of the war in Ukraine.
The battle for Bakhmut has symbolic importance for both sides, with Ukraine still holding on to some parts of the city after months of fierce fighting against regular Russian troops and fighters from the Wagner mercenary force.
Together with the commanders, we have made a number of necessary decisions aimed at ensuring the effective defence and inflicting maximum losses on the enemy, Syrskyi said in remarks released after a visit to troops fighting in Bakhmut. We will continue, despite all the forecasts and advice, to hold Bakhmut, destroying Wagner and other most combat-capable units of the Russian army, he told soldiers in video footage of his visit. We give our reserves an opportunity to prepare and we are preparing for further actions ourselves. Syrskyi said on Monday Ukrainian units had ousted Russian forces from some positions in Bakhmut."
Russian forces are struggling to maintain their pace of offensive operations in Bakhmut, the Institute for the Study of War reports. "Russian forces have continued to make gains in Bakhmut as of May 1. Geolocated footage posted on April 29 and 30 shows that Russian forces made marginal gains on the T0513 Bakhmut-Siversk highway just south of Sakko i Vanzetti (14km north of Bakhmut) and within western Bakhmut. Russian milbloggers claimed on April 30 and May 1 that Wagner Group forces advanced in western and southwestern Bakhmut at a maximum pace of one or two blocks a day. Wagner Group financier Yevgeny Prigozhin claimed that Wagner fighters advanced 230m in Bakhmut on April 30. […]
Ukrainian officials indicated that Wagner Group fighters and other Russian forces are struggling to maintain their pace of offensive operations in Bakhmut. Ukrainian Eastern Group of Forces Commander Colonel General Oleksandr Syrskyi stated that Russian forces in Bakhmut conducted numerous attacks but failed to advance, whereas Ukrainian forces conducted counterattacks and recaptured some Russian positions. 
A local Ukrainian commander stated that Ukrainian forces have regained the battlefield initiative in some areas of Bakhmut, and Russian forces have failed to cut Ukrainian logistics lines into Bakhmut. Ukrainian Eastern Group of Forces Spokesperson Colonel Serhiy Cherevaty stated that Russian snipers from an unspecified special counterterror service are operating in Bakhmut, suggesting that the Russian military command may be reallocating additional irregular military units to the Bakhmut front to compensate for overtired Wagner forces and ineffective Russian force organization in the area."
Ukraine sees heavy fighting while general situation "static", Ukrinform reports, citing Pentagon spokesman General Patrick Ryder. "Ukrainian forces continue to repulse Russian attacks as especially heavy fighting continues on the Bakhmut axis but in general, the situation along the front line has become static, with the parties gaining no control over significant new territories."
According to British Defence Intelligence, (last 48 hours): 
On 28 April and 01 May 2023, Russia mounted air launched cruise missile (ALCM) strikes against Ukraine. These were the first such strikes for 50 days, with the last prior strikes occurring on 09 March 2023.
The latest strikes were conducted by Russian Long Range Aviation strategic bombers, both Tu-95 and Tu-160 aircraft, likely using Kh-101 and Kh-555 ALCMs.
Both strikes used smaller numbers of missiles than seen in previous attacks, which is likely due to Russian attempts to rebuild its ALCM stockpiles. The observed types of facilities damaged by the Russian strikes indicates a possible shift away from targeting Ukraine's electrical power network. Both recent strikes were likely focused on Ukraine's military, industrial and logistical infrastructure.
On 27 April 2023, Russian military-linked social media claimed that Russia's Deputy Defence Minister, Colonel-General Mikhail Mizintsev, had been dismissed. Mizintsev held the military logistics portfolio, and had only been in post for eight months.
Mizintsev's sacking was not immediately confirmed, but speculation about his future highlights how logistics problems remain at the heart of Russia's struggling campaign in Ukraine. Russia does not have enough munitions to achieve success on the offensive. Paucity of ammunition drives internal divisions, most notably between Russia's Ministry of Defence and Wagner Group.
Russia continues to give the highest priority to mobilising its defence industry, but it is still failing to meet war time demands. While Russia's political leaders persist in demanding success on the battlefield, Russia's logistics professionals are stuck in the middle.
Losses of the Russian army 
As of Wednesday 3 May, the approximate losses of weapons and military equipment of the Russian Armed Forces from the beginning of the invasion to the present day:
Personnel – about 191940 (+520)
Tanks – 3702 (+1)
Armoured combat vehicles – 7199 (+6)
Artillery systems – 2946 (+16)
Multiple rocket launchers –MLRS – 544 (+0)
Air defence means – 300 (+2)
Aircraft – 308 (+0)
Helicopters – 294 (+0)
Automotive technology and fuel tanks – 5865 (+14)
Vessels/boats – 18 (+0)
UAV operational and tactical level – 2505 (+28)
Special equipment – 363 (+3)
Mobile SRBM system – 4 (+0)
Cruise missiles – 947 (+0)
Russia has not used Su-57 and Su-75 super-planes in the war against Ukraine, Ukrainska Pravda reports, citing Air Force spokesperson, Colonel Yurii Ihnat. "They have a Su-57 plane, which they showed at exhibitions, there is also a Su-75 plane, the first one with two engines, and the second with one. These are such super-planes, as they already call them there, of the 'sixth generation'… More than once, their media wrote that they had already shown something on the front, that they had thrown bombs and rockets somewhere. The Air Force of Ukraine has not recorded the use of these aircraft in air aggression against Ukraine.
According to Ihnat, it cannot be ruled out that the Russians used them remotely (for the air defence of Ukraine, occupiers' aircraft are just marks on the radar). At the same time, the spokesperson of the Air Force noted that the Russian Federation has enough other aircraft (Su-30SM, Su-35, Su-34, Su-25) and helicopters (Ka-52), which are most often used on the frontline. This is Russian aircraft, which is quite superior to the Ukrainian in terms of technology and number."
Humanitarian 
https://twitter.com/EuromaidanPress/status/1653424971782168577
Kremlin: Window to extend Black Sea grain deal is shrinking, Reuters reports. "The Kremlin said on Tuesday that the window to extend the Black Sea grain deal was shrinking, and that talks between the parties were continuing, but without any results. Russia has repeatedly indicated it is prepared to walk away from the deal on May 18 if its demands to ease restrictions on its own agricultural exports are not addressed.
Kremlin spokesman Dmitry Peskov told reporters on Tuesday that part of the deal concerning Russia's interests was not being implemented, but dialogue was continuing. […]
Among other requests, Russia says it wants its state-run agriculture bank, Rosselkhozbank, to be reconnected to the SWIFT international financial messaging system, and for the Togliatti-Odesa ammonia pipeline to be restarted. The West says its sanctions do not explicitly target Russia's agricultural sector, but Moscow says its agricultural exports have been hit by restrictions on its banks as well as other sanctions on logistics and insurance."
European Commission bans certain agri-imports from Ukraine, Ukrinform reports. the Commission's press service. "The European Commission has today adopted exceptional and temporary preventive measures on imports of a limited number of products from Ukraine under the exceptional safeguard of the Autonomous Trade Measures Regulation. These measures are necessary given the exceptional circumstances of serious logistical bottlenecks experienced in five Member States, the report reads.
The measures concern only four agricultural products – wheat, maize, rapeseed and sunflower seed – originating in Ukraine. They aim to alleviate logistical bottlenecks concerning these products in Bulgaria, Hungary, Poland, Romania and Slovakia. The measures will enter into force on May 2 and will last until June 5, 2023.
During this period, wheat, maize, rapeseed and sunflower seed originating in Ukraine can continue to be released for free circulation in all the Member States of the European Union other than the five frontline Member States: Bulgaria, Hungary, Poland, Romania and Slovakia. The products can continue to circulate in or transit via these five Member States by means of a common customs transit procedure or go to a country or territory outside the EU.
In parallel lines, Bulgaria, Hungary, Poland, and Slovakia have committed to lift their unilateral measures on wheat, maize, rapeseed and sunflower seed and any other products coming from Ukraine.
While addressing concerns of farmers in those Member States neighbouring Ukraine, the measures uphold the EU's strong commitment to support Ukraine and preserve its capabilities to export its grains which are critical to feed the world and keep food prices down, in the face of the huge challenges posed by the unprovoked Russian aggression, reads the report.[…]
The European Commission is ready to reimpose preventive measures beyond the expiry of the current Autonomous Trade Measures Regulation on June 5, 2023, as long as the exceptional situation continues."
Russians damage power grids in two Ukrainian oblasts at night: the power system is stable, Ukrainska Pravda reports, citing the press service of the Ministry of Energy. "Last night, distribution networks in Sumy Oblast were damaged in the shelling. Due to the fire, repair teams have not yet been able to start repairs and restore power supply for consumers as of Tuesday morning, the ministry said. The attack also damaged the network infrastructure in Kherson Oblast. 
After a large-scale attack on the night of 1 May, the electricity supply for consumers in the city of Dnipro and the oblast has already been restored. Consumers in Kharkiv and Kherson oblasts are also connected. […] The energy system works stably, without restrictions," the Ministry of Energy concluded."
Environmental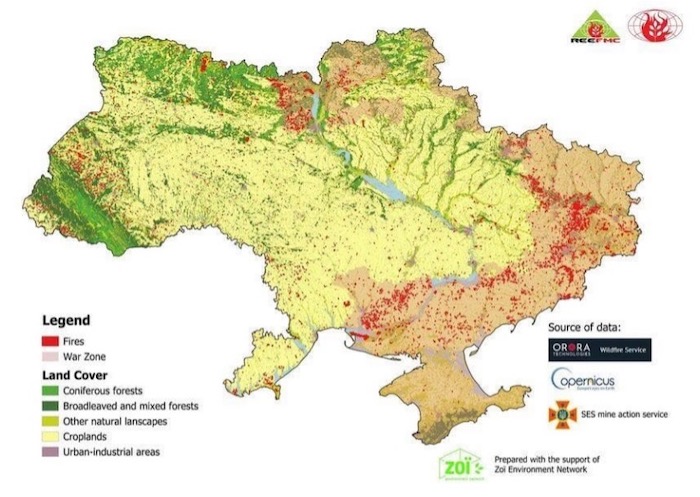 On the environmental impact of the Russian full-scale invasion, Ministry of Environment and Natural Resources of Ukraine reports. "Since February 24, 2022, 2.364 cases of damage to the Ukrainian environment as a result of Russian military aggression have been recorded, with losses estimated at USD 52.4 billion. Due to Russia's large-scale invasion of Ukraine, approximately 600 species of animals and 750 species of plants and fungi are at risk of extinction. This was emphasized by Yevheniy Fedorenko, the Deputy Minister of Environment and Natural Resources of Ukraine, during a meeting of the Economic Affairs, Science, Technology and Environment Committee of the OSCE PA.
Ukraine's Ministry of Environmental Protection and the Office of the Prosecutor General of Ukraine are working to hold Russian invaders accountable for the damage to the Ukrainian environment. This was reported by Minister Ruslan Strilets at the Ukrainian national telethon.
On April 18-19, the 70th session of the United Nations Economic Commission for Europe (UNECE) was held in Geneva, dedicated to digital and green transformations for sustainable development in Europe. On April 18, Minister Ruslan Strilets spoke online at the high-level dialogue. Sergiy Vlasenko, the Deputy Minister for Digital Development, Digital Transformations, and Digitalization, participated in the 70th UNECE session in person.
At the initiative of Ukraine and its international partners, participants of the 70th UNECE session approved a resolution "Economic and Social Effects of Russia's Aggression Against Ukraine". Representatives from 40 countries out of 56 present at the session voted in favor of the resolution. Participants in the session deplored Russian aggression and Belarus' complicity and confirmed the previous UNECE decisions that the aggressor country cannot nominate its representatives to leadership positions in the Commission or propose motions for voting. The UNECE Secretariat will continue assist Ukraine in addressing the economic, environmental, infrastructure, energy, and social consequences of Russian aggression. […]
According to the International Coordination Center for Humanitarian Demining of the State Emergency Service of Ukraine, from February 24, 2022 to April 19, 2023, 348,013 explosive objects, including 2,207 aircraft bombs, were neutralized in Ukraine. An area of 827.6 square kilometers was surveyed for explosives. There are still 174,000 square kilometers of potentially dangerous areas remaining, which is 30% of the country's total area. […]
During the war, wildfires are collateral damages in the active combat zone around the line of contact. Starting from the end of February 2022, the regional branch of the Freiburg-based Global Fire Monitoring Center (GFMC) and the Regional Eastern Europe Fire Monitoring Center (REEFMC) based in Kyiv are monitoring the situation 24/7.
This map shows the locations of wildfires and agricultural burning in 2022. […] The total area of landscape fires in Ukraine during 2022 reached 755 600 ha. REEFMC revealed the following types of landscapes that were mostly affected by fires: croplands (419 300 ha), forests (56 700 ha), and abandoned lands (273 900 ha).
In total, about 20 000 fires were detected in 2022. Most (50.3 %) were burned within a 60-km buffer zone built along a daily front line, while 42.3 % of all fires occurred in occupied territories. The largest areas affected by fires were in the Donetsk (145 900 ha), Kherson (84 100 ha), Kyiv (70 800 ha), Zaporizhzhia (65 400 ha), Luhansk (65 300 ha), Mykolaiv (47 800), and Kharkiv regions (42 500 ha)."
Legal 
War-crimes prosecutions in Ukraine are a long game, The Economist reports. "The West and Ukraine need to set priorities and organise better. "Russia has bombed and shelled civilian targets in Ukrainian cities, killing thousands. Its troops have tortured, sexually abused and murdered non-combatants in towns they have occupied, such as Bucha. Russia has systematically abducted Ukrainian children. A video clip that surfaced in mid-April appeared to show Russian soldiers beheading living Ukrainian prisoners of war.
Ukrainian prosecutors have opened more than 80,000 war-crimes cases since the invasion, according to Andriy Kostin, the country's prosecutor-general. [….] The trial shows the efforts Ukraine is making to prosecute war crimes. But it also highlights the flaws in those efforts. Ukraine lacks a strategy for building cases against senior Russian leaders, as opposed to foot soldiers. Its allies have eagerly provided databases and training, but deployed few investigators of their own. A blizzard of international aid initiatives defy co-ordination. If Ukraine and its allies hope to render judgment on the people responsible for Russia's war crimes, they have work to do. […]
At tribunals such as those for the wars in Sierra Leone and the former Yugoslavia, prosecutors learned how to slowly build cases against the senior leaders who organised the violence. In Ukraine that has yet to happen, says Wayne Jordash, an international lawyer in Kyiv. Mr Jordash runs Global Rights Compliance, a legal practice that supports Ukrainian investigators and prosecutors.
There's a focus on direct perpetrator cases, which look like ordinary crimes—the torture in the basement, the rape of the woman, says Mr Jordash. Because the numbers are overwhelming and technical expertise scarce, prosecutors are only just beginning to focus on how you take those cases upwards.
Some problems are rooted in law. Ukraine's criminal code lacks the concept of command responsibility, which is used to charge senior commanders with war crimes even if they did not explicitly order each one. Also, Ukrainian prosecutors have little discretion: they are required to launch an investigation within 24 hours after being notified of a crime. That leads to a proliferation of minor cases. […]
War-crimes efforts involving foreign countries and courts are almost indescribably complex. The space has become overcrowded, says Nadia Volkova of the Ukrainian Legal Advisory Group, an ngo. Ukraine has granted jurisdiction to the International Criminal Court in The Hague. (In March that court issued an arrest warrant for Vladimir Putin himself, along with his minister of children's welfare, over Russia's mass abductions of children.) Meanwhile six eastern European countries—Estonia, Latvia, Lithuania, Poland, Romania and Slovakia—have pooled their war-crimes efforts with Ukraine's in a Joint Investigation Team.
The EU has created a database for war-crimes evidence at its justice agency, Eurojust. It also wants to host a new tribunal to try Russia on the charge of aggression, which the ICC probably cannot pursue against countries which reject its jurisdiction. America, Britain and individual European countries periodically send Ukraine forensic and legal experts, and collect testimony from Ukrainian refugees. Some may pursue war-crimes charges under universal-jurisdiction laws. The Atrocity Crimes Advisory Group (aca), an initiative between America, Britain and the EU, is supposed to co-ordinate those countries' efforts with Ukrainian prosecutors. Unsurprisingly, it is finding that hard to do.
Many of these issues may be teething problems. But others are tougher. Ukraine's situation is not like that at the Nuremberg war-crimes trials, where conquering powers imposed justice on a defeated nation. It is also unlike those in Cambodia, Sierra Leone or the former Yugoslavia, where civil wars gave way to tribunals sponsored by the international community–a phrase which at the time meant something.
Rather, for now, in Ukraine the overwhelming majority of war-crimes cases will be prosecuted in national courts. The invaded country will pass judgment on the invader's soldiers, who may be in Russia and untouchable for many years to come. Klaus Hoffmann, a German prosecutor who works with the aca, notes that the London declaration on the punishment of war crimes was issued in 1942 when the Nazi leadership was still out of reach. Justice, Mr Hoffmann, says, will come after the fighting is over."
Support
https://twitter.com/EuromaidanPress/status/1653496639384965140
Russia fires almost 20 guided bombs at Ukraine every day – military spox, Ukrinform reports, citing Ukrainian Air Force spokesman Yurii Ihnat. "To date, the enemy has resumed attacks in accordance with the tasks it sets before itself. The tasks are clear: they are looking for the most necessary [targets] for destruction. They are looking for Western equipment in order to strike exactly what our partners are providing to us today to conduct defensive and offensive operations. Of course, the priorities will always be critical infrastructure, there will always be objects of the fuel and energy sector of Ukraine, because the life of the entire state and the provision of the army depend on this area, Ihnat said.
According to him, the enemy fires about 20 guided bombs on Ukraine every day, and this problem can be solved only with the help of long-range weapons and fighter jets. […] He stated that the bombs travel 70 km and hit kindergartens, schools, and residential buildings. It is impossible to fight the bombs, so it is worth striking bomb carriers – Su-34s, Su-35s, Ihnat said.
In order to confront the enemy, Ukraine needs long-range weapons, because the S-300 air defense system and two Patriot divisions allow hitting enemy targets at a distance of 100-150 km. Such systems could drive Russian aircraft away from the borders, but there should be many more of them.
Unfortunately, we do not have many such systems, only two divisions in total. We are waiting for the SAMP/T. We are waiting for a decision on the aircraft that everyone wants to see in the Ukrainian army – this is the F-16, which can fundamentally change all these things, which can counter Russian aircraft on a certain front line, Ihnat said."
Decision on F-16s will depend on outcome of Ukrainian counteroffensive – Kuleba, Ukrinform reports, citing Ukrainian Foreign Minister Dmytro Kuleba in an interview with Ukraine's 1+1 television channel. "We will get the F-16. It is a matter of time and our job – the job of the president's team – to make this decision as soon as possible. I think that this decision by the United States will be related to the outcome of the [Ukrainian] counteroffensive," he said.
Kuleba added that if Ukraine already had the F-16, the counteroffensive would have been much faster and it would have been possible to save many more lives of Ukrainian soldiers, as well as civilians who suffer from missile strikes. But, unfortunately, today I have to state that there is no decision on the F-16, but we are moving towards it, the minister said.
Kuleba also noted that the current priority for Ukraine is artillery ammunition, armored vehicles and F-16s."
Denmark provides Ukraine with a new military aid package worth almost $250 million, according to Denmark's Defense Ministry

It is the largest military aid package that Denmark has ever sent to Ukraine.https://t.co/nMPTEKxPe1

— Euromaidan Press (@EuromaidanPress) May 2, 2023
Denmark to send military assistance to Ukraine worth over $250 million to back counter-offensive, European Pravda reports. "The Danish parliament has approved a decision to allocate a new package of military assistance worth 1.7 billion Danish kroner (over $250 million) to Ukraine. The Danish Minister of Defence, Troels Lund Poulsen, has announced it after a meeting of the Committee on Foreign Policy, as reported by Danish-language broadcaster DR. […]
According to the decision, Denmark will provide Ukraine with demining machines, ammunition, field bridges, and funds for air defence.
This donation is the largest aid package from Denmark to date and is sent to back Ukraine's counter-offensive. This will help support the capabilities that the Ukrainian side lacks for a successful offensive now when Ukrainians plan to regain the territories occupied by Russians, Poulsen explained."
European Commission to present Act in Support of Ammunition for Ukraine, Ukrinform reports, citing the President of the European Commission, Ursula von der Leyen. "The European Commission is set to adopt tomorrow the so-called Act in Support of Ammunition, aimed to accelerate production of artillery rounds to quicker respond to Ukraine's needs and replenish EU stocks. […] We need to urgently step up production, procurement, delivery of ammunition. This is why the EU Commission will present the Act in Support of Ammunition Production tomorrow, EC President wrote.
As reported earlier, the EU member states had agreed on a political decision to provide Ukraine with one million shells until the end of 2023 to support the nation's capability to defend against Russian aggression. The implementation of such a decision involves a combination of three lines of action.
The first one involves the allocation of EUR 1 billion to compensate member states for supplying already available ammunition from army stocks, the second one is about putting another billion euros into jointly ordering ammunition, which will be used to replenish national arsenals in member states and to continue the supply of ammunition to Ukraine.
Finally, the third track involves the prospective build-up of European defense industry's capacities in order to properly address the range of security and defense challenges facing the European Union and its member states as a result of Russia's war of aggression against Ukraine."
Pentagon vows continued support for Ukraine, Ukrinform reports, citing Pentagon spokesman, General Patrick Ryder. "We will continue to support Ukraine with security assistance going forward as we have been doing, spokesman said when asked about a new aid package for the Armed Forces of Ukraine, which are preparing for a counteroffensive.
Ryder noted that he would not go into the details of the process, and stopped short of specifying when exactly the next aid tranche will be announced. However, the general noted that the United States from the very beginning has been working closely with Ukrainian leadership, as well as with allies and partners, to determine what Ukraine needs to protect its sovereignty and regain territories captured by Russia.
As Ukrinform reported earlier, White House spokesman John Kirby said that the United States would soon announce a new package of defense support to Ukraine. He also informed the press that the USA had transferred to Ukraine almost 100% of the military aid already requested by Kyiv."
New Developments
Ukraine's Parliament extends martial law and mobilization until August 2023

Ukraine first introduced martial law on 24 February 2022, the day when Russia's full-scale invasion began.https://t.co/5FA2YfcySx

— Euromaidan Press (@EuromaidanPress) May 2, 2023
https://twitter.com/EuromaidanPress/status/1653402067367608326
Decision on Ukraine's membership in NATO depends on four countries – Kuleba, Ukrinform reports, citing Ukrainian Foreign Minister Dmytro Kuleba in an interview with Ukraine's 1+1 television channel. "The decision on Ukraine's membership in NATO currently depends on four member states of the military alliance, one of which is big and important. […] He added that one of the four countries had already started to waver about Ukraine's membership."
Kremlin says German involvement in Ukraine conflict is growing due to arms supplies, Reuters "Chancellor Olaf Scholz said on Monday that Germany had insisted, like other NATO member countries, that the weapons it is supplying to Ukraine must not be used against Russian territory. But [Kremlin spokesman Dmitry] Peskov told reporters: First, Germany doesn't have a way to check. Second, [he falsely claimed that] the weapons supplied by Germany to the Kyiv regime are already firing at Russian territory, because the Donbas is a Russian region. He said Germany's direct and indirect involvement in the conflict was increasing, adding: The German chancellor should take that as his starting point."
Orthodox Church of Ukraine mulling calendar switch, Ukrinform reports, citing ua. "The Primate of the Orthodox Church of Ukraine, Metropolitan Epifaniy, says a Synod of Bishops set to convene in May will ultimately decide on the issue of shifting to another church calendar. The implementation of this reform will, first of all, allow us to switch to a more accurate calendar and avoid further gradual displacement of immovable holidays. […] He also reported that more than a thousand parishes had joined the OCU since the full-scale Russian invasion, and about the same number had done so over the past few years. That is, now there are more than 2,000 such parishes. This process is underway, and more news comes that in a certain region some community has decided to join the Orthodox Church of Ukraine, Epifaniy concluded."
https://twitter.com/EuromaidanPress/status/1653460113779245061
Assessment 
https://www.understandingwar.org/backgrounder/russian-offensive-campaign-assessment-may-2-2023*
On the war. 
The Institute for the Study of War has made the following assessment as of  May 2, 2022:
Russian forces conducted limited ground attacks on the Kupyansk-Svatove-Kreminna line on May 2. The Ukrainian General Staff reported that Russian forces conducted unsuccessful ground attacks near Novoselivske (15km northwest of Svatove), Dibrova (5km southwest of Kreminna), and Bilohorivka (11km south of Kreminna). A Russian milblogger claimed that Russian forces also conducted unsuccessful ground attacks near Nevske (18km northwest of Kreminna) and Torske (16km west of Kreminna). Another Russian milblogger claimed that Russian and Ukrainian forces engaged in positional battles near Ploshchanka (16km northwest of Kreminna) and the Zhuravka gully (18km west of Kreminna) on May 1. 
Russian forces made marginal gains near Bakhmut but did not advance within the city itself on May 2. Geolocated footage published on May 1 indicates that Russian forces made marginal gains northeast of the O0506 highway near Khromove (immediately west of Bakhmut). Ukrainian Eastern Grouping of Forces Spokesperson Colonel Serhiy Cherevaty reported that there were 17 combat clashes in the Bakhmut area. Cherevaty also reported that Ukrainian forces periodically attack Russian positions in Bakhmut when they see opportunities to conduct assaults that would not endanger their troops and noted that Ukrainian counterattacks are part of the Ukrainian mobile defense in Bakhmut. Russian milbloggers claimed that Russian forces advanced further in western and northwestern Bakhmut and conducted assaults in the northern, western, and southern parts of the city. The Ukrainian General Staff reported that Russian forces conducted unsuccessful offensive operations near Ivanivske (6km west of Bakhmut) and Predtechyne (14km southwest of Bakhmut). A Russian milblogger claimed that Russian forces also conducted assaults near Bohdanivka (6km northwest of Bakhmut) and towards Oleksandro-Shultyne (15km southwest of Bakhmut).
Russian sources claimed that Ukrainian forces conducted successful counterattacks in the Avdiivka area on May 2. A Russian milblogger claimed that Ukrainian forces are counterattacking in Marinka (27km southwest of Avdiivka) and conducted a partially successful counterattack towards Vodayne (8km southwest of Avdiivka). Other Russian milbloggers claimed that Ukrainian forces counterattacked east of Troitske (17km northeast of Avdiivka) and advanced 1.5km in the area. ISW has not observed recent visual evidence of successful Ukrainian counterattacks in the Avdiivka area, however. Ukrainian forces conduct periodic limited localized counterattacks in the Avdiivka area and the claimed Ukrainian advances are likely part of this ongoing pattern.
Russian forces continued limited offensive operations along the Avdiivka-Donetsk front on May 2. The Ukrainian General Staff reported that Russian forces conducted unsuccessful offensive operations near Sieverne (7km west of Avdiivka), Pervomaiske (11km southwest of Avdiivka), and Marinka. A Russian milblogger claimed that Russian forces conducted assaults towards southwestern Avdiivka. A Russian source claimed that Russian forces captured Ukrainian positions south of Kamianka (5km northeast of Avdiivka) on May 1, although ISW has not yet observed visual confirmation of this claim.
Russian forces did not conduct any confirmed ground attacks in western Donetsk Oblast on May 2. 
Russian Defense Minister Sergei Shoigu claimed that the Russian defense industrial base (DIB) is increasing its production of precision missiles for use against Ukraine. Shoigu highlighted the state-owned Tactical Missiles Corporation as a model defense enterprise, stating that is successfully beginning mass production of missiles and will develop plans to double its current production output in the near term. Shoigu's focus on precision missile production aligns with a shift in Russian Ministry of Defense (MoD)'s rhetoric focusing on Russia's use of precision missiles to strike military infrastructure targets in Ukrainian rear areas, likely aiming to similarly appear proactive and demonstrative positive Russian actions amid growing concerns in the Russian information space about a potential Ukrainian counteroffensive.
Shoigu likely seeks to deflect intensifying accusations that the Russian Ministry of Defense (MoD) cannot provide sufficient ammunition to Russian forces. Shoigu stated that the Russian defense industrial base (DIB) increased its production pace and output volumes, and claimed that Russian forces have received enough ammunition to date in 2023 to inflict extensive damage on Ukrainian forces. ISW previously reported that the Russian military command is reshuffling the leadership of command organs associated with logistics and force generation efforts after commanders that oppose Gerasimov and the core of the Russian MoD partially regained Russian President Vladimir Putin's favor in late March. Russian milbloggers also began naming specific Russian MoD officials in their accusations of poor supply provisions to Russian forces in this period. Wagner Group financier Yevgeny Prigozhin continues to claim that the Russian MoD is deliberately setting Wagner mercenaries up for failure in Bakhmut by refusing to provide their requested number of shells, which his commanders claim is leading to high casualties and slow progress on the battlefield. A Wagner serviceman also claimed that he delivered 39 boxes with complaints from Wagner servicemen about lack of ammunition to the Russian State Duma's Defense Committee on May 2.
Russian reactions to a claimed strike against a vehicle carrying Ukrainian Territorial Defense Forces Commander Major General Ihor Tantsyura suggest Russian ultranationalists seek to frame any Russian operations as delaying potential Ukrainian counteroffensive actions. Wagner Group financier Yevgeny Prigozhin claimed on May 2 that Wagner forces struck a Ukrainian armored vehicle carrying Tantsyura enroute to Bakhmut, and published a video purporting to show the strike. Ukrainian Territorial Defense Forces Spokesperson Denys Zelinskyi denied Prigozhin's claim and stated that "everyone is alive and well." Prigozhin responded that Wagner will continue to operate in the area. Milbloggers widely circulated Prigozhin's claims and framed the strike as an informational victory. A prominent milblogger claimed that Tantsyura received an order to transfer reserves to Bakhmut and prepare Ukrainian forces to conduct counterattacks in the area, likely to frame the Russian strike as an operationally significant event which delayed potential upcoming Ukrainian counteroffensive actions. Russian milbloggers claimed that the Russian strike on Pavlohrad on May 1 impacted a critical Ukrainian logistics and accumulation hub and similarly suggested that the strike would delay Ukrainian counteroffensive operations. […]
UN member states, including key Russian partners like China, India, and Brazil, voted to adopt a resolution on April 26 acknowledging Russia as the aggressor in the war in Ukraine. The resolution preamble states that the UN aims to more closely align with the Council of Europe amid "unprecedented challenges now facing Europe following the aggression by the Russian Federation against Ukraine, and against Georgia prior to that." This resolution is reportedly the first such resolution in which China recognized Russia as the aggressor in the war in Ukraine. Voting in favor of this resolution by itself does not likely reflect the broader opinion of Russian allies towards Russia, however.
Correction: ISW reported on May 1 that US officials assessed that Russian forces have suffered 100,000 casualties – 80,000 wounded and 20,000 dead– in fighting for Bakhmut since January 2023 based on statements from National Security Council spokesperson John Kirby. National Security Council deputy spokesperson Sean Savett later clarified on May 1 that the figures account for Russian casualties throughout Ukraine since January 2023.
Key Takeaways
Russian Defense Minister Sergei Shoigu claimed that the Russian defense industrial base (DIB) is increasing its production of precision missiles for use against Ukraine.
Shoigu likely seeks to deflect intensifying accusations that the Russian Ministry of Defense (MoD) cannot provide sufficient ammunition to Russian forces.
Russian reactions to a claimed strike against Ukrainian Territorial Defense Forces Commander Major General Ihor Tantsyura suggest Russian ultranationalists are attempting to frame any Russian operations as delaying potential Ukrainian counteroffensive actions.
The Kremlin reportedly distributed a new manual instructing Russian state media on how to cover an upcoming potential Ukrainian counteroffensive that, if real, indicates the Kremlin is setting informational conditions both for an effective Russian defense and to mitigate shocks in the Russian information space from Ukrainian successes.
UN member states, including key Russian partners like China, India, and Brazil, voted to adopt a resolution on April 26 that acknowledges Russia as the aggressor of the war in Ukraine.
Russian forces conducted limited ground attacks on the Kupyansk-Svatove-Kreminna line.
Russian forces made marginal gains near Bakhmut but did not advance within the city itself.
Russian forces continued limited offensive operations along the Avdiivka-Donetsk front, and Russian sources claimed that Ukrainian forces conducted limited and local counterattacks in the Avdiivka area.
Ukrainian forces continue to operate on and around islands in the Dnipro River delta in Kherson Oblast.
Russian government officials are continuing to introduce new social benefits to veterans and their families to incentivize further military recruitment efforts in Russia.
Likely Ukrainian partisans targeted an unspecified Zaporizhzhia Oblast occupation Ministry of Internal Affairs deputy head in Melitopol."
Success of counteroffensive will be hugely significant in terms of further support from partners – Ukrainian Defence Minister, Ukrainska Pravda reports, citing Interfax-Ukraine. "Oleksii Reznikov, the Defence Minister of Ukraine, notes that the success of the Ukrainian counteroffensive will be of great importance for the continued ease of [gaining] support from partners. My partners always say the same thing at all [our] meetings, in telephone calls and at Ramstein: 'We are with you to the end, no matter how long it takes. And we see your victory at the end.' This is important.
Of course, they are all politicians and are backed by parliaments that agree or disagree on certain things. And behind the parliaments are the voters. Therefore, it will be easier for them to advocate for new assistance packages to Ukraine if there are cases of success.
According to the minister, it is natural that the allies want to invest in success, and it is vital that the weapons and assistance they send produce results. So of course, our success will be of great importance for such ease of [gaining] support to continue, Reznikov stressed."
Minister Reznikov: We will take Crimea "without a fight", Ukrinform reports, citing The Atlantic. "Ukraine will regain control over the temporarily occupied Crimea without a fight. According to The Atlantic, knowing that Crimea is being built into a fortress, the Ukrainians talk about the 'political military' liberation of Crimea, not a purely military counteroffensive.
Once Ukrainian forces have cut off the roads, railroads, and waterways to the peninsula, and targeted the military infrastructure with drones, the presumption is that many Russian inhabitants, especially recent immigrants, will become convinced that they would be better off living somewhere else. Some have reportedly fled already, following an explosion on the Kerch Strait Bridge and other explosions on the peninsula, the article reads.
Moreover, detailed plans for Crimea's de-occupation already exist. Together with an expert team, Permanent Representative of the President of Ukraine in the Autonomous Republic of Crimea Tamila Tasheva has been working on a 'Crimea Recovery Strategy' that envisions a greener, cleaner Crimea, a "modern European resort."
At the same time, Tasheva pushes back against any idea that Russia and Ukraine could share the peninsula. In her words, there cannot be joint control by both David and Goliath."
Russia's Shoigu: Weapons output is key to success in Ukraine, Reuters reports. "Russian Defence Minister Sergei Shoigu said on Tuesday that weapons production and the supply of arms to the front line in Ukraine would be crucial to the success of what Moscow calls its "special military operation", and that he had called for missile output to be doubled urgently. Western and Ukrainian officials have for months said shortages of artillery munitions and missiles are hobbling Russia's invasion of Ukraine, now in its 15th month. […]
Yevgeny Prigozhin, the head of Russia's private Wagner militia, on Monday said his troops were being supplied with only a third of the artillery shells they needed for their assault on the eastern Ukrainian city of Bakhmut. Prigozhin has for months railed against a lack of ammunition supplies from Moscow, saying poor support is holding back Russia's offensive.
Western officials have also said Russia is short of both missiles and artillery shells, as a war Moscow planned would be wrapped up in a matter of weeks continues with no end in sight. Last December, British military intelligence said Russia was limiting its long-range missile strikes against Ukraine due to a lack of cruise missiles while in March, London said Russia was almost certainly having to ration artillery shells or use outdated ones."
Putin Grooms Russians for Defeat in Leaked Crisis Manual, The Daily Beast reports. "The Kremlin is suddenly concerned with saving face ahead of an imminent Ukrainian counteroffensive. After spending the last year reassuring Russians that victory is inevitable in the war against Ukraine, the Kremlin is now frantically working to lower expectations—and rolling out a contingency plan to lessen the impact of a humiliating defeat. A new manual prepared by Russia's presidential administration and distributed to the Kremlin's army of propagandists contains some surprising instructions: Do not "underestimate" Ukraine's impending counter-offensive and do not spread the idea that Kyiv is somehow "not ready" for it. That's according to the independent news outlet Meduza, which says it obtained a fresh copy of the manual and spoke to sources close to the Kremlin about it.
If the offensive is unsuccessful, it will be possible to say: the army [of Russia] skillfully fended off an attack that was superior in power, making the "victory" that much more impressive, the sources were quoted saying. But perhaps more importantly, the sources explained, if the Ukrainian military manages to take back territories and claim battlefield victories "with the help of weapons from the US and Europe," Russia's losses will be understandable—after all, they were up against the "entire West."
In that case, the sources said, the Russian military will also be seen as having "pulled through." And just in case any Russian citizens begin to wonder about the colossal amount of funds the government is funneling to the very same Ukrainian territories it decimated before declaring them part of Russia, propagandists are advised to steer clear of the subject. Instead, Kremlin spin doctors want their mouthpieces to churn out material on Russia upgrading schools and kindergartens, or hospitals.
It's clear there will be problems with the economy, and it's clear why. Spending on the 'special military operation' isn't going anywhere, one source close to the presidential administration said, noting that funds will go towards the new regions rather than the old ones and people will inevitably feel neglected. It is better not to show in specific amounts how much was taken [for the new regions].
The Kremlin's new guidelines are a stunning reversal from just a year ago, when propagandists were still pushing the idea that Russia would soon be reborn as a mighty superpower taking control of huge swathes of Ukraine. At that time, the war was still a distant reality for many Russians—unlike now, when even residents in St. Petersburg and Moscow are on edge over drone attacks and even, in some cases, bomb-toting "Ukrainian pigeons." […]"
Russia attacks civilian infrastructure in cyberspace just as it does on ground – watchdog, Ukrinform reports. "The Government Cyber Emergency Response Team, CERT-UA, monitors the activities of more than 80 hacker groups, most of which are those from the Russian Federation, while 90% of their members are Russian military operatives. That's according to Volodymyr Kondrashov, the spokesman for the State Service of Special Communications and Information Protection. […] We see that Russia uses the same tactics in cyberspace as it does on the conventional battlefield, that is, it tries to attack civilian infrastructure, he said.
Kondrashov noted that in the first four months of 2023, in manual mode alone, the CERT-UA team repelled and processed 700 cyber incidents, a third of which were attacks on government bodies. He noted that in April, 151 attacks and cyber incidents were processed, 54 of which were targeting authorities. This is 2.5 times more than attacks on the security and defense forces sector.
Also, the spokesman said that in April, the systems automatically blocked 24 million cyberattacks, of which 23 million were about scanning.
Kondrashov emphasized that, despite a certain decrease in the number of attacks in certain sectors, the systematicity, complexity, and intensity of these attacks remain very high, and that the main target is civilian infrastructure, businesses, authorities, and citizens. He also emphasized that in most cases, the culprits fail to achieve their strategic goals.[…]
At the same time, Kondrashov added, Ukraine's stability is also ensured by international partnership. In a global world, it is impossible to be protected on your own. You can only be protected collectively. And building a common collective cyberspace of a protected world is our main task, and we cooperate with all civilized countries, including the USA, Great Britain, and EU member states, to establish cooperation, official explained."
Consequences and what to do?
The long-awaited Ukrainian counter-offensive has a tricky aspect linked to its timing and dynamic, Anton Shekhovtsov, Director at The Centre for Democratic Integrity argues. "The best scenario for Ukraine is to demonstrate a good dynamic of the counter-offensive – whenever it starts – during the NATO Vilnius summit taking place on 11-12 July 2023. Let me explain why.
Despite Western assurances of supporting Ukraine "as long as it takes", concerns about the duration of the war are growing in some Western states (most importantly, in the US, France and Germany). The pressure on Ukraine to negotiate with the Russians is also there. There is no doubt that Ukraine's Western allies want Ukraine to have the best negotiating position, hence the armaments and other forms of support. Concurrently though, particular Western circles want the war to end as soon as possible. That does not imply "business as usual" with Russia – there is no going back to the past relationships – but there is no appetite for war footing. If Ukraine's counter-offensive is stuck and the impasse is evident during the Vilnius summit, the pressure on Ukraine will expectedly reach its maximum.
But here is a paradox: if the Ukrainian counter-offensive is more or less successful in Western eyes, yet not fully successful in the Ukrainian perspective, and ends before the summit, then the pressure on Ukraine to start negotiations with the Russians may be strong too. The idea underpinning the pressure: "you are now in a better negotiating position compared to spring 2022, so do it".
The way-out of this catch-22 is exactly what I said above: a positive dynamic of the counter-offensive at the very time of the summit. In this case, the pressure on Ukraine will be minimal although it will be there anyway. This is why Ukrainian diplomats still need to elaborate new and strengthen existing narratives on the need of continuous further military support of Ukraine."
Russian opposition signs declaration in Berlin to end Ukraine war, eliminate Putin regime

"War agst Ukraine is criminal," "Putin's regime is illegitimate& criminal" says the declaration initiated by exiled politician Khodorkovsky. Navalny team didn't signhttps://t.co/Ae9PdyQjcg pic.twitter.com/hp3ggksIeW

— Euromaidan Press (@EuromaidanPress) May 2, 2023
Russian political opposition sign declaration in Europe against Putin's regime and war in Ukraine, Ukrainska Pravda reports, citing Mikhail Khodorskovsky on Facebook and Deutsche Welle. "Russian opposition figures and activists who left the Russian Federation adopted a new joint statement. On the evening of 30 April, 68 representatives of the opposition publicly signed a declaration in which they declared their commitment to fundamental positions, the first of which is the criminal nature of the Russian war against Ukraine.
Russian troops should be withdrawn from all occupied territories. Russia's internationally recognized borders must be restored, war criminals brought to justice, and victims of aggression must be compensated. In addition, the declaration recognised the regime of Russian President Vladimir Putin as "illegitimate and criminal", and stated that for this reason it "must be eliminated".
The activists further pointed out the inadmissibility of "imperial policy at home and abroad". In addition, they demand the release of political prisoners and prisoners of war, the return of forcibly displaced persons and abducted Ukrainian children.
The declaration states that its signatories refrain from public conflicts in democratic and anti-war movements. Activists called on Russians to join their declaration and pledged to support it until the achievement of these strategic goals.
Among the signatories of the document are politicians in exile Mikhail Khodorkovsky, Dmitry Gudkov, Ilya Ponomarev and Leonid Gozman, political scientists Kirill Rogov and Ivan Preobrazhensky, entrepreneurs Evgeny Chichvarkin and Boris Zimin, economists Sergey Guriev and Andrei Illarionov, lawyers Mark Feigin and Elena Lukyanova, gallery owner Marat Gelman, activists Evgenia Chirikova and Anastasia Shevchenko, as well as representatives of Russian anti-war movements in different countries. The meeting of opposition activists took place at the initiative of Khodorkovsky and several other political opposition figures living outside the Russian Federation."
Hans Petter Midttun: There are no indication of Russia giving up its plans to occupy Ukraine, integrate its territory into the Russian Federation and destroy the Ukrainian nation. The genocide – including the forced relocation of Ukrainians and the murder and torture of its patriots – are already ongoing in the occupied territories.
It is crucial to acknowledge Russia's ongoing attempt to eradicate the Ukrainian nation.
When politicians, officers, experts and analysts discuss the need for negotiations and argue in favour of freezing the "conflict", they forget that Ukraine is presently divided into three zones: (1) the regions where genocide is ongoing (occupied territories), (2) the "killing zone" where Ukrainian soldiers are dying or being maimed for life while defending Ukraine, and (3) the region at high risk of genocide (government-controlled Ukraine).
Freezing the frontline will change none of the above. While a temporary ceasefire – temporarily because history has shown that Russia will turn it into a low-intensity war until the point when it launches the next full-scale invasion – will temporarily reduce the number of Ukrainian casualties, it will not fundamentally change Ukraine's strategic situation.
On the contrary, negotiations, before all of Ukraine is liberated, will condemn the Ukrainians on occupied territories to eternal oppression. Today, Ukraine's fight for its right to exist is a message of hope.
Bakhmut and Maryinka remain at the epicentre of hostilities as Russian forces are struggling to maintain their pace of offensive operations in Bakhmut. The Wagner Group are struggling to advance, presently achieving 200-250 meters a day. Ukrainian forces are at times able to launch counterattacks and recapture positions.
More importantly, the situation along the whole frontline shows similar tendencies. The situation along the front line has become static, with the parties gaining no control over significant new territories.
It is a sign of Russia – which has lost around 100,000 KIA or WIA in Ukraine only since January 2023 and is running out of modern main battle tanks, armoured vehicles, artillery pieces, cruise missiles and ammunition – is slowly losing the initiative.
Ukraine is expected to change the dynamic on the battlefield in the months to come. In some regard, the Ukrainian Armed Forces (including that of the Ministry of Interior) have never been stronger as the inflow of Western weapons and military equipment peaks. In other aspects, it has never been more vulnerable. More of that later.
In anticipation of the forthcoming Ukrainian counteroffensive, Russia is increasingly focusing its efforts on defence. According to UK Defence intelligence, Russia has "constructed some of the most extensive systems of military defensive works seen anywhere in the world for many decades. […] The defences highlight Russian leaders' deep concern that Ukraine could achieve a major breakthrough." The network – 2-3 trenches deep at a distance of between 5 and 20 kilometres behind the front line – runs along the 1,200 km long frontline. Russia has built trenches in the northern part of occupied Crimea, It has even dug hundreds of miles of trenches well inside internationally recognised Russian territory including in the Belgorod and Kursk regions.
Russia has deployed most of the available manoeuvre elements as well as all surviving Airborne forces to Ukraine. It has reduced the number of assaults to preserve personnel in expectation of the Ukrainian offensive. This is reflected in the reported number of casualties and military equipment lost during April.
The statistic is showing a clear reduction of Russians killed in actions, as well as the destruction of main battle tanks, armoured vehicles, combat aircraft and helicopters.
Heavy equipment is being kept out of harm's way, denying assault troops crucial support. Russia's new T-14 Armata battle tanks have just recently been deployed into theatre but they have not yet participated in direct assault operations.
Russian Su-30SM, Su-35, Su-34, and Su-25 have not operated over Ukrainian-controlled areas since last spring. Its newest combat aircraft (Su-57 and Su-75) has yet to be utilized against Ukrainian forces.
The statistics and reports, however, reveal another piece of the puzzle. Ukraine is actively hunting Russian artillery and destroying its logistical hubs and command and control nodes in preparation for the forthcoming assault(s).
As previously stated, the Ukrainian Armed Forces (including that of the Ministry of Interior) has in some respect never been stronger. In other aspects, it has never been more vulnerable.
As Ukraine is preparing for the inevitable counteroffensive, its stockpiles of air defence ammunition are running low. Russia has succeeded in destroying some of its Soviet legacy air defence systems. The inflow of Western air defence systems is slower – and lower in numbers – than any other defence systems provided to Ukraine. It is a capability the West is lacking as well. Additionally, Ukraine is still effectively denied the opportunity to rebuild its Air Force based on high-quality Western combat planes.
As previously stressed, without a Ukrainian successful counteroffensive, Ukraine will remain divided into three zones: (1) the regions where genocide is ongoing (occupied territories), (2) the "killing zone" where Ukrainian soldiers are dying or being maimed for life while defending Ukraine, and (3) the region at high risk of future genocide (government-controlled Ukraine).
There is a fourth zone: The rest of Europe that is presently being defended by Ukraine. It risks are increasing by the day as the West denies Ukraine all the tools needed to succeed.
Tags: Russian invasion