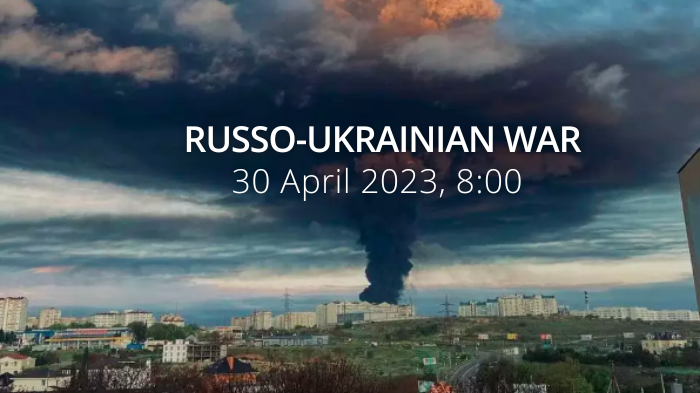 Ukrainian drones taking out a fuel deport in occupied Sevastopol were laying the ground for Ukraine's impending offensive, officials say. Prigozhin threatens to withdraw Wagner from Bakhmut if the Russian military fails to provide more ammunition to the PMC. Slovakian and Czech presidents continue journey inside Ukraine.
Daily overview — Summary report, April 30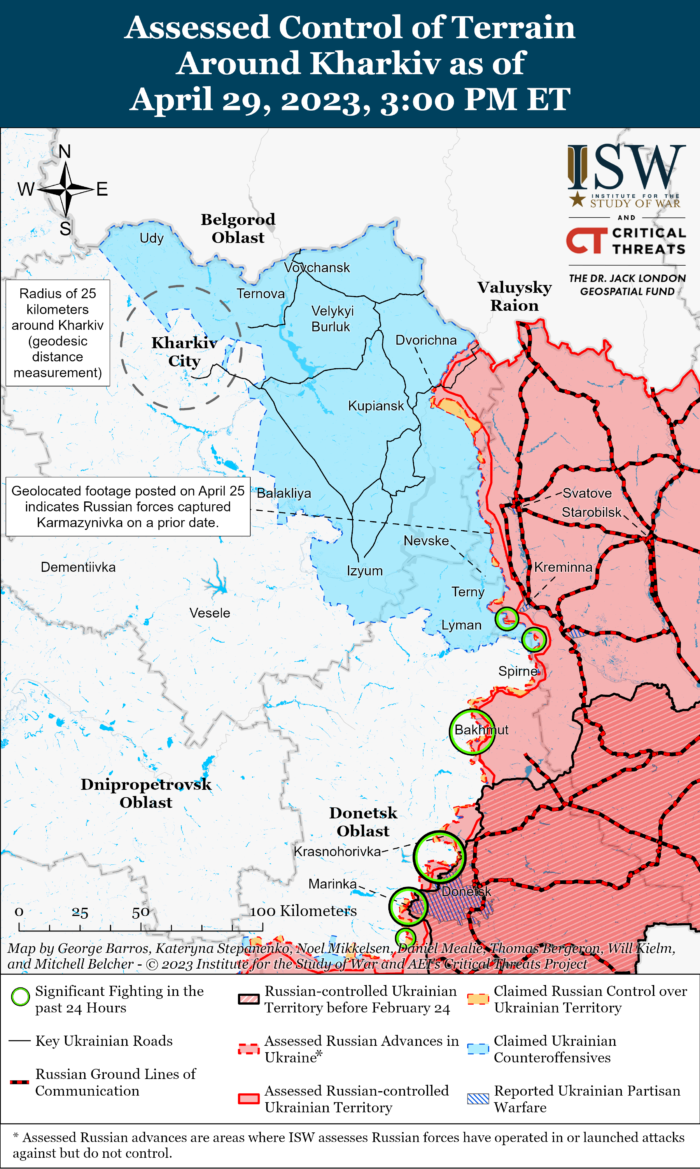 The General Staff's operational update regarding the Russian invasion as of 18.00 pm, April 30, 2023 is in the dropdown menu below:
Situation update as of 6 a.m., April 30, 2023
During the day of April 29, the adversary launched 7x missile and 39x air strikes, 50x MLRS attacks. The attacks have killed and wounded civilians, destroyed and damaged private residential buildings and other civilian infrastructure.
The likelihood of further missile and air strikes across Ukraine remains quite high.
The enemy continues to focus its main efforts on the offensive operations on Lyman, Bakhmut, Avdiivka, and Mar'inka axes. 58x enemy attacks were repelled during the day of April 29. Bakhmut and Mar'inka are at the epicenter of the fighting.
Volyn and Polissya axes: no major changes in the operational situation. No signs of the formation of enemy offensive groups were found.
Sivershchyna and Slobozhanshchyna axes: the enemy launched air strikes on Halahanivka and Leonivka. The settlements of Khrinivka, Zarichchya, Yeline, Tymonovychi, Leonivka, Krasnyi Khutir (Chernihiv oblast), Ukrainske, Seredyna-Buda, Stukalivka, Iskryskivshchyna, Shpyl', Volfyne, Yunakivka, Mohrytsya (Sumy oblast), Chervona Zorya, Hoptivka, Krasne, Ternova, Vovchans'k, Vovchans'ki Khutory, and Nesterne (Kharkiv oblast) were shelled with mortars and artillery.
Kup'yans'k axis: the enemy did not conduct any offensive operations, actively using UAVs to spot for artillery fire. The invaders fired artillery and mortars at Stroivka, Kam'yanka, Topoli, Fyholivka, Novomlyns'k, Dvorichna, Zapadne, Lyman Pershyi, Kyslivka, Berestove (Kharkiv oblast), and Novoselivs'ke (Luhansk oblast).
Lyman axis: the adversary conducted unsuccessful offensives towards Bilohorivka. Nevs'ke (Luhansk oblast), Novosadove, Tors'ke, Bilohorivka, Verkhn'okam'yans'ke, and Rozdolivka (Donetsk) came under artillery fire.
Bakhmut axis: the enemy continues its offensive operations. Battles in the city of Bakhmut continue. In addition, the adversary conducted unsuccessful offensives towards the settlements of Ivanivske and Predtechyne. Vasyukivka, Orikhovo-Vasylivka, Novomarkove, Hryhorivka, Bakhmut, Chasiv Yar, Ivanivske, Kostyantynivka, Bila Hora, Oleksandro-Shul'tyne, Dyliivka, Pivnichne, Toretsk, Shumy, Pivdenne, and New York (Donetsk oblast) suffered from enemy shelling.
Avdiivka axis: the adversary conducted offensive operations in the vicinity of settlements of Avdiivka and Pervomais'ke (Donetsk oblast), to no success. The invaders shelled Novokalynove, Avdiivka, Karlivka, Vodyane, and Pervomais'ke.
Mar'inka axis: Ukrainian defenders repelled adversary attacks in the vicinities of Mar'inka and Novomykhailivka. In addition, Krasnohorivka, Pobjeda, and Paraskoviivka came under enemy fire.
Shakhtars'ke axis: the enemy did not conduct any offensive operations during the day of April 29. The invaders shelled Bohoyavlenka, Vuhledar, Novoukrainka, Prechystivka, Shakhtars'ke, and Velyka Novosilka (Donetsk oblast).
Zaporizhzhia and Kherson axes: the adversary stays on the defensive. The invaders shelled numerous settlements, including Vremivka, Novosilka, Novopil', Zelene Pole (Donetsk oblast), Ol'hivs'ke, Hulyaipole, Bilohir'ya, Mala Tokmachka, Novodanylivka, Novoandriivka, Kam'yans'ke (Zaporizhzhia oblast), Havrylivka, Zmiivka, Beryslav, Kozats'ke, Ivanivka, Zymivnyk, Bilozerka, Dniprovs'ke, Kizomys (Kherson oblast), and Kherson.
It is unsafe in the temporarily occupied Sevastopol. The large-scale fire that broke out at an oil depot near Kozacha bay on April 29 destroyed 10x oil products tanks with a total capacity of about 40,000 tons. Because of that, panic rumors spread through the city about the inability of russian air defense to secure its own strategic facilities. In turn, apprehending the beginning of the so-called "hot holiday season" in the temporarily occupied Crimea, russian servicemen started to apply for vacations specifying the desired locations in mainland russia.
It is noteworthy that this oil depot provided fuel to the ships of the russian Black Sea Fleet, which launched missile strikes on cities of Ukraine. Civilians and civilian infrastructure were the targets of the russian terrorists. At the same time, according to the available information, there have been no casualties as a result of the fire at the oil depot.
During the day of April 29, the Ukrainian Air Force launched 3x air strikes on the concentrations of occupant troops. Also, Ukrainian defenders intercepted 2x Shahed UAVs, 1x Orlan-10 reconnaissance UAV, and 1x more unidentified UAV of the enemy.
Ukrainian missile and artillery troops hit 1x concentrations of enemy troops, 2x fuel and lubricant depots, 2x air defense assets, 1x artillery unit, and 1x other important target of the adversary.
Military Updates
Fuel depot on fire in occupied Sevastopol after alleged drone attack Early on 29 April, a fire broke out at a Russian-controlled fuel depot in Sevastopol's Cossack Bay in occupied Crimea.Russian-installed "Sevastopol governor" Mikhail Razvozzhayev claims that a drone attack set fire to a fuel storage tank.
Frontline update: Ukraine continues to destabilize Crimea with drone attacks on Russian targets Ukrainian forces used cheap Chinese drones to destroy a major oil depot near the Russian Black Sea Fleet's base in Sevastopol, causing a huge fire. However, this is only the beginning. Another fire broke out in the only Russian factory in Perm that produces multiple-launch rocket systems. Around 40 people and ten fire trucks were involved in putting out the fire. The fire started because something happened to the substation, and as a result, the factory became temporarily inoperable, which exacerbated the strain on the artillery.
 After explosions shake occupied Crimea, blasts reported in Russia's Kursk Oblast Russian soldiers in Kursk Oblast have reported witnessing explosions that they believe were caused by a missile or drone attack.
Fire breaks out at Russia's Nizhny Novgorod industrial zone The blaze occurred after three fuel vehicles caught fire at a parking lot, as per the press service of the regional department of the Russian Ministry of Emergency Situations.
Russians far from capturing lifeline route to Bakhmut – Ukrainian army spox 
"For several weeks now, the Russians have been talking about seizing the 'road of life' and maintaining constant fire control over it. In reality, everything is different. Yes, it is really difficult there, because their attempts to seize the road continue, as well as attempts to establish fire control," said Cherevatyi. "However, thanks to the Special Operations Forces and artillerymen, the Defense Forces do not allow the Russians to 'cut off' our logistics."
The spokesman said that engineers and logistics specialists are also working to pave new routes. All these efforts allow Ukraine to deliver weapons, medicines, food, and ammunition to Bakhmut, and evacuate the wounded from the embattled city.
Frontline update: Russia escalates airstrikes on Bakhmut, Ukrainians respond effectively Ukrainian forces repel Russian airstrikes and conduct successful strikes of their own in Donetsk Oblast in the area of Bakhmut while also taking measures to destroy possible key Russian positions.
According to British Defence Intelligence, (last 48 hours): 
Russian commanders taking increasingly draconian measures to enforce discipline – UK intel In its latest intelligence update on the situation in Ukraine, the British Defense Ministry says that Russian commanders have reportedly resorted to using makeshift ground-hole cells called "Zindans" to detain troops for disciplinary infractions, including drunkenness and attempts to terminate their contracts. Since last fall, "there have been multiple increasingly draconian initiatives to improve discipline in the force," the Ministry wrote.
Losses of the Russian army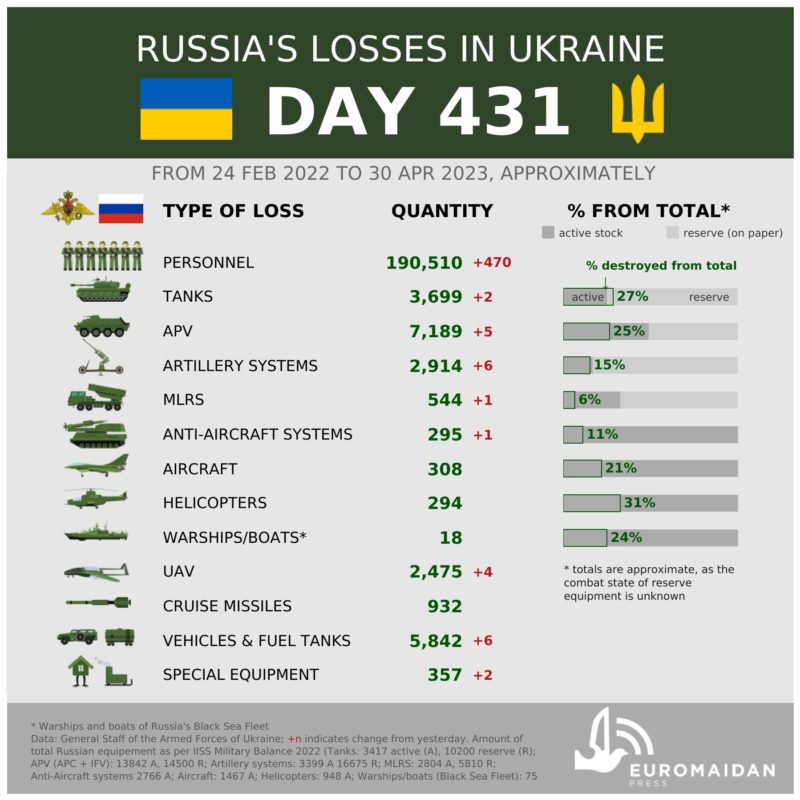 Humanitarian 
Russian artillery, mortar attacks kill one Ukrainian civilian overnight in Chernihiv, Sumy oblasts On the night of 28-29 April, Russian troops launched 11 attacks on Chernihiv, Sumy oblasts that border with the territory of Russia.
Legal 
Moscow pledges "harsh" response after Poland shuts down Russian embassy school in Warsaw On 28 April, Moscow said it would respond harshly and warned about consequences for Poland's interests in Russia after Polish authorities shut down a high school for the children of diplomats in Warsaw. According to the Polish Foreign Ministry spokesman, Łukasz Jasina, the building housing the embassy school belonged to the Polish state, as per Reuters. However, Moscow has denounced the move calling it a "hostile" act that violates the Vienna Convention on Diplomatic Relations and encroaches against Russian diplomatic property in Poland, according to Politico.
Ban on Ukraine grain imports to EU countries unacceptable – Ukraine MFA On 28 April, the Embassy of the Republic of Poland in Ukraine and the EU Delegation to Ukraine received the Ukrainian Foreign Ministry's notes on the categorical unacceptability of the situation regarding trade restrictions on imports of Ukrainian agricultural products. Ukrainian Foreign Ministry spokesman Oleh Nikolenko stated this in a Facebook post dated 29 April.
"Such restrictions, whatever their reasons, do not comply with the EU-Ukraine Association Agreement and the principles and norms of the EU Single Market," Nikolenko wrote.
Support
Lithuania sends Land Rover off-road vehicles to Ukraine On 29 April, Lithuanian Defense Minister Arvydas Anušauskas said Lithuania sent six Land Rover off-road vehicles and military food rations to the Ukrainian Army.
Two more countries ready to support Ukraine's NATO accession – FM Kuleba Following diplomatic meetings of foreign ministers of the Nordic and Baltic countries in Odesa on April 28, two more countries decided to support Ukraine's accession to the North Atlantic Alliance (NATO). Ukrainian Foreign Minister Dmytro Kuleba said this on the air of the nationwide telethon, not naming the countries, according to Ukrinform.
Czech President Petr Pavel visits Ukrainian children in shelter for displaced persons in Dnipro On 28 April, during the first international working trip of his presidency, the leader of the Czech Republic, Petr Pavel, visited Dnipro city in Ukraine to meet internally displaced persons. Earlier, Petr Pavel had announced that the Czech Republic would open a consulate in Dnipro to assist Ukraine in overcoming the consequences of the war, as per Ukrainska Pravda. The president also stated that the country had prepared reconstruction projects for Ukraine's healthcare, energy, and communal services sectors.
https://twitter.com/EuromaidanPress/status/1652062884745101314
Meanwhile, Slovakian President Zuzana Caputova visited the infamous basement of a school in the village of Yahidne in Chernihiv Oblast, where Russian occupation forces held several hundred people for almost a month. The Slovakian and Czech presidents arrived in Ukraine on 28 April.
Words can't describe the horrors of #Russia's occupation in Yahidne: 367 people were kept in school basement & 11 died. Crimes against humanity are a deliberate decision to sow fear & suffering. We must help bring justice & accountability for all war crimes committed in #Ukraine. pic.twitter.com/N44hBj8HKL

— Zuzana Čaputová (@ZuzanaCaputova) April 29, 2023
New Developments
Russians used recently manufactured missiles in Apr 28 attack on Ukraine – Air force spox According to Yurii Ihnat, a spokesperson for the Ukrainian Air Force, Russia can still produce certain types of missiles, despite depleting its reserves. He said the remnants of the missiles used in recent attacks on Ukraine were found to bear fresh markings indicating they were manufactured recently, namely last fall and winter.
Ukraine signs three new contracts with Baykar, manufacturer of Bayraktar drones – Minister On 29 April, Ukraine signed three new contracts with Baykar, a Turkish drone manufacturer, at the Teknofest 2023 international aviation technology exhibition in Istanbul, according to Ukrainian Minister of Strategic Industries Oleh Kamyshev.
Assessment 
The Institute for the Study of War has made the following assessment as of  April 29, 2022:
Wagner Group financier Yevgeny Prigozhin threatened to withdraw Wagner forces from Bakhmut if the Russian military command fails to provide more ammunition to the Wagner mercenaries. Prigozhin stated in an interview with a Kremlin-affiliated milblogger on April 29 that the Wagner mercenaries will continue to fight in Bakhmut but will need to "withdraw in an organized manner or stay and die" if the situation does immediately not improve.[1] Prigozhin stated that Wagner needs about 80,000 shells per day — its previous shell allowance prior to apparent Russian Ministry of Defense (MoD) efforts to reduce Wagner's influence. Prigozhin added that Wagner is only receiving 800 of the 4,000 shells per day that it is currently requesting. Prigozhin claimed that Wagner and Deputy Commander of Russian Forces in Ukraine Army General Sergei Surovikin developed a plan to "grind" the Ukrainian forces in Bakhmut that deprived Ukraine of its initiative on the battlefield. Prigozhin's mention of Surovikin is likely an attempt to publicly affiliate with Surovikin as Russian President Vladimir Putin's favor is shifting away from Chief of the Russian General Staff Army General Valery Gerasimov's network.[2] Prigozhin is likely attempting to regain access to more ammunition as Putin is once again reshuffling the Russian military leadership in a way that may favor Prigozhin.
Prigozhin also continued his efforts to convince the Kremlin to go over to the defensive in eastern Ukraine. Prigozhin claimed that the Ukrainian counteroffensive could take place before May 15 but that the Russian military is not rushing to prepare to repel attacks.Prigozhin's threat to withdraw from Bakhmut may also indicate that Prigozhin fears that the Russian positions in Bakhmut's rear are vulnerable to counterattacks.
Prigozhin offered a position as First Deputy Commander of Wagner forces to former Russian Deputy Defense Minister for Logistics Colonel General Mikhail Mizintsev, who was reportedly dismissed from his position on April 27. Prigozhin claimed on April 29 that the Wagner commanders' council decided to offer Mizintsev a position as deputy commander under Wagner commander Dmitry Utkin. Prigozhin also stated in the interview that Mizintsev was operating on the frontlines and was fired for his intractability. Russian milbloggers previously claimed that Mizintsev's dismissal could have resulted from the Russian Northern Fleet's lack of supplies revealed by Wagner-affiliated Commander of the Russian Airborne Forces Mikhail Teplinsky's readiness checks. Mizintsev's affiliation with Wagner is unclear at this time. It is possible that his firing was an attempt to improve military supplies to the forces within or affiliated with Teplinsky's command — such as Wagner forces. Prigozhin has previously mockingly offered command positions to figures he dislikes, such as former Russian officer Igor Girkin, and Prigozhin's offer may have been an attempt to humiliate Mizintsev. Unconfirmed Russian sources claimed that Teplinsky assumed the position of deputy commander of the Russian forces in Ukraine, and Mizintsev's dismissal, if it occurred, suggests that Teplinsky has sway with Putin that allows him to shape decisions about command changes.
Key Takeaways
Wagner Group financier Yevgeny Prigozhin threatened to withdraw Wagner forces from Bakhmut if the Russian military command fails to provide more ammunition to Wagner mercenaries.
Prigozhin also continued his efforts to convince the Kremlin to go over to the defensive in eastern Ukraine.
Prigozhin offered the position of First Deputy Commander of Wagner forces, possibly sarcastically, to former Russian Deputy Defense Minister for Logistics Colonel General Mikhail Mizintsev who was reportedly dismissed from his position on April 27.
Ukrainian forces attacked an oil storage facility in Sevastopol reportedly with a wave of Mugin-5 UAVs on April 29.
Russian forces conducted limited ground attacks on the Svatove-Kreminna line.
Russian forces made limited gains in Bakhmut and continued ground attacks along the Avdiivka-Donetsk City line.
The Russian Ministry of Defense (MoD) claimed that Russian forces conducted a sea-based missile strike against the command post of the Ukrainian Kherson Group of Forces. Ukrainian officials have so far not confirmed this claim.
The Russian MoD continues to pursue measures to expedite the conscription process and increase the difficulty of evading summonses.
Russian occupation authorities and border area officials have expanded security measures and filtration efforts likely in anticipation of increased Ukrainian partisan activity in support of a potential Ukrainian counteroffensive.
Tags: Russian invasion