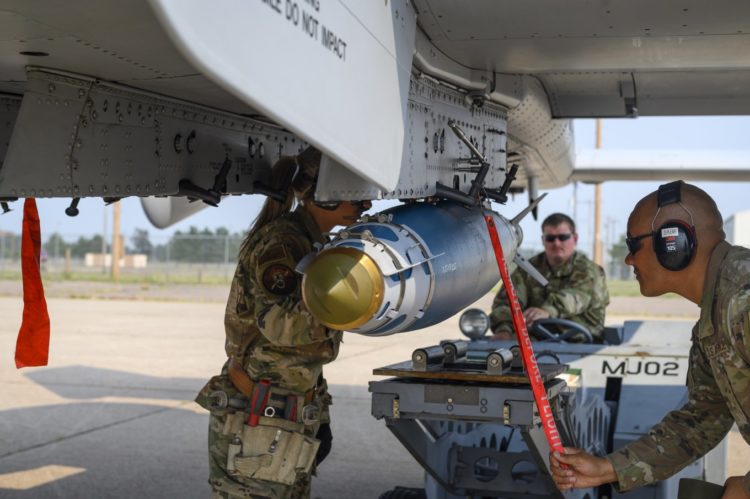 JDAM, illustrative photo from open sources/ Source: Defense Express 
Ukraine has already successfully used US-made Joint Direct Attack Munition-Extended Range precision-guided bombs, or JDAM-ER winged bombs, to attack Russian forces on the occupied territories of Ukraine, according to James Hecker, the US Air Force General, Head of the US Air Forces in Europe, as well as NATO's Allied Air Command and US Air Forces Africa.
JDAM-ER winged bombs are the modified longer-range version of JDAM smart bombs. JDAM-ER can hit targets up to 72 kilometers away.
Standard JDAM kits are designed to be mated with 80-series dumb bombs, according to the Drive. These bombs have pop-out wing kits, which transform them into precision-guided weapons.
"Recently, we've just gotten some precision munitions to Ukraine that had some extended range and go a little bit further than the gravity drop bomb and have precision guidance," Hecker said at a media roundtable taking place on the sidelines of the 2023 Air and Space Forces Association's Warfare Symposium, which opened on 6 March 6 in Aurora, Colorado, USA. "That's a recent capability that we were able to give them probably in the last three weeks. They [Ukraine] have enough to do a couple of strikes," Hecker added.
JDAM-ER bombs can pose a grave threat to the Russian forces in Ukraine, according to the Drive. The exact configuration of the JDAM-ERs that Ukraine has allegedly received is unclear at this point. Furthermore, it is not clear yet what platforms Ukrainian forces may use to drop JDAM-ER bombs, which were initially designed to be launched by aircraft.
In January 2023, Bloomberg reported that the US government provided Ukraine with JDAM smart bombs.
"The Pentagon hasn't formally acknowledged it's sending the modified version of Boeing's Joint Direct Attack Munition, saying only it would send 'precision aerial munitions' as part of a $1.85 billion package announced December 21. But two people familiar with the matter confirmed the weapon is the Extended-Range Jdam, known as the Jdam-ER. They asked not to be identified because the detail hasn't been announced," Bloomberg wrote.
Related:
Tags: #USAarmUkraine, long-range weapons, military aid to Ukraine, Russian invasion of Ukraine