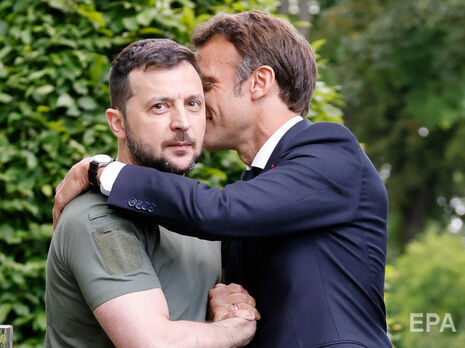 Zelenskyy looks uneasy while embracing Macron, on Macron's first visit to Ukraine since the Russian Invasion. Source: Gordonua 
Western countries may give Ukraine an ultimatum to persuade it to enter negotiations with Russia if there is no significant success for the Ukrainian forces on the battlefield by autumn, according to Bild.
President of France Emmanuel Macron and Chancellor of Germany Olaf Scholz made Ukraine's President Volodymyr Zelenskyy understand that the time may come for Ukraine to start considering negotiations with Russia in case of a stalemate on the battlefield in Ukraine, Bild reported.
Ukraine's formula for peace: Russia withdraws from Ukraine, returns POWs and deportees, pays reparations – Zelenskyy
If Ukraine's Armed Forces fail to push Russia out of the occupied territories in a successful counteroffensive, then peace talks with Russia's President Vladimir Putin might be the only realistic option, Marcron and Scholz may have told Zelenskyy, according to Bild. President Zelenskyy, however, does not accept that approach stressing that Vladimir Putin is not interested in peace.
Putin's war speech intends to buy more time and space for a protracted war — ISW
Putin has never explicitly stated that Russia was ready to negotiate directly with Ukraine, instead maintaining his narrative that Ukraine had violated Russia's pre-invasion diplomatic efforts.
Related: