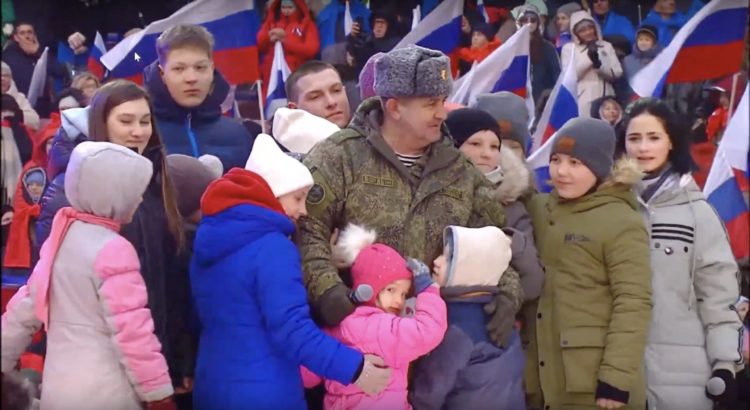 Russians exhibit Ukrainian children whose mother was killed in Mariupol at a propaganda concert in Moscow, Luzhniki Stadium, a screenshot from the broadcast/ Source: Ekspress Novosti Ukraine 
At a rally-concert supporting Russia's war against Ukraine, children from Mariupol whose mother was killed by Russian shelling were used in Russian propaganda, reports Ukrainska Pravda, citing Russian publication Vazhnye Istorii (Important Stories).
Yuriy Gagarin, a "volunteer" in the Russian army from Chelyabinsk with the callsign Angel, performed at a pro-war rally concert in Moscow on 22 February. He was presented as the savior of 367 Mariupol children. Some of the children thanked him from the stage.
Particularly, 15-year-old Anya Naumenko thanked from the stage "Uncle Yuri for saving me, my sister, and hundreds of thousands of other children from Mariupol."
Karolina, Anya's younger sister, stood on stage with her ears covered due to the loud noises.
According to the publication, Anya Naumenko and her sister are natives of Mariupol. Ten months ago, during the city's occupation, shrapnel killed the girls' mother.
The Naumenko family consists of Olha, her common-law husband Artur, and their children Anya, Karolina, and Danya. They all hid from the shelling at first in the Livoberezhnyi Cultural Centre and then in the Livoberezhnyi administration building.
According to eyewitnesses, Olha "ran out to get cigarettes." Shrapnel killed her near the 4th hospital in early April. She was buried on the grounds of the hospital.
A relative of Artur, the common-law husband of the children's deceased mother, told Vazhnye Istorii that Danylo remained with his grandmother. Meanwhile, Karolina remained with her biological father. Additionally, another guardian was appointed for Anya.
There is another boy, Kostya Vashchyshyn, who stood on stage wearing a black cap and grey jacket. Kostya, with his parents, also hid from the shelling in the same locations as the Naumenko family. First, they hid in the Livoberezhnyi Cultural Center and then in the Livoberezhnyi district administration.
Ihor and Khrystyna, aged 37, and their 10-year-old son Kostya survived. The photos on their Instagram accounts show that the parents are in Mariupol.
The publication also notes that at least three children brought to the stage in Luzhniki are transported from performance to performance with "Uncle Yura" and their mothers.
Read also:
"Re-education camps," age manipulation: activist on Russia's abduction of Ukrainian children
Four towers of Kremlin propaganda: Russia, Ukraine, South, West
Children are "freezing" in occupied Mariupol – adviser of mayor
Russia announced "adoption" of thousands of children deported from Mariupol