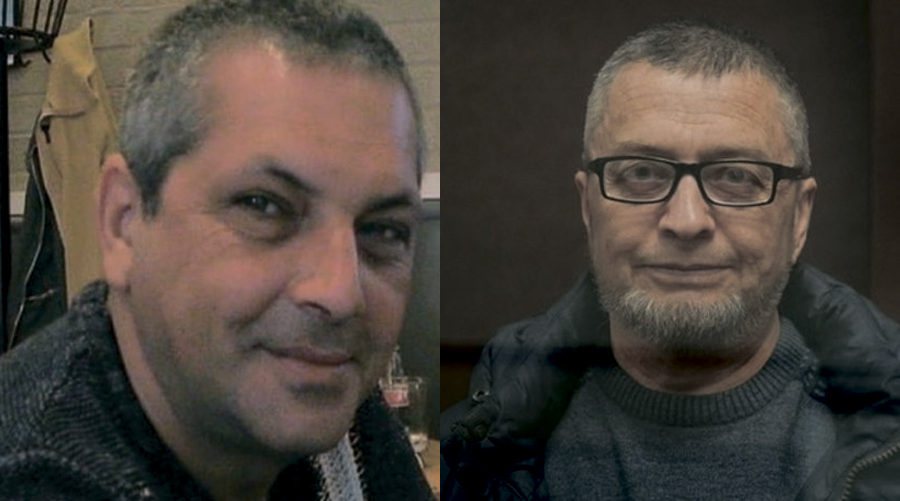 Crimean Tatar activists Konstantin Shyrinh (L) and Dzhemil Gafarov (R). Image by ZN.ua 
Ukrainian human rights organizations
called
on international institutions to introduce personal sanctions against those involved in the illegal imprisonment and death of two activists in Russian prisons, Kostiantyn Shyrinh and Dzhemil Gafarov, who opposed the illegal annexation of Crimea.
Kostiantyn Shyrinh and Dzhemil Gafarov received the longest sentences from Russian courts, which accused them of spying and terrorism with zero credible evidence. The political prisoners were gravely ill and needed regular medical help, but Russia rejected appeals to preclude their detention. Prison administration not only ignored their complaints but also took away their prescriptions and medical devices.
In February 2023, it became known that Shyrinh and Gafarov died in Russian detention facilities. Human rights organizations say Russia intentionally creates such unbearable conditions in its jails to eliminate dissenters and conceal its crimes against political prisoners.
Deliberate murder 
Kostiantyn Shyrinh died in a Russian prison colony three years after being seized in occupied Crimea and then sentenced to 12 years on involvement in "Ukrainian intelligence and sabotage group" charges.
The FSB detained the activist in 2019 and accused him of collecting information on weapons and data from a Russian base and sharing it with Ukraine's intelligence.
According to former ombudswoman Liudmila Denisova, Shyrinh suffered two myocardial infarctions and had several chronic diseases. Before being moved to colony No. 5 in Novotroitsk city, the activist was held in the Simferopol detention center.
"Due to poor-quality dental prosthetics, he feels unbearable pain and has to eat only liquid food. The administration of SIZO-1 (remand prison) in Simferopol, where Konstantin Shyrinh is detained, does not provide him vitally necessary medicines and assistance," the ombudswoman said, describing the conditions in the center. Shyrinh's lawyer added that Shyrinh was held in cold and damp cells.
The ombudswoman noted that the actions of the administration of the detention prison were a gross violation of Article 3 of the European Convention on Human Rights, which prohibits torture and degrading treatment, and Article 22 of The UN's Standard Minimum Rules for the Treatment of Prisoners.
After arriving at the colony in the Orenburg region, the administration took away all the medicines and even the tonometer from the activist. In addition, despite the urgent necessity, heart surgery was not performed.
The Crimean Human Rights Group, citing its sources, reported Shyrinh's death on 7 February. "Kostiantyn needed medical treatment for his heart problems but did not receive it. The responsibility for his death lies with the colony's administration," head of the group Olha Skrypnyk stated.
Fabricated "terrorism charges"
Another Crimean activist Dzhemil Gafarov, who died in February in a Russian prison in Novocherkassk, was sentenced on charges of participating in the Islamic group Hizb ut-Tahrir. The group is a political organization with the stated purpose of uniting the Muslim community in an Islamic Caliphate, recognized as a terrorist organization only in two countries globally — Russia and Uzbekistan.
Dzhemil Gafarov had a third group of a disability caused by heart and kidney illnesses and needed dialysis and blood cleansing on a regular basis. Nonetheless, the activist received the longest sentence – 13 years in prison. The staff of a pre-detention center refused er to provide him with medical assistance.
Ukrainian human rights organizations say that Russian prison personnel deliberately ignores complaints of Crimea Tatars political prisoners on detention conditions.
Bringing Russia to justice
Konstantin Shyrinh and Dzhemil Gafarov, as well as other activists who rejected cooperating with the occupation government of Crimea, were under the protection of The Geneva Convention relative to the Protection of Civilian Persons in Time of War, which Russia violated.
The European Court of Human Rights could become an institution to hold Russia accountable for its crimes against political prisoners. Depriving detainees of crucial medical care has been equated to torture in the case Ilascu and Others v Moldova and Russia (2004) when four detainees were held in a dire prison environment that deteriorated their health and in the Jasinskis v. Latvia (2010) case.
Back then, the Court ruled that by failing to medically examine the detainee prior to taking him into custody, the state breached the European Committee for the Prevention of Torture standards. Russian prison administrations and judges could be sentenced within the same law mechanism.
According to 16 human rights organizations, Russian prison staff, courts, and officials have also breached Article 8 of the Rome Statute of the International Criminal Court, the UN's International Covenant on Civil and Political Rights, prohibiting torture or inhuman treatment. They called on representatives of the Crimea Platform established by the country's leader Volodymyr Zelenskyy and international organizations to implement protection mechanisms for Ukrainian political prisoners in Russia and occupied territories, set out sanctions, and investigate the deaths of Shyrinh and Gafarov and bring Russia to justice.
The list of human rights organizations that appealed to the international community to impose restrictions on Russia: Crimean Human Rights Group, Krymsos, Human Rights Centre ZMINA, The Media Initiative Group for Human Rights, Center for Civil Liberties, Diya Human Rights Center, CCE "Almenada", Regional Center for Human Rights, Ukrainian Helsinki Human Rights Union, the Fund for Fundamental Research, Helsinki Foundation for Human Rights, Human Rights House Crimea, Association of Relatives of Political Prisoners of the Kremlin, Kharkiv Anticorruption Center, Platform For The Release Of Political Prisoners, and Instytut Myru I Porozuminnya.

Related: