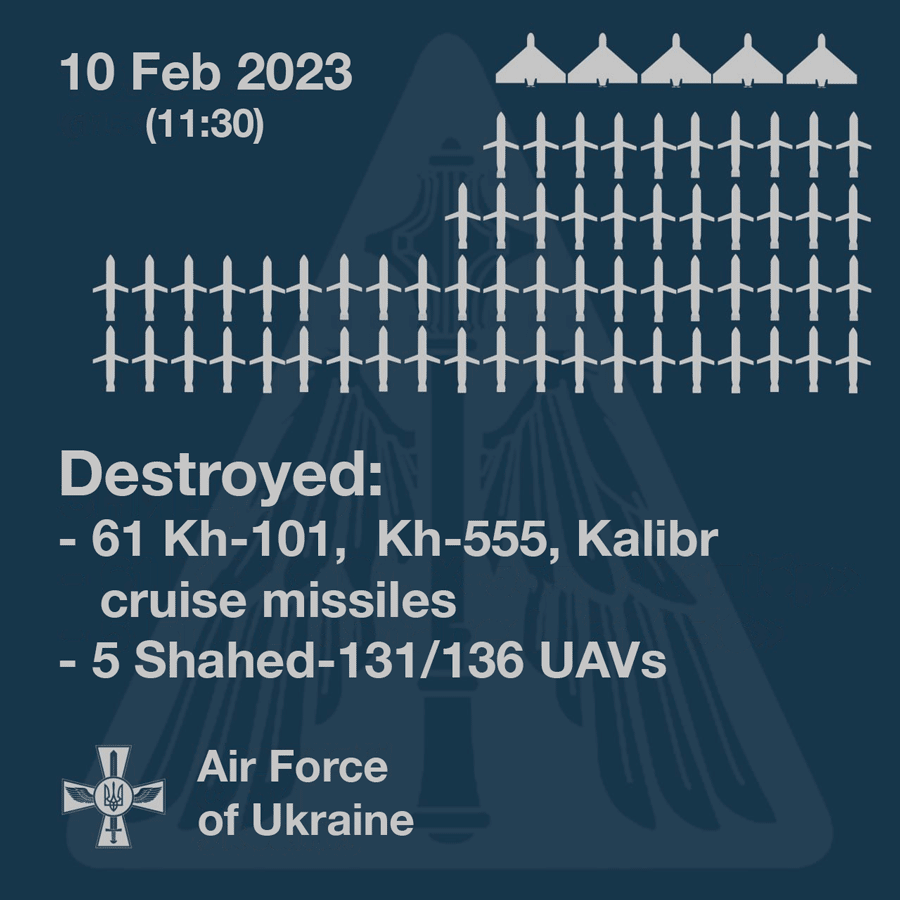 Ukraine's Air Force Command says that air defenses managed to shoot down 61 out of 71 Russian missiles launched during this morning's attack on the Ukrainian critical infrastructure.
Ukraine's energy infrastructure under attack for 14th time as air alert was announced all over Ukraine
The Commands report published on Facebook goes as follows:
"On 10 February, the enemy launched a massive missile attack on the critical infrastructure of Ukraine.

From the air, the enemy attacked with eight Tu-95MS strategic bombers, which launched Kh-101 and Kh-555 missiles from the Caspian Sea and Volgodonsk areas [in Russia]. From the ships in the Black Sea, with Kalibr-type sea-based cruise missiles.

As of 11:30, the enemy launched 71 Kh-101, Kh-555, and Kalibr cruise missiles, including the night launches.

The forces and means of air defense of the Air Force and other components of the Defense Forces of Ukraine destroyed 61 enemy cruise missiles, as well as 5 kamikaze drones Shahed-136/131, which was reported earlier"
As of 5:00 in the morning, the tally of the downed air targets included five Shahed-series drones, and five Kalibr cruise missiles, according to an earlier report by the Air Force Command.
Ukraine says two Russian missiles violated airspace of Moldova, Romania, Moldova confirms one, Romania denies violation (updated)
Also, earlier, Russia launched 35 missiles of the S-300 air defense complex in their secondary ground attack role:
Russia launched 35 S-300 missiles which cannot be destroyed by air defenses – Ukraine's Air Force
Tags: Kalibr, Kh-555, Russian missile attacks, Shahedd-136