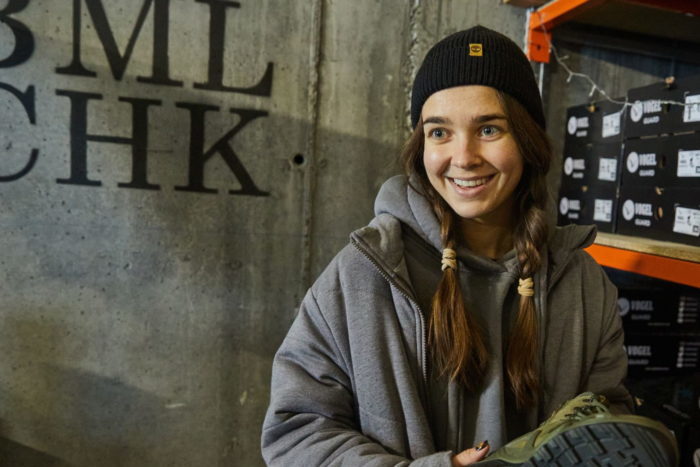 Head of Zemliachky Kseniia Drahaniuk. Image by Oleksandr Khomenko, Hromadske  
From military uniforms for pregnant soldiers to diapers and small-sized boots. Ukrainian volunteers supply women in the army with gear they need to defend their land against the Russian invasion.
The Russian war against Ukraine has altered many aspects of Ukrainian life, including the conventional roles of Ukrainian women in a relatively patriarchal Ukrainian society. Since February 2022, martial law has been in effect to protect Ukraine's sovereignty and territorial integrity. More than 59,000 women soldiers in Ukraine are combatting both gender stereotypes and the Russians on the front lines. The Zemliachky (women compatriots) volunteer group meets the increasing demand and has provided $1 million in aid to female frontline defenders lacking uniforms, boots, and hygiene products.
Even after the 2014 Russian annexation of Crimea, Ukrainian women were barred from serving in combat positions. The situation changed in 2018 after the implementation of a presidential decree that equalized the rights of men and women in the military.
As of today, military service for women in Ukraine is voluntary. Despite the fact that many potential frontline defenders have the right to leave the country, thousands of female conscripts volunteered to fight against Russian occupiers.
From lip balm to military uniforms and boots
The surge of women soldiers in Ukraine is a relatively recent phenomenon, so the Ukrainian military was not prepared to provide the necessary supplies to female fighters. The fighters regularly wore oversized or small-sized male uniforms. After noticing military supply gaps, Ukrainian journalist Kseniia Drahaniuk founded a nonprofit organization that would deliver care packages to women filled with fitted uniforms, thermal underwear, and other gear to women.
Kseniia developed the idea to help female defenders after Anastasia Mokhina, her husband Andrii's sister, asked her to send her lip balm, hand cream, and underwear to the frontline. Anastasia joined the military wearing summer sneakers. Her hands were in pain and cracked in the cold weather. Ksenia sent the necessary items to Mokhina and other female fighters.
To better understand the needs of the female military, Kseniia spent hours interviewing women soldiers in Ukraine. She has published hundreds of stories on Zemliachky's accounts to raise funds to equip soldiers. Although Drahaniuk and her husband funded the initial orders themselves, word quickly spread about the association. Currently, Zemliachky receives substantial donations, sometimes exceeding $2700.
Women can get free gear in a Kyiv showroom stocked with thermal underwear, bulletproof plates, medicine, boots, and combat uniforms. Zemliachky also provides additional equipment, such as sleeping bags large enough to fit wounded soldiers. Female warriors cannot conceal their gratitude when they receive aid kits, especially uniforms that are the right size. The organization's primary goal is to standardize the supply of suitable uniforms during the war. Several initiatives that join forces with Zemlyachky assist the association in raising funds through online marathons, special events, and auctions.
Making military fatigues for pregnant women
Zemliachky's volunteers also design military clothing for women based on different body types and needs.
Kseniia recalled a recent visit to the showroom of a paramedic searching for a uniform with short sleeves. She said her hands were frequently covered in blood during rescue operations.
"But does she have time for this when her top priority is saving the military?" questioned Drahaniuk.
The paramedic was offered a small-sized pea coat with hook-and-loop fasteners on the sleeves and pants that could be tucked into army boots to prevent them from getting wet.
The association ordered 1,000 small-sized unisex uniforms from Türkiye in 2022, but since then, a Kharkiv factory has designed and produced 300 kits.
Female soldiers frequently message Ksenia to request uniforms and include dimension details. Then, a volunteer selects suitable clothing for them from a stock of 16 sizes of female uniforms with heights ranging from 150 to 180 centimeters.
Even pregnant Ukrainian fighters demonstrate their effectiveness on the front lines.
"Once, a pregnant sniper Eugenia Emerald ('Ukrainian Joan of Arch,' the symbol of Ukraine's resistance) addressed me in a video, saying, "Ksyu, look, my pants don't fit me anymore." Then, I suggested that we make her a maternity uniform. For designers, it presents no difficulties. She had comfortable suspender-equipped pants in a week. After publishing the uniform on our account, we received a flood of requests from other pregnant women who comprise a sizable portion of the Ukrainian army."
Ukrainian female defenders are too busy destroying Russian forces to use the restroom
For this reason, Zemliachky provides portable devices and diapers to women soldiers in Ukraine who frequently serve as snipers and cannot leave their combat positions or even move during intense battles and other military operations.
Since the association's inception, volunteers have added a special box containing 35 hygiene products, including hand and face creams, shower gels, deodorants, pads, and hair ties. As of December 2022, Zemliachky had sent 3,000 items to female warriors. Apart from sewing uniforms and delivering cosmetics sets, the group also attends to individual needs, such as sapper shovels, according to Kseniia.
Dismantling stereotypes
Every day, Ksenia and her team witness strong and courageous women fighting alongside men against Russian forces.
"Ukrainian Ministry of Defense advisor who recently visited us said that she could easily purchase the necessary military items from US army stores. She definitely would not find something like that here. It is not profitable for retailers to stock small sizes because there are significantly fewer women in the military," Kseniia said.
According to the group, the war demonstrated that stereotypes about women's inability to fight must be forever eradicated.
"Gender doesn't matter when it comes to defending your country," Drahaniuk concluded.
Read more:
Tags: Ukrainian military, women, women soldiers