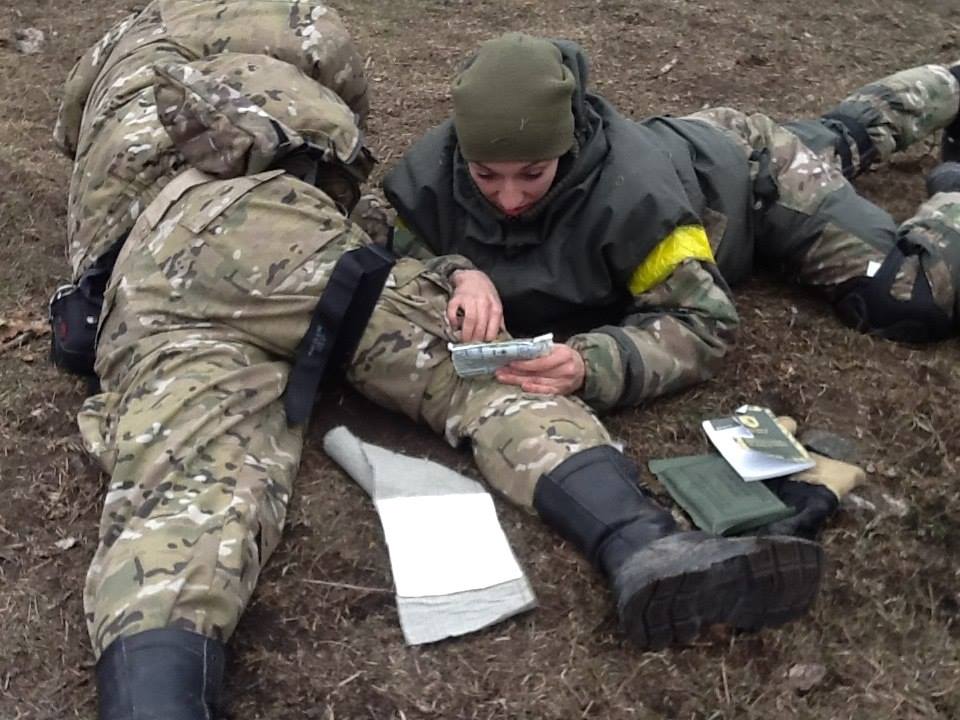 Paramedic Olena Mosiychuk. Photo: povaha.org.ua 
Over the past two years, a new generation of women has appeared in Ukraine – volunteers, doctors, nurses, medical workers, and soldiers, bravely fighting for their country and saving lives in the war zone. It's sadly true that the war has pushed Ukrainian women to the forefront, allowing them to demonstrate steel-like strength, true patriotism and no fear. Today, women on the front lines are not a unique sight, but not every woman dares to take such a step. In war, women are equal to men, and in some cases, even better professionals.
Olena Mosiychuk, call sign "Maliok" (Baby), paramedic
"Some tips for women at war: War has no rules and no mercy. Never show that you're weak or afraid! May the Gods watch over you!" "I've always been a fighter, and I've always taken complete responsibility for my actions and words."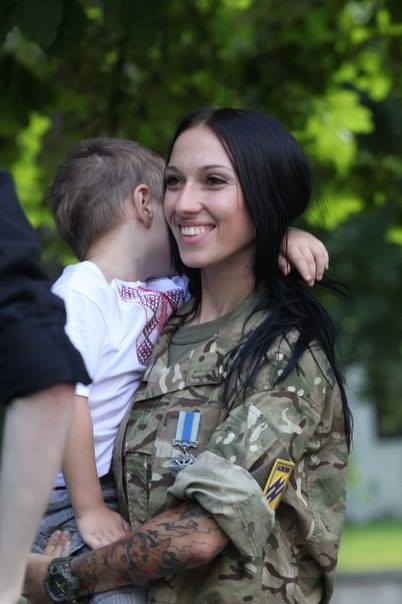 Olena Mosiychuk was born in Dnipro, where her family now lives. She studied at the Dnipro Institute of Chemical Technology, and at the Military Medical Institute in Estonia.
Olena has a small, but close-knit family: her mother, who always supports her decisions and her beloved son.
"My Mom cares for my son. I come and see them quite often. My son knows where I am and what I'm doing. I also have my brothers… fighters that I got to know during the war."
Olena has never encountered gender discrimination.
"…Maybe a bit when I drove a car. Sometimes, some idiot would make a snide comment just because I was a woman. Like, if you didn't pay for your car, you shouldn't be allowed to drive! When we practiced sports at school there were some instances of gender inequality, but I really don't remember them."
Olena has been in the war zone since the very beginning of the conflict. She was a volunteer first, and then stayed at the front with her friends to help care for the wounded.
Olena has never felt any discrimination against her in the war zone. She says the boys she serves with are polite and well brought up. They've always assessed her professionally. "But, it was different at the recruitment station. I had to pound on the door before they finally took my name. You can't imagine what I've heard from those scumbags in recruitment offices: "Lady, you probably bought your ATO certificate, didn't you? Why'd you come here? Nobody's sent you here!" And so on, and so on… Bus drivers often look at me strangely and complain. I guess they find it very hard to believe that women are fighting and defending the country while they're sitting on their asses. It's also easier for men to get housing and social benefits, so I'm told. All I've got is a piece of paper saying I've served in the front lines. But, if I'm a woman, I couldn't have been mobilized and I don't have a military record book."
For six months, Olena has been knocking on the doors of government agencies to obtain her ATO status, but it's hard for one person to win against a bureaucratic machine. She hasn't given up, but so far all her visits have ended in abusive language.
Olena says life after her service in the war zone has become a living hell. She cannot prove that she served in the war zone and cared for the wounded. She didn't record all the contusions and injuries that she treated.
"Now, they tell me that six months have passed, so it's hopeless and I can't claim anything. I spend all my time going to offices and talking with big fat bureaucrats… just a lot of hot air, empty talk and empty promises. I realize that I should've stayed in the war zone. There, people know what honour means and they respect each other. In civilian life, they all just want to **** each other."
Her motto is to live and appreciate every moment because the "black scythe is always right behind us". Olena's life and work are dedicated Ukraine and wounded soldiers.
"I live for my work. Wherever I was in the war zone, I was always respected and greatly appreciated. All the men understood that their life depended on my professionalism and know-how."
"We always worked alongside each other. Like the others, I loaded mines, drove military vehicles, slept as little as they did, sometimes less, but I worked mostly with the wounded – pulling them out, providing first aid and delivering them to the nearest hospital. I was a paramedic and driver in the Azov Regiment, member of the artillery unit."
In her two years on the front lines, Olena has saved over a hundred lives.
Yuliya Payevska, call sign "Tyra", paramedic, instructor in tactical medicine
"I'd like one of the slogans in the Ukrainian army to go like this: We don't have female soldiers in our army. We have soldiers who were born as women."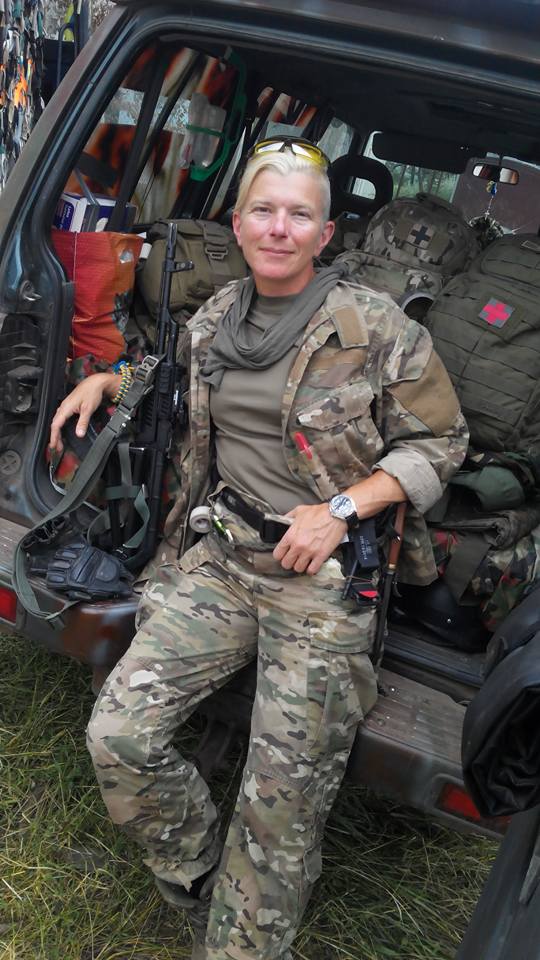 Yuliya is President of the Aikido Federation Mutokukai Ukraine, and was awarded the medal "Defender of the Motherland".
Yuliya Payevska was born in a military family in Kyiv. She is an accomplished artist and designer, and an Aikido teacher with 20 years experience. She volunteered to serve in the army. Yuliya believes that the Ukrainian army must stop the enemy and liberate the occupied territories, otherwise Ukraine will be colonized forever, and Ukrainian children will never be free to live in their own country. She thinks that this may be Ukraine's last chance to gain true independence.
Her daughter and husband supported her decision to serve in the war zone.
"This part of my life began with the first day of the Maidan and will end when we win. I was never discriminated against because I was a woman. The soldiers were always friendly and respectful. If women behave decently and professionally, everything will go smoothly."
Tyra tries to keep on top, both physically and mentally – she follows the latest news and advances in her profession, trains every day, and studies new developments in the field of tactical medicine and military science.
"You can't make a mistake in war. We must study and learn every day. I believe that women soldiers shouldn't give in to their male colleagues. Women are constantly evaluated. If a mid-level soldier shows mediocre result during military exercises, no one pays much attention, but if a woman makes a mistake, she'll be noticed right away. So, we must be better than them!"
"Nobody's going to do your work for you over there. No one's going to carry your machine gun for you either. A true soldier will never let anyone do that! War is hard and dirty work."
Yuliya laughs at the idea that it's psychologically harder for women to serve as active-duty soldiers.
"Women are more flexible, and they're able to adapt to extreme conditions faster and with fewer losses. That's my experience. Physically unprepared girls may have problems, but if they believe that the army is their vocation, they will probably overcome all the obstacles."
Yuliya's basic life rule is to control her thoughts and actions. She believes that every person can make the world a better place by working on and developing their own qualities and skills. She also thinks that many women could find their place at the front, but they should first carefully weigh their intentions, skills, and physical and mental abilities.
"It's most important not to become a burden for the men in your brigade. If you're sure that you'll be useful in combat, if you're well trained and really want to act and fight, the army will meet you half-way, and you'll be assigned to the right place. A soldier isn't a specific gender. A soldier is the one who stands between the enemy and what you love…What will I do after the war? Let's wait and see… after the war!"
Olena Bilozerska, fighter in the Ukrainian Volunteer Army
"I'm fighting for my country. I also fight to overcome my own weaknesses, and it brings me a lot of satisfaction. I'm no better than others, but probably better than my real self!"
Olena Bilozerska was born and raised in Kyiv, in a family of engineers. She completed higher humanitarian studies and has always worked in the humanities sphere.
In the last ten years before the war, Olena worked as a journalist and human rights activist. Her hobbies are poetry and military affairs.
In 2004, she joined UNA-UNSO and regularly participated in their training courses (Ukrainian political organization seen as far-right in Ukraine and abroad-Ed.). She never thought that a war would start in Ukraine, but this war didn't surprise her.
"When the war began, almost all of my friends who knew how to handle a weapon went to the front lines – some joined the Pravy Sektor battalion, others the 131st battalion of the Armed Forces called UNSO. In April 2014, my husband and I went to Eastern Ukraine and fought first in the Pravy Sektor battalion of the Ukrainian Volunteer Army, and now we're in the Ukrainian Volunteer Army under the command of Dmytro Yarosh. I did have a choice however – to become a soldier or a war correspondent. But, I'm firmly convinced that there's no place for journalism in war, just propaganda, so I decided to become a soldier. I knew how to shoot, and I continue training a lot, but that's not the most important thing right now."
In the winter of 2015, Olena managed to survive a blazing fire that was caused by a bomb explosion.
"The explosion threw me from the first floor to the basement. I was on crutches till the end of winter. I left all my documents, mobile phones and expensive equipment in that building, but grabbed my weapons and two video cameras. When this happened, my brain refused to function – I was shell-shocked and couldn't think – but my hands automatically turned on the GoPro camera on my helmet."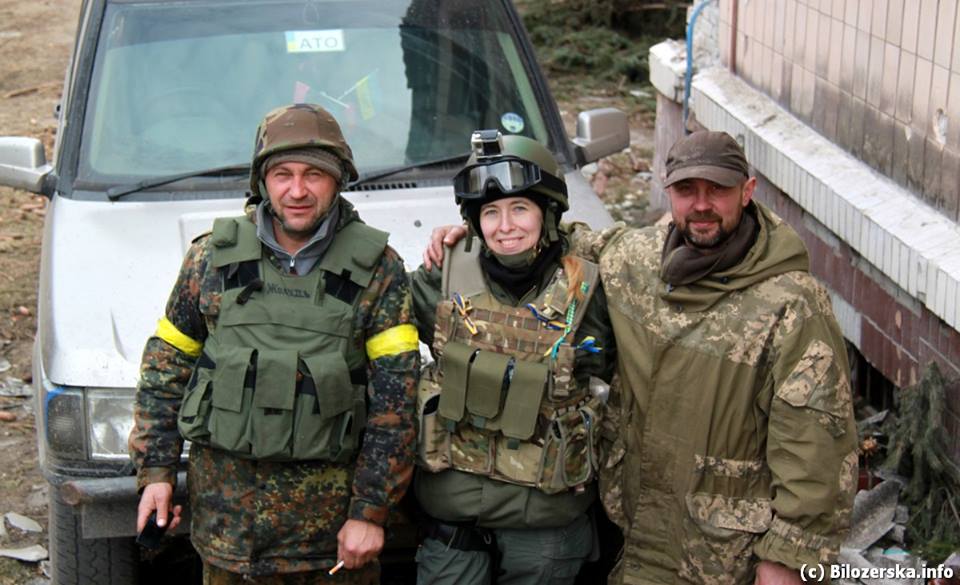 Olena and her husband serve together – this may be a perfect option for the couple because the dangers and risks have turned their relationship into something honest and strong. Olena is an only child, and her parents worry a lot, but support her.
"Gender discrimination and gender stereotypes do occur in the war zone. But, after my experience with UNSO, it's all an act. Many women are engaged in "purely masculine" jobs, such as snipers, combat engineers, fire support teams, etc. A woman can achieve what she really wants, and no gender stereotypes will stop her. But, there are also many girls working in non-combat positions, such as cooks and health instructors. I'm convinced that if a volunteer wants to fight, he or she should be ready to work in any position, as a combat engineer, gunner, electrician… so… only girls who are able to make it through should be allowed to serve in the front lines as they've already been selected and will be useful as soldiers. All the others should help out in the rear."
"Personally, there's only one way to prove that you're not worse than any man – don't be afraid and keep your presence of mind in dangerous situations. The guys know that I can't run as fast as them, and the load I carry is four times smaller than theirs, but I never get hysterical, never start screaming, fussing around, covering my head with my hands, or running around in circles. The guys don't take me along when there's a dangerous mission where fighters require great physical endurance. I don't like that, of course, but I understand that I can't be a burden to them in combat."
Olena thinks that men's attitudes towards women are the same in and outside the war zone. Many people still think that girls enlist in order to meet a guy. Such people ignore the reality of the situation. If girls want to meet their man, they can serve on military bases or in non-combat positions. Such work is needed and very useful, but it's very difficult to find people who agree to do it because everyone – men and women – are in a hurry to get to the front.
Olena points out that girls are protected in the front lines. But, if a woman behaves normally, like a soldier and doesn't accept concessions related to her sex, the soldiers quickly change their attitude and accept her as one of their own.
"No one's interested if a qualified engineer is a man or woman. By the way, here in the 8th Battalion of the Ukrainian Volunteer Army, we have a girl that works as a combat engineer and grenade launcher operator.  She works better than most guys. Moreover, she's very nice and pleasant, and we all respect her."
Women who want to serve should serve. Only time will tell whether a woman can be a good soldier on the front lines.
---
Related:
Tags: Donbas war (2014-present), Stories from the Front, Ukraine, Ukraine's Navy, Ukrainian Armed Forces, Ukrainian Army, Volunteers, women soldiers