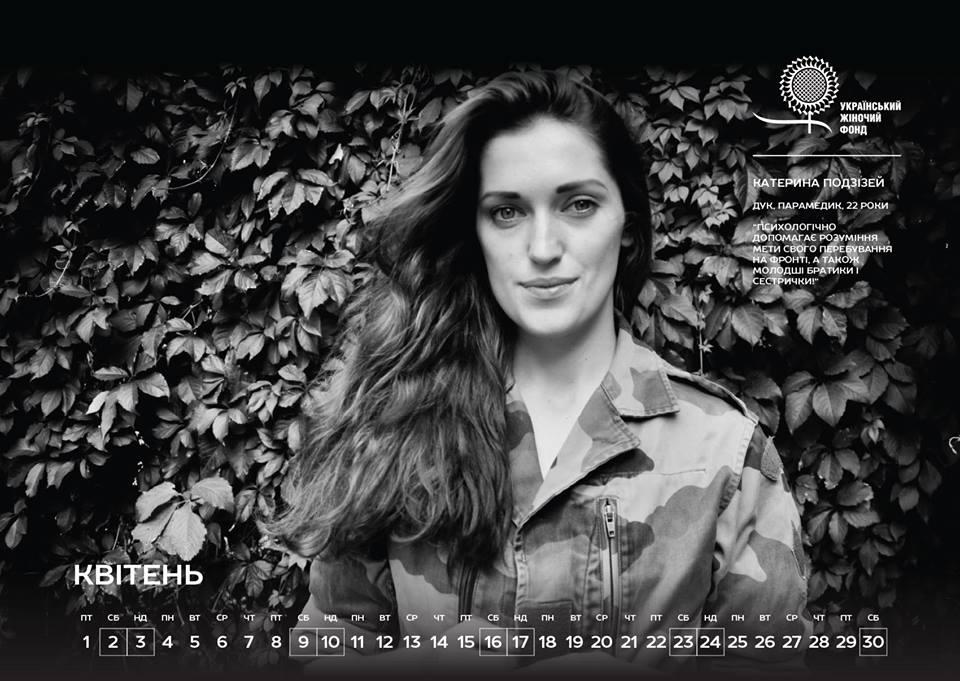 Brave beauty. Twelve fearless women are depicted on a Ukrainian calendar for 2016. However, they represent a much larger group of Ukrainian female soldiers, whose service is usually left unnoticed. These women deserve to be called brave not only because they actually participate in the war in eastern Ukraine. They also fight on the invisible front of stereotypes, humiliation and underestimation. That is the reason why the women in Ukrainian army were metaphorically named the "Invisible Battalion" in the first sociological study on women's participation in the Donbas war.
January – Kuba, 29  

Paramedic, Ukrainian Volunteer Corps Hospitallers
"We're all fighting for that small section of land right beside us. We're involved and not apathetic."
February – Diana Mazur, 32
Radiotelephone operator and nurse at medical centre,12th Kyiv Territorial Defense Battalion
"When I was a child, I dreamt of serving in the army, but girls weren't accepted then. Only boys could enroll in the Military Faculty. I'd like to have a choice."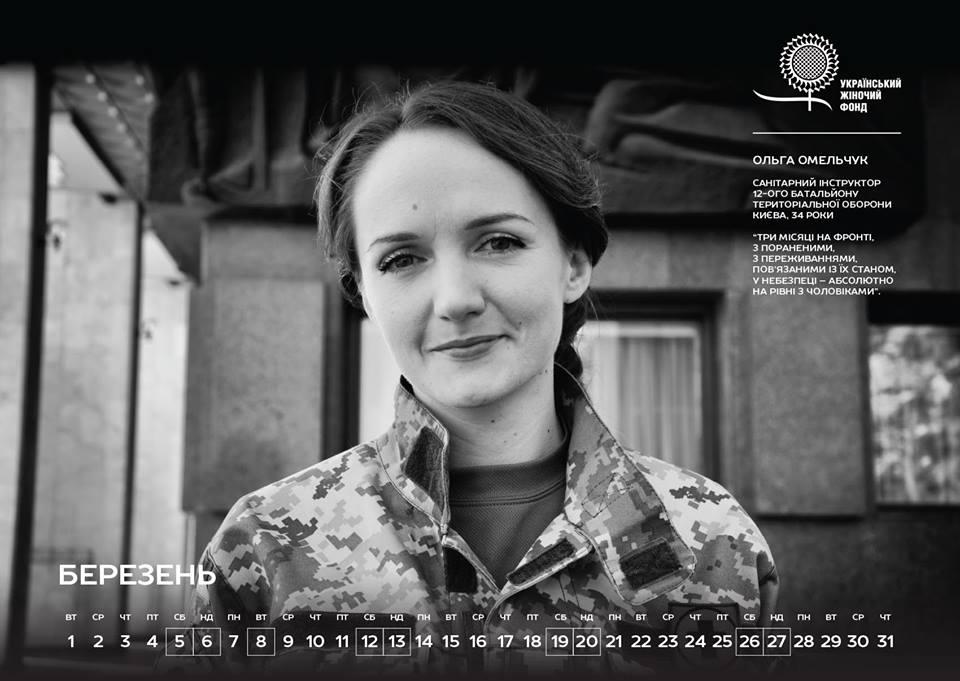 March – Olha Omelchuk, 34
Sanitary instructor with the 12th Kyiv Territorial Defense Battalion
"I've been attending to wounded soldiers on the front lines for three months. I worry about their health and condition. In war, women share the same dangers as men."
April – Kateryna Podzizey, 22
Paramedic, Ukrainian Volunteer Corps
"It helps us psychologically if we understand why we're on the front lines. Our younger sisters and brothers help too."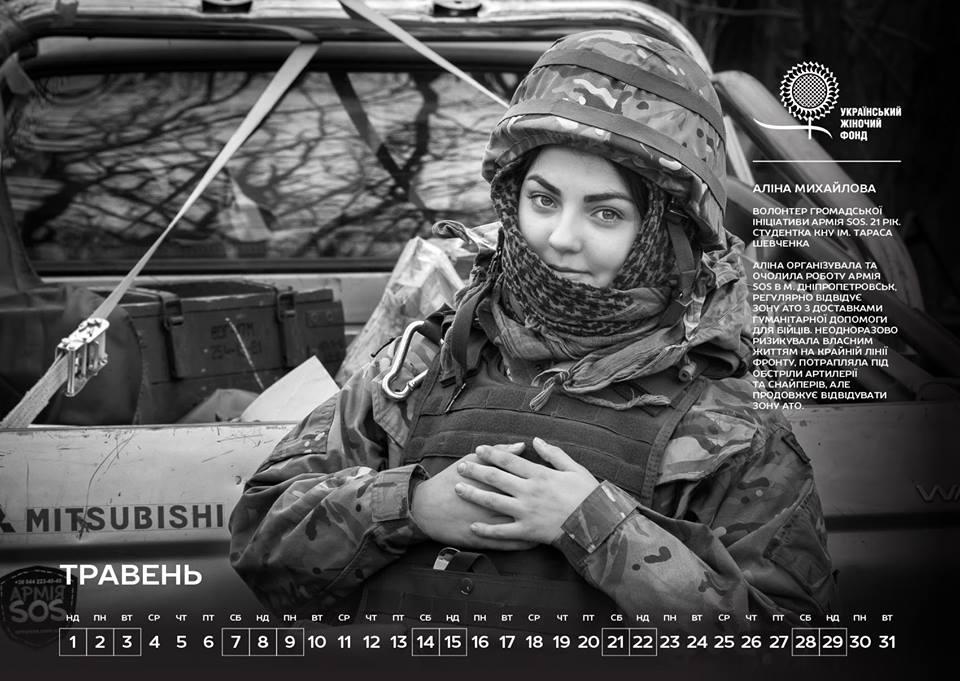 May – Alina Mykhailova, 21
Army SOS volunteer, student at Taras Shevchenko University in Kyiv
Alina organized and led Army SOS work in Dnipropetrovsk. She visits the ATO zone regularly, delivering humanitarian aid to the soldiers. She has risked her life more than once under heavy shelling, but continues to travel to the war zone.
June – Katia Pryymak, 22
Ukrainian Volunteer Corps Hospitallers
"I was commander of our medical group consisting of four members – a medic, paramedic, firefighter and driver. I made all the decisions."
July – Yuliya Tolopa, 20
Aidar Battalion, IFV Commander, member of an assault unit, Russian national
"When we hit the mine, gunner Andriyana and medic Lada were the first to arrive on the scene."
August – Valeriya Fedorenko, 19
Kulchytskyy Battalion, drone operator,  Russian national
September – Mariya Chernenko, 24
Medic, Ukrainian Volunteer Corps Hospitallers
"I went to the front because a medic should be by their side. A medic must help people in times of war."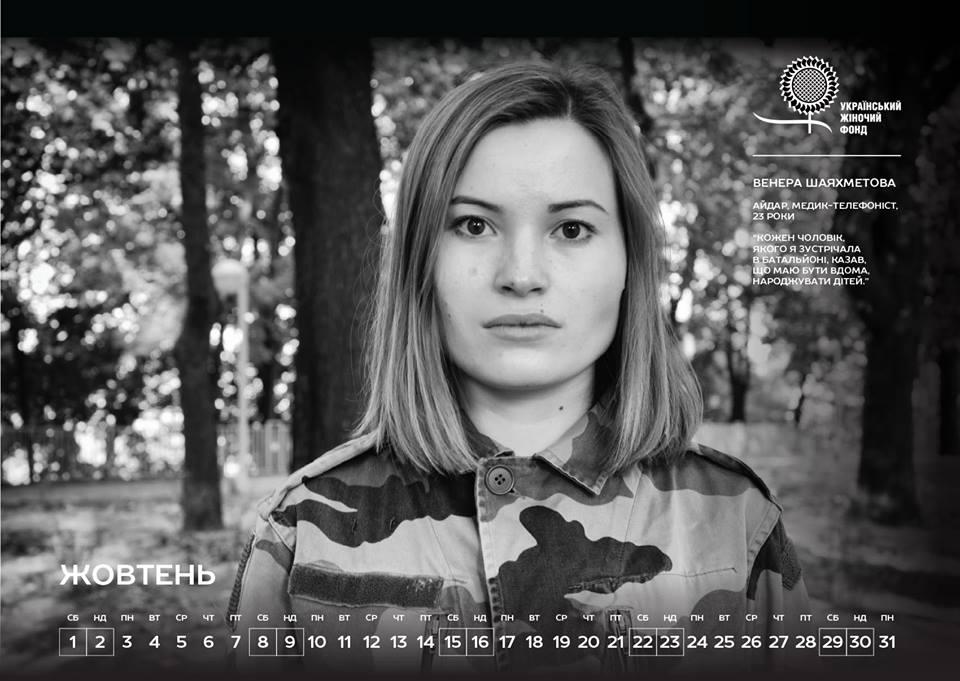 October – Venera Shaiakhmetova, 23
Aidar Battalion, medic and telephone operator
"Every man I met in the battalion told me I should stay home and bear children."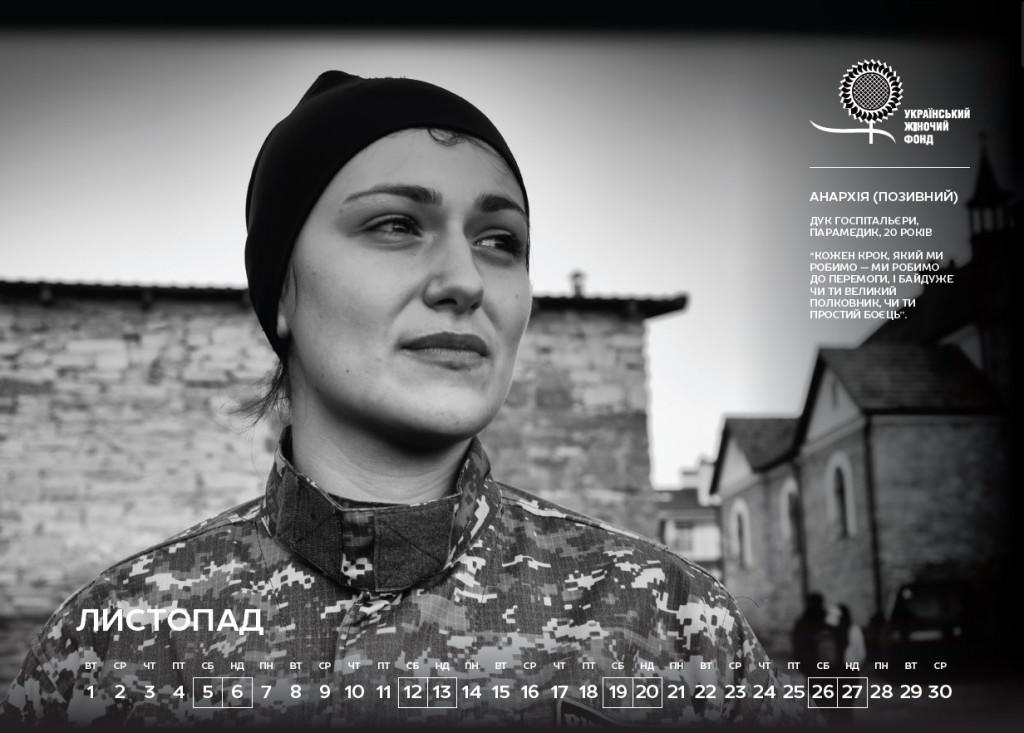 November – Anarkhiya, 20
Paramedic, Ukrainian Volunteer Corps Hospitallers
"Each step we take brings us closer to victory. It really doesn't matter whether you're a colonel or an ordinary soldier."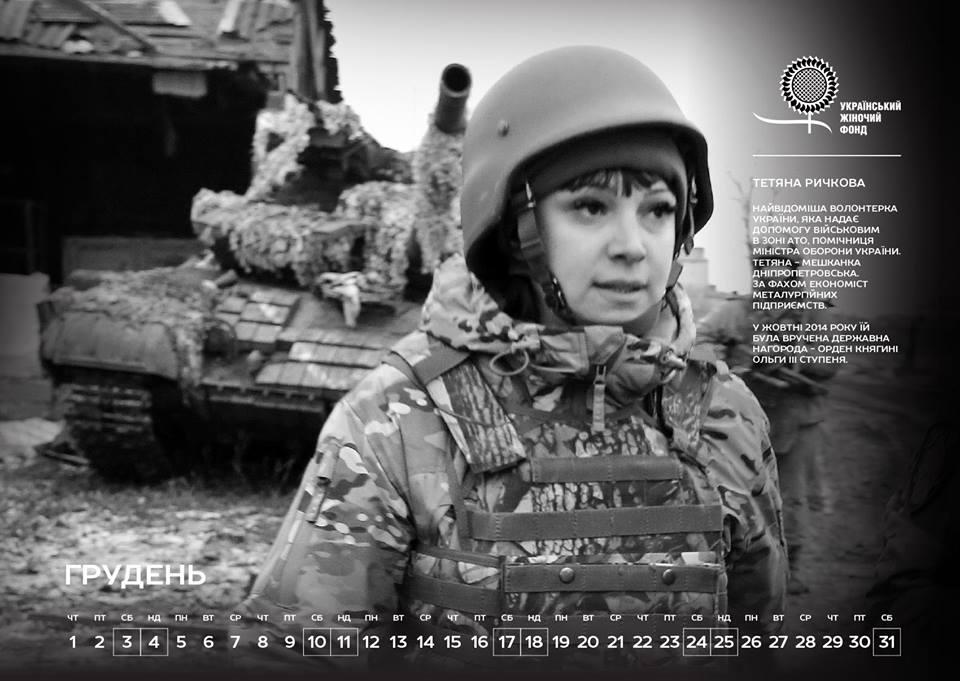 December – Tetiana Rychkova
Famous volunteer from Dnipropetrovsk working in the ATO zone, Assistant to the Ministry of Defense of Ukraine, profession – economist for metallurgical companies
Tetiana was awarded the National Order of Princess Olha 3rd level in October 2014.
The calendar is published by Ukrainian Women's Fund in a collaboration with the Ministry of Information Policy of Ukraine and MEX Advertising. The models on its pages are heroines of a study which is based on the 50 interviews with men and women who have served in the combat zone. 
The results of the study showed that the main problem, indicated by almost all respondents, is the inability of women to make decisions in the army. They are not allowed for women. Many women are not registered officially and in fact, are not able to receive payment for their work and later will not be able to have a status of a veteran with social guarantees. Another problem is the difference between the official position and real jobs of some women in the army. They are restricted from holding combat positions and the explanation is that no such positions for women are listed in the staff schedule. Another issue which the state doesn't address is the lack of specialized health care for women, the size and shape of shoes, poor living conditions. In fact, Ukraine's Army infrastructure is equipped only to the needs of men and is another factor contributing to the exclusion of women from the army.
There are currently 14,500 women serving in the army, almost 2,000 of them are officers, and 35 hold senior positions in the Ministry of Defence, the General Staff, and the different types of Armed Forces of Ukraine. 938 women are listed as active soldiers. All of these women hold only positions that are allowed under Ukraine's unreformed Soviet-era labor code, which excludes women from at least 500 professions – such as sappers, photographers, and chemical warfare specialists in the military.
Women are starting to cooperate to solve existing problems in the army by themselves. For example, the Ukrainian Women's Fund which initiated creating the calendar is leading the Invisible Battalion advocacy campaign. After activists held "march of the invisible battalion" demanding equal rights for women in the army in Kyiv, a similar march is set to take place in Lviv.
Meanwhile, the 1325 Resolution of Security Council of UN (2000) emphasizes the importance of changing the vision for the role of women from being victims of conflict to members of conflict resolution and peacekeeping on an equal basis with men. The Ukrainian army, as well as Ukrainian society, still has a long way to go. While the Ukrainian armed forces manuals boast of having a developed gender policy providing equal opportunities for men and women, women are unable to legally hold combat positions, preferring to undergo the same danger as men at the front without social guarantees and benefits.
Tags: Donbas war (2014-present), News, Photo project, women